Budget Busters of the Wine Variety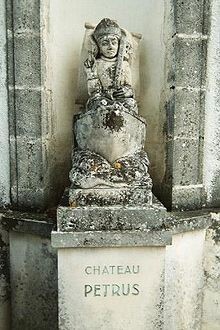 Since a "new" bottle of Pétrus can go for $1,000 bucks or more and a "new" bottle of Romanée Conti can go for $3,000 or more…I decided to find out why these and other great French wines demanded such an outlay… Pétrus, located in Pomerol, Bordeaux is a classic example of great French wine; surprisingly the primary grape is…now hold on to your chapeau … Merlot. While not ranked in the traditional sense of French wine rankings, the quality is the same as any first growth from Bordeaux. But Pétrus is not the most expensive vino…a contender for that honor goes to Romanée Conti which can cost 2 to 3 times more then Pétrus, a Pinot Noir-based wine located in Côte de Nuits, Burgundy. At a wine auction a few years ago a bottle of 1978 Romanée Conti sold for $24,000. Pétrus produces a very limited production of red Bordeaux wine consisting of Merlot with the addition of small amounts of Cabernet Franc. Pétrus is an estate of limited size, producing no second wine. The estate belongs to the family of the Libourne (a commune in the Gironde department in Aquitaine in southwestern France) wine merchant JP Moueix. With such a reputation as one of the greats of French wine, the fact that there is no "château" on the estate, but rather a modest two-story country house, makes the story of Pétrus more picturesque. "Pétrus doesn't deserve the name 'château'. It's just an old farmhouse, really," states Monsieur Moueix. Along with Pétrus, Château Le Pin and Château Ausone lead a trio of Pomerol estates of extreme prices. Pétrus first shows up in the record books in 1837. In 1878 Pétrus won a gold medal at the Paris Exhibition, which allowed the vineyard to establish a selling price of a Medoc second growth, the first wine of Pomerol to establish that price point. After WWII the Pétrus vintage of 1945 began the "great age of Pétrus". In 1953 Pétrus gifted Buckingham Palace a case for the coronation of Queen Elizabeth II. By the early '60s Pétrus's fame crossed the Atlantic and was promoted heavily by Henri Soulé, owner of the La Pavillon restaurant in New York. With Aristotle Onassis sipping it by the glass, Château Pétrus became THE wine status symbol. Romanée Conti an Appellation d'origine contrôlée (AOC) and Grand Cru vineyard for red wine in the Côte de Nuits sub-region of Burgundy use Pinot Noir as the sole grape variety. In 1764 the Prince of Conti proceeded to rename the vineyard to include his own name. Under the Prince of Conti's ownership, the wine was reserved for his own consumption rather than sold. The interesting thing about the expensive vintage of 1945 is that only 600 bottles of  Romanée-Conti were produced that year because the proprietors of the vinyard had not yet switched to grafted vines, which resisted phylloxera.  Thus, for 50 years, their production had been falling.  And yet thousands of "1945 vintage" have been traded, making Romanée-Conti one of the most forged wines in history. Watch out for any large-format Romanée-Conti of 1945 because the bottles were never filled. Ladies and Gentlemen…may I introduce the original 1855 Classification First Growths: Château Margaux Château Lafite Rothschild Château Latour Château Haut-Brion Château Margaux, a French wine monster, is an estate located in Bordeaux, achieving Premier cru status in 1855, one of the original 4 to do so. Now, one of the great things about researching French wines is the history surrounding them. One of the original owners of Château Margaux, mademoiselle Elie du Barry was guillotined during the French Revolution; in 1771 Christie's included claret from Chateau Margaux, the first claret to be sold at Christie's; while visiting Bordeaux in 1787, Thomas Jefferson drank and declared the wine from Château Margaux to be of first quality. Château Lafite Rothschild. Following the French Revolution, the period known as Reign of Terror led to the execution of Nicolas Pierre de Pichard on 30 June 1794, bringing an end to the Ségur family's ownership of the estate which became public property. In 1797 the vineyards were sold to a group of Dutch merchants, then became property of the Rothschild banking family of France since the 19th century. The name Lafite comes from the Gascon term "la hite", meaning "small hill". Across all vintages Lafite Rothschild is one of the most expensive wines you can buy. It has proved an incredibly profitable wine for investors, with the price of its 2005 and 2000 vintages fetching over $20,000 per case. Futures contracts for the 2008 Lafite Rothschild have returned investors over 100% on their investment within two weeks during May 2009. Château Latour lies at the very southeastern tip of the commune of Pauillac in the Médoc region to the northwest of Bordeaux, at its border with Saint-Julien, and only a few hundred meters from the banks of the Gironde estuary. History tells us that this mega wine producing site has been occupied since 1331. One way to help with the budget busting is to look for Château Latour's second wines, Les Forts de Latour and a third wine simply named Pauillac. With an annual production close to 18,000 cases, Château Latour's blend is a classic Bordeaux variety: 75% Cabernet Sauvignon, 20% Merlot with Petit Verdot and Cabernet Franc finishing the blend. Château Haut-Brion, an estate that dates back to 1525 when Jean de Pontac married the daughter of the mayor of Libourne and seigneur (The Lord of the Manor) of Haut-Brion. The mansion of Haut-Brion was built in 1549. On a beautiful sunny day in May 1787, Thomas Jefferson, the America minister to France, visited Château Haut-Brion. Tom, a well-known wine connoisseur and author of a particular interesting Declaration written while drinking vino (as the rumor goes), wrote in his diary, "The soil of Haut-Brion is made up of sand and gravel" and declared it among the first of the firsts. He purchased 6 cases and sent them via FedEx…eh…by ship…
SUBSCRIBE
ALREADY SUBSCRIBED?
BECOME A BONJOUR PARIS MEMBER

Gain full access to our collection of over 5,000 articles and bring the City of Light into your life. Just 60 USD per year.

Find out why you should become a member here.

Sign in

Fill in your credentials below.
Since a "new" bottle of Pétrus can go for $1,000 bucks or more and a "new" bottle of Romanée Conti can go for $3,000 or more…I decided to find out why these and other great French wines demanded such an outlay…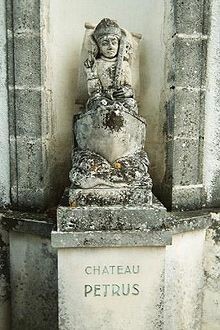 Pétrus, located in Pomerol, Bordeaux is a classic example of great French wine; surprisingly the primary grape is…now hold on to your chapeau … Merlot. While not ranked in the traditional sense of French wine rankings, the quality is the same as any first growth from Bordeaux. But Pétrus is not the most expensive vino…a contender for that honor goes to Romanée Conti which can cost 2 to 3 times more then Pétrus, a Pinot Noir-based wine located in Côte de Nuits, Burgundy. At a wine auction a few years ago a bottle of 1978 Romanée Conti sold for $24,000.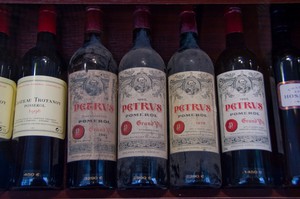 Pétrus produces a very limited production of red Bordeaux wine consisting of Merlot with the addition of small amounts of Cabernet Franc. Pétrus is an estate of limited size, producing no second wine. The estate belongs to the family of the Libourne (a commune in the Gironde department in Aquitaine in southwestern France) wine merchant JP Moueix. With such a reputation as one of the greats of French wine, the fact that there is no "château" on the estate, but rather a modest two-story country house, makes the story of Pétrus more picturesque. "Pétrus doesn't deserve the name 'château'. It's just an old farmhouse, really," states Monsieur Moueix.
Along with Pétrus, Château Le Pin and Château Ausone lead a trio of Pomerol estates of extreme prices. Pétrus first shows up in the record books in 1837. In 1878 Pétrus won a gold medal at the Paris Exhibition, which allowed the vineyard to establish a selling price of a Medoc second growth, the first wine of Pomerol to establish that price point. After WWII the Pétrus vintage of 1945 began the "great age of Pétrus". In 1953 Pétrus gifted Buckingham Palace a case for the coronation of Queen Elizabeth II. By the early '60s Pétrus's fame crossed the Atlantic and was promoted heavily by Henri Soulé, owner of the La Pavillon restaurant in New York. With Aristotle Onassis sipping it by the glass, Château Pétrus became THE wine status symbol.
Romanée Conti an Appellation d'origine contrôlée (AOC) and Grand Cru vineyard for red wine in the Côte de Nuits sub-region of Burgundy use Pinot Noir as the sole grape variety.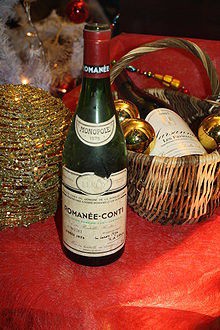 In 1764 the Prince of Conti proceeded to rename the vineyard to include his own name. Under the Prince of Conti's ownership, the wine was reserved for his own consumption rather than sold.
The interesting thing about the expensive vintage of 1945 is that only 600 bottles of  Romanée-Conti were produced that year because the proprietors of the vinyard had not yet switched to grafted vines, which resisted phylloxera.  Thus, for 50 years, their production had been falling.  And yet thousands of "1945 vintage" have been traded, making Romanée-Conti one of the most forged wines in history. Watch out for any large-format Romanée-Conti of 1945 because the bottles were never filled.
Ladies and Gentlemen…may I introduce the original 1855 Classification First Growths:
Château Margaux
Château Lafite Rothschild
Château Latour
Château Haut-Brion
Château Margaux, a French wine monster, is an estate located in Bordeaux, achieving Premier cru status in 1855, one of the original 4 to do so. Now, one of the great things about researching French wines is the history surrounding them. One of the original owners of Château Margaux, mademoiselle Elie du Barry was guillotined during the French Revolution; in 1771 Christie's included claret from Chateau Margaux, the first claret to be sold at Christie's; while visiting Bordeaux in 1787, Thomas Jefferson drank and declared the wine from Château Margaux to be of first quality.
Château Lafite Rothschild. Following the French Revolution, the period known as Reign of Terror led to the execution of Nicolas Pierre de Pichard on 30 June 1794, bringing an end to the Ségur family's ownership of the estate which became public property. In 1797 the vineyards were sold to a group of Dutch merchants, then became property of the Rothschild banking family of France since the 19th century. The name Lafite comes from the Gascon term "la hite", meaning "small hill". Across all vintages Lafite Rothschild is one of the most expensive wines you can buy. It has proved an incredibly profitable wine for investors, with the price of its 2005 and 2000 vintages fetching over $20,000 per case. Futures contracts for the 2008 Lafite Rothschild have returned investors over 100% on their investment within two weeks during May 2009.
Château Latour lies at the very southeastern tip of the commune of Pauillac in the Médoc region to the northwest of Bordeaux, at its border with Saint-Julien, and only a few hundred meters from the banks of the Gironde estuary. History tells us that this mega wine producing site has been occupied since 1331. One way to help with the budget busting is to look for Château Latour's second wines, Les Forts de Latour and a third wine simply named Pauillac. With an annual production close to 18,000 cases, Château Latour's blend is a classic Bordeaux variety: 75% Cabernet Sauvignon, 20% Merlot with Petit Verdot and Cabernet Franc finishing the blend.
Château Haut-Brion, an estate that dates back to 1525 when Jean de Pontac married the daughter of the mayor of Libourne and seigneur (The Lord of the Manor) of Haut-Brion. The mansion of Haut-Brion was built in 1549. On a beautiful sunny day in May 1787, Thomas Jefferson, the America minister to France, visited Château Haut-Brion. Tom, a well-known wine connoisseur and author of a particular interesting Declaration written while drinking vino (as the rumor goes), wrote in his diary, "The soil of Haut-Brion is made up of sand and gravel" and declared it among the first of the firsts. He purchased 6 cases and sent them via FedEx…eh…by ship to his estate in Virginia. As a side note, during the French Revolution, Joseph de Fumel and original owner lost his head via guillotine. It was dangerous being in the wine business in France during the revolution.
And now the 5th Vineyard to be declared a first growth:
Château Mouton Rothschild, not listed in the original 1855 classification of First Great Growths, which had Baron Philippe de Rothschild livid, calling it a "monstrous injustice". After considerable "lobbying" by the Baron, Château Mouton Rothschild was elevated to "first growth" status in 1973. In September of 06 a bottle of Mouton Rothschild, vintage 1945 sold for an astounding $28,750 a bottle. But then, the purchase for $160,000 at auction of a undrinkable bottle of Château Lafite Rothschild once owned by Thomas Jefferson, is reserved for the very few.
So, sell your stocks that have tanked, cash in your 401K that has been devalued and sell your home at a 40% discount and run to the next wine auction and buy all you can. Not for investment but to drink and enjoy. And, oh yes, do not forget to invite moi.
More in buying wine, French wine
---
---