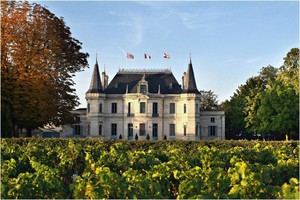 You don't need an excuse to lunch or dine at the gorgeous Art-Deco Relais Plaza, do you? You know you love it; may already have your favorite bottle of Château Palmer waiting, probably will have discussed the vintage with Werner Küchler, the iconic restaurant director and "gentleman crooner of the Relais."
If not, note Le Relais Plaza is showcasing Château Palmer through May. Lunch and dinner.
"We like to offer our clients unique experiences and these wines are exceptional," promises Küchler.
He explains that, say, "Hermitage" was created in 2004 in very small quantities, an average of four barrels a year. "The special part is that the wines are produced in the same conditions as in the 19th century, when they were strengthened with Rhône Valley Syrah, thus the name 'Hermitage.'"
Apparently, Cardinal Richelieu (Louis XIII's right-hand man) was partial to a drop of CP, ranked third grand cru in 1855, and introduced Médoc wines to the Royal Court, saying something like, "It comes from blessed vines, almost equal proportions of merlot and cabernet sauvignon, and a bit of petit verdot. Delicate, with the elegance of Margaux wines, but also a touch of the Pomerols."
The wines are available, at Le Relais Plaza, by bottle or glass. You may get to taste "Le Château Palmer Blanc", only offered to Château Palmer shareholders. You might like it so much you'll buy the company.

Relais Plaza,
25 avenue Montaigne, Paris 8th
Métro: Franklin D Roosevelt
Bus: 80
Open 7/7
Château Palmer Dinner until 15 May
T: 01 53 67 64 00 (ask for Didier Thomas)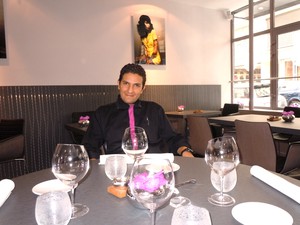 No sooner had GaultMillau nodded Akrame Benallal, Grand de demain, in the 2011 Guide, than he was out of there. Where? Konfidentiel, a boutique hotel along the road from Daniel Rose's Spring. The restaurant was tiny, reached by a leg breaker of a stone staircase. Still, Akrame did his best, his passion intense. Now he's set up on his own in the posh 16th, in the former Guy Savoy, Bistrot de l'Etoile (there's a bouquet of beautiful flowers, sent by GS, what an elegant gesture) and more recently L'Orchidée, which just didn't work.
The decor's as contemporary as the dishes, clean and bright. Never one to mince his mots, he's calling it "Akrame." Early days, but here's a talent who's worked with Gagnaire and Ferran. Dishes include: Calamar faҫon risotto. Cabillaud cuit à 53 º, quinoa noir, pâte de citron de Menton. Mango, premières fraises, glace-lait-citron et biscuit à la fraise lyophilisée. I'm cooking in a totally different way here, I've always dreamed of being chez moi." Definitely one to watch.
19 rue Lauriston, Paris 16th
Metro: Charles-de-Gaulle-Etoile
Bus: 52
Shut Sat-Sun
Lunch 25-35€
Menus at 45€-55€
T: 01 40 67 11 16
The weather's not settled yet, so the sheltered terrace at Jaja, launched by Julien (Glou) Fouin, is a great idea. Jambon Ibérique Bellota de Salamanque, parsemé d'amandes grillées, a glass of Pouilly-Fuissé. La galette croustillante de pied de cochon et l'entrecôte de Salers ou d'Aubrac with mashed potatoes, pommes grenailles au thym. Gourmet hot dogs, whole-wheat croque monsieur with Comté cheese, Croustillant au chocolat. Glou glou, Jaja!! Can't wait to find out what Julien'll call his next canteen.
3 rue Saint-Croix-de-la-Bretonnerie, Paris 4th
Metro: Hotel de Ville
Bus: 75
T: 01 42 74 71 52
Open 7/7
Lunch 16-21€ – A La Carte about 50€
Diary Date:
Orangina, the bubbly drink, marks 75 years of, well, bubbling. To celebrate they're sponsoring the revival of the iconic Courses de Garҫons de Café (in collaboration with SYNHORCA – Syndicat National des Hôteliers, restaurateurs, cafetiers et traiteurs).
Two races are scheduled, one in Paris, one in Marseille on 22 May. So, garҫons have to cover 3 kilometers holding an open bottle of Orangina, and a glass full of fizz, on their tray. If they arrive without breaking anything (and I mean legs, arms, bottles) the three fastest then take part in a competition to open 30 bottles of Orangina in record time. Winner gets a check for 2,000€, 2nd 1,000€ and 3rd 500€.
Paris Depart: Sunday May 15th – 15h, Place des Vosges. Finish: 17h30, Place Baudoyer.
See you there.
San Pellegrino Awards 2011:
The quirky awards were dished up at a sparkling soirée at The Guildhall in the City of London. Food critics, writers, chefs and gastro nobility make up the jury of Restaurant Magazine's concept, The World's 50 Best. And the winner is: René Redzepi's Noma for the second year. Taking 2nd place: El Celler de Can Roca, Girona, Spain; the Roca brothers' 6th year in the top 10. 3rd place Mugartiz, San Sebastian, Spain, up from No. 5 last year. Only one Frenchie in the Top 10 – the love it or loathe it, Inaki's Chateaubriand at No. 9. Heston's Fat Duck sinks from No.3 to No.5. Conclusion: this is food for heated dinner table debates.
For all the skinny log on to:Worlds50Best
Hotel Lenox Montparnasse is a 52-room 3-star hotel near the Luxembourg gardens and the Montparnasse entertainment district. Free Wi-Fi, lobby bar, video-on-demand, air-conditioned rooms and suites, some with balconies over street or interior courtyard.
Please consider booking your hotel stay through our partner, Booking.com, part of Priceline.com–if you find the same room for less, Booking.com guarantees to match the price!  Booking.com with your guaranteed lowest price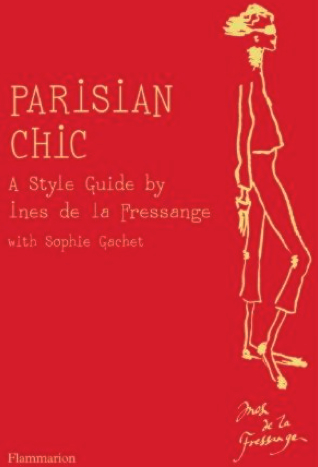 Well, no, this book won't transform you into supermodel Inès de la Fressange, but it does reveal the secrets held closely by chic and stylish Parisian women of a certain age . . . until now. De la Fressange cracks the code in this bestseller—our readers and literary critics are loving it: Parisian Chic: A Style Guide by Ines de la Fressange