Champagne and Cuisine at Fresne Ducret near Reims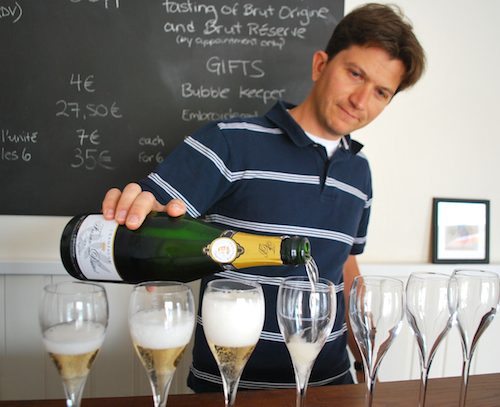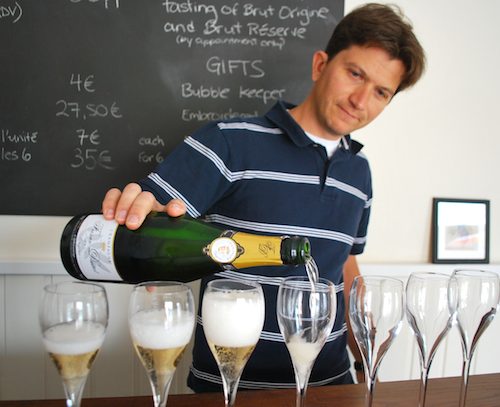 Close to the historic city of Reims, barely an hour's drive or train ride from Paris, is the Champagne producing region of France (purists argue that Epernay is the epicenter of Champagne). If you can, put aside a day to visit this picturesque region.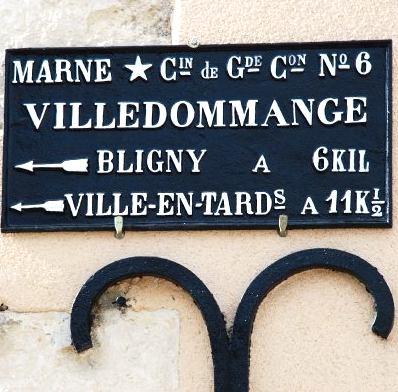 In Reims you can tour famous cellars like Taittinger and Pommery and learn about the history of Champagne. If you have more time, venture to the rolling hillsides to visit cellars that produce lesser known but equally amazing cuvées. One such delightful find is the family-owned winery Fresne Ducret in the village of Villedommange where you can also buy your bubbly directly from the owner.
Proprietors Daniella and Pierre Fresne are a lively, young couple. While she is Canadian and fluent in English, he is from the region where he grew up tending his father's vineyards. One tends to the vines and cellars, the other to the kitchen. This Champagne house offers a unique combination of cooking lessons of dishes suitable for Champagne with tastings of its cuvées.
Recently one afternoon, Daniella was in her spacious kitchen on the estate whipping up a series of delicious canapés to accompany a Champagne tasting that included a selection of Brut Origine, Brut Réserve, Brut Rosé Céleste and a vintage bottle from the late 1980s that came out of the cellar. Vintage is the appropriate adjective for Champagne older than 10 years. While Bordeaux reds and some white wines can be put down for more than a decade, older vintages of Champagne become yeastier and more like a Chardonnay over time, thus becoming more of a wine to serve with an entrée than with an appetizer.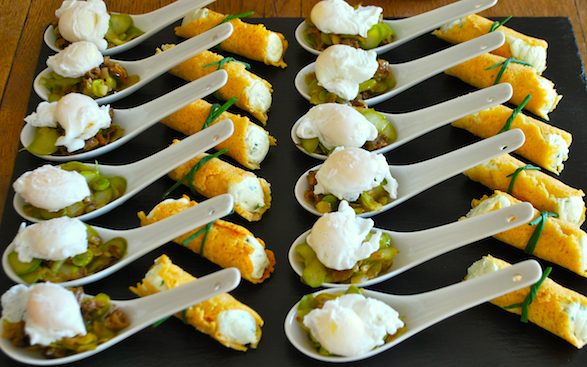 But back to the kitchen. Daniella's easy entertaining style belies the enormous amount of preparation and precision she applies to her cooking lessons and presentations, and she's self taught! Cooking classes are tailored to specific themes, such as cocktails, French High Tea, festive dinners and luncheons. Class size varies, but the main ingredient is fun. Courses last approximately five hours and conclude with a meal at the end, and lots of bubbly.
One recent cocktail cooking lesson included the following, fresh from the garden: chilled green pea and Champagne soup; poached quail's egg with morels, asparagus and fava beans; crispy cod croquettes; mini cannoli filled with herb goat cheese mousse.
If you're more inclined towards preparing a festive dinner menu, then consider this menu that Daniella can teach you to prepare: roasted garlic and pea canapés with parmesan and arugula; smoked salmon with baby potato salad; roasted breast of guinea hen; apple raspberry galettes with lemon crème fraîche.
Cooking and drinking Champagne at the same time does take a certain amount of self discipline—Champagne is the traditional beverage of celebration. It's easy to forget that ingredients need to stay precisely measured to create a satisfying outcome. But Daniella's easy-going, chatty personality makes this cooking experience less of a bacchanalia and more of a practical session where you take away a cooking technique or two while staying (somewhat) sober.
PRACTICAL INFORMATION
Tél: (0)3 26 49 24 60
10, rue Saint Vincent, 51390 Villedommange
Facebook: Champagne Fresne-Ducret
General information: contact Daniella Fresne by email
Isabelle Kellogg has written several stories for BonjourParis about fascinating people and places of France, which you can read by clicking on her name to view her profile.

Would you like to submit a story or request a story topic? Your stories & ideas welcome.
NEW: exclusive content for subscribers in every newsletter. Subscribe for free.
Current wine offerings at our
Amazon.com Boutique
with new listings below:
Save an additional 5% on Auto Europe car rentals:

Auto Europe is your best choice for car rentals in France and Europe. Most competitive rates, no drop fees.
Bookmark & use our link for a 5% code discount here:  Auto Europe Car Rental
Don't overlook Auto Europe for international flights, click Auto Europe Flights
Leave a reply
Your email address will not be published. Required fields are marked *