Centre Pompidou: Paris-Delhi-Bombay Exhibition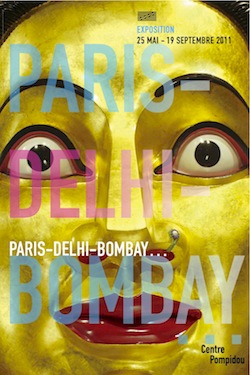 Paris-Delhi-Bombay is part of the Centre Pompidou's revival of a series of cross-cultural exhibitions that took place in the 1970s, when it hosted Paris-New York, Paris-Berlin and Paris-Moscow in succession. Today's French-Indian exchange includes almost 50 artists based in or from both countries, with more than two-thirds of the work shown created especially for the occasion. The current Paris-Delhi-Bombay exhibition, on at
Centre Pompidou
in Paris until September 19, demonstrates a forward shift in the art world toward the discovery of talent from emerging markets such as India, China and South America. However, art institutions and dealers are not just looking at these areas for new creativity but also for new art buyers. These countries are growing rapidly in terms of power and economy, providing a new generation of art collectors and investors, which is why exhibitions like Paris-Delhi-Bombay are so important right now. The show is set out like a wheel with Ravinder Reddy's Tara (2004), a gigantic golden head, at the epicentre. At first glance it appears to be that of a goddess, but in fact it is a celebration of ordinary Indian women. The wheel format used is symbolic to Indian culture as the Sanskrit word for wheel, chakra, is often used to describe energy centers in the human body. The Indian national flag also features a wheel, adopted from a Buddhist symbol. Wrapped around Reddy's sculpture is a rough history of India covering the six main themes of the exhibition: politics, urban development and the environment, religion, home, identity, and craft production. This room explains the complexity of Indian life, providing the context needed to understand catalysts behind the artworks. It tells, for example, that the country has 22 official languages, hosts 15 percent of the world's population which equals 1.155 billion and all this with only 2.4 percent of the world's landmass. If you're visiting Paris as a tourist this exhibition may not be an obvious first stop; after all, if you want to see India, why not go there instead? On the contrary, for anyone interested in French contemporary art this show is a must. The exhibition includes an eclectic range of Paris-based artists offering their perceptions of India. This ranges from duo Pierre and Gilles' bright, fairytale space (see "Hanuman" above) to Stéphane Calais' sombre Indian ink paintings. Population isn't the only issue examined by the exhibition. A lot of the artwork in Paris-Delhi-Bombay has a hard-hitting political or social message. I was prepared for a happy celebration of Indian culture through bright colors, Bollywood and transcendental meditation. These boxes were all ticked but the majority of the artworks explored the serious issues faced by the Indian people every day, including India's conflict with Pakistan, religious extremism, gender inequality, homophobia, and HIV. Paris-based Argentinean artist Leandro Erlsich contributes Le Regard to the show, tying India and France together through the installation of a stereotypical Parisian bourgeois bedroom. One side of the room shows the real rooftops of Paris through a museum window, while the other has a window frame featuring a video of the overcrowded streets of Mumbai (called the previous name Bombay throughout the exhibition as the new name may be less known in France). While provoking discussion about the similarities and differences between the two cities it also gives the visitor an amazing view of Paris from this part of the museum, rarely on show to the public. Next door is Louis Gréaud's The Bragdon Pavillion (2011), an incredible audio/visual experience exploring the limits of the body and mind's relationship. This inner spirituality is also covered by French street artist JR , who, along with design team Tsé & Tsé, has been given free run of the Forum -1 (the lower ground floor of the Centre Pompidou). Images of India welcomes visitors to a "chill-out" space where JR looks at the Indian concept of the Third Eye through his giant photographs, inviting visitors to create their own artwork using the "Inside-out" photo booth. The artwork that attracted the most attention was Nalini Malani's Remembering Mad Meg (2007-2010), based on a 16th century Bruegel the Elder painting that shows a woman nicknamed "Mad Meg" marching through a surreal scene of violence and destruction. The hypnotic installation incorporates video, sculpture and light projection. Here Malani, like many artists in the exhibition, tackles the issue of violence against women. Powerful poetry, sound effects and shadow puppetry encapsulate the viewer to drive the issue home. The exhibition was a breath of fresh air from the Centre Pompidou that usually sticks safely to blockbuster retrospectives. It provided a stage for relatively unknown artists in Europe while encouraging visitors to broaden their artistic horizons. PRACTICAL INFORMATION
Centre Pompidou
exhibition ends Sept. 19, 2011 Tél: 01 4478 1233 Place Georges Pompidou, Paris 4th
Open
: 11am-9pm daily except Tuesday (last admission 8pm)
Admission
: Adult €14 with discounts available (see site for varied discounted entries)
Accessibility
: Enter at the corner of the rue Saint-Merri & the rue du Renard enables direct access to Level 1 for visually-impaired and visitors in wheelchairs. They and the person accompanying them are entitled to priority hall access provided they produce a document substantiating entitlement. Métro: Rambuteau, Hôtel de Ville, Châtelet RER:…
SUBSCRIBE
ALREADY SUBSCRIBED?
BECOME A BONJOUR PARIS MEMBER

Gain full access to our collection of over 5,000 articles and bring the City of Light into your life. Just 60 USD per year.

Find out why you should become a member here.

Sign in

Fill in your credentials below.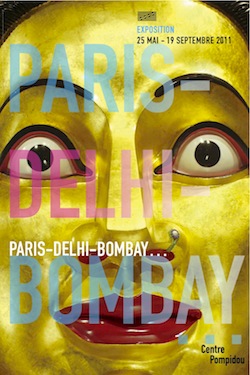 Paris-Delhi-Bombay is part of the Centre Pompidou's revival of a series of cross-cultural exhibitions that took place in the 1970s, when it hosted Paris-New York, Paris-Berlin and Paris-Moscow in succession. Today's French-Indian exchange includes almost 50 artists based in or from both countries, with more than two-thirds of the work shown created especially for the occasion.
The current Paris-Delhi-Bombay exhibition, on at Centre Pompidou in Paris until September 19, demonstrates a forward shift in the art world toward the discovery of talent from emerging markets such as India, China and South America. However, art institutions and dealers are not just looking at these areas for new creativity but also for new art buyers. These countries are growing rapidly in terms of power and economy, providing a new generation of art collectors and investors, which is why exhibitions like Paris-Delhi-Bombay are so important right now.
The show is set out like a wheel with Ravinder Reddy's Tara (2004), a gigantic golden head, at the epicentre. At first glance it appears to be that of a goddess, but in fact it is a celebration of ordinary Indian women. The wheel format used is symbolic to Indian culture as the Sanskrit word for wheel, chakra, is often used to describe energy centers in the human body. The Indian national flag also features a wheel, adopted from a Buddhist symbol.
Wrapped around Reddy's sculpture is a rough history of India covering the six main themes of the exhibition: politics, urban development and the environment, religion, home, identity, and craft production. This room explains the complexity of Indian life, providing the context needed to understand catalysts behind the artworks. It tells, for example, that the country has 22 official languages, hosts 15 percent of the world's population which equals 1.155 billion and all this with only 2.4 percent of the world's landmass.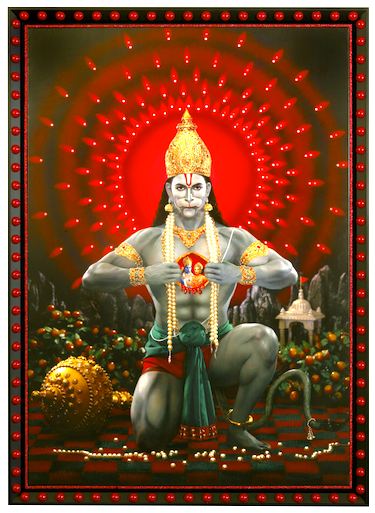 If you're visiting Paris as a tourist this exhibition may not be an obvious first stop; after all, if you want to see India, why not go there instead? On the contrary, for anyone interested in French contemporary art this show is a must. The exhibition includes an eclectic range of Paris-based artists offering their perceptions of India. This ranges from duo Pierre and Gilles' bright, fairytale space (see "Hanuman" above) to Stéphane Calais' sombre Indian ink paintings.
Population isn't the only issue examined by the exhibition. A lot of the artwork in Paris-Delhi-Bombay has a hard-hitting political or social message. I was prepared for a happy celebration of Indian culture through bright colors, Bollywood and transcendental meditation. These boxes were all ticked but the majority of the artworks explored the serious issues faced by the Indian people every day, including India's conflict with Pakistan, religious extremism, gender inequality, homophobia, and HIV.
Paris-based Argentinean artist Leandro Erlsich contributes Le Regard to the show, tying India and France together through the installation of a stereotypical Parisian bourgeois bedroom. One side of the room shows the real rooftops of Paris through a museum window, while the other has a window frame featuring a video of the overcrowded streets of Mumbai (called the previous name Bombay throughout the exhibition as the new name may be less known in France). While provoking discussion about the similarities and differences between the two cities it also gives the visitor an amazing view of Paris from this part of the museum, rarely on show to the public.
Next door is Louis Gréaud's The Bragdon Pavillion (2011), an incredible audio/visual experience exploring the limits of the body and mind's relationship. This inner spirituality is also covered by French street artist JR , who, along with design team Tsé & Tsé, has been given free run of the Forum -1 (the lower ground floor of the Centre Pompidou). Images of India welcomes visitors to a "chill-out" space where JR looks at the Indian concept of the Third Eye through his giant photographs, inviting visitors to create their own artwork using the "Inside-out" photo booth.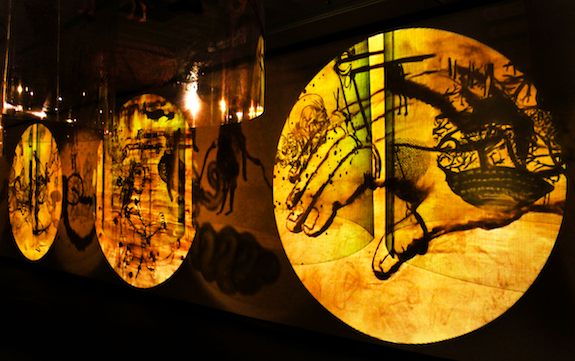 The artwork that attracted the most attention was Nalini Malani's Remembering Mad Meg (2007-2010), based on a 16th century Bruegel the Elder painting that shows a woman nicknamed "Mad Meg" marching through a surreal scene of violence and destruction. The hypnotic installation incorporates video, sculpture and light projection. Here Malani, like many artists in the exhibition, tackles the issue of violence against women. Powerful poetry, sound effects and shadow puppetry encapsulate the viewer to drive the issue home.
The exhibition was a breath of fresh air from the Centre Pompidou that usually sticks safely to blockbuster retrospectives. It provided a stage for relatively unknown artists in Europe while encouraging visitors to broaden their artistic horizons.
PRACTICAL INFORMATION
Centre Pompidou exhibition ends Sept. 19, 2011
Tél: 01 4478 1233
Place Georges Pompidou, Paris 4th
Open: 11am-9pm daily except Tuesday (last admission 8pm)
Admission: Adult €14 with discounts available (see site for varied discounted entries)
Accessibility: Enter at the corner of the rue Saint-Merri & the rue du Renard enables direct access to Level 1 for visually-impaired and visitors in wheelchairs. They and the person accompanying them are entitled to priority hall access provided they produce a document substantiating entitlement.
Métro: Rambuteau, Hôtel de Ville, Châtelet
RER: Châtelet – Les Halles
Buses: 21, 29, 38, 47, 58, 69, 70, 72, 74, 75, 76, 81, 85, 96
Parking: entrance rue Beaubourg
PHOTO CREDITS
Ravinder Reddy
Tara, 2004
Collection Walsh Gallery, Chicago
Nalini Malani
Remembering Mad Meg, video shadow-play, 2007-2010
Courtesy of Galerie Lelong, Paris
©Nalini ©Malani Payal Kapadia
Pierre et Gilles
Hanuman, 2010
Courtesy of Galerie Jérôme de Noirmont, Paris
©ADAGP Paris, 2011
Lindsey Marsh is the BonjourParis arts editor at large and she last reviewed the Jane Evelyn Atwood photography exhibition at the Maison Européenne de la Photographie.
Grab your own free subscription to BonjourParis & be first to receive Wednesday & Sunday newsletters linked to 50 original stories monthly with travel tips & the latest from France. Since 1995, BonjourParis has been your most complete online France travel & Francophile lifestyle eZine. RSS feed available.
If it's at Amazon.com, you can get it at our Amazon.com Boutique with new items added weekly. Same competitive prices and speedy delivery & your purchases support costs of keeping BonjourParis your most complete online France travel resource.
Search hint: start at the back pages for the most recent stock.
Short-cut? Check out
Current Favorites
for the daily top sellers.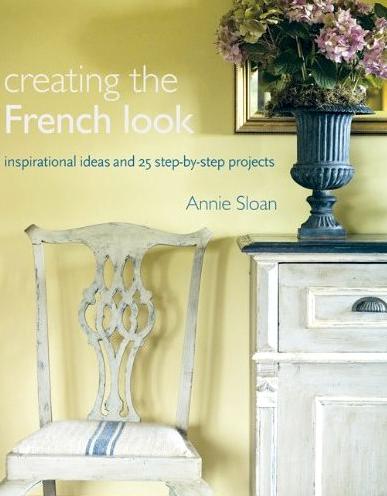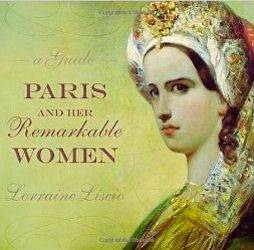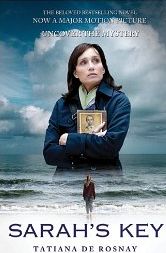 Creating the French Look by Annie Sloan…new in August 2011.
Paris and her Remarkable Women: A Guide ….profiles & walking tour guidebook to sites associated w/ 16 famous women.
Sarah's Key (with movie tie-in) by Tatiana De Rosnay (August 2011 film release in US, story is set in Paris)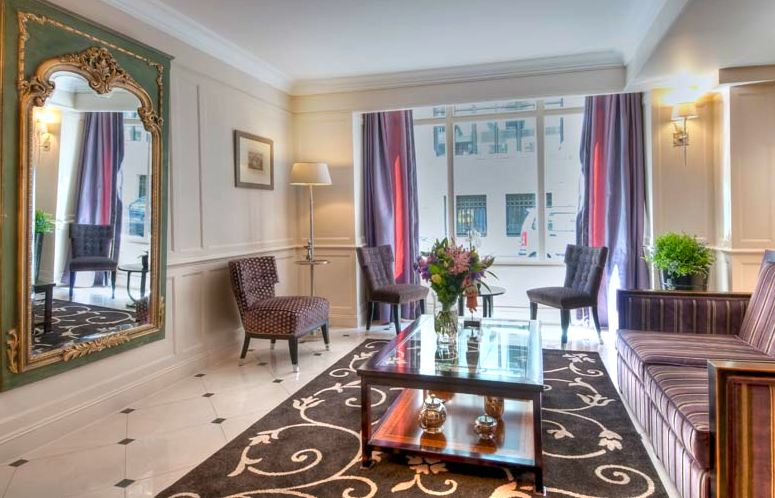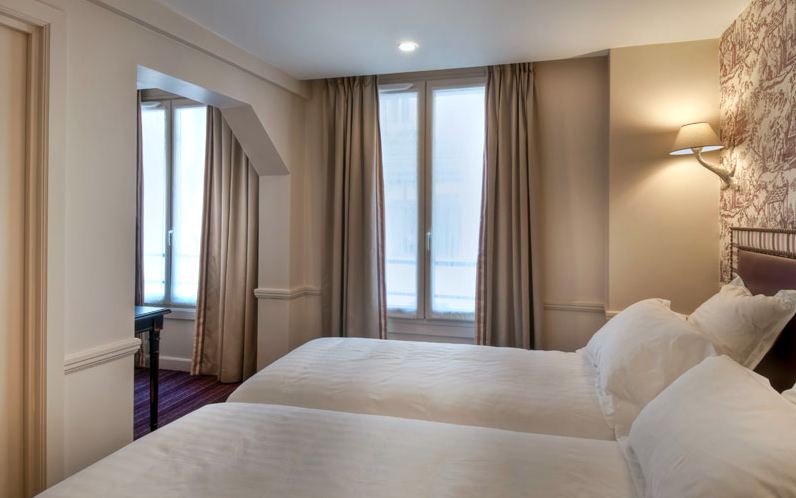 Hôtel Gramont Opera is a 3-star hotel located in central Paris near Opéra Garnier (major Métro hub) & main department stores, boutiques & Champs-Elysées. Rooms are equipped with free Wi-Fi, flat-screen TV, some rooms have balconies. On-site bar. Eligible for the best-price match guarantee from Booking.com

Be smart! Reserve your hotel at Booking.com…then keep shopping online & if you find a better rate for the same deal, contact Booking.com for your BEST PRICE MATCH GUARANTEE.
Bookmark this link & use it everytime you shop so your preferences are stored & deals are updated when you return: Booking.com.
More in 4th arrondissement, Art, art boutiques, artists, centre pompidou, France artists, French artists, India, Indian community, modern art, Paris art exhibits, Paris art museums, Paris artists, Paris-Delhi-Bombay, pompidou
---
---