Carré d'Agneau Persillé ~ Roasted Rack of Lamb with a Parsley Garlic Crust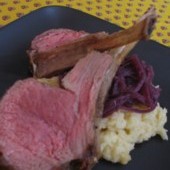 In France, leg of lamb is the featured dish for family dinners, especially in the spring. For more elegant dinners a rack of lamb is served in France, but not generally in the U.S. According to Malinda Miller Geisler of the Iowa State Ag Resource Center, most Americans are unfamiliar with it because we did not grow up in households in which lamb was served. She notes that although it is often a featured menu item at white-tablecloth restaurants, it is practically absent at other food service outlets. Furthermore, while various cuts of lamb can now be found in many supermarkets, they cost more per pound than other meats. Add up all these reasons and you can see why per capita consumption in the US is only .8 pounds per person, compared to 11 pounds per person in France, where lamb is a more familiar dish. Spring is the perfect time to serve lamb and I have a wonderfully easy French recipe for you. Voilà:
Carré d'Agneau Persillé ~ Roasted Rack of Lamb with a Parsley Garlic Crust
Pronounced: kah reh / dah nyoh / per see yeh
INGREDIENTS:
2 single racks of lamb, frenched
2 Tablespoons unsalted butter
2 large garlic cloves, very finely chopped
1/4 cup finely chopped parsley (curly)
1/4 cup dry bread crumbs
3 Tablespoons Dijon mustard
salt & freshly ground pepper
PREPARATION:
Preheat oven to 450°F.
1. Season the lamb with salt and freshly ground pepper.
2. Heat the butter in a nonstick skillet over med-high heat.
3. Sear the top of the meat until light golden. Remove from pan, but do not discard the butter.
4. Add the garlic and parsley to the pan and toss for 1-2 minutes.
5. Mix in the breadcrumbs, remove from heat and allow to cool in the pan.
6. Brush each rack with 1-1/2 Tablespoons of the mustard.
7. Spread the prepared topping equally over the two racks.
8. Set the racks in a roasting pan, and turn the oven down to 400°F. Roast until meat thermometer registers 120°F (20-25 minutes).
To serve:
Allow the rack to rest until the internal temperature has reached 130°F. Then slice between the ribs. This traditional Spring dish is often served with tiny green beans and butter-fried potatoes.
Debra Fioritto contributes delicious French recipes to BonjourParis—follow her at: @DebraFioritto on Twitter,Fabulous French Food, Julia's Paris & Provence and Tour de Forks Uncommon Epicurean Adventures.
Subscribe & be first to receive 50 original France travel & French lifestyle stories every month: free subscription. Search the BonjourParis library of over 6000+ stories & find your most complete online France travel resource since 1995. RSS feed available.
Check out our Amazon.com Boutique for the very latest stock in anything & everything for travelers & Francophiles. Books, fashion, electronics, accessories, home décor & more. New items added weekly. Same competitive prices & speedy delivery & your purchases support costs of keeping BonjourParis the most complete France travel resource.
Search hint: start at the back pages for the most recent stock.
Short-cut to our 100 TOP SELLING ITEMS

(please wait for widget to load)
We recommend hotels we know & which are rated highly by recent past guests:

Be smart! Reserve your hotel at Booking.com…then keep shopping online & if you find a better rate for the same deal, contact Booking.com for your BEST PRICE MATCH GUARANTEE.
Bookmark this link & use it everytime you shop so your preferences are stored & deals are updated when you return: Booking.com.
Leave a reply
Your email address will not be published. Required fields are marked *