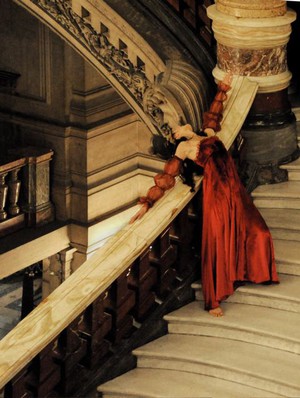 The streets of Paris are covered with photographer footprints. Henri Cartier-Bresson captured "decisive moments"—those fractions of a second when all elements converge to tell a perfect story. Willy Ronis brought us face to face with ordinary people doing ordinary things … and made us feel connected. Brassai seized the night, the seedy and the elegant, and we lost ourselves in the misty shadows and glittering lights. Doisneau brought us dramas and dreams, like the famous Hôtel de Ville kiss (staged, yes, but still evocative). Paris has inspired—and continues to inspire—artists of all paths. What is it about this city that takes hold of the photographer eye (and heart)? One answer … the light. (After all, Paris is the City of Light. And, photography means "drawing with light," relying on its quality and direction to add dimension, texture, mood, and importance to a subject). From reflections off the Seine and Haussmann buildings to stormy skies and lamp lit twilights, the Paris light often takes your breath away. And then there are the moments themselves, the unfolding stories, the characters, the rhythms, the layers of history and energy and life. Some of these moments, these stories, are like wild animals—they leap out and you must respond instinctively. Some are waiting to happen, so you set the stage and find the patience to wait for something imaginative to emerge. Some are like shadows, so fleeting that you must always be looking. Your eyes and your heart must be ready. So, how do you take the risk and leave your own unique footprints? How do you really see Paris? How do you make a connection with what you're photographing so that someone is moved or mesmerized or provoked when they step inside the image? These questions are well answered in the new exhibition Paris Insolite: A View Through 48 Eyes. For a talented group of students and me, the challenge was to show a view of Paris that has not been seen before. That meant starting fresh, changing perspective, peeling layers, and digging deep. The work of the emerging artists in the exhibit is exceptional. As a photography teacher, I find it particularly rewarding when students find their voice, sharpen their vision, and break some rules and stereotypes. Also rewarding is to see people who have lived here for a while, start to see again. Those who find the Eiffel sparkles annoying or accept the Tour Montparnasse as omnipresent (without a fight) or wish, when a metro musician hops their train, that they were in another place far far away. Now they begin to see and appreciate because the camera enhances their vision, opens them up to new experiences or relationships. This collective of students has captured the graphic fragments of architectural celebrities, the stories that unfold waiting for a bus, and the silence of rare Paris snowstorms. They have found humor and elegance in ordinary scenes and given them life. They have looked inside and released a part of themselves for all to see. My own images are also about being set free—about defying time. When I first started coming to Paris, I was amazed that my three-week vacations seemed to include so much more than the actual sum of minutes would imply. So much life occurred in such a short time. Now that I live here, I am still drawn to (and amazed by) this idea of timelessness, my personal theory of relativity.  And now I set out to capture, in whatever way I can, the expanse of time that seems to hang suspended between each tick of the clock. These moments are fleeting and eternal at the same time. You blink and they are gone and yet they are etched in your senses forever. I invite my students to watch the tourists who are racing through the city, clutching their museum pass in one hand and their camera in the other. These visitors snap photos as if they are traveling on a moving walkway. The constant camera clicking punctuates the whirlwind tour, and the hundreds of shots recorded may be the only way they will remember where they've been. I ask my students to avoid this digital addiction—to instead stop and savor the moments. It is only then that the connection with life will allow you to make a photograph rather than just take a picture. Paris Insolite: A View Through 48 Eyes opens at the Greenlane Gallery on the Ile St Louis on May 25 and runs through June 6. The vernissage, open to the public, is Friday, May 28 beginning at 7 pm. The gallery is located at 29, rue des Deux Ponts and is open Tuesday through Sunday from 2–7 pm. Meredith Mullins is an American fine-art photographer and writer living in Paris. She is the author of the award-winning book In A Paris Moment, an elegant collection of photographs and stories about Paris and is a teacher of photography for adults and children. She is a winner of the 2009 Grand Concours Photo sur Paris. Her photographs can be found at
www.meredithmullins.artspan.com
. © Meredith Mullins   Paris Shuttle. The leading provider of pre-bookable airport transfers in Paris. Book your airport transfer with 
Paris-Shuttle.com
and save up to 30%. Please post your comments or questions and let them flow. Register 
HERE
to do so if you need a Bonjour Paris user name and password.
SUBSCRIBE
ALREADY SUBSCRIBED?
BECOME A BONJOUR PARIS MEMBER

Gain full access to our collection of over 5,000 articles and bring the City of Light into your life. Just 60 USD per year.

Find out why you should become a member here.

Sign in

Fill in your credentials below.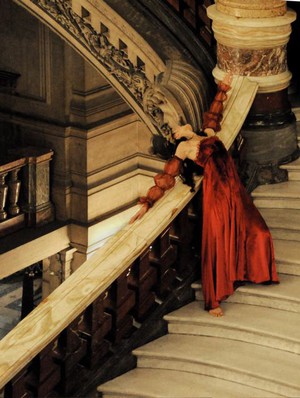 The streets of Paris are covered with photographer footprints. Henri Cartier-Bresson captured "decisive moments"—those fractions of a second when all elements converge to tell a perfect story. Willy Ronis brought us face to face with ordinary people doing ordinary things … and made us feel connected. Brassai seized the night, the seedy and the elegant, and we lost ourselves in the misty shadows and glittering lights. Doisneau brought us dramas and dreams, like the famous Hôtel de Ville kiss (staged, yes, but still evocative).
Paris has inspired—and continues to inspire—artists of all paths. What is it about this city that takes hold of the photographer eye (and heart)? One answer … the light. (After all, Paris is the City of Light. And, photography means "drawing with light," relying on its quality and direction to add dimension, texture, mood, and importance to a subject). From reflections off the Seine and Haussmann buildings to stormy skies and lamp lit twilights, the Paris light often takes your breath away.
And then there are the moments themselves, the unfolding stories, the characters, the rhythms, the layers of history and energy and life. Some of these moments, these stories, are like wild animals—they leap out and you must respond instinctively. Some are waiting to happen, so you set the stage and find the patience to wait for something imaginative to emerge. Some are like shadows, so fleeting that you must always be looking. Your eyes and your heart must be ready.
So, how do you take the risk and leave your own unique footprints? How do you really see Paris? How do you make a connection with what you're photographing so that someone is moved or mesmerized or provoked when they step inside the image?
These questions are well answered in the new exhibition Paris Insolite: A View Through 48 Eyes. For a talented group of students and me, the challenge was to show a view of Paris that has not been seen before. That meant starting fresh, changing perspective, peeling layers, and digging deep.
The work of the emerging artists in the exhibit is exceptional. As a photography teacher, I find it particularly rewarding when students find their voice, sharpen their vision, and break some rules and stereotypes. Also rewarding is to see people who have lived here for a while, start to see again. Those who find the Eiffel sparkles annoying or accept the Tour Montparnasse as omnipresent (without a fight) or wish, when a metro musician hops their train, that they were in another place far far away. Now they begin to see and appreciate because the camera enhances their vision, opens them up to new experiences or relationships.
This collective of students has captured the graphic fragments of architectural celebrities, the stories that unfold waiting for a bus, and the silence of rare Paris snowstorms. They have found humor and elegance in ordinary scenes and given them life. They have looked inside and released a part of themselves for all to see.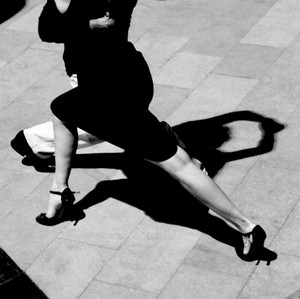 My own images are also about being set free—about defying time. When I first started coming to Paris, I was amazed that my three-week vacations seemed to include so much more than the actual sum of minutes would imply. So much life occurred in such a short time. Now that I live here, I am still drawn to (and amazed by) this idea of timelessness, my personal theory of relativity.  And now I set out to capture, in whatever way I can, the expanse of time that seems to hang suspended between each tick of the clock. These moments are fleeting and eternal at the same time. You blink and they are gone and yet they are etched in your senses forever.
I invite my students to watch the tourists who are racing through the city, clutching their museum pass in one hand and their camera in the other. These visitors snap photos as if they are traveling on a moving walkway. The constant camera clicking punctuates the whirlwind tour, and the hundreds of shots recorded may be the only way they will remember where they've been.
I ask my students to avoid this digital addiction—to instead stop and savor the moments. It is only then that the connection with life will allow you to make a photograph rather than just take a picture.
Paris Insolite: A View Through 48 Eyes opens at the Greenlane Gallery on the Ile St Louis on May 25 and runs through June 6. The vernissage, open to the public, is Friday, May 28 beginning at 7 pm. The gallery is located at 29, rue des Deux Ponts and is open Tuesday through Sunday from 2–7 pm.
Meredith Mullins is an American fine-art photographer and writer living in Paris. She is the author of the award-winning book In A Paris Moment, an elegant collection of photographs and stories about Paris and is a teacher of photography for adults and children. She is a winner of the 2009 Grand Concours Photo sur Paris. Her photographs can be found at www.meredithmullins.artspan.com.
© Meredith Mullins
Paris Shuttle. The leading provider of pre-bookable airport transfers in Paris. Book your airport transfer with Paris-Shuttle.com and save up to 30%.
Please post your comments or questions and let them flow. Register HERE to do so if you need a Bonjour Paris user name and password.
More in Bonjour Paris, Paris galleries, Paris photography, Paris sightseeing, photography
---
---