Catch It if You Cannes on La Croisette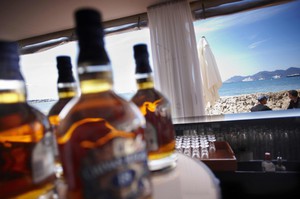 As any true Cannes Festival aficionado might tell you, the glitzy strut-and-pose ritual up the red carpet is definitely overrated. The fact is, even if you're all dolled up in your black-tie finery without a single stumble in your Jimmy Choo heels, you're still a glamorous nobody. Let's face it: the bored photographers on the sidelines will be looking the other way. And should you linger a moment at the top of the steps to star-gawk, you'll be rudely shooed inside by the brigade of security. On the other hand, there's something to be said about the magic of the Festival's early morning screenings—8:30 am—in fact, the very same films that are in competition in the evening. With any luck, you 've had time to gulp down a coffee and join the droves of bleary-eyed industry badge-holders and journalists walking briskly down the freshly swept streets. Two hours later, you emerge from the dark, blinking in the dazzling sunlight, and start walking aimlessly down La Croisette. In the early morning, the film hits you harder, the emotions are raw and pure. No razzmatazz—this is also Cannes. This year, business was still business and neither volcanic ash nor surging surf seemed to dampen festival goers' spirits. Having covered the Cannes Festival for the press for two decades, I still come to expect the unexpected. Ambling along La Croisette in the midday heat, it was suddenly winter: fake snow and Christmas carols blaring from the Hotel Carlton, one of those over-the-top stunts financed by American studios that can only happen here. A promo event for a forthcoming Disney 3-D A Christmas Carol, passersby might have even spotted Jim Carrey, who stars in the film as Ebeneezer Scrooge, toss a few snowballs before he ducked into the entrance. But studios are the only ones pouring money into lavish parties. The Cannes Festival is a showcase for a plethora of brands, from Chopard jewels, Audi and l'Oreal makeup to San Pellegrino water, Schweppes, and Grey Goose Vodka. One of the most active official partners this year was Chivas Regal, the famed Scotch whiskey, who hosted the nightly raging star-packed parties on La Croisette at the "Chéri Chéri" beach. Guests were served Chivas straight up or in cocktails (whiskey, cranberry juice, raspberry liqueur, with a zest of lemon), but a Coke was hard to find. "Chivas is bringing Chivalry back to Cannes," says Olivier Bassil, Chivas spokesman and co-founder of luxury lifestyle website, SQUA.RE. It may seem a little far-fetched but after one drink, it begins to make sense. Words like honor, sophisticated and old-fashioned values are suddenly back in style. Remember what Tom Hanks was drinking in Charlie Wilson's War? Well, never mind. While famous brands are flaunted and swilled in movies, Cannes' wildly original Michelin two-star chef at La Palme d'Or, Christian Sinicropi is busy in the kitchens of the Hotel Martinez, dreaming up unlikely combos of exquisite flavors and visually stunning dishes, all inspired by his favorite films. For example, on opening night, in honor of Tim Burton, the jury was served a remarkable Alice in Wonderland-inspired array of delights, right down to the desserts: a sugar bubble with a red heart, or a tiny chocolate Burton look-alike man filled with feather-light mousse. Just when you thought you've finished—voilà! Under the dish is yet another dessert—a delicate tiny pink spun sugar handbag placed atop a plate with a painted key—Alice's key. As if that were not enough, Sinicropi and his wife, who is a potter, also design the colorful glazed ceramic dishes used for special dinners in their atelier at home. Chef of the stars? The unconventional Christian Sinicropi, who sports a chartreuse green chef's shirt ("white is too stiff, too boring," he says), has cooked for a fair share of the cinema's biggest names, from Brad Pitt and Angelina Jolie to Clint Eastwood and Gerard Depardieu. But what interests him the most is the emotion of the films, and how they tickle his culinary imagination. His recently published book, Small Delights, Great Movies (Ramsay Press) is a cinematic romp with 60 recipes, ranging from classic epics—Star Wars yields iced risotto with shrimp and melon on sword-like spears—to Apocalypse Now, featuring squares of venison with caviar, and red cabbage purée with watercress and pumpkin, all artfully arranged on the plate as a kind of maze. Born and raised in Cannes, Sinicropi says he loves the 15-day celebration, but is not daunted by the glittery show. When it comes down to it, his biggest thrill is having a look at the progress of his thriving tomato patch before he leaves for work. "For me," says Sinicropi, "a just-picked plump vine-grown tomato that's still warm from the sun, that turns purple and bleeds when you bite into it. That's what I call luxury."   Paris Shuttle. The leading provider of pre-bookable airport transfers in Paris. Book your airport transfer with 
Paris-Shuttle.com
and save up to 30%. Please post your comments or questions and let them flow. Register 
HERE
to do so if you need a Bonjour Paris user name and password.
SUBSCRIBE
ALREADY SUBSCRIBED?
SUBSCRIBE NOW TO SUPPORT BONJOUR PARIS

Support us for just $60 a year

Sign in

Fill in your credentials below.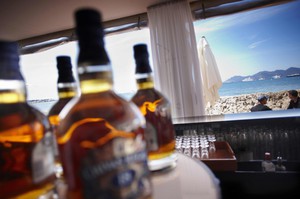 As any true Cannes Festival aficionado might tell you, the glitzy strut-and-pose ritual up the red carpet is definitely overrated. The fact is, even if you're all dolled up in your black-tie finery without a single stumble in your Jimmy Choo heels, you're still a glamorous nobody. Let's face it: the bored photographers on the sidelines will be looking the other way. And should you linger a moment at the top of the steps to star-gawk, you'll be rudely shooed inside by the brigade of security.
On the other hand, there's something to be said about the magic of the Festival's early morning screenings—8:30 am—in fact, the very same films that are in competition in the evening. With any luck, you 've had time to gulp down a coffee and join the droves of bleary-eyed industry badge-holders and journalists walking briskly down the freshly swept streets. Two hours later, you emerge from the dark, blinking in the dazzling sunlight, and start walking aimlessly down La Croisette. In the early morning, the film hits you harder, the emotions are raw and pure. No razzmatazz—this is also Cannes.
This year, business was still business and neither volcanic ash nor surging surf seemed to dampen festival goers' spirits. Having covered the Cannes Festival for the press for two decades, I still come to expect the unexpected.
Ambling along La Croisette in the midday heat, it was suddenly winter: fake snow and Christmas carols blaring from the Hotel Carlton, one of those over-the-top stunts financed by American studios that can only happen here. A promo event for a forthcoming Disney 3-D A Christmas Carol, passersby might have even spotted Jim Carrey, who stars in the film as Ebeneezer Scrooge, toss a few snowballs before he ducked into the entrance.
But studios are the only ones pouring money into lavish parties. The Cannes Festival is a showcase for a plethora of brands, from Chopard jewels, Audi and l'Oreal makeup to San Pellegrino water, Schweppes, and Grey Goose Vodka.
One of the most active official partners this year was Chivas Regal, the famed Scotch whiskey, who hosted the nightly raging star-packed parties on La Croisette at the "Chéri Chéri" beach. Guests were served Chivas straight up or in cocktails (whiskey, cranberry juice, raspberry liqueur, with a zest of lemon), but a Coke was hard to find.
"Chivas is bringing Chivalry back to Cannes," says Olivier Bassil, Chivas spokesman and co-founder of luxury lifestyle website, SQUA.RE. It may seem a little far-fetched but after one drink, it begins to make sense. Words like honor, sophisticated and old-fashioned values are suddenly back in style. Remember what Tom Hanks was drinking in Charlie Wilson's War? Well, never mind.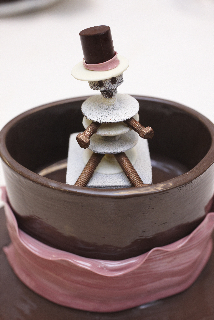 While famous brands are flaunted and swilled in movies, Cannes' wildly original Michelin two-star chef at La Palme d'Or, Christian Sinicropi is busy in the kitchens of the Hotel Martinez, dreaming up unlikely combos of exquisite flavors and visually stunning dishes, all inspired by his favorite films. For example, on opening night, in honor of Tim Burton, the jury was served a remarkable Alice in Wonderland-inspired array of delights, right down to the desserts: a sugar bubble with a red heart, or a tiny chocolate Burton look-alike man filled with feather-light mousse. Just when you thought you've finished—voilà! Under the dish is yet another dessert—a delicate tiny pink spun sugar handbag placed atop a plate with a painted key—Alice's key. As if that were not enough, Sinicropi and his wife, who is a potter, also design the colorful glazed ceramic dishes used for special dinners in their atelier at home.
Chef of the stars? The unconventional Christian Sinicropi, who sports a chartreuse green chef's shirt ("white is too stiff, too boring," he says), has cooked for a fair share of the cinema's biggest names, from Brad Pitt and Angelina Jolie to Clint Eastwood and Gerard Depardieu. But what interests him the most is the emotion of the films, and how they tickle his culinary imagination.
His recently published book, Small Delights, Great Movies (Ramsay Press) is a cinematic romp with 60 recipes, ranging from classic epics—Star Wars yields iced risotto with shrimp and melon on sword-like spears—to Apocalypse Now, featuring squares of venison with caviar, and red cabbage purée with watercress and pumpkin, all artfully arranged on the plate as a kind of maze.
Born and raised in Cannes, Sinicropi says he loves the 15-day celebration, but is not daunted by the glittery show. When it comes down to it, his biggest thrill is having a look at the progress of his thriving tomato patch before he leaves for work.
"For me," says Sinicropi, "a just-picked plump vine-grown tomato that's still warm from the sun, that turns purple and bleeds when you bite into it. That's what I call luxury."
Paris Shuttle. The leading provider of pre-bookable airport transfers in Paris. Book your airport transfer with Paris-Shuttle.com and save up to 30%.
Please post your comments or questions and let them flow. Register HERE to do so if you need a Bonjour Paris user name and password.
More in Bonjour Paris, Cannes film festival, Food Wine, France cuisine, Michelin
---
---