Cafe Lumiere, Pippa M at Roland G, Les Paillotes & Sea Sens BUZZ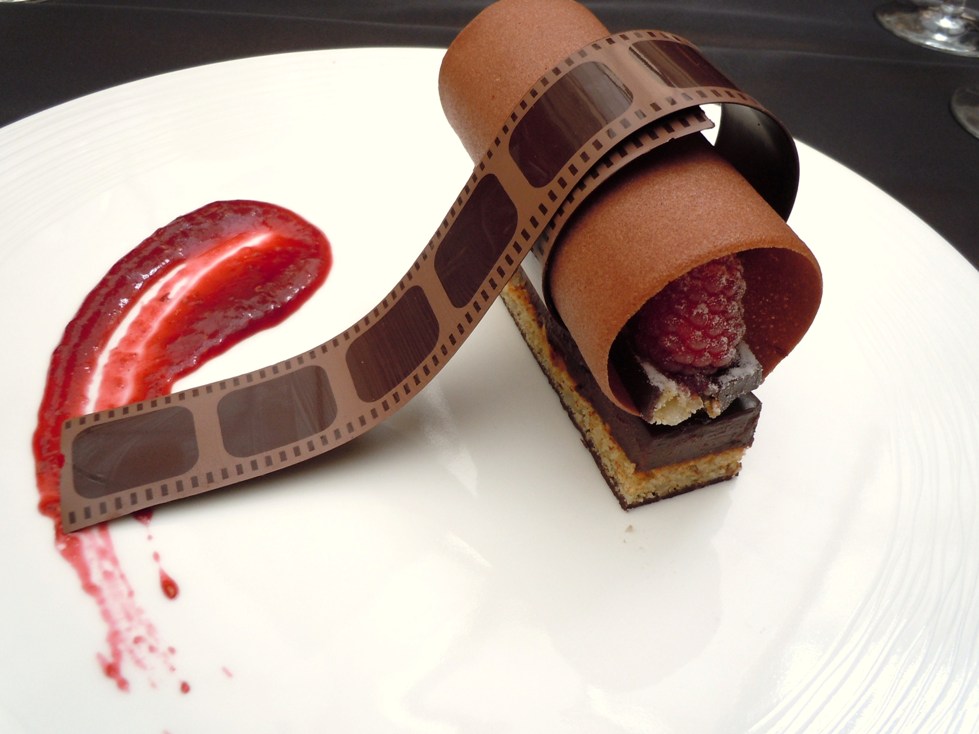 If you like a bit of history with your plat du chef selon le marché, Le Scribe is a great location. Not only because it's right near Garnier's Opéra House and Place Madeleine, but also because it's a Sofitel. Please, we've had enough snickers about Paris being much better than the Times Square Sofitel. The Scribe is where, in 1895, the first movie was shown by the Frères Lumière. Some will tell you it was in Lyon, but I'm telling you it was here.
Seems that in 1895 Monsieur Volpini, proprietor of the Scribe's Grand Café was dealt a blow when billiards was banned in cafés (don't ask). What was he to do with his huge billiards rooms devoted to this lucrative activity? Destiny arrived in the shape of Antoine Lumière, up from Lyon to create one of the first light-signs for the studio of uber-photographer Nadar, just opposite Le Scribe, at 35, boulevard des Capucines. When Lumière saw the buzz of celebs coming and going he pitched the idea of a cinema to the hotel manager (Monsieur Volpini) and from then on it was "lights, camera, action."
When Sofitel acquired Le Scribe they decided to re-create the cinema attitude and re-branded Les Muses restaurant (where Yannick Alleno, Franck Charpentier and Jean Franҫois Rouquette once cooked) as Cafe Lumière,  moving it from below stairs to the ground floor. It's lounge style with comfy armchairs, about 50 covers and outsize black and white photos, especially over the fireplace where the dashing brothers Lumière watch the comings and goings of a very chic clientèle. The hotel recently reopened after refurbing and looks immaculate with superb décor by architect/designer Jacques Grange.
Walking into the Sofitel, there's an airy country house hotel feel. Library, comfy armchairs and sofas, newspapers, magazines. Nice. And there's the Café Lumière on the left, with a bar and a corner for afternoon tea, snacks. Wearing the whites are two young turks with talent: Chef Sebastien Crison (ex-second at Le Scribe, Lutetia, Carré des Feuillants, Saint James Club, Paris) and brilliant Pastry Chef Eric Barnerias (ex-Ritz). His dessert "Le Cinéma" is a tour de force: it's a roll of thin edible chocolate film perched on a cinema screen; the caramel biscuit/millefeuille sandwiched with dark chocolate mousse has touches of ginger and macadamia. The Lumières would freak and shriek with joy, I know I did. Barnerias says it's not difficult to make, does a few hand movements the way the French do, and says, "Voilà, c'est facile." Mais oui, you liar.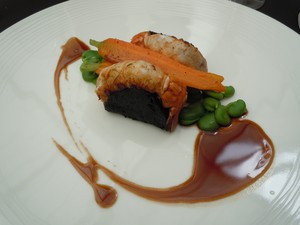 Monday to Friday's lunch formula "Affaire" is titled "Lumière du Jour" featuring signature dishes or à la carte, say, start with Foie Gras de Canard associé au navet confit, fine purée glacée au raifort with a flute of Champagne Laurent-Perrier Millésime, 2000 (23€). Don't miss the main of Boudin noir maison et grosses langoustines, the earthy boudin a perfect match for the plump seafood (see photo). Nice with a glass of St. Estèphe, Cru Bourgeois, Château La Commanderie, 2008 (15€). There's always a dish of the day and service is smooth, informative, without being intrusive. Staff with Union flag badges speak English.
At weekends there's a smaller A La Carte menu, "Un Weekend à Paris,"—what could be nicer. I'm there.
Le Café Lumière at Hôtel Scribe
Tél: 01 44 71 74 20
1, rue Scribe, Paris 9th
Métro: Opéra
Open 7/7
Average Spend 55-95€
Weekday Lunch "Lumière du Jour" 45€
Menu "Un Weekend à Paris" Sat-Sun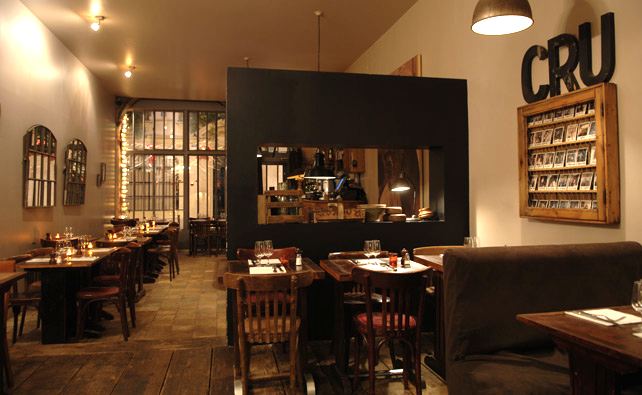 On a recent visit to Paris to watch The French Open, The Duchess of Cambridge's sister, Pippa Middleton, was presented with a book by her host, Xavier Peugeot, charting the 200-year history of the brand. Is she trading in her BMW?  Meanwhile, Her Royal Hotness was spotted dining at Le Cinq Mars, the chic bistro near Serge Gainsbourg's pile, where specialities include Bar en papilotte and Les Saucisses de Chez Conquet, avec pommes purée. Desserts are always served with Mousse au Chocolat à discretion, read, an outsize bowl left on the table for you to fulfill your choco-fantasies. Then, the party burned off the calories at Montana, André Blackblock's answer to NYC's Studio 54, 28, rue Saint Benoit, Paris 6th.
Tél: 01 45 44 69 13
51, rue de Verneuil, Paris 7th
Métro: Solférino
Open Tues-Sat  Lunch: 12-2:30pm Dinner: 7:30-11pm
Lunch 17-25€ A La Carte about 35€
Who knew?
There's a hot new chef at Les Paillotes with a refreshing spin: he wants no publicity, you won't see him swanning around the gorgeous guingette—he wants his food to talk, not him. So, no names just yet, but a young disciple of Ducasse who's done time in Indonesia, London, Australia, the South of France (Eden Roc) sounds definitely worth the trip across town to Etangs-Corot.
The Post Office, Cannes, is now a swank new hotel with rooftop restaurant, SeaSens, signed by the Pourcel twins. Thirty rooms, fifteen suites and Five Senses Spa. See you there then.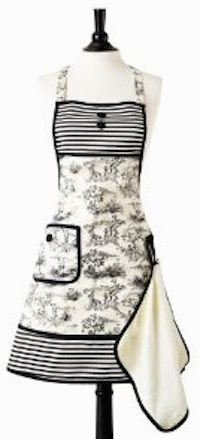 Tél: 04 63 36 05 05
1, rue Notre Dame, Cannes
Perfect hostess gift or a gift to jazz up your kitchen?
Chic French toile pattern apron by Jessie Steele comes with coordinated towel. Coordinating pot mitt available, sold separately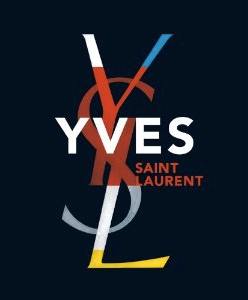 We bought this collectible book at the 2010 YSL Retrospective Exhibition and it's on our coffeetable. This luxurious volume was published to accompany the retrospective of Yves Saint Laurent's work that drew tens of thousands to the Petit Palais Museum. Retrospective curators presented the fashion designer's professional craft and personal history in a very thorough exhibition. From his early days working under Dior and heading the House of Dior after his mentor's death, to the opening of his first prêt à porter shop on le Rive Gauche and debut of his iconic "Smoking Tuxedo" for women, to the muses he adored, Loulou de la Falaise and Catherine Deneuve among them, this volume reveals the breadth and scope of the designer's entire career. Gorgeous book and available here today for about half of what it cost at the event, not to mention the pain of lugging home a tome. Click to order YVES SAINT LAURENT or find the latest in travel accessories, book and treats for Francophiles at our Amazon.com French Marketplace.
Leave a reply
Your email address will not be published. Required fields are marked *