Book Review: Flea Markets of France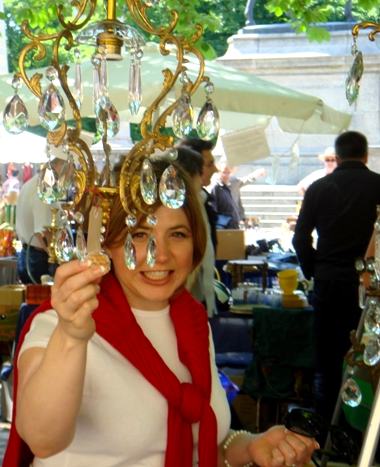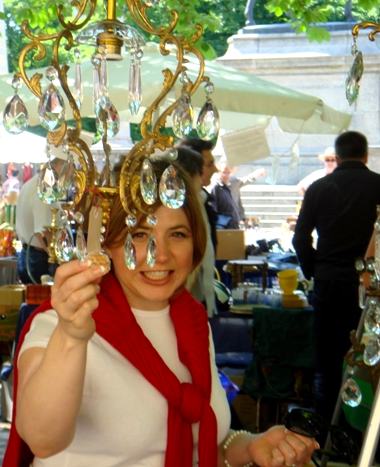 When we were transferred overseas with our first expat assignment over a decade ago, my husband went ahead to start his new job in Paris while I stayed behind a few weeks in the USA to orchestrate the move.
When our shipment arrived months later with only a quarter of our furniture in tow, my husband was baffled. "Did we get robbed at sea? Darn pirates," he muttered, scanning our Parisian salon for a chaise upon which to sit while I smiled, waiting for the chandelier of his mind to turn on. Bingo.
The consequences of his not sharing in the coordination of our international move finally hit home as I revealed that his infamously bloody "Bears and the Bulls" painting that formerly hung in his Boston office had been donated to the Salvation Army. The hand-me-down furniture we'd received from the parentals upon marrying straight out of university had been handed down once more and a few of my husband's before-he-met-me pieces had taken a trip to the tip. As an incredulous expression filled his face and the word "why" began to press on his lips, I gave my answer that would define nearly a decade of our expatriate life: "As expats, Europe is now our playground. A person's home should reflect not only who they are, but where they've been and where they are going." By bringing only our favorite possessions, I gave us room to grow into the people we'd become through living abroad.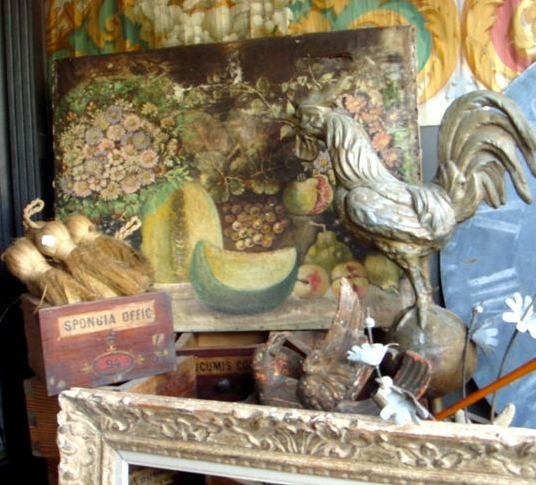 Lacking a table to set for dinner as well as the china upon which to eat, hitting the flea markets of France was a priority. We went to Les Puces de Paris, Porte de Vanves and religiously scoured Antiquités Brocante magazine for upcoming brocantes and vide-greniers. As we began traveling around France, our travel choices started to dictate our décor. A trip to Brittany meant coming home with copper pots and Alsace instigated an insatiable desire for kugelhopfs and while it was fun exploring and shopping the local specialties that are made in France, what I really wanted was to explore the flea markets of these regions.
By happenstance one day while pursuing the shelves at WHSmith I stumbled upon a book that changed my life: Exploring the Flea Markets of France, a Companion Guide for Visitors and Collectors by Sandy Price. Walking home from the Rue de Rivoli, I cut across the Tuileries and sat on the pedestrian bridge. Filled with excitement and yearning I read the book cover to cover—all 274 pages, sitting in the afternoon sun with the shade of the Institut de France slowly creeping over the Seine.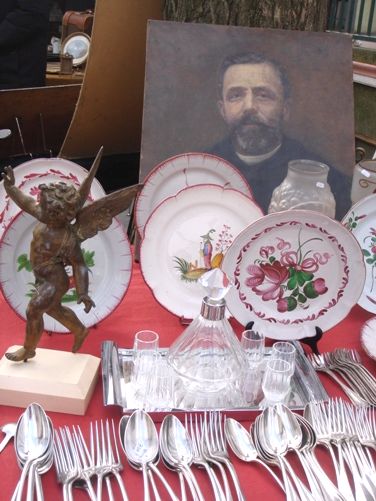 From that moment onward, once a month my husband and I would head out of the city, taking Sandy Price's book with us on one journey after another. During these weekends spent flea-marketing in the French countryside we filled our home and stomachs as we sampled the regions' specialties. Along with our expanding waistlines, we returned to our 6ème Parisian apartment with spoils such as a shabby château canapé that groaned when we sat on it and Napoleon III side tables lacquered and adorned with mother of pearl embellishments . Art deco statues were woven into our interior with an array of Gien, Sèvres and Limoges porcelain. Rustic wooden tables, gilded chairs and shimmering chandeliers found their way home with us and we made a multitude of purchases practically at author Price's urging as we took her tips into consideration, collecting Boules balls and Café au Lait bowls, linens and champagne buckets, crystal and corkscrews.
The book that started my passion, Exploring the Flea Markets of France, a Companion Guide for Visitors and Collectors, bears a copyright of 1999. In 2009 Sandy Price released an updated version of her book, The Flea Markets of France, published by The Little Bookroom. The new book is beautifully illustrated with images of markets and wares found there and continues to canvas the significant regular flea markets across France. If you've been bitten by the flea market bug, purchasing Price's book practically guarantees you'll feel like you've died and gone to flea market heaven!
Toma Clark Haines is an author of the blog The Antiques Diva, Chief Executive Diva of The Antiques Diva® & Co offering European Antiques Shopping Tours in France, Holland, Belgium, Germany, Italy and England.
The Antiques Diva™ is the In-House Antiques Expert for Bonjour Paris. BonjourParis Premium Members receive a 10% discount with the Antiques Diva™ Tours.
NEW:
Subscribe for free
to our weekly newsletters with subscriber-only stories.
Thank you for using our link to Amazon.com…your purchases support our free site.
Click on image for more info about these favorites.
Leave a reply
Your email address will not be published. Required fields are marked *