If you dream of getting a table at L'Osteria ("they" say it's the best Italian food in town: I'm not so sure) hurry! Seems that Toni Vianello is
selling up and heading for Cap Verde (
www.caboverde.com
), apparently the next big thing: I'm not so sure about that either. He's going to chill in a home designed for him by none other than Jean Nouvel. Now that's a cute way of assuring a plate of Toni's white truffle pasta, risotto and osso- bucco for life! (01 42 71 37 08).
Happy Birthday Dominique Bouchet (27 th July). His restaurant has been "full house" midi and soir since it opened. Great products, about 50€ a head make it a BUZZ best buy. "We're closing for the whole of August, and then opening a little salon below stairs in November", he says. Bouchet's got the last laugh now The Crillon has been sold – will his successor Jean-Francois Piege be looking for a job come September? Watch this space. (01 45 61 09 46)
www.dominique-bouchet.com
Much travelled Gilles Epié (ex- Miravel, Paris L'Orangerie, L.A. ex-La Cour St Germain, Paris etc.) has openedt Francois Clerc's former Bouchon de just off the Champs Elysées, opposite Guy Savoy's Chiberta! At Citrus Etoile, expect to pay around 50€ for a fine repas including Epié's classics. And, the good news is that, Epié likes the place so much he's bought the wine cellar. Alert readers will remember that Clerc went belly-up offering "
grands cru à prix coutants". Let's hope the same thing doesn't happen to gorgeous Gilles.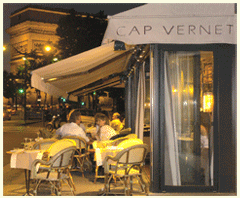 And, talking of Guy Savoy, remember Cap Vernet? The cruise-ship style fish and seafood canteen at the angle of Avenue Marceau? You need to pop in, check out the nice new décor by Daniel Magnac. Out go the kitsch blue and white marine stripes, in come sand- dune tones, exotic wood floors, touches of plum for the carpet, and outsize chandeliers decorated with computer graphics of naval prints. Call it new wave, read, your own private luxury yacht in the heart of Paris!
The décor may have changed but most of the staff stayed. Stephane Marcuzzi isstill Director of the Salle. So who's below stairs in the galley then? Jean-Marc Lemmery a self- taught chef who explains: "I am a physiotherapist by trade, but aged 33 realised my ambition was to be a chef!".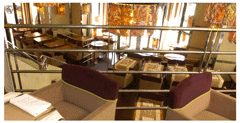 So, Lemmery, putting all his oeufs in one pannier, brought his wife and 3 kids to Paris. "I was lucky enough to meet Pierre Gagnaire and began my culinary career washing dishes in his rue Balzac kitchens". Lemmery went on to work all the posts chez Gagnaire, was then offered the post of Head Chef at the very posh St. James Club; he stayed for three years. "Then I had a call from Stephane Marcuzzi to join the team at the new Cap Vernet, a fabulous opportunity to widen my horizons", he explains.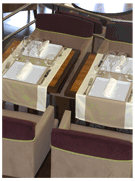 Lemmery relies on products delivered fresh daily from Cancale, St. Malo, the Bay des Veys, Normandie. And, when in season, the finest oysters d'Isigny, or Les Marennes d'Oléron. Recently a friend in Tahitisent him a 48 kilo fish by DHL! "It was so exciting, I used every part of it, even the cheeks!" Expect Cigales de Mer, outsize Saint Jacques and Red Label wild salmon. All cooked simply with plants and exotic flowers to add a dash of Lemmery. Carnivores will find côtelettes d'agneau a la plancha, filet de boeuf with pommes de terres de Noirmoutier and excellent wines to wash it all down. For vegetarians, organic legumes, steamed or pan-fried.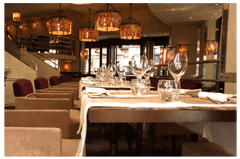 Desserts, by Lemmery,include delicate peach crumble, a caramel balsamique-miel with soupe de fraises or a wicked warm chocolate cake.
At lunchtime the Cap is packed with captains of industry (maybe doing fishy deals!). Tea-time features patisserie by Gérard Mulot. At night, a glass of Coteaux de Vendomois with tapas, on the terrace, as you watch the movie that is Parisstroll by. Whatever, Cap Vernet is a delightful address.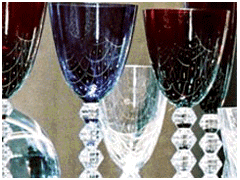 As is the Cristal Room at Baccarat. That's the magnificent Hotel Particulier, once owned by the de Noailles family, now the flagship offices, museum, boutique for Baccarat, through the looking glass design by Philippe Starck.
Booking a table can be tricky; the wait, the refusal. "Non Madame nous sommes complet". Finally you hit on a mutually convenient date, six months ahead, and unless the dog/dad/gran dies, you look forward to the evening. To be fair, it is easier at lunch-time, for the Ladies Who Do.
The restaurant is like the Hollywood Bowl, stunning, tables set with Baccarat glassware, starched white linen, lots of silver. Thierry Burlot's menu is created for his hip- hip-huppé clientele. Starters include Soupe de petits pois, soupcon de menthe chocolat. Nicoise de legumes Croquants, lait de concombre a boire. Caviar Oscietre Imperial Petrossian et Blini (170€ for 50 grs). Portions are achingly small, so you compensate with the home-made bread, fresh warm and plentiful.
Is It Worth It? Yes. Just to gape at Starck's black chandeliers. You don't really have to eat, there's a warm welcome in the museum where you can see the new Baccarat jewellery collection for men, the must have handbags for women ( by Renaud Pellegrino). And dream on. Yes, that's what you're buying/eyeing chez Baccarat; a dream.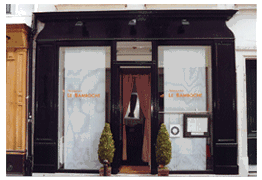 "I don't want to serve dishes clients make at home, I want them to dream when they come here", insists Serge Arce. With his partner, Philippe Fabert, the duo recently took over Claude Colliot's Le Bamboche, that contemporary space behind Le Bon Marché. There's already a celeb crowd of movie producers, actors and the like ("no names please, this is a secret hideaway").
The multi-lingual Serge has a worldwide formation, wears at least two hats: in the morning he's either in the market or, in the tiny spotless kitchen, creating sparkling new dishes with Fabert.
Come lunchtime/dinner Serge's spic in a perfect suit, welcomes clients and explains Bamboche's signature dishes: Carpaccio of tomatoes with herb sorbet or Chaud Froid de Foie Gras pain d'epice et mélanosporum (black truffles darling). The very popular Carré tout canard, poivrade d'artichaut aux pignons. Dessert may be a Trilogie de chocolat et son verre du Compte de Cathare or a stunning Parfait a la Passion, mangues rôties cloutées au girofle or Samba de sorbet rehaussé de fruits exotique, named in homage to Serge's beautiful Brazilian wife. The well stocked wine cellar has bottles that range from 25 to over 1,000€. The stuff of dreams indeed.
82 avenue Marceau, 8 th (Metro: Charles de Gaulle Etoile)
15 rue de Babylone, 7 th (Metro: rue de Bac)
Lunch 28-35€ – Dinner 56€ – Menu Dégustation Surprise 70€ + wine
11 place des Etats-Unis, 16 th (Metro: Boissière)
Lunch – About 40€ – Dinner about 80€ + wine
Coffee served in the gallery