Living in Provence: The Cancun Express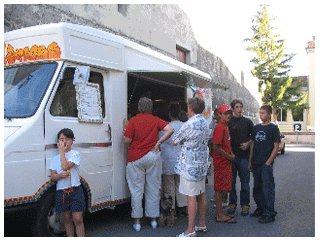 My friend Laurie was organizing a pizza evening in Villedieu (population 518). The summer had barely begun, but pizza truck MUU-MUU was back on the main square Sunday nights; the weather was warm enough to eat outside in the Place by the mossy fountain under the plane trees. The oyster and Chardonnay Fridays at the Bar du Centre were over now until Fall. At some point midweek my phone rang; it was Laurie on her portable (cell phone) calling from her truck. "Hey, I found the guy!" "What guy?" "The Mexican!" "What Mexican?" "THE MEXICAN-FOOD-TRUCK GUY!" I vaguely remembered her talking about a man who went from village to village during the summer selling Mexican food from his truck. She explained Pizza MUU-MUU couldn't make it to Villedieu that Sunday; the Mexican was filling in. We would need to make reservations, but she didn't have the number. Her husband, Hubert, had it at their winery, Domaine de Deurre. The only problem was Hubert was in China. She phoned Shanghai from her truck, quickly said hello to Hubert and got Jon Larum's ("the guy") number here in Rasteau. When I called to place my order, I was surprised to discover he spoke perfect American English. He's from the Napa Valley. His wife, Françoise, is French and runs the family winery, Domaine des Girosols, with her sister and parents in Rasteau.  I asked about the menu and placed my order: guacamole and chips, quésidilla, and mentioned I was part of "Patricia's Table."   "Oh, that's a big group; I've been getting calls from them all week. You're just one person?" "Er, yes. Actually, I'm Patricia…." Sunday night, my Westie Emily and I hopped into the cute little red Citroën and headed for the medieval village of Villedieu, a 15-minute drive from Nyons. The "City of God's" population was about to swell. As we tootled along the D7, surrounded by endless hectares of grape vines, a large dog ran smack in front of the car. I violently swerved to avoid hitting it. The "dog" was quickly followed by four other exactly identical "dogs."  "Ohmygod!" I screamed, "Emmie, look, look at the marcassins (baby wild boars)!"  The sanglier siblings trotted off and we continued up the hill into town. A white C35 Citroën truck decorated with Mexican flags and brightly painted designs was parked just off the main square. There was already a line at the window; a few gosses (little kids) were circling the truck on their bikes while two others were busy counting out pocketfuls of small change. A mangy brown dog sat patiently in the street, licking his lips, staring intently at the food being passed over the counter from the truck's tiny kitchen. The square was already filling up; people were pushing tables together, moving chairs, reserving places. The serveurs (waiters) from the Bar du Centre  were busily running back and forth across the street with drinks from the bar, dodging kids, dogs and an occasional car. Emily ran off to join a group of dogs playing around the fountain and I searched for "Patricia's Table." My friend Renée was just arriving with Hansje and Hugo, her wire-haired miniature dachshunds, followed shortly after by my friend Deloris and Spice, her black Labrador.  Laurie was already seated with a large group of friends and her 13-year-old daughter, Mareva. They were rapidly devouring three enormous plates of guacamole and chips.  "Dig in!" she urged, pushing the paper plate in my direction. I took a chip and scooped up some guacamole. WOW! I couldn't believe how good it was! I hadn't had guacamole like that since I'd left New York three years before. (French guacamole is the consistency of baby-food puréed peas, the kind that comes in little glass jars; the blandness and taste are about the same.) This was the real thing–and the chips were freshly made, as in just fried, as in still warm. I trotted myself over to the truck. A round-faced cheerful man in a green T-shirt was busy cooking, taking orders, answering the phone, counting out change and talking and joking with customers.  Every few minutes he'd join a couple of regulars parked with their food and drinks at the counter to discuss a recent soccer game. Jon Larum, the famous Cal-Mex "guy." "Hey, you must be Patricia!" he greeted me with a big smile and a handshake. Did I want my entire order now? I decided to have the guacamole and chips first and come back later for the quésidilla. Chatting back and forth in French and English all the while, Jon took a stack of flat corn tortillas, quartered it with a big knife and dropped each flat little rounded triangle into a round deep fryer. A group of elderly très chic French women joined the line behind me. One of them ventured forth: "Monsieur, qu'est-ce que c'est guacamole et chips?" ("Sir, what is guacamole and chips?) His description was priceless, his French impeccable: "Purée d'avocats, tomates, oignons, épices et crèpes à maïs friteuse, madame." He handed over a sample plate for the ladies to taste. Delicately they each took a sample; then their faces lit up. With many smiles and much politesse they ordered "les sheeps avec la sauce guakkeymoll." While they awaited their order, they polished off the plate. Not wanting the rest of us in line to feel neglected, Jon offered up another generous round of samples. The gosses with the small change had now counted up, presumably having emptied their tire-lires (piggy banks). They clearly were regulars and knew exactly what they wanted–les pizzas mexicaines, otherwise known as quésidillas and "les soo-pair booraytoos," super burritos. When I returned for my quésidilla, Jon and…
SUBSCRIBE
ALREADY SUBSCRIBED?
BECOME A BONJOUR PARIS MEMBER

Gain full access to our collection of over 5,000 articles and bring the City of Light into your life. Just 60 USD per year.

Find out why you should become a member here.

Sign in

Fill in your credentials below.
My friend Laurie was organizing a pizza evening in Villedieu (population 518). The summer had barely begun, but pizza truck MUU-MUU was back on the main square Sunday nights; the weather was warm enough to eat outside in the Place by the mossy fountain under the plane trees. The oyster and Chardonnay Fridays at the Bar du Centre were over now until Fall.

At some point midweek my phone rang; it was Laurie on her portable (cell phone) calling from her truck. "Hey, I found the guy!"

"What guy?"

"The Mexican!"

"What Mexican?"

"THE MEXICAN-FOOD-TRUCK GUY!"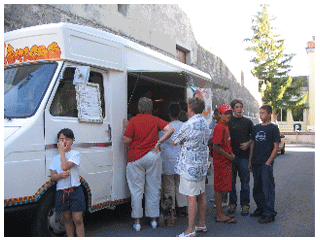 I vaguely remembered her talking about a man who went from village to village during the summer selling Mexican food from his truck. She explained Pizza MUU-MUU couldn't make it to Villedieu that Sunday; the Mexican was filling in. We would need to make reservations, but she didn't have the number. Her husband, Hubert, had it at their winery, Domaine de Deurre. The only problem was Hubert was in China. She phoned Shanghai from her truck, quickly said hello to Hubert and got Jon Larum's ("the guy") number here in Rasteau. When I called to place my order, I was surprised to discover he spoke perfect American English. He's from the Napa Valley. His wife, Françoise, is French and runs the family winery, Domaine des Girosols, with her sister and parents in Rasteau.  I asked about the menu and placed my order: guacamole and chips, quésidilla, and mentioned I was part of "Patricia's Table."
 
 "Oh, that's a big group; I've been getting calls from them all week. You're just one person?"

"Er, yes. Actually, I'm Patricia…."

Sunday night, my Westie Emily and I hopped into the cute little red Citroën and headed for the medieval village of Villedieu, a 15-minute drive from Nyons. The "City of God's" population was about to swell. As we tootled along the D7, surrounded by endless hectares of grape vines, a large dog ran smack in front of the car. I violently swerved to avoid hitting it. The "dog" was quickly followed by four other exactly identical "dogs."  "Ohmygod!" I screamed, "Emmie, look, look at the marcassins (baby wild boars)!"  The sanglier siblings trotted off and we continued up the hill into town.

A white C35 Citroën truck decorated with Mexican flags and brightly painted designs was parked just off the main square. There was already a line at the window; a few gosses (little kids) were circling the truck on their bikes while two others were busy counting out pocketfuls of small change. A mangy brown dog sat patiently in the street, licking his lips, staring intently at the food being passed over the counter from the truck's tiny kitchen. The square was already filling up; people were pushing tables together, moving chairs, reserving places. The serveurs (waiters) from the Bar du Centre  were busily running back and forth across the street with drinks from the bar, dodging kids, dogs and an occasional car. Emily ran off to join a group of dogs playing around the fountain and I searched for "Patricia's Table."

My friend Renée was just arriving with Hansje and Hugo, her wire-haired miniature dachshunds, followed shortly after by my friend Deloris and Spice, her black Labrador.  Laurie was already seated with a large group of friends and her 13-year-old daughter, Mareva. They were rapidly devouring three enormous plates of guacamole and chips.  "Dig in!" she urged, pushing the paper plate in my direction. I took a chip and scooped up some guacamole. WOW! I couldn't believe how good it was! I hadn't had guacamole like that since I'd left New York three years before. (French guacamole is the consistency of baby-food puréed peas, the kind that comes in little glass jars; the blandness and taste are about the same.) This was the real thing–and the chips were freshly made, as in just fried, as in still warm.

I trotted myself over to the truck. A round-faced cheerful man in a green T-shirt was busy cooking, taking orders, answering the phone, counting out change and talking and joking with customers.  Every few minutes he'd join a couple of regulars parked with their food and drinks at the counter to discuss a recent soccer game. Jon Larum, the famous Cal-Mex "guy."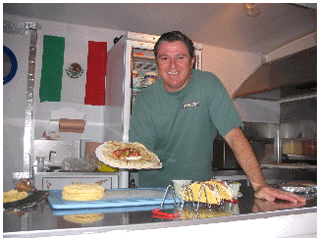 "Hey, you must be Patricia!" he greeted me with a big smile and a handshake. Did I want my entire order now? I decided to have the guacamole and chips first and come back later for the quésidilla. Chatting back and forth in French and English all the while, Jon took a stack of flat corn tortillas, quartered it with a big knife and dropped each flat little rounded triangle into a round deep fryer. A group of elderly très chic French women joined the line behind me. One of them ventured forth: "Monsieur, qu'est-ce que c'est guacamole et chips?" ("Sir, what is guacamole and chips?) His description was priceless, his French impeccable: "Purée d'avocats, tomates, oignons, épices et crèpes à maïs friteuse, madame." He handed over a sample plate for the ladies to taste. Delicately they each took a sample; then their faces lit up. With many smiles and much politesse they ordered "les sheeps avec la sauce guakkeymoll." While they awaited their order, they polished off the plate. Not wanting the rest of us in line to feel neglected, Jon offered up another generous round of samples. The gosses with the small change had now counted up, presumably having emptied their tire-lires (piggy banks). They clearly were regulars and knew exactly what they wanted–les pizzas mexicaines, otherwise known as quésidillas and "les soo-pair booraytoos," super burritos.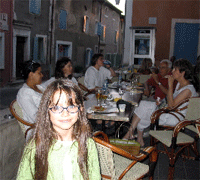 When I returned for my quésidilla, Jon and I had time to talk while he assembled my "Mexican pizza" and flipped it onto one of two tabletop grills. His recipes are mainly from his mother in California; his professional background is in wine, starting with his first job at the famed Robert Mondavi Vineyards. (Actually, he confided, growing up, he'd always planned to become a fireman or ambulance driver.) After he quit his job at Mondavi, where he'd worked in the Vineyard Room, preparing private parties, special events, tastings and meals for sales reps and wine buyers, he "walked to the corner bar, that wasn't on a corner" and bumped into a friend, who casually suggested Jon work with him bottling wine in the cellars of Joseph Phelps Winery and Vineyards near St. Helena, California. Jon took the job. There was a young French woman, Françoise Joyet, a sommelier from the Tain Hermitage school, working there and assisting in the development of Phelps' renowned Cuvée du Mistral, among the first Rhône-style reds to be produced in California. Her English was minimal and very British. It was hard for her to communicate with the other bottlers. One day Jon worked up the courage to ask, "Hey, what's up?"  She thought he was talking about horse food.  Eventually her English improved, she relaxed, renewed her contract with the winery for another six months and their friendship began to grow. After a year, it was time for Françoise to return to Provence. Her parents and sister came over for a week's tour. The Joseph Phelps Winery  threw a big good-bye picnic for Mlle. Joyet. It was followed by a softball game and more wine. After the festivities, Françoise continued on to the "corner bar that wasn't on corner" with four or five friends. The bar closed, she got into her Toyota and took off. Jon was sure he would never see her again. He ran after the car, knocked on the window, and asked, "Fran, can I give you a kiss?"  The answer was yes. The following year when she came back to lecture on Rhône wine varieties, he greeted her with Champagne and Chinese food which they ate on the floor, just the two of them. As Jon puts it, there was a "real love connection that night." In the Spring of 1992, he came to France, his first European trip. By January 2, 1993, he was back in Rasteau to live with Françoise, his job still open at Phelps, should he decide to return.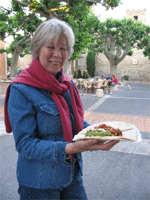 My quesidilla was ready. Jon put the finishing touches of crème fraiche, salsa, corn and guacamole on top. As I walked back to the table, I realized I was well on my way to becoming a Cancun Express regular. The following Wednesday (Jon's Villedieu night) Emily and I were back with another group of friends. The week before I'd made some friends waiting on line at the truck. We all ate together. A few of us spent time hanging out with Jon. Superb as his food is, he is also part of the attraction. He continued his story from the week before. In February 1994, he and Françoise returned to California for a visit. He rented a Cessna out of Napa Airport on Valentine's Day. One mile up, he knelt down on his knees in the back of the plane ("hard to do") and asked Françoise to marry him. Again the answer was yes. He placed his grandmother's ring on her finger; they toasted each other with Mondavi sparkling, tossing the cork out the window. Their engagement party was just outside the famed Napa wine town of Calistoga, at the Clos Pegase Winery, named after Pegasus, the winged horse of ancient myth whose hooves churned up the earth, unleashing sacred springs that nourished the growth of grape vines. The couple flew back to Rasteau where they were married on July 30, 1994. There was a large reception and dinner afterwards at Domaine des Girosols. Their son Julien was born in 1995 and their daughter Pauline in 1998. Jon worked at his wife's winery for a while and then at the Cave Cooperative in Rasteau, but he had a dream and that dream was to introduce French people to Cal-Mex cuisine.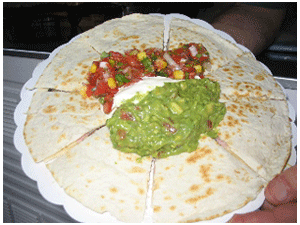 He saw an ad in one of the freebie classified papers that come with the mail; a woman in Saint-Paul-Trois-Chateaux had a fully outfitted snack truck for sale that essentially had never been used. Jon bought it ("I got a good deal"), purchased some bain-maries and had his nephews, who are half-French, half-Mexican, paint the  the truck with Mexican-themed designs. He tested his recipes on friends–American, British and French–adapting them to French tastes, which are not accustomed to heavily spiced foods. On July 7, 2004, he set out in his truck, the Cancun Express, for Villedieu.  Most of his customers had never eaten Mexican food before. Others had on visits to the USA and Mexico in the past. They were thrilled to relive those happy times and recall their trips. In Jon they found a superb listener as well as raconteur. He was
an instant success. At first he gave out free samples. He hit the market towns, giving out more free food. People ate and told their friends. He rapidly built a loyal clientele. By summer's end, he was a legend.

From April to mid-November, he parks the Cancun Express in four towns in the Vaucluse: Rasteau, Villedieu, Cairanne and Puymeras. For his guacamole, he buys 30 kilos of Hass avocados per week from Pleine Champ in Vaison-la-Romaine. All the meat and vegetables are from local vendors. The Mexican beer comes from an importer in Paris; the Mexican ingredients he gets from Mexican distributors in Cognac as well as from the US. Everything he buys is top quality and super fresh. He begins to prepare early in the morning; by 6:00 PM he is on the road; by 10 PM it's over. If there are leftovers, he and his family eat Mexican. As his customers become more accustomed to Cal-Mex cuisine, he is adding more spices. There is always a giant bottle of fiery Tapatio Salsa Piquante Hot Sauce out on the counter for anyone to borrow. More and more French people are using it. In the future, he plans to add chili, ceviche and fish tacos and "a lot more."  His eyes light up. This is just the beginning. He is available for private parties; this summer he is even doing a French wedding.

I ask if he's ever had any disasters or bad experiences. Never. Has anything especially funny ever happened? No. Then he reflects. He recently went to a 20th high- school reunion. "Man, twenty years ago if I thought I'd be here in a tiny village in the South of France making tacos and burritos…   Well, that's pretty funny in itself! Never say never!"

     Le Cancun Express
              Spécialités MEX-CAL

BURRITOS: galette de blé farcie
viandes/haricots/riz/fromage/champignons  6 euros
SUPER BURRITO: avec guacamole  6,50
TACOS: Galette maïs farcie viandes/fromage 3,00
QUÉSIDILLAS: Pizza Mexicaines  5 euros
CHIPS et SALSA:sauce tomate/coriandre/poivrons/                        
oignons    2,50
CHIPS: 2,50
SALSA: 1,50
GUACAMOLE: Purée d'avocats/tomate/oignons/etc.
                 3 euros
     Dans votre village à partir de 18:30
Mardi: Rasteau
Mercredi: Villedieu
Vendredi: Cairanne
Samedi: Puymeras
   Sur Commande: Jon Larum 06 67 62 72 54
---
---