BUZZ: L'Opera Restaurant and Camelia at Mandarin Oriental
L'Opéra Restaurant, Paris 9th
The Paris Garnier Opera House is magnificent; Garnier's handsome building (started in 1862, inaugurated in 1875) with its sumptuous staircase, mass of sculptures, glittering chandeliers and Marc Chagall-decorated ceiling are breathtaking. That ramp, on the rue Scribe side, was built so royalty could be driven, in their carriages, straight to the royal box! Today there's valet parking (10€).
Charles Garnier really wanted a restaurant, but it was not to be until 135 years later and a successful bid by Pierre-François Blanc to Commission Nationale des Monuments Historiques. Another five years and, rumor has it, 6 million euros later (Blanc won't comment, "quand on aime on compte pas," he says), L'Opéra Restaurant is open. Architect Odile Decq has created a contemporary red, grey glass and steel bubble. Some love it, some loathe it, but all have a comment.
The terrace has space for 180, with parasols and a very sunny aspect. Inside there are 80 seats on the ground floor and 90 on the mezzanine. "We're 'running in' at the moment," admits Blanc. He searched France for a chef, says he had meetings with remarkable men before asking Michelin 2-star Christophe Aribert (Les Terrasses d'Uriage, Isère) to compose the menus. "Christophe's classic/contemporary approach is just right for L'Opéra," says Blanc. Working with Aribert is young talent Yann Tonneau (Castel Beau Site and Mama Shelter) and Chef Patissier Hervé Moreau, recently at Pierre Gagnaire.
Wines are displayed in a refrigerated glass cabinet and there's the Martini Bar for cocktails or Champagne before or after the performance. A well-stocked boutique is accessed from the restaurant and sells Jean Paucton's honey from the hives on the roof. As you would expect there's "house" music everywhere, even on the sunny south-facing terrace. And the loos, darling, are a sensorial experience.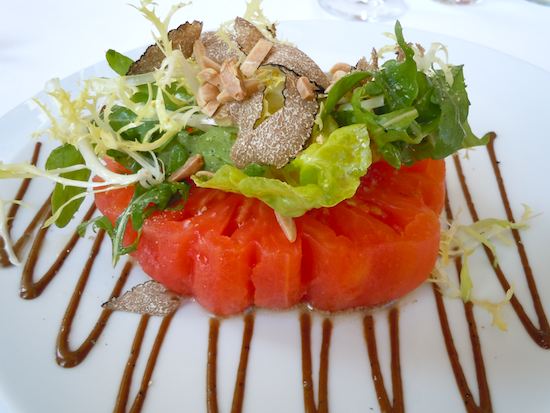 The dishes, which Blanc hopes will attract Michelin, are inspired by the two chefs' origins. So, le homard, le merlan and la sole are attributed to Brittany-born Tonneau. But, as it's breaded and served "Grenobloise" with a touch of maple syrup and a side of Hollandaise, it's obvious there's amicable collaboration going on backstage. Aribert takes credit for an excellent trout, smoked with Royan ravioli, a broth of Comté cheese, nuts and champignons de Paris. Tender Guinea fowl is roasted, served with baby carrots, purée of carrots, citronnelle, sesame and Opera honey. Lobster is paired with cooked and raw fennel, a broth of lobster "américaine."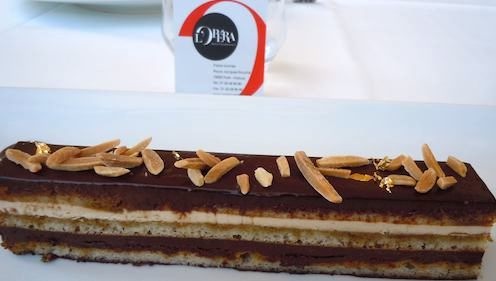 No prizes for guessing the desserts: there's L'Opéra in all its coffee-chocolate glory, but there's also a contemporary version with yellow Chartreuse and nuts. Melba classique, Clafoutis contemporain . . .  let's hope they add Pavlova. "People come in all the time, criticize the décor and leave," sighs Blanc. "But often, after a Martini Charles or a "Phantôm by Martini" at the bar they come over and congratulate me on a job well done!"
Whatever, L'Opéra Restaurant will bring a young crowd to the Opera House, a new joie de vivre, a new era's beginning. Demandez le programme.
World Opera Houses with restaurants include: Vienna, Austria; Sydney, Australia; Covent Garden, London, UK; Sweden; and San Francisco, Lincoln Center/NY, and Houston, USA.
Palais Garnier
Tél: 01 42 68 86 80
Place Jacques Rouché, Paris 9th
Métro: Opéra
Lunch menu 40€ (from September)
A la carte about 70€ + wine
Open 7/7 from 7am-midnight
Camélia at the Mandarin Oriental, Paris 1st
Arriving at Camélia, Mandarin Oriental's restaurant that spills out onto lush gardens, guests forget their calorie count when confronted with the dazzling display of pastry by young patissier Pierre Mathieu (ex-Cordeillan Bages with Thierry Marx). All the classics are there, with Mathieu's spin on Saint Honoré, the patron saint of pastry, also the rue on which the newly opened hotel is located.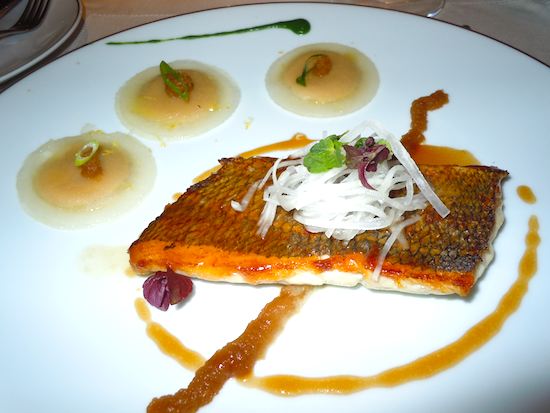 "We've got all-day dining here," explains executive chef Thierry Marx. "Clients arrive with jet lag and can have breakfast, lunch or dinner at hours to suit them, not the restaurant staff. We also have a 45€/45-minutes menu for hurried guests."
In the garden, the chef's table seats 8 in a massive birdcage, so you feel like Vanessa Paradis in the Chanel ad. The menu changes frequently, is traditional with touches of Asia, as in: sea bream with wafer-thin turnip ravioli or roast organic chicken with a touch of curry, fromage blanc and coconut rice.
Or, sit at the bar, watch the "live cooking" and order dim sum or sushi from the Teppanyaki counter. The room and garden attract a very mixed crowd including movie stars, businessmen, fashionistas, tourists, and of course, "the ladies who do" who can't resist Pierre Mathieu's tea-time treats, which they also take home in designer boxes and swear, "Of course I made them."
Mandarin Oriental, Paris
Tél: 01 7098 7888
251, rue Saint Honoré, Paris 1st
Métro: Concorde
Open 7/7
Average Spend 50-70€ + wine
All day menus for informal eating
New York, New York 52€
Tokyo 55€
Margaret Kemp is a Cordon Bleu graduate who spent a year traveling the world, working and watching in the kitchens of top chefs from Sydney, Australia via Bangkok, Hong Kong, California, New York and France. She reports for BonjourParis on the latest European trends, restaurants and hot spots.
If it's at Amazon.com, you can get it at our Amazon.com Boutique with new items added weekly. Same competitive prices and speedy delivery & your purchases support costs of keeping BonjourParis your most complete online France travel resource.
Search hint: start at the back pages for the most recent stock.
Short-cut? Check out
Current Favorites
for the daily top sellers.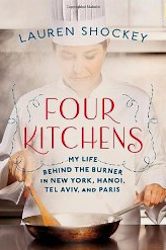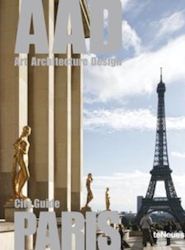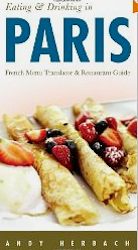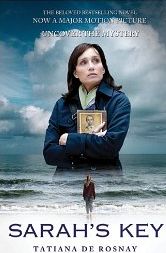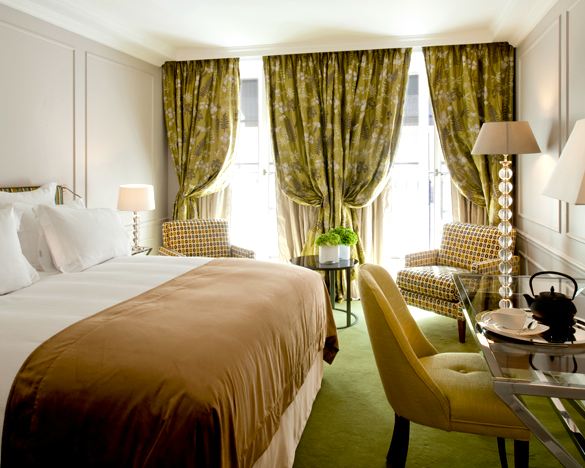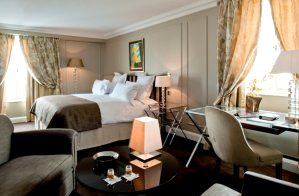 Hôtel le Burgundy Paris is a 5-star hotel with every conceivable comfort, including free Wi-Fi, flat-screen TV, iPod station, etc. On-site bar, Michelin-starred restaurant "Le Baudelaire," fitness center, hammam, spa, etc. Near rue St-Honoré boutiques, Louvre, Champs-Elysées. Past guest reviews rate this hotel a score of 9.2 of 10 at Booking.com.
This romantic & elegant hotel qualifies for the best-price match guarantee from Booking.com.

Be smart! Reserve your hotel at Booking.com…then keep shopping online & if you find a better rate for the same deal, contact Booking.com for your BEST PRICE MATCH GUARANTEE.
Bookmark this link & use it everytime you shop so your preferences are stored & deals are updated when you return: Booking.com.

One-stop shopping for car rental & international air travel deals:
Car rentals at competitive rates, no drop fees & a 5% discount for BonjourParis.com readers who use this link to Auto Europe Car Rental
Don't overlook Auto Europe for international flights, click Auto Europe Flights
Leave a reply
Your email address will not be published. Required fields are marked *