BUZZ: Le Sauvage Opens in Paris, London Gallery & Raffles Royal Monceau News
Sauvage, Paris 8th
The new concept of Julien Weydert and Marie Sauvage is Sauvage, a buzzing neo-bistro. The former Le Fin Bec was under the same management for 30 years. Today the small but welcoming space has been completely transformed by the très talented architect/designer Stéphane Poux, who also did 154 Haussmann. Pink, turquoise, light wood, huge chandeliers, and a photo wall of friends make this bistro bright and beautiful. In the cellar, excellent wine; above, illuminating skylight.
Young talent Antoine Bertho (ex-Robuchon, Renoma Café) is wearing the whites, although in his case it's the blacks, en homage to his mentor JR. Brittany-born "Bertho" says he's exploring new ideas, using the freshest seasonal products chosen from artisan suppliers with great care.
"The menu is short and sweet," he explains. "You should beware of restaurants that have huge menus, it's bound to be mostly sous-vide. There's nothing wrong but it's not very artisanal, is it? There are only two of us in the open kitchen, so we don't need to use sous-vide," he continues.
"My ingredients arrive daily and I translate them in my style. I learned so much from Monsieur Robuchon; I have worked in all three of his Paris restaurants. It's a training of precision and love," he admits. Asian influences are evident in dishes such as Spring Roll de thon aux herbes fines and salade de boeuf thai. Suprême de poulet fermière faҫon Thai sauce cacahuètes. Also try paper-thin carpaccio with sweet almond milk. Coddled eggs piperade style, emulsion of spicy pork sausage; Sea bass grilled on one side, sauce Thai, or tender, caramelized Pays Basque pork breast. I'm also proud of my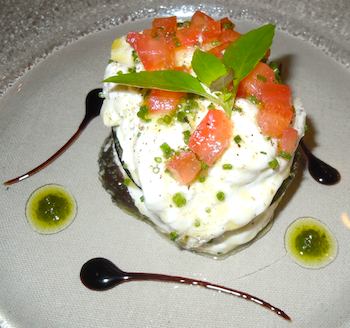 millefeuille de légumes aux burrata et basilic," he admits . (see photo).
There's a choice of vegetables with each dish: Lentilles verte de Puy au Lard. Mélange de salade bio de Bretagne, vinaigrette aux céréales, polenta crémeuse or melt-in-your-mouth potatoes drizzled with thyme butter. Perhaps Tome de Brebis, homemade cherry jam, fig or lemon tart, tarte tatin and thick cream. Or café gourmand, a generous tray of coffee, Financiers, chocolates and bonbons.
The room is managed by Nicolas Frezouls, a former BNP financier who prefers to welcome his bankers, lawyers and captains of industry at Sauvage than across a desk. "It's stress," he admits. "But of a different kind."
Tél: 01 45 22 22 46
7, rue Roy, Paris 8th
Métro: Saint Augustin
Open: Monday-Friday Lunch
Lunch: about €30
Dinner Wednesday, Thursday or Friday
Dinner : 3 dishes "La Chronique" €38; 5 dishes "L'Escapade" €55. following chef's inspiration and your wishes.
And check out Fra Angelico and the Masters of Light exhibition at the Musée Jacquemart-André
Sept. 22 through Jan. 16, 2012
London: The Gallery London
The bad news is that, after more than 125 years, Connolly Leather has ceased trading. Their tanned hides knew only the best bums, covered automobile seats in cars owned by the English Royal Family, Rolls Royce & Bentley, Ferrari, Aston Martin, Jaguar, and Lotus, to name but a few. Over the years: The House of Commons, The House of Lords, The British Museum, QE2 and as many prestigious hotels and buildings worldwide used Connolly cuir.
The good news is that their former showroom on Conduit Street is now The Gallery, a super-chic 100-seat brasserie/bar open daily from breakfast 7am until after the theatre at 1am. Alex Kravetz may have used some Connolly leather leftovers for the plush banquettes, but frankly I was more interested in the eclectic menu than the décor, although it's very posh and glam. Quality and price are good, considering the location.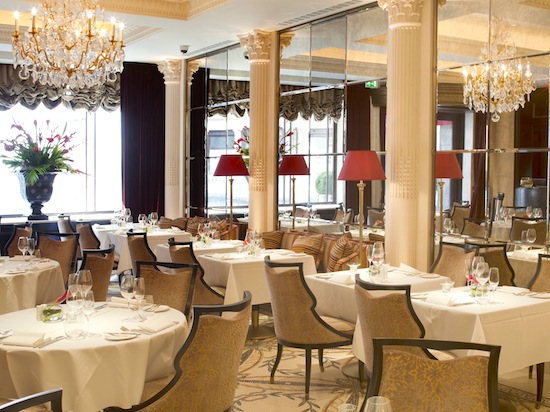 Pop in when you're shopping on Bond, Regent or even on Conduit Streets. The welcome is warm, food by head chef Brian Fantoni (ex-Cantina del Ponte Tower Bridge) is terrific. Toasted fresh sardines with salad Niçoise. Salt cod brandade, caper dressing. Truffle baked free-range eggs. Mains of Poached Scottish Lobster, baby leeks, potato gnocchi, orange and lobster dressing. Beef rib eye; Beef Daube; Speck-wrapped rabbit with polenta, pine nut and raisin dressing. Pastas: Salads and Daily Specials. Desserts include: Baked Lemon Tart and Valrhona dark chocolate and olive oil parfait. The wine list is epic: French and world. Why not toast the passing of Connolly with Taylor's late bottled vintage port (£45). During the meal the Tuscan 2009 Sangiovese di Toscana. Poggio del Sasso. Cantina di Montalcino (£29).
The Gallery London at Westbury Mayfair
Tel:  +44 (0) 20 77 89 5777
41 Conduit Street, London W.1
Average spend: 2 courses £19 – 3 courses £23
News: Raffles Royal Monceau Charitable Auction
Raffles Royal Monceau has taken its place in the hearts and minds of a chic international clientèle a year after opening. Pop in for a drink, browse in the boutique and art gallery, or taste Laurent André's sublime cuisine in the Starck-decorated La Cuisine. A disciple of Ducasse and Chapel, André traveled the world seeking new flavors and savours. Last week he was in the hotel's lush leather-seated cinema where auction house Artcurial put a limited-edition Bulgari Chronosport Endurer All Blacks Watch and other cult rugby-themed objects under the hammer just before the Rugby World Cup kicks off in New Zealand.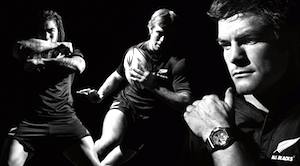 "It's for the benefit of "Les Nations du Rugby pour Christchurch," explained André, a rugby fan. "They raised a tidy sum (€53,220) to help repair terrible earthquake damage and I prepared a NZ style cocktail afterwards."
Rosemary Banks, NZ Ambassador to France was impressed.
"Such amazing collaboration and support from France is so much needed and appreciated," she said.
Hate Rugby but love the guys who play it? During the Nations de Rugby World Cup (until October) check out yummy Philippe Toinard's program Cuillère et Fourchette on Eurosport or at his site.
Margaret Kemp is a Cordon Bleu graduate who spent a year traveling the world, working and watching in the kitchens of top chefs from Sydney, Australia via Bangkok, Hong Kong, California, New York and France. She reports for BonjourParis on the latest European trends, restaurants and hot spots.
Check out our Amazon.com Boutique for the very latest stock in anything & everything for travelers & Francophiles. Books, fashion, electronics, accessories, home décor & more. New items added weekly. Same competitive prices & speedy delivery & your purchases support costs of keeping BonjourParis the most complete France travel resource.
Search hint: start at the back pages for the most recent stock.
Short-cut to our 100 TOP SELLING ITEMS

(please wait for widget to load)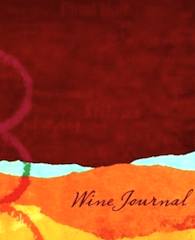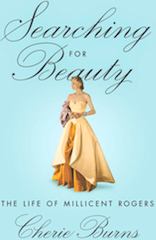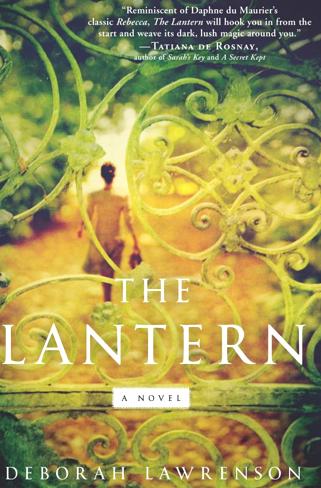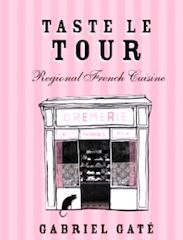 Wine Journal [blank diary to record & score wine tasted–never forget your favorites again!]
Searching for Beauty: The Life of Millicent Rogers [pub Sept 2011; Madame Rogers traveled with 35 trunks!]
The Lantern [fiction set in Luberon, avail in print, Kindle & Large Print, pub in Aug 2011]
Taste le Tour: Regional French Cuisine (pub April 2011 by French chef)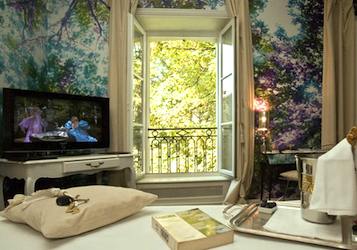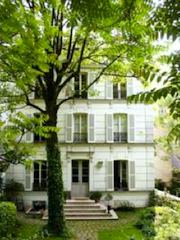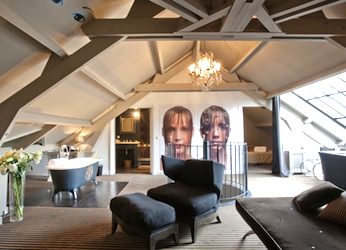 Sleep in a village by Sacré-Coeur in Montmarte…a secret 4-star inn:
Hôtel Particulier Montmartre is an exclusive "secret" 4-star townhouse with just 5 guest suites! Enter on a private little lane behind a locked gate. Perfect for a honeymoon or romantic getaway. Located in Montmartre district of Paris near Métro: Lamarck-Caulaincourt, each luxurious suite is individually decorated w/ contemporary decor, free Wi-Fi, AC, TV, etc. Daily continental breakfast. Bar on-site. Hotel set back behind lush garden terrace that is delightful summer evenings. Too new to be rated, trust us: the locals love the romantic bar so much they're filling the rooms with their friends & family. Now it's your turn to be a VIP at the most exclusive inn in Montmartre.
*** Eligible for the Booking.com best price guarantee.

Be smart! Reserve your hotel at Booking.com…then keep shopping online & if you find a better rate for the same deal, contact Booking.com for your BEST PRICE MATCH GUARANTEE.
Bookmark this link & use it everytime you shop so your preferences are stored & deals are updated when you return: Booking.com.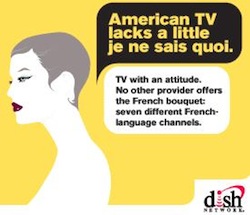 Live from France & direct to your home….
France24 News
TV5 Monde
Radio France Intl (RFI)
Eurochannel
movies & TV series
documentaries
kids programs…& more.
For more, click: "French Bouquet" by DISH Network.
Leave a reply
Your email address will not be published. Required fields are marked *