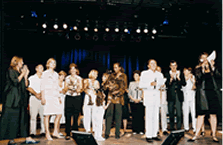 Nancy Astor once said, "my vigour and cheek repel me. I am the kind of woman I would run away from".
Now I'm not saying that last weekend in Hammamet, Tunis, that was the case, but the place was certainly full of great looking high achievers you wouldn't want to mess with. Right!
They were gathered together, Vuittons held high, for Trofemina Club Med 2006, concept of Roland Escaig, author, and Director of TENTATION magazine, "because I love women". Escaig says having met so many talented and dedicated businesswomen, who manage to juggle power-jobs, families, and look like trophy winners year round, he decided to celebrate their success big time with a prize dedicated to them, the idea took off and the 2nd edition just took place in Tunis.
Escaig, who knows everyone, or knows as man who does, gathered a 19-strong jury, and last March they all met up at The Bristol with their list of nominees, a bit like Miss World but somewhat more sophisticated, some of the women really are brain surgeons/rocket scientists. Escaig puts the women into 3 categories Femistyle Business: Femistyle Media and Femistyle Atypique.  By the time Eric Frechon's Bristol lunch was mopped up three women in each category had been nominated. No cheating, electronic boxes recorded the votes; with the petits fours Escaig announced the final, to elect Madame Trofemina 2006, would take place over a sun-soaked weekend, at the newly transformed Club Med, Hammamet.
Enter Henri Giscard d'Estaing, since 2002 Chairman and CEO of Club Med. D'Estaing, is the handsome 50-year old son of the former President of France. He's bringing Club Med up-market so that Trofemina types of businesswomen, and their families, are choosing Club Med as their holiday destination of choice. Their kids can bond with future captains of industry, in the pools, bars and spas. Out go the beads, in comes a new relaxed sophistication; just look at Henri and you'll get the picture (he's got three kids, lovely wife, think, he's got it all). There'd be a fight to get the sunbed next to him, if there wasn't so much space round the palm-fringed pools, or you could track him down golfing, snorkelling, tennising, paragliding, eating superb food (all free at Club Med: after you've paid your holiday, leave the wallet at home, just pick up a copy of Tentation Magazine).
Sponsors of Trofemina include Nicolas Feuillatte, Chantelle, Siemans, Tele7Jours, Lavazza, Tunisair, Chateaux & Hotels de France,

etc., The weekend also focuses on the fact that, in association with APF EVASION, holidays are donated to handicapped adults (www.apf.asso.fr). Like, suppose you want to do a good deed, you could apply to take a handicapped person on holiday, to Club Med. The association will train you, worth thinking about as you sip your flute of Nicholas F in the sun. Give something back: like Escaig.
"Femme, Femme je vous aime", declares Escaig as an audience in Club Med's, Hammamet, theatre votes with the now familiar electronic boxes. The finalists are gently quizzed on stage by Escaig and Virginia Foucault of TEVA TV: Sylvie Biancheri, Director General of Grimaldi Forum, Monte Carlo. Karine Le Marchand, TV Presenter France 5 and Dominique Serra, Founder of The Rally des Gazelles, not only a car race, for women, across the Sahara dessert, but a support group for health and education projects in poor Moroccan communities. 
And the winner is: Karine Le Marchand, a Halle Berry lookalike, single mother, who hosts the very popular "Les Maternelles" daily on TV5 from 9h-10.30. Holding her trophy in one hand, her daughter in the other, she quoted Saint-Exupery. "One must have dreams big enough so as not to lose sight of the dreams while following them". Nice one Karine. Bravo Escaig.
Tentation Magazine
www.tentation-mag.com 
www.clubmed.com 
www.tunisietourisme.com.tn
Leave a reply
Your email address will not be published. Required fields are marked *