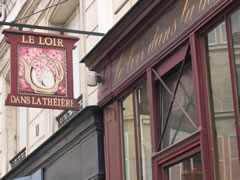 From the classic old teashop to the unknown gem, Parisians are flocking to salons de thé as tea drinking becomes à la mode, popular with everyone from the bohemian student to the glamorous grandmother. Whether you like your brew poured from a silver or cast-iron pot, there's a salon to suit every mood, occasion and taste, each with an individual ambience and clientele. More intimate and welcoming than the smoky café du coin, the address of a good tearoom can be a lifesaver, especially in winter – reviving the jaded traveller from chilly weather as well as the late-afternoon lull.     But what makes teatime unique in France is the distinctive French pâtisserie that accompanies your tea, be it green, black or herbal. From golden, flaky pastries to rich gâteaux and glistening tarts, the Parisian tea salon is a sweet-tooth's dream. So, with dinner still a long way off (most Parisians tuck in their serviettes no earlier than 8.30pm), sink into a soft chair around 4pm, and enjoy the leisurely ritual of taking tea – French style.     Across the street from the Tuileries Gardens, the rambling tearoom Angelina's is an institution among Paris' grand tea parlours. Opened in 1903, it remains ensconced in a faded setting of Versailles-style mirrors and vast landscape murals. Curt waitresses in frilly aprons serve tea and tarts from silver trays. A grande dame shares cake with her petit chien. Jugs of Chocolats à l'Africain arrive to muffled gasps of surprise. Made with tablets of melted chocolate, the richest hot chocolate in the city is not for the faint-hearted.     Once frequented by Audrey Hepburn, Gertrude Stein, Coco Chanel and Marcel Proust (who loved to dunk his madeleines in lime-flavoured tea), the marble-topped tables and black leather chairs are now decorated with winter furs, the fashion set between shows (held January and February at the nearby Louvre) and, like all Parisian institutions, plenty of tourists.     Many locals prefer to sneak around the corner to Ladurée. Filled with a tangle of Hermès scarves, society doyennes and businessmen with immaculate mistresses, this 19th-century green and gold chocolate box remains the address to have tea. Plump cherubs bake bread on the ceiling against a blazing sun. Old friends gossip tête-à-tête and eat fruit tartlets with a knife and fork. Divine millefeuilles and golden financiers are whisked out the door in perfect pale-green boxes. Oozing with style, it's the place to go to taste the best gooey macaroons in town, sip Yunnan Imperial from Limoges china and rub shoulders with a regular clientele of staunch devotees, many
of whom are having a break from the exhausting task of shopping in the nearby luxury boutiques of rue Royale and rue du Faubourg St-Honoré. At prime time (4pm-5.30pm) tables are rare. To be sure of a seat downstairs, come for morning tea.     Ladurée began as a bakery in 1862. Shortly afterwards, Ernest Ladurée's wife, Jeanne Souchard, had the idea of mixing the Parisian café and pastry shop, and created one of the first true tea salons in town. More than a century later, Ladurée employs 80 pastry chefs who use 36 tonnes of butter, 20 tonnes of almonds and 28 tonnes of chocolate a year to whip up some of the best pâtisseries in the capital, including 3,000 mini-macarons a day. The newest flavour is rose petal, adding to the firm favourites of lemon, pistachio, chocolate and vanilla.     Riding high, Ladurée opened an opulent new salon on avenue des Champs-Élysées in 1997. The five Empire style dining rooms on the first floor are popular with locals for afternoon tea and, unlike the original on rue Royale, you always get a seat. It's also a favourite breakfast haunt of young professionals who nip in for one of the best croissants in town and a frothy café crème before work.      For tea served with a slice of art, opt for Darjeeling and cheesecake under the ceiling painted by Tiepolo in the Jacquemart André Museum. This 19th-century mansion has the intimacy of a private home, and is the perfect place to while away a wintry afternoon. Crammed with Fragonards, Rembrandts, 18th-century furniture and objects d'art, it's a favourite address for discerning art lovers. The former owners, Edouard André and Nelie Jacquemart, created the finest private collection of art in Paris and left it all to L'Institut de France. Once their formal dining room, the tearoom is one of the most beautiful in Paris – slung with 18th century tapestries and red velvet drapes. For a stylish light lunch, it's unbeatable. If you taste runs more to Degas ballerinas and plump-faced Renoirs, visit the Musée d'Orsay and treat yourself to afternoon tea in the elegant belle époque restaurant on the second floor, overlooking the Seine.      Serious tea-drinkers frequent Mariage Frères, where Parisian chic meets Raffles Far East ambience. The Mariage family, France's oldest importer of tea, has supplied exclusive French retailers from 1660 and poured tea to Parisians since 1854. The original salon is tucked away in an ancient Marais street, but it's the salon in the heart of the St Germain-des-Près that has that extra je ne sais quoi.     Waiters in white linen waft past palms with steaming pots of tea. Study the thick tea menu and you'll find perfumed teas sprinkled with flowers, green tea with Moroccan mint, even Thé de Pâques, evoking the taste of crème brulée. Try a slice of tarte au thé, a glass of ice tea, or come for the delicious brunch (12- 6.30pm). At the boutique, 500 flavours line the walls. Tea connoisseurs…
SUBSCRIBE
ALREADY SUBSCRIBED?
BECOME A BONJOUR PARIS MEMBER

Gain full access to our collection of over 5,000 articles and bring the City of Light into your life. Just $60 a year.

Find out why you should become a member here.

Sign in

Fill in your credentials below.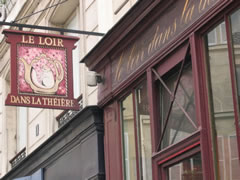 From the classic old teashop to the unknown gem, Parisians are flocking to salons de thé as tea drinking becomes à la mode, popular with everyone from the bohemian student to the glamorous grandmother. Whether you like your brew poured from a silver or cast-iron pot, there's a salon to suit every mood, occasion and taste, each with an individual ambience and clientele. More intimate and welcoming than the smoky café du coin, the address of a good tearoom can be a lifesaver, especially in winter – reviving the jaded traveller from chilly weather as well as the late-afternoon lull.
    But what makes teatime unique in France is the distinctive French pâtisserie that accompanies your tea, be it green, black or herbal. From golden, flaky pastries to rich gâteaux and glistening tarts, the Parisian tea salon is a sweet-tooth's dream. So, with dinner still a long way off (most Parisians tuck in their serviettes no earlier than 8.30pm), sink into a soft chair around 4pm, and enjoy the leisurely ritual of taking tea – French style.
    Across the street from the Tuileries Gardens, the rambling tearoom Angelina's is an institution among Paris' grand tea parlours. Opened in 1903, it remains ensconced in a faded setting of Versailles-style mirrors and vast landscape murals. Curt waitresses in frilly aprons serve tea and tarts from silver trays. A grande dame shares cake with her petit chien. Jugs of Chocolats à l'Africain arrive to muffled gasps of surprise. Made with tablets of melted chocolate, the richest hot chocolate in the city is not for the faint-hearted.
    Once frequented by Audrey Hepburn, Gertrude Stein, Coco Chanel and Marcel Proust (who loved to dunk his madeleines in lime-flavoured tea), the marble-topped tables and black leather chairs are now decorated with winter furs, the fashion set between shows (held January and February at the nearby Louvre) and, like all Parisian institutions, plenty of tourists.
    Many locals prefer to sneak around the corner to Ladurée. Filled with a tangle of Hermès scarves, society doyennes and businessmen with immaculate mistresses, this 19th-century green and gold chocolate box remains the address to have tea. Plump cherubs bake bread on the ceiling against a blazing sun. Old friends gossip tête-à-tête and eat fruit tartlets with a knife and fork. Divine millefeuilles and golden financiers are whisked out the door in perfect pale-green boxes. Oozing with style, it's the place to go to taste the best gooey macaroons in town, sip Yunnan Imperial from Limoges china and rub shoulders with a regular clientele of staunch devotees, many

of whom are having a break from the exhausting task of shopping in the nearby luxury boutiques of rue Royale and rue du Faubourg St-Honoré. At prime time (4pm-5.30pm) tables are rare. To be sure of a seat downstairs, come for morning tea.
    Ladurée began as a bakery in 1862. Shortly afterwards, Ernest Ladurée's wife, Jeanne Souchard, had the idea of mixing the Parisian café and pastry shop, and created one of the first true tea salons in town. More than a century later, Ladurée employs 80 pastry chefs who use 36 tonnes of butter, 20 tonnes of almonds and 28 tonnes of chocolate a year to whip up some of the best pâtisseries in the capital, including 3,000 mini-macarons a day. The newest flavour is rose petal, adding to the firm favourites of lemon, pistachio, chocolate and vanilla.
    Riding high, Ladurée opened an opulent new salon on avenue des Champs-Élysées in 1997. The five Empire style dining rooms on the first floor are popular with locals for afternoon tea and, unlike the original on rue Royale, you always get a seat. It's also a favourite breakfast haunt of young professionals who nip in for one of the best croissants in town and a frothy café crème before work.
     For tea served with a slice of art, opt for Darjeeling and cheesecake under the ceiling painted by Tiepolo in the Jacquemart André Museum. This 19th-century mansion has the intimacy of a private home, and is the perfect place to while away a wintry afternoon. Crammed with Fragonards, Rembrandts, 18th-century furniture and objects d'art, it's a favourite address for discerning art lovers. The former owners, Edouard André and Nelie Jacquemart, created the finest private collection of art in Paris and left it all to L'Institut de France. Once their formal dining room, the tearoom is one of the most beautiful in Paris – slung with 18th century tapestries and red velvet drapes. For a stylish light lunch, it's unbeatable. If you taste runs more to Degas ballerinas and plump-faced Renoirs, visit the Musée d'Orsay and treat yourself to afternoon tea in the elegant belle époque restaurant on the second floor, overlooking the Seine.
     Serious tea-drinkers frequent Mariage Frères, where Parisian chic meets Raffles Far East ambience. The Mariage family, France's oldest importer of tea, has supplied exclusive French retailers from 1660 and poured tea to Parisians since 1854. The original salon is tucked away in an ancient Marais street, but it's the salon in the heart of the St Germain-des-Près that has that extra je ne sais quoi.
    Waiters in white linen waft past palms with steaming pots of tea. Study the thick tea menu and you'll find perfumed teas sprinkled with flowers, green tea with Moroccan mint, even Thé de Pâques, evoking the taste of crème brulée. Try a slice of tarte au thé, a glass of ice tea, or come for the delicious brunch (12- 6.30pm). At the boutique, 500 flavours line the walls. Tea connoisseurs lean over the counter, sniffing deeply into tall black caddies, while vendors scoop dusty leaves into stylish packets.
    There's also a rash of more laid-back and unusual teashops scattered throughout the city, gratifying in a different way. In the Marais, Le Loir dans la Théière (The Doormouse in the Teapot), offers relief for those fed up with Parisian pomp. Flop into a worn leather armchair in this shabby-chic tearoom strewn with flea-market furniture in the Jewish quarter and join a cool crowd. Choose from the small but comforting selection of chunky cakes, fruit crumbles and charlottes that tempt from the sideboard.
     For a more exotic experience, visit la Mosquée de Paris and disappear into a cloud of steam with the rest of the harem at the ever-popular hammam. Built by Moroccan, Algerian and Tunisian artisans in the 1920s, these hushed baths offer the weary soul a chance to be transported to a pampering world of plunge pools, trickling fountains and soothing massage chambers. Sip mint-tea from delicate glasses amid lanterns, blue stained-glass windows and carved arches in the Mosque's tea salon. Indulge in pastries soaked in honey and bite into wobbly Turkish delight.   
    Back in the heart of Paris, the tiny, poetic La Charlotte de l'Ile on the enchanting Ile St Louis is impossible to pass. Children adore this amusing place just a hop, skip and a jump over the river from Nôtre-Dame. Inside, it's stuffed with a potpourri of treasures drawn from a whimsical mix of influences. Indian artefacts, chocolate sculptures, marionettes and carnival masks are scattered about. Clouds drift by on the ceiling. Silky hot chocolate arrives in little ceramic pots (accompanied by a small carafe of water and a tiny glass), while the range of 40 or so teas are served in cast-iron teapots. Try the wicked gâteau au chocolat, the renowned florentin or a tangy lemon tartlet. The talented Madame Langlet, who also designs clothes and jewellery, puts on a 'piano tea' between 6-8pm on Fridays, and a puppet show tea for children's birthday parties (by reservation) on Wednesday afternoons.
    Push open the door to Verlet on a frosty morning and you'll never want to leave. This cosy, postage-stamp-size cafe is filled with the welcoming aroma of freshly ground coffee and an interesting mix of people settled in with le journal or a thick French novel. The cheery ring of the antique telephone and open sacs of coffee beans give it a lived-in, comfortable feel. Verlet opened on rue St-Honoré in 1880 and attracts the kind of clientele who have been devoted fans for years, including actors from the nearby Comédie Francaise who slip in for a gunpowder tea or grand pavois (house-blend of Brazilian and Columbian coffee beans) to propel them through the day. The famous photographer, Henri Cartier-Bresson, founder of the first photo agency, Magnum, lived around the corner and was a regular.
    Owner Eric Duchossoy travels the world in search of exotic coffee beans and rare teas. The counter is constantly cluttered with restaurant orders and customers buying bags to take home. There's a small, homemade selection of daily patisserie specials.
    Hidden behind the romantic gardens of the Palais Royal, shelter from bleak weather in Galerie Vivienne, the most exquisite of Paris' 19th-century passages. Restored to its original splendour, with shafts of light streaming through the glass roof, it's a fashionable place to shop. Among the chic addresses are Wolff & Descourtis, draped with beautiful scarves, Jean-Paul Gaultier; complete with video screen in the floor, and the delightful tea salon A Priori Thé, spilling its tables into the mosaic-tiled arcade. Bright young things gossip over crumbles and brownies washed down with Orange Pekoe at 4pm, but it's lunch that's eternally popular, when tables in the arcade (the only one's that count) must be reserved. Before you leave, stumble into another time at the classic old-fashioned épicerie, Legrand Filles & Fils, and discover traditional French bonbons in pretty glass jars and boutique French wines stacked on ornate wooden shelves.
     Warmed and revived, head out into the early evening. The bridges of Paris are just lighting up. Chestnuts are roasting on the street. The shops are still open. Pick up a bargain at the January sales, take a stroll along the Seine or a whirl on the ice-rink outside Hôtel de Ville – there's still plenty of time to work up an appetite before dinner.
Addresses (Some salons may close for February ski vacation)
Angelina
226, rue du Rivoli, 1st  
Metro Tuileries phone 01 42 60 82 00
Open daily 9am-7pm
Ladurée
16 rue Royale, 8th
Metro Concorde or Madeleine, phone 01 42 60 21 79
Open  Mon-Sat 8.30am – 7pm, Sunday 10am – 7pm.  
75 Ave des Champs-Élysées, 8th
Metro CDG Etoile or George V phone 01 40 75 08 75.  Open daily 8am-1am  
Musée Jacquemart André
158, boulevard Haussmann, 8th
Metro Miromesnil or St Philippe-du-Roule phone 01 45 62 11 59
Museum 10am-6pm daily, café (free access) 11.30am – 17.30pm daily, Tea 3-5.30pm Lunch 11.30am- 3pm   Brunch Sunday 11am-3pm
Musée National d'Orsay
1 rue de la Legion d'Honneur, 7th   
Metro Solferino, phone 01 45 49 47 03
Restaurant (second floor) serves tea Tues-Sun 3-5.45pm
Mosquée de Paris 38, rue Geoffroy St-Hilaire, 5th
Metro Place Monge phone 01 43 31 18 14
Hamman Women: Mon, Wed, Thur, Sat 10am-9pm,
Men: Tues 2-9pm, Sun 10-9pm
Restaurant & tearoom (separate access) open daily
Mariage Frères
30, rue du Bourg-Tibourg, 4th
Metro St Paul or Hôtel de Ville phone 01 42 72 28 11
Tearoom daily noon-7pm, boutique 10.30-7.30pm
Also
13, rue des Grands-Augustins, 6th
Metro Saint-Michel Phone 01 40 51 82 50
Le Loir dans la Théière
3, rue des Rosiers, 4th
Metro St Paul, phone 01 42 72 90 61
Tues-Fri 12-7pm, weekend 10am –7pm
La Charlotte de l'Ile
24 rue Saint-Louis-en-l'Ile, 4th
Metro Pont Marie or Sully-Morland, phone 01 43 54 25 83
Thursday to Sunday 2 – 8pm. Closed July and August
A Priori Thé
35 galerie Vivienne, 2nd
Metro Bourse or Palais Royale phone 01 42 97 48 75
Mon-Fri 9am-6pm, Sat 9am-6.30, Sun 12.30-6.30pm
Verlet
256, rue Saint Honoré, 1st
Metro Palais Royale or Tuileries phone 01 42 60 67 39    
9am-6.30pm Closed Sunday & Monday
Legrand Filles & Fils
Enter from 1, rue de la banque, 2nd
Tues – Fri 9am-7.30, Saturday 8.30-1pm & 3pm-7pm
---
---