Bocuse d'Or and Lyon Dining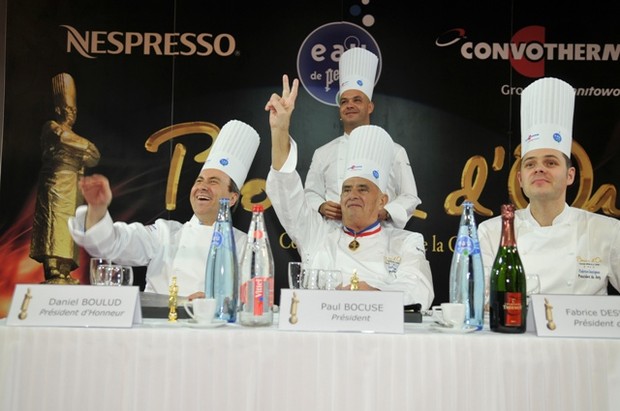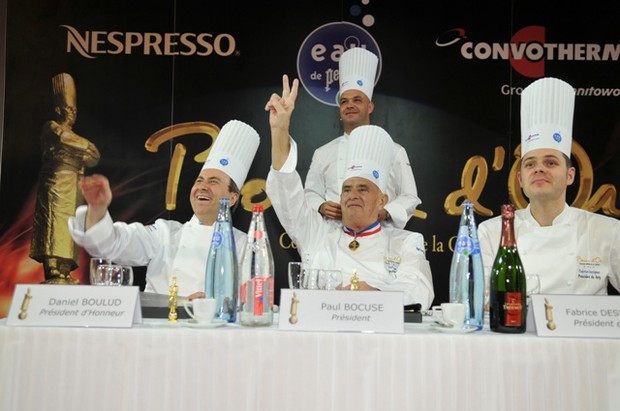 As cuisine writers and judges, we were invited to Bocuse d'Or, which has presented gourmet creations like a haute couture fashion show for over 20 years. This prestigious biennial international cooking competition challenges 24 chefs from around the world to create two perfect dishes. They all use the same basic products, this year Aberdeen Angus beef for the meat dish and Norwegian cod, king scallops and wild prawns for the fish selection.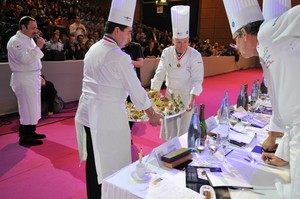 Watching chefs prepare and serve the judges was like attending an Olympic event. Crowds were roaring, cheering, and sighing. The thrill for the winners was evident. This year, Gold was awarded to Norway's Geir Skeie of the Restaurant Mathuset Solvold. The Silver trophy was earned by Sweden's Jonas Lundgren, and Bronze went to France's Philippe Mille of Hotel Le Meurice in Paris. The U.S. did sixth place, a great achievement.
We came to Lyon for Bocuse d'Or and to dine. Paul Bocuse, the icon of haute cuisine, has the top rated restaurant in Lyon and, some say, all of France. In addition to indulging at the Paul Bocuse Institute for the crème de la crème, we found four casual Bocuse buchons close to our lodgings at Villa Florentine, a Relais & Chateaux property overlooking the lights of old Lyon.
Our favorites, Le Nord with traditional Lyonnaise food and Le Sud with its flavors of the sun, are perfect for casual nights of good food. Another dining choice not to be missed is the quiet elegance at the Villa Florentine's Terrasses de Lyon. This establishment has won a Michelin star and the tricolore of France.
Dining
The Paul Bocuse Institute (40 to 60 minutes outside Lyon)
Château du Vivier (Restaurant) 3 Michelin Stars
BP 25 – 69131 Ecully Cedex, France
Tel: +33 (0)4 72 18 02 20, FAX: +33 (0)4 78 43 33 51
Website: www.institutpaulbocuse.com
E-Mail: [email protected]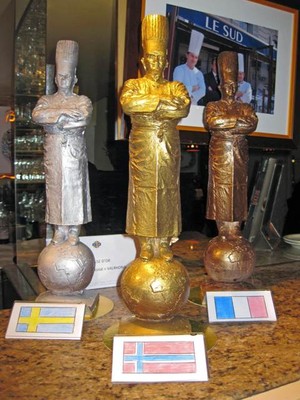 Le Nord, Le Sud, L'Est, L'Quest and Argenson-Gerland
All share the same website: www.brasseries-bocuse.com
Le Nord
18, rue Neuve, 69002, Lyon
Tel: +33 (0)4 72 10 69 69
FAX: 33 (0)4 72 10 69 68
Le Sud
11, place Antonin-Poncet, 69002 Lyon
Tel: +33 (0)4 72 77 80 00
FAX: +33 (0)4 72 77 80 01
Brasserie Georges (quite large but good)
30, cours de Verdun, 69002 Lyon
Tel: +33 (0)4 72 56 54 54
FAX +33 (0)4 78 42 51 65
Website: www.brasseriegeorges.com
Email: [email protected]
Lodging
Villa Florentine/Relais & Chateaux
25, montée Saint-Barthélemy, 69005 Lyon
Tel: +33 (0)4 72 56 56 56
FAX: +33 (0)4 72 40 90 56
Website: http://www.villaflorentine.com
E-Mail: [email protected]
Please post your comments or questions and let them flow. Register HERE to do so if you need a user name and password.
Leave a reply
Your email address will not be published. Required fields are marked *