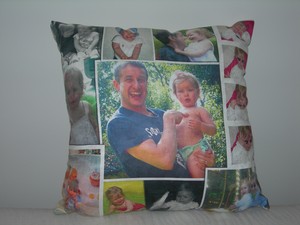 When Clint Eastwood was dubbed Commandeur de l'ordre de la Légion d'Honneur by President Nicholas Sarkozy at the Elysées Palace last week, there was a slew of celebs from the world of cinema to celebrate with him. How would it make Clint's day if one of them collected the "once in a lifetime" photos of the ceremony and sent them to www.55max.com where they'll be transformed into photomontage cushions, fleece throws/blankets, travel and wash bags or even an original digital collage for his wall.
All they have to do is go to the site and follow the simple instructions or order a gift-box which has no time limit.  And even if you're not celebrating with Clint, you'll want to order one of these heirloom pieces for yourself or your family.
BUZZ has solved all your holiday gift problems, now and for ever. 55Max was launched 5 years ago, when the max price was £55: they're a UK based company who've tapped into a niche market creating affordable bespoke art-work, photo montage interiors and fantasy garden landscapes which never fade and never need watering, read, sustainable development, eco, the future is here at 55max. I just received mine how cute is it? (see photo)
As for Clint, he's in London, turning "Hereafter," a supernatural thriller financed by Warner Bros. and produced by Eastwood's company Malpaso, with Matt Damon, Cecile de France, Thierry Neuvic and Marthe Keller. So he might want to mosey over with the guys to 55Max at their cutting edge gallery, Queen's Park, find a few photos more for just a fistful of dollars. Watch out for the 79-year old film-maker's movie "Invictus,"starring Morgan Freeman, about how Nelson Mandela used the 1995 Rugby World Cup to unite post-apartheid South Africa. Stirring stuff, eh!
Eastwood returned to Paris on the 28 November for the annual glittering "Bal des Debutantes", at the Hotel de Crillon, where his 16-year old daughter Francesca (from his marriage to Francis Fisher) was "presented to society." How amazing will that look on a cushion? Go ahead, Clint and dear readers, make your day.
T: 00 44 (1) 207 625 3774