Best of 2011 by Karen Fawcett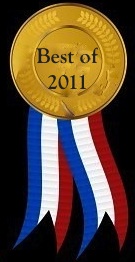 "Best of 2011" by Karen Fawcett
Karen Fawcett is the publisher of BonjourParis in year 20-something of her love affair with France. If there's another online publisher who has devoted decades to sharing information about France, we've yet to find them. BonjourParis readers have faithfully subscribed to read her musings about an expat's life in France and travels on the road. To read any of her hundreds of columns, just click on her name.
Whether returning Francophile or first-time traveler, what's better than having a friend in Paris who shares your passion for the City of Light? Not just a friend, but a trusted resource? That's our publisher, and here are your Top 3 Readers' Favorites for 2011 by Karen Fawcett.
Readers' Favorite #3
Last week's what to do and not to do when dining as a guest in a French home drew lots of responses. So welcome to Part Two with more tips and etiquette lessons.
It's better for foreign travelers to know the unwritten rules and expectations of guests than to commit faux pas because you're unaware of cultural differences coupled with subtle nuances.
My own faux pas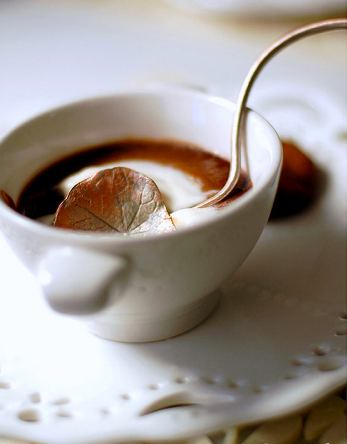 Before continuing, it's only fair I confess the (OMG) crise I committed when I was younger. I knew how to use finger bowls and that you shouldn't pick up and chug-a-lug the water complete with the thinly shaven lemon slice.
However, I had an embarrassing experience once at a very fancy dinner party when served what looked like a small cup with a lid, which I politely declined by saying I didn't want an after-dinner coffee. The waiter explained what I'd nearly missed and I clearly lived to tell the anecdote.
Yes, I did indeed want that pot de crème au chocolat, a thicker-than-thick chocolate dessert with a tiny dollop of crème fraîche.
The next day I bought a dozen of these adorable demitasse cups with covers to use at our next dinner party so we could (at least try to) appear more French than the French. That was more than 20 years ago and perhaps it's time to bring them down from the top kitchen cabinet to show them off again.
Fork in left hand and not just to cut food
Watch a French person eat and you'll see the fork is held in the left hand the entire time, not just when cutting food. It seems strange to the French (and most Europeans) that an American dining will switch the fork from the left to right hand. If you can feed yourself gracefully using a fork with your left hand, do; if not, don't.
Keep your hands where we can see them
Why is it proper when dining in France to keep your hands visible or at least not in your lap?
French history and folklore offer two explanations: one version claims hands were kept out of laps so all would know that others seated at the table had no daggers poised to stab someone. Another version has something to do with same as touching wine glasses for fear of poisoning à la Catherine de Médicis, who poisoned more than one victim with poison stashed in a ring. And there's something about playing "footsie" under the table. I've also been told by French natives it has more to do with where those hands are and where they've been.
Some French don't put their elbows on the table, others do; follow the lead of those you're with.
Readers' Favorite #2
You're coming to Paris but have only two days to see the city. Or worse yet, you're here for meetings and are cloistered in a conference room that could be anywhere.
What are some of the must-sees that will give you a quick overview? Here are some suggestions that (hopefully) will entice you to book a return ticket to the city so many people love.
Check into your hotel. Your room probably won't be ready before 3:00pm unless you're lucky and it's low season. If you need to sleep immediately, reserve the room for the day before. Bite the bullet and pay the extra euros if you have to be fresh for meetings, especially if you're coming from the U.S. and didn't cross the Atlantic in the front of the plane.
If you're in Paris for pleasure, climb aboard an Open Bus that makes a circular tour of Paris. Yes, you can get on and off to explore what appeals to you. Or, you can stay on and see it all. There are up to 50 central Paris stops along scenic avenues and glorious monuments. Buses also move through the Montmartre, Montparnasse and Bastille areas. Put on the headphones and listen to descriptions of what you're seeing in the language of your choice.
1 – Take the Métro to the main Galeries Lafayette department store near Opéra Garnier in the Paris 8th. Leave your shopping until later and head to the rooftop café for a panoramic view of the city, including the Eiffel Tower, Sacré Coeur, Notre Dame and more as you revolve. While there, you can't help but view the store's Belle Époque architecture. It's really something and there's no charge for admission.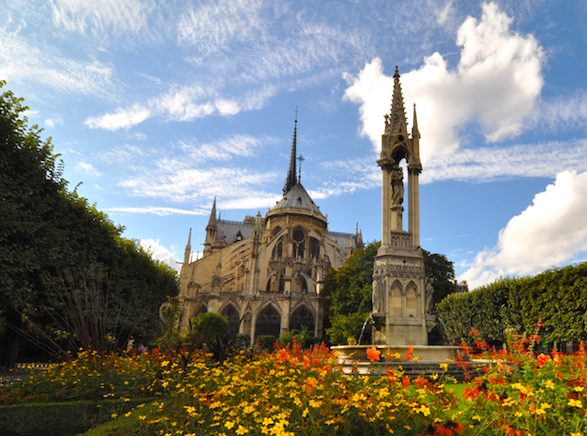 2 – You can't come to Paris without seeing the Notre Dame Cathedral. Admission is free unless you want to visit the bell tower. Expect to encounter a crowd and if you want to attend Sunday Mass, arrive early.
3 – Walk east along Quai de la Mégisserie, the street that parallels the Seine, past pet shops and plant stores. After one block, cross to the opposite side of the street and continue east, browse the bouquinistes (bookstalls) and "feel" Paris.
Cross the Pont Notre-Dame, the third bridge from the western tip of the island, to Île de la Cité and explore that tiny section of Paris. It's charming and the oldest buildings in Paris were constructed here.
4 – Walk through the flower market. It's the oldest in Paris and you're right smack in front of the Palais de Justice and a second away from Sainte Chapelle, a tribute to gothic architecture. You'll need to pay if you want to tour the cathedral but if you have time, its concerts are more than worth the price of admission.
Readers' Favorite #1
The adage that absence makes the heart grow fonder is absolutely true when it comes to Paris.  How do I love Paris.  Let me count the ways.
First, the quality of daily life
This is not something you can reduce to numerical values or grade like a test or a corporate bond. Attempts in the States to identify the best places to live inevitably give prizes to places with low taxes, bad food, and no culture; Paris would flunk. What I mean by the quality of life are the small things that make simply being alive and going about your business better and more often than not a pleasure.
The pace of life is also part of what I mean. A baguette or a croissant still warm from the oven is an understandably universal delight of living in Paris. The French seem to learn from the time they are old enough to be perched in a high chair that sitting down for a meal is only partly about food. It's also about taking time to enjoy the food and the wine, to enjoy the company, whether the topic is gossip or something more serious.
Parisians spend a lot of time over food and they take breaking bread with someone seriously. The French compagnon and the English companion derive from eating bread together, the height of human friendship. Parisians like to make the pleasure last as long as possible.
How they find the time for a real lunch and still manage to get some work done is sometimes questioned. Ironically, the French are much more productive than people from most other countries. The stereotype of a French person who needs a day off to recover from a day off is a bad rap.
It's also okay to sit alone over a meal in a café or bistro. People take time with themselves, usually with a book or newspaper, though you will also see people writing and drawing. Though Paris has lost many of its cafés in the last couple of generations, thousands still exist because they improve the quality of life for people living in small apartments, as most Parisians do. Considering apartment prices, a two-bedroom apartment of 60 meters2 borders on the luxurious, though that's still less than 650 square feet of living space. The café down the street becomes part of an expanded home.
This may be compensation, but how we compensate for the lesser things in our life is part of maintaining its quality. Lingering in a café is not escaping from home, but broadening it, and it's obvious how many regulars make themselves at home and are made to feel at home by the staff.

Subscribe for
FREE

weekly newsletters with subscriber-only content.
BonjourParis has been a leading France travel and French lifestyle site since 1995.
Readers' Favorites: Top 100 Books, imports & more at our Amazon store
Dream, read, plan your Paris return…click on an image for details.
Thank you for using our link to Amazon.com…we appreciate your support of our site.
Leave a reply
Your email address will not be published. Required fields are marked *