Best of BonjourParis 2011: Readers' Top 20 Favorites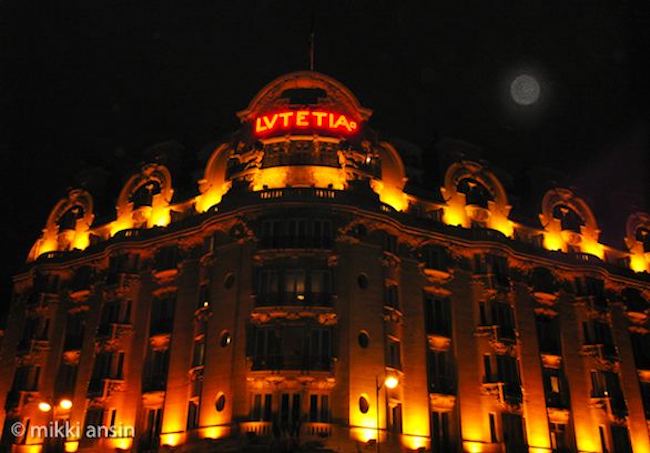 BonjourParis writers and photographers are a talented group of France experts. In 2011 we published over 600 original stories by 91 contributors. It's impossible to choose favorites, so we counted the most-visited pages of 1.5 million views! We thank you all—contributors and subscribers—as we present your Top 20 Readers' Favorites for 2011.
Top 15 Favorites for 2011:
(in alphabetical order by contributor's name)
Click on any title to view the full page and click on any author's name to read their full profile.
by photojournalist Mikki Ansin (lead photo)
By photographer Francis Beddok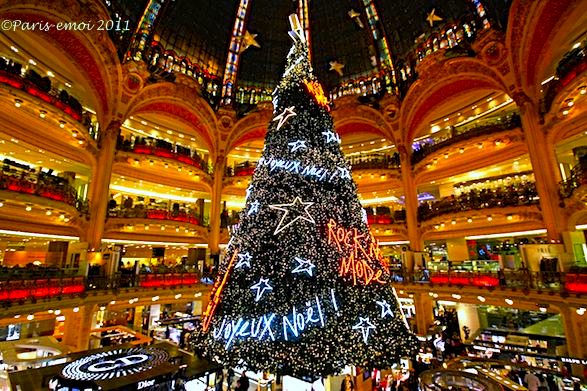 Photograph of the Galeries Lafayette "Rock 'N Mode" Christmas tree. ©Francis Beddok 2011 AKA Paris-emoi 2011
By contributing writer Philippa Campsie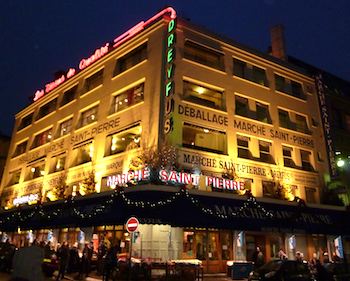 Paris, home of haute couture, is also friendly toward those who can only manage what might be called basse couture—simple, easy sewing of the most basic kind, like making cushions, tablecloths, bags, or napkins. When the fabric is the star, you don't need to be a fashion designer to make something unique.
Place Saint-Pierre fabric district, Paris 18th
And what a wealth of fabrics you can find in the Paris 18th! Head to Montmartre (Métro: Anvers) and walk uphill toward Sacré-Coeur and Place St-Pierre. You will find yourself in a paradise of fabrics—indeed, one fabric store is called Au Bonheur des Dames, the title of the Zola novel, which was translated into English as The Ladies' Paradise.
The first time we stumbled upon this corner of Paris, it was late afternoon in December and dusk had already fallen. The brightly lit streets with their riots of colored fabrics displayed on tables along the sidewalk looked like a Middle Eastern bazaar.
Click title above to continue reading.
By BonjourParis editor and writer Janet deAcevedo Macdonald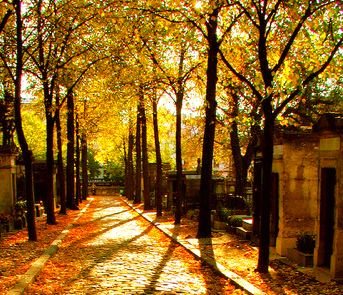 Walking in Paris is the best way for a visitor to get to know the 20 snail-wrapped Paris arrondissements. La rentrée marks the official end of summer and the cooler autumn weather makes this the ideal time to explore Paris parks.
Paris has more trees than any other capital city in Europe, most commonly the platane à feuille d'érable (Maple Leaf Plane). The French typically sculpt these treetops into squares, as you'll see along the Champs-Élysées. The city is also dotted with London plane trees, beech, sycamores, and chestnuts. These, like most trees in Europe, turn various hues of gold as the weather chills.
Over two million people annually visit the Cemetery of Père Lachaise, the largest open green space in Paris and the world's largest memorial sculpture garden. In fact, it draws more visitors than all but the top three destinations noted on the Paris Tourism Bureau's official list of Most Visited Museums and Monuments. Père Lachaise, as it's called, is also the oldest and most prestigious historically significant cemetery in Paris. There is nothing morbid about strolling its 109 acres of tree-lined cobblestone lanes and gravel-covered paths. You'll find Père Lachaise in the Paris 20th arrondissement. Much has been written about its poetic beauty and many well-known persons who immortalized it now rest there, such as: Honoré de Balzac, Guillaume Apollinaire, Frédéric Chopin, Colette, Molière, Yves Montand, Simone Signoret, Edith Piaf, Camille Pissarro and Oscar Wilde. You'll also find markers for international celebrities like Jim Morrison of The Doors, opera singer Maria Callas, jazz pianist Michel Pettuciani and dancer Isadora Duncan.
Click title above to continue reading.

By contributing writer Cathy Fiorello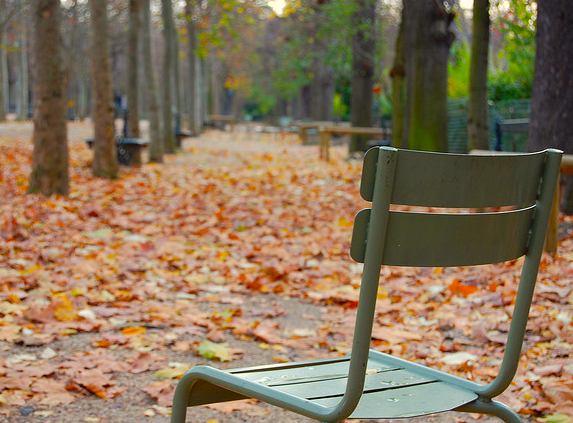 In every stage of my life I've had a special chair to fill a special need: one that helped nurse me back to health when a sickly child; one that was a sanctuary at the end of a day of non-stop mothering. In my current chair, the day's anxieties dissolve as I look out on a beautiful view, the white wings of sailboats gliding over San Francisco Bay.
Then there are the Paris chairs. They are not mine alone; I share them with dreamers and lovers the world over. I've returned to them in different seasons of the year and of my life. They were always there when I needed them.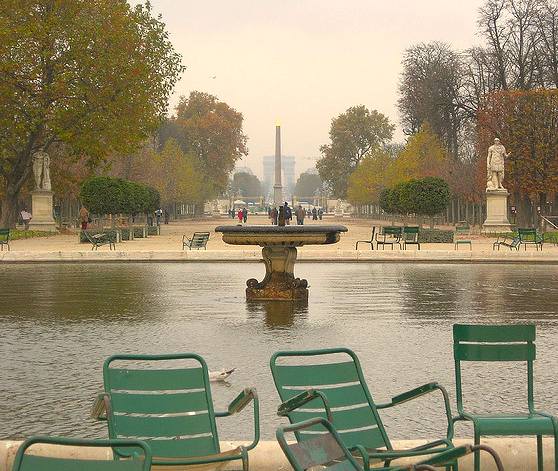 I know of no chairs that provide less physical comfort and more spiritual well-being than the green metal chairs in Paris parks. Scattered around pools and fountains in gardens throughout the city, they encourage you to make your own seating groups. It's okay to put two together when the crowd is sparse, using one as a footrest or to hold the picnic you've picked up at a kiosk. It's okay to sit alone in one of these chairs, reading or tracking the progress of ducks as they make their way around a fountain, independently or with a partner in perfectly synchronized motion. And it's okay just to sit and stare into space.
Click title above to continue reading.
By contributing writer Debra Fioritto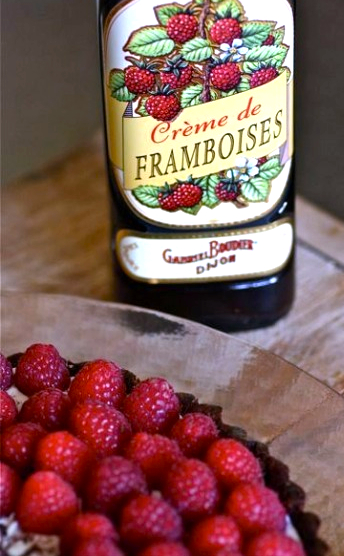 This recipe was inspired by a small pastry shop in Angers named Laurent Petit. I visited every day and saw he did fantastic things with raspberries.
Tarte aux Framboises ~ Raspberry Tart
INGREDIENTS:
For the crust:
1-1/3 cups cake flour
2 Tablespoons unsweetened cocoa powder
2 Tablespoons sugar
1/4 teaspoon salt
1 stick (1/2-cup) cold, unsalted butter, cut into pieces
1 large egg yolk
1 Tablespoon cold water + 1 extra teaspoon of cold water if needed
For the filling:
1/2 cup heavy cream
1-1/2 oz. white chocolate
1 cup mascarpone cheese
optional: splash of Framboise, Kirsch, or other eau de vie
12 oz. raspberries
Click title above to continue reading.
By contributing writer Loui Franke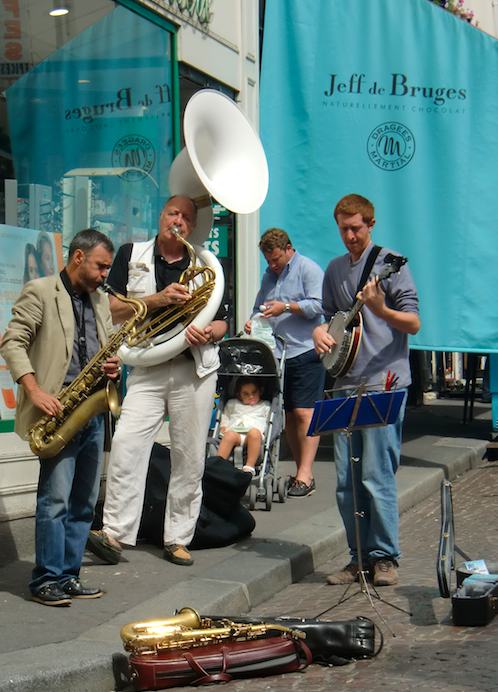 If there's one thing the French hold dear, it's their marchés (markets). Once you have experienced the sights, sounds, smells and colors of the marchés, surely they will also become your weekly addiction.
Paris has many markets throughout the city. One favorite Left Bank marché experience is in one of the oldest and liveliest neighborhoods—the fifth arrondissement—on rue Mouffetard. It is not just a daily outdoor vegetable and produce market, it also has excellent specialty shops for cheese (fromageries), pastry (pâtisseries), fish (poissonneries), wine and meat, plus a variety of charming and trendy boutiques.
In addition to the diversity of its shops, you will see street performers who add music and entertainment to this atmosphere of conviviality. Sunday afternoons are particularly lively as locals and visitors dance and sing in front of the Chapel of Saint-Médard in Saint-Médard Square, with its lovely adjoining park. From here the narrow cobblestone street of rue Mouffetard snakes its way uphill. The road has been in use for approximately 2000 years and it still has buildings dating from the 12th century.
French civic planner Baron Haussmann is best known for the magnificent redevelopment of Paris during the reign of Napoléon III. In June 1852, Napoléon III commissioned Baron Haussmann to modernize Paris. The name Haussmann readily comes to mind when we see the grand tree-lined boulevards and rows of stately apartment buildings now equated with Paris. Among his many reforms, Haussmann instituted uniform building heights, shopper-friendly neighborhoods, better traffic flow, improved sanitation, streetlights and improved railway access. The baron also inspired American architect Daniel Burnham in his plan for Chicago in 1909. Haussmann's influences are wide reaching and are also seen in London and Moscow.
Click title above to continue reading.
By contributing writer Shannon George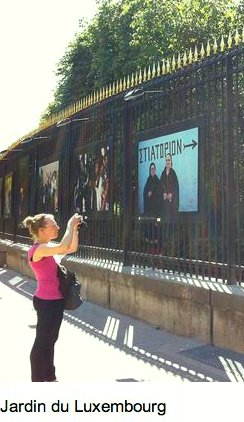 You're finally ready to take your dream trip to Paris. But your best friend can't get time off work, you are currently sans boyfriend and you want something more authentic than what a group tour can offer. Don't worry! Paris may be the most romantic city in the world, but it is also a lovely place to enjoy completely by yourself. C'est vrai!
Travelers who have never gone solo usually have the same worries: will I be safe? Will I be lonely? Will everyone stare at me and think I'm a complete loser because I am by myself?
Basic travel safety tips
First of all, Paris is an extremely safe city. As long as you are smart about what you do, you won't have problems. When traveling solo, all the usual "smart travel" rules apply: don't carry whopping amounts of cash. Don't wear a money purse on the inside of your jacket; do wear your purse/daypack crossed shoulder-to-hip with the bag in the front or on the side, never behind you. Don't "mark" yourself as a tourist (i.e., leave the sneakers and Yankees baseball caps at home) and don't "advertise" that you are carrying an iPhone, iPod or other desirable electronic toy. If approached by a pan-handler or trinket peddler, simply respond with a firm "Non!" Better yet, pretend you only speak some imaginary language, don't respond at all when anyone asks, "Hello, do you speak English?" and continue on your way as if you understood nothing.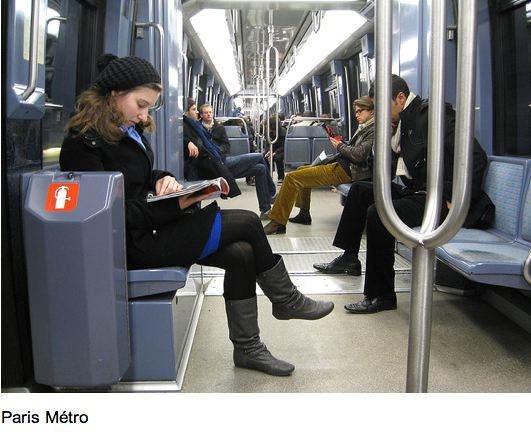 Métro safety tips for solo travelers
The Métro runs until 1am on Sundays and weeknights, 2am on Fridays and Saturdays, and for the most part it is safe as long as you stay alert. There are cameras and police will come if the dispatcher watching the monitors summons them. When traveling alone, no matter your gender, it's not a bad idea to locate and stand near the emergency pull on every Métro platform. But again, your chances of pulling that lever are exceedingly small.
Click title above to continue reading.
By contributing writer Janet Hulstrand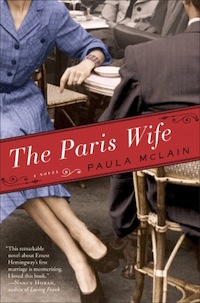 Paula McLain's wonderful new book called The Paris Wife is perfect for anyone interested in Paris, Hemingway, Hadley Richardson (Hemingway's first wife) or the "Lost Generation" of Americans in Paris. (Not to mention anyone who has ever lost at love; that makes for a pretty broad audience, doesn't it?)
Generally speaking, I approach historical fiction with caution if not outright suspicion. I like to know where nonfiction leaves off and fiction begins. I don't like wondering about which parts of a book are based on fact and which are invented.
Of course this is an elusive matter in any work of either fiction or nonfiction, a troublesome truth Hemingway himself alluded to in the frontispiece to his memoir of his early years in Paris, A Moveable Feast. ("If the reader prefers," he wrote, perhaps just a tad defensively, "this book may be regarded as fiction.")
But for me The Paris Wife is a wonderful exception to the rule. This work of historical fiction tells basically the same story of the Hemingways' early years in Paris that Hemingway told, this time from Hadley's point of view. Drawing on extensive research, Paula McLain tells the story of Hemingway's first marriage, evoking the innocence, tenderness and passion of young love as well as the heartbreak of losing it. She writes in such a way that both Hemingways are treated with respect, sympathy and compassionate understanding.
One of the many wonderful things about this book is that the story of Hemingway's early years in Paris as told by Hadley are not starkly different than the way Hemingway himself told it. It is more comprehensive: the story begins with the couple's first meeting in Chicago in 1920 and ends with his death in 1961. Here the relationship between the Hemingways is more fully developed than in A Moveable Feast.
But The Paris Wife is really not "the other side of the story;" rather, it provides additional perspective on the story of a loving marriage that sadly went very wrong somewhere along the way.
And though the story of the marriage is treated more fully than in A Moveable Feast, The Paris Wife is not only about the marriage. McLain has brought Hadley vividly to life, revealing Hadley's intelligence and belief in her husband's talent, as well as her insightful and caring way of dealing with a difficult partner. This books sheds a fascinating light on Hemingway's life and early work.
Click title above to continue reading.
By contributing writer Dimitri Keramitas

The Artist: Where's the Beef?
The Artist received a great deal of acclaim at the 2011 Cannes Film Festival, where it picked up a Best Actor Award, and it's since garnered awards and much attention elsewhere. The movie is a pastiche, a silent film, shot in black and white that looks back at the Silent Film era. The film is French, but was made in Hollywood with a few well-known American and British actors in supporting roles. The most notable performances were played by James Cromwell (Secretariat) as the hero's faithful chauffeur and John Goodman (Roseanne show) as a gruff producer with a heart of bronze.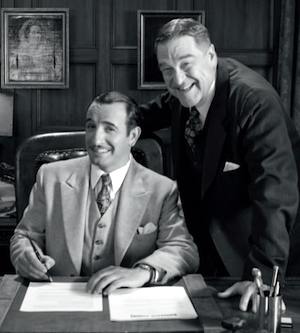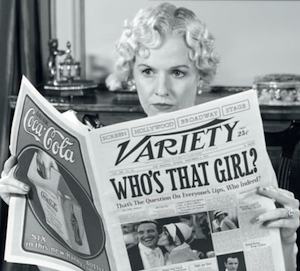 The crux of the story derives from the poignant myth (with a basis in fact) about silent screen stars who were washed-up when the talkies took over Hollywood. Some charismatic stars turned out to have squeaky voices or bad diction. Others couldn't make the transition from the mime-like histrionics of the flickers to the more naturalistic acting of the sound era. One of the most famous examples was John Gilbert (1897-1936), the romantic lead who was a top box-office draw until sound drove him to B movies.
Click title above to continue reading.
By BonjourParis arts-editor-at-large Lindsey Marsh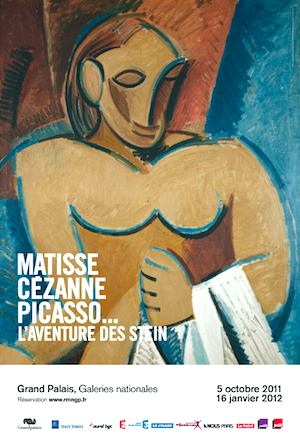 Matisse, Cézanne, Picasso… L'aventure des Stein
Grand Palais, Galeries Nationales until January 16, 2012
The Grand Palais has a well-established reputation for presenting blockbuster exhibitions and their current show, Matisse, Cézanne, Picasso… L'aventure des Stein, immediately drew international attention.
The Grand Palais joined with the San Francisco Museum of Modern Art and the Metropolitan Museum of Art in New York ("The Met") to create this major exhibition with about 200 paintings, sculptures, drawings, and printed articles by Matisse, Cézanne, Picasso, Renoir, Toulouse-Lautrec and many other influential early 20th-century modern artists. The traveling exhibition opened first in San Francisco last May as "Steins Collect." Michael and Sarah Stein had close ties to the San Francisco Museum of Modern Art after moving to Palo Alto leaving Paris.
So who were the Steins? In short they were California siblings, Gertrude, Leo and Michael (later joined by wife, Sarah) who inherited money from their father, a railroad and real estate investor. Leo and Gertrude first moved to Paris at the very start of the 20th century; Michael and Sarah followed in 1904. All collected the newest, unhailed avant-garde art of their time, the first half of the twentieth century.
"It's really impossible to overestimate the role of this eccentric American family as patrons of visual art in early 20th-century Paris," says co-curator Janet Bishop of SFMOMA. "The Steins were true champions of modernism, embracing and defending new art as it was first being made and before it was met with widespread acceptance. They not only avidly collected works when the artists most needed support, but also enthusiastically opened their modest Left Bank homes to anyone wishing to see the most radical art of the day."
Click title above to continue reading.
By contributing writer Anna Meakin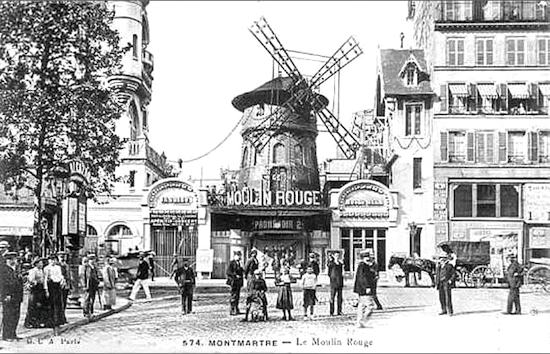 Visitors waiting on line for admission to the Moulin Rouge may be forgiven for not noticing the Histoire de Paris building plaque, which they still might not understand even if they noticed and then took the time to try to translate it. They'd be left with baffling references to "Oller and Zidler," a "White Queen," a giant wooden elephant, a "Dream of Egypt" and someone called "Missy."
This incomprehensible text was one of the reasons we chose to write Paris by Plaque, and to adopt the strap-line "All will be revealed…". The stories we found hidden within these plaques are, quite simply, enchanting. No translation of them had been published, however, let alone with an explanation of the content. So we wrote it ourselves, starting with Le Moulin Rouge.
Next time you pass the entrance to this famous cabaret, allow your mind to drift back 120 years. The date is 1889, and two businessmen, Joseph Oller and Charles Zidler, are planning a new venture. Impressed with the commercial success of the wildly popular dances at the Élysée Montmartre, the pair decided to open a rival dance hall in the run-down area of Pigalle. Even at their most optimistic they could not have imagined that the enterprise would become one of the most visited tourist attractions in Paris over a century later.
Oller and Zidler took a gamble in buying the old White Queen Dance Hall (La Reine Blanche) with its crumbling, peeling façade and seedy reputation to match the surrounding area. In need of total renovation, the White Queen was an unlikely venue for a rival to the Élysée, which had cornered the market in the wild and risqué dances that drew the crowds. The Can-Can we are familiar with today developed out of these wild quadrilles, typified by women somewhat lacking in the underwear department, whirling their skirts around in a dizzying high-energy dance display.
Click title above to continue reading.
By contributing writer Sally Peabody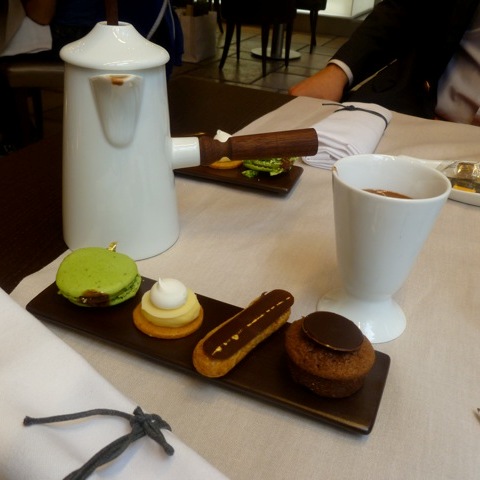 Fine chocolate in Paris? Hardly a rare or endangered food-species. But chocophiles take note! With the arrival of Un Dimanche à Paris this city of gourmet obsessions has a glorious new shrine to all things chocolate. This is a remarkable place. Imagined, then created, by Pierre Cluizel, the son of famed master chocolatier Michel Cluizel, we now have an essential destination for the chocolate-obsessed along with the simply curious. Tucked in the cobblestoned block-long Cour du Commerce, a pedestrian "street" running between the Boulevard St. Germain and rue St. André des Arts in the heart of the sixth arrondissement, this is easy to put on your regular must-visit list in Paris.
The first chocolate "concept store" in Paris and, arguably, in the world, Un Dimanche à Paris offers a sophisticated homage to chocolate in all its guises. One can simply buy (delicious) chocolates or one of a select group of pâtisseries in the cleanly designed shop. You can dream about the possibilities for any of the luscious plain or inventively flavored caramels sold in attractive clear glass jars, using the gold leaf for dusting over your own beautiful desserts, or incorporating crispy bits of crêpes dentelles or grues du chocolat into your creations. Or, simply indulge your interest in the creation of pâtisserie by watching the skilled pastry chefs at work in the open kitchen adjoining the chocolate shop. Or, take a cooking or pâtisserie class in the second-floor teaching kitchen.
The chocolate concept doesn't end with shopping, learning and observing. At Un Dimanche à Paris one can also eat and drink, sip and savor, wonderfully well. There is an attractive ground-floor restaurant serving contemporary gourmet cuisine featuring dishes incorporating chocolate. All the dishes are well grounded in classic French cuisine but incorporate various chocolats d'origine in the spicing or sauces. One of the signature dishes is a braised lamb with chocolate sourced from the Dominican Republic. Another is a fish preparation that incorporates saffron and a hint of chocolate in the sauce. Brunch choices include scrambled eggs with truffles and a base note of chocolate.
Do all of the dishes incorporate chocolate? I asked. What about pairing chocolate and cheese? Yes, there is a millefeuille with chocolate and mascarpone cheese.
Click title above to continue reading.
By contributing writer Diane Stamm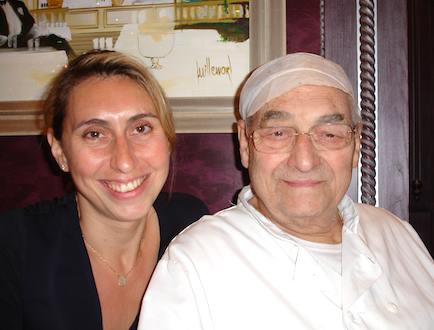 Berthillon Salon de Thé: Not Just For Ice Cream
The name Berthillon is synonymous with world-class ice cream, and the lines outside the shop, at 29–31, rue St-Louis-en-l'Île in the heart of Paris on Île Saint-Louis, attest to its popularity. At age 87, Raymond Berthillon, who founded the enterprise 57 years ago, still makes the vanilla ice cream every day.
But Berthillon Salon de Thé also serves world-class pâtisseries, thanks to Muriel Delpuech, 37-year-old granddaughter of Monsieur Berthillon. Madame Delpuech, who is smart, warm, direct, and businesslike, started working in the shop at age 17. Like everyone in the family, she has a strong work ethic and she wanted to make ice cream, like her grandfather, father and brother. But, non!, she was told, that is man's work— something she was not pleased to hear—so she proposed the idea of selling pâtisseries. That was 12 years ago; and the pâtisseries live up to the company's motto, "La qualité est notre passion" or "Quality is our passion," in English. As Monsieur Berthillon emphasizes, they use the highest quality products, irrespective of price. That goes for the pâtisseries, as well.
While ice cream cones are sold at the counter at the front of the shop, the pâtisseries are sold toward the back of the shop, temptingly displayed behind glass on little silver trays. Here are a few of the pâtisseries you will find at Berthillon Salon de Thé.
First, there is the financier aux cerises, a two-inch-by-four-inch oblong cake with cherries nestled on top and a satisfying crunchiness to the darkened edges. Like all financiers, Madame Delpuech's are made with flour, egg whites, almond powder, sugar, and butter, to which are added the all-important cherries. Madame Delpuech uses Amarena cherries from a supplier in Fougerolles, a French town known for its cherries. The cherries are well drained before they're added to the batter, but they still retain a significant amount of moisture, the sweetness and flavor of which are released with each bite. It's a taste not to be missed, at 1.70 euros (about $2.40) a piece.
Click title above to continue reading.
By BonjourParis editorial assistant Adam Weiner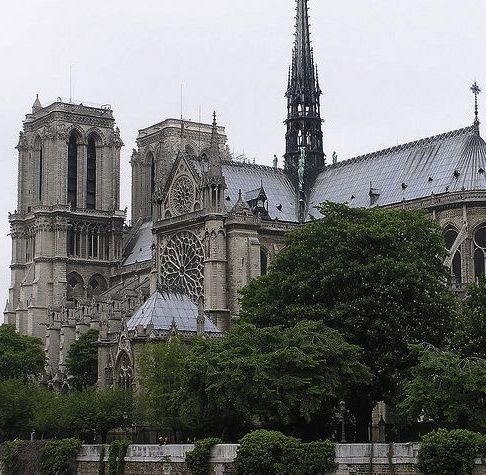 1. Cathédrale Notre Dame: One of the finest examples of French Gothic architecture, this Paris cathedral draws crowds that study its flying buttresses, exquisite carvings and stained glass windows. Its starring role in literature, films and other pieces of artwork help make it one of the world's most popular and recognizable religious buildings. Be sure to check out the exterior from both the front and back, as they give markedly different impressions of this great structure. If you visit during the first Friday of the month at 3pm, pilgrims may wish to attend the Veneration of the Crown of Thorns ceremony.
Address: 6, place Parvis Notre Dame, Paris 4th
Métro: Line 1 & 11, Hôtel de Ville; Line 4, Cité; Line 10, Maubert-Mutualité
RER: Line B & C, Saint Michel-Notre Dame
Bus: 21, 38, 47, 58, 70, 72, 74, 81, 82
Hours: Open daily 8am-6:45pm (until 7:15 on Saturdays and Sundays)
Admission: Free
Accessibility: The cathedral is wheelchair accessible, but the tower is not.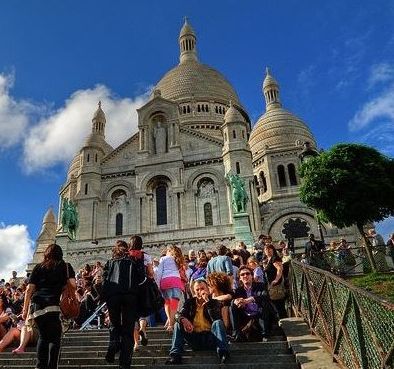 2. Basilique du Sacré-Coeur: The great white basilica that sits atop Montmartre attracted visitors long before its scene-stealing appearance in the film Amélie. The view over the rooftops of Paris is well worth the trip up the hill; the basilica's ornate interiors and imposing exterior leave lasting impressions. You can hike up 220 rue Foyatier steps (famous from the Brassai Montmartre photographs) or for the cost of a Métro ticket, take the funicular up from the Anvers Métro stop (included in the cost of a Navigo transit pass). After you've soaked up the view and visited the basilica, walk through Montmartre's winding streets and stop in one of its countless cafés or restaurants that ring the famous artists at Place du Tertre. Then head down rue Lepic to make your way down a (steep) hill.
Click title above to continue reading.
Readers' Favorite #5:
By contributing writer Marie Z. Johnston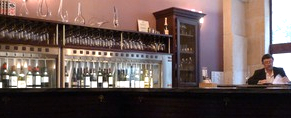 Passion. We all recognize it when we see it; there is a certain magical quality which is beautiful to behold, in particular when it reveals itself with enthusiasm and humor.
This is precisely the feeling one is flooded with when first setting foot into Ô Chateau. The passion is reflected by an oversized granite bar lined with inviting green leather stools, the richly hued walls of graduated mauve and teal and especially in the well-stocked, 40-bottle by-the-glass Cuvée behind the bar.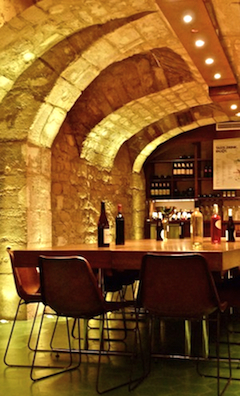 Ô Chateau opened its doors in a new, larger, brighter and more accessible location in early 2011. It's believed to have once been the home of Madame de Pompadour, which is all the more interesting given that their former digs were reputed to be the wine cellar belonging to the Louvre, more notably, Louis XV who was Madame de Pompadour's lover until the day she died. Coincidence? I think not.
Vibrant and good looking, owner Olivier Magny is very easygoing and stunningly straightforward. He spoke candidly about what led to his modest beginnings in 2003. After graduating from ESSEC (a business school outside of Paris) Magny traveled a bit, eventually landing in San Diego. It was here in this city known for its laid-back living, warm weather and blue skies that Olivier perfected his English and realized that life behind a desk was not for him. After returning to Paris, Magny began giving wine tastings in his parents' living room in the 11th.
Eventually he opened the original Ô Chateau in a small, one-room, 17th-century cave with a fascinating history—and became an immediate hit.
Click title above to continue reading
Readers' Favorite #4:
By contributing writer Carina Okula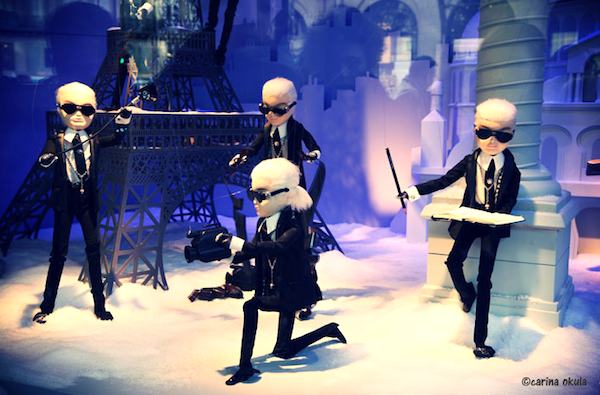 Printemps has outdone themselves with Noël Rêves d'Évasion, their 2011 holiday promotion. After years of mediocre window displays alongside the superior presentation of the Galeries Lafayette, the game switched this year.
Chanel fashion director Karl Lagerfeld and Vanessa Paradis, actress, singer and face of "Coco" Chanel fragrance, thrilled thousands of bystanders gathered for the grand reveal at the Inauguration des Vitrines.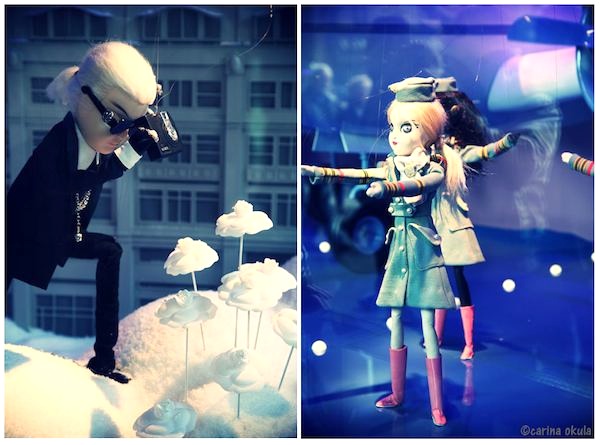 This year the elegant windows of the Printemps flag ship store on the boulevard Haussmann pay homage to Karl Lagerfeld, which must leave the neighboring management of the Galeries Lafayette wondering how they went so wrong with this year's "Noël Rock 'N Mode."
Simply put: Printemps shines. Eleven storefront windows display 60 animated puppets: miniature Lagerfelds as photographer, designer and director surrounded by dancing ballerinas and flight attendants made in rue Cambon workshops. The dolls are dressed in classic designs from previous generations that present an understated elegance that out rocks any live concert vying for the window crowds.
Click title above to continue reading

Readers' Favorite #3:
Our monthly Paris events calendars are consistently a most-read story, and although June 2010 was the most-read calendar, we thought you might find it more useful for us to post the current calendar. The calendars are a great resource for those seeking a list of links to Paris venues, from museums to clubs and cultural performance halls to bookshops that host author readings.
By BonjourParis calendar editor Lisa Buros-Hutchins
January 2012 Events in Paris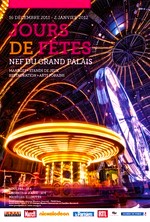 ASSORTED PARIS EVENTS
Ice Skating Rinks at Hôtel de Ville and Tour Montparnasse
12-10pm Mondays through Fridays and 9am-10pm Saturdays and Sundays (rental skates available).
Jours de Fêtes—Carnival Days at the Grand Palais
1 & 2 A huge carnival and amusements inside the Grand Palais
7 & 8 Over 3,000 dogs & over 300 breeds competing at the largest Paris Dog Show, Parc Floral de Paris, Bois de Vincennes
Open group walking tours—Randonnée de la Tour Eiffel
7 Four different hikes past decorated monuments on the 26th annual randonnée. 3pm start, on til midnight.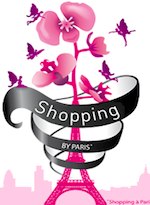 Galeries Lafayette, 1st floor of Galeries Lafayette Coupole
through Jan. 7 Antidote 7, a graphic art exhibit by artist Jean-Marc Ballée
through Jan. 8 "Corteo" in extended performances—a hit in Paris!
Les Soldes—Semi-Annual Retail Sale Season
Jan. 11 through Feb. 14 Winter sales for five weeks
18-22 Preview men's 2012/2012 fall fashion collections
23-26 Haute Couture Spring/Summer 2012 collection
Click title above to continue reading
Readers' Favorite #2: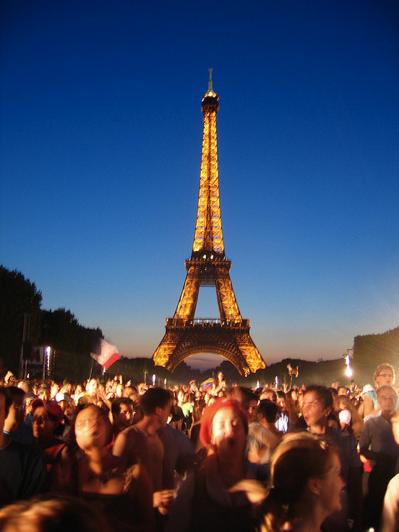 By BonjourParis executive editor Dali Wiederhoft
The three largest Bastille Day (La Fête Nationale) events in Paris (the Firemen's Ball, military parade on the Champs-Elysées and fireworks over the Eiffel Tower) combined draw well over a million people. In fact, a few years ago a crowd of over one million stood on the Champs de Mars for a concert by French pop star Johnny Hallyday beneath the Eiffel Tower.
There are calmer alternatives following our notes for "the Big Three" events. And don't forget to check our July events calendar for more Paris events.
Tips to get through a long, hot day
Temps average 75-80 degrees Fahrenheit, but it feels hotter when standing for hours in a crowd. The heat in the Métro resembles an inferno. Carry water and sun screen. Some Métro lines will operate on extended night schedules; but expect to walk when the Métro cars and buses pass by too full to accommodate another fare. Some bus routes will be delayed and/or rerouted to get around various public events. When on your way to an event in a bus or taxi, if you notice traffic is crawling, get out and walk or you could waste valuable time. Don't count on easily grabbing a taxi day or night. Restaurant reservations are recommended. Better yet: plan ahead and pack a picnic with provisions purchased the day before. Many shops and cafes will be closed for the holiday. Public toilets can be hard to come by at large events; stop when you see one. Alcohol flows freely starting early in the day; in the past, there have been crowd control issues with police involvement. Firecrackers are tossed into and around crowds by jerks. Pickpockets will be on-duty; keep your street smarts engaged and keep your camera and Smartphone in a zip-closed messenger bag worn cross-shoulder when in dense crowds. Sunset charts show 9:50pm as the official time of sunset, but it doesn't get dark until closer to 10:30pm.
Bals des Pompiers start July 13 at some fire stations

The Firemen's fundraising street dances happen at or near fire stations throughout France, not just Paris. Some happen on July 13 only; others are two night affairs on July 13 and 14. Some charge an admission; all ask for donations to the fighters' fund. Each has its own style: the Saint Sulpice party is traditionally tamer than, say, the party in le Marais. Again, expect crowds of people drinking and having a good time. Guests range in age from 8-80, as the saying goes. The firefighters are the main attractions; some do staged dances to the old disco song "YMCA" and others resemble Chippendale dancers. Costumes and crazy get-ups are as acceptable as Birkenstocks. It's all in good fun and nobody's judging anybody else.
Click title above to continue reading
Readers' Favorite #1:
By contributing writer Larry Guzman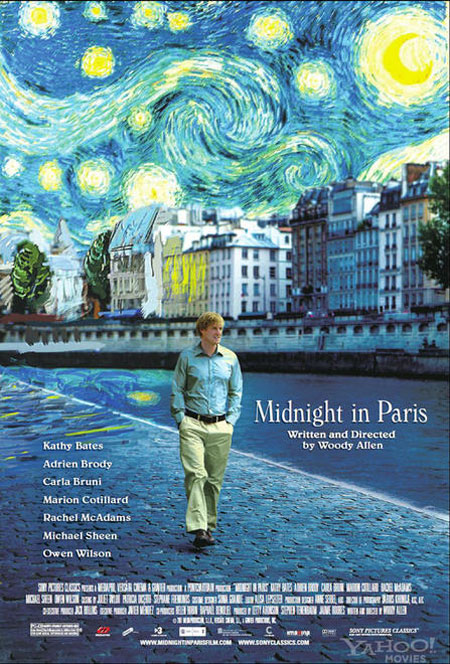 I am sure there are more than a few of the webizens of BonjourParis who wouldn't mind traveling back in time to a certain era in the history of Paris. And I would bet the majority would choose Paris of the 1920s as their destination. I certainly would. Woody Allen's latest film, Midnight in Paris, grants us that wish, transporting viewers not just to 21st century Paris, but the Paris of that exciting, wondrous and seminal era. It's certainly Allen's funniest, most charming, least anxious film since Bullets Over Broadway.
Opening shots of Paris are cinema's finest
The opening montage of Midnight in Paris is undoubtedly the finest slideshow tour of Paris in cinema. Allen shows us all the sights of the city that we all have fallen in love with, famous and everyday, night and day, rain or shine, street-level and high above the rooftops. With this montage, we can see that Allen is obviously as in love with Paris as he is with Manhattan. It's worth the price of admission just to see this.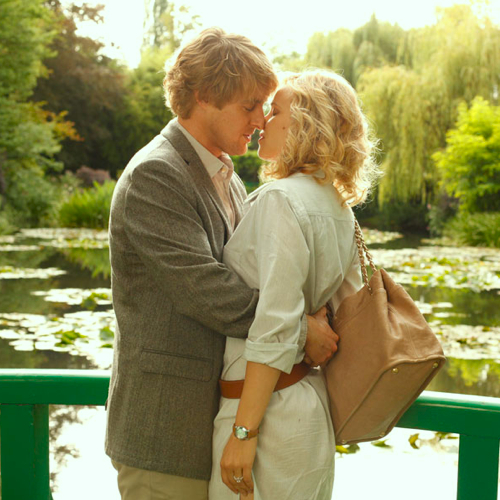 Also like the opening of Allen's 1979 classic Manhattan, Midnight in Paris starts off with a voice-over, though here it's a conversation between a man and a woman. The man extols his love of Paris and his regret that he didn't visit longer when he was there as a young man. The woman scoffs and belittles the man's feelings and tries to refocus his attention to their impending wedding.
And so we meet the couple, Gil and Inez (Owen Wilson and Rachel McAdams), two blonde Californians walking though Monet's garden in Giverny. Gil is a screenwriter who considers himself to be a hack who'd rather spend his time in Paris rewriting his novel about a "nostalgia store" owner. Inez is, well… a blonde Californian. They both tagged along on her Tea-Partyish father's business trip to Paris. Both are happy to be there but Gil is far more appreciative of Paris and the lifestyle, while Inez would rather just tick off the tourist sites.
Lead photo credit : Full moon over Hôtel Lutetia. Photo © Mikki Ansin 2011
---
---