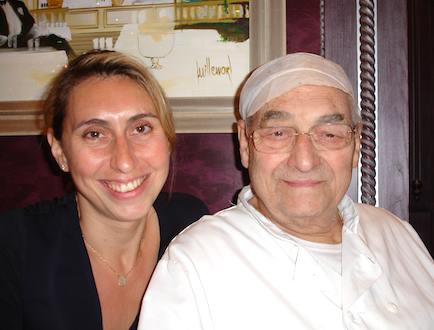 Berthillon Salon de Thé: Not Just For Ice Cream
The name Berthillon is synonymous with world-class ice cream, and the lines outside the shop, at 29–31, rue St-Louis-en-l'Île in the heart of Paris on Île Saint-Louis, attest to its popularity. At age 87, Raymond Berthillon, who founded the enterprise 57 years ago, still makes the vanilla ice cream every day.
But Berthillon Salon de Thé also serves world-class pâtisseries, thanks to Muriel Delpuech, 37-year-old granddaughter of Monsieur Berthillon. Madame Delpuech, who is smart, warm, direct, and businesslike, started working in the shop at age 17. Like everyone in the family, she has a strong work ethic and she wanted to make ice cream, like her grandfather, father and brother. But, non!, she was told, that is man's work— something she was not pleased to hear—so she proposed the idea of selling pâtisseries. That was 12 years ago; and the pâtisseries live up to the company's motto, "La qualité est notre passion" or "Quality is our passion," in English. As Monsieur Berthillon emphasizes, they use the highest quality products, irrespective of price. That goes for the pâtisseries, as well.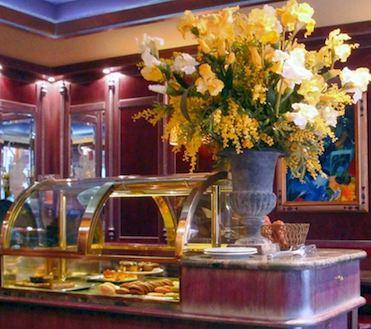 While ice cream cones are sold at the counter at the front of the shop, the pâtisseries are sold toward the back of the shop, temptingly displayed behind glass on little silver trays. Here are a few of the pâtisseries you will find at Berthillon Salon de Thé.
First, there is the financier aux cerises, a two-inch-by-four-inch oblong cake with cherries nestled on top and a satisfying crunchiness to the darkened edges. Like all financiers, Madame Delpuech's are made with flour, egg whites, almond powder, sugar, and butter, to which are added the all-important cherries. Madame Delpuech uses Amarena cherries from a supplier in Fougerolles, a French town known for its cherries. The cherries are well drained before they're added to the batter, but they still retain a significant amount of moisture, the sweetness and flavor of which are released with each bite. It's a taste not to be missed, at 1.70 euros (about $2.40) a piece.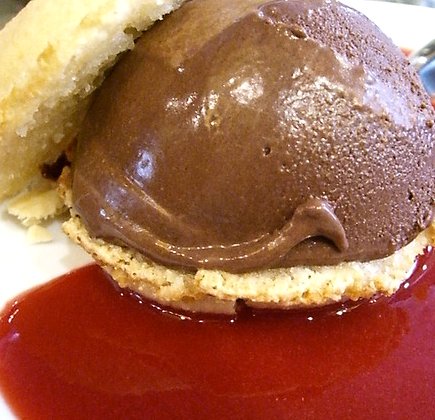 Macarons are all the rage in Paris, and Berthillon sells them, too, although the shop is not in the competition among such vendors as Ladurée, which claims to have invented the macaron, or Pierre Hermé, the nec plus ultra (the ultimate) in macarons these days.
Parisian macarons are a delicate, tasty sandwich cookie consisting of a top and base made of meringue—that is, egg whites, sugar, almond powder, and food coloring. While most are filled with ganache or buttercream, Berthillon's are not. They are just the shell because many customers at their tearoom next door like to eat the macarons with a scoop of ice cream between the two halves. But they are satisfying anyway because of their rich flavors. They come in chocolate, raspberry, pistachio, almond, and coffee flavors that cost 1.60 euros (about $2.30) per piece. On Wednesdays, Saturdays and Sundays packets of 16 mixed small macarons are available for 6 euros.
Chocoholics will enjoy Berthillon's chocolate fondant, a muffin-shaped cake filled with rich, dark chocolate cream made with only the best chocolate from Côte d'Ivoire and South America, priced at 2.50 euros (about $3.60) per piece.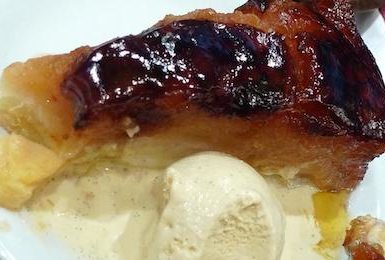 Tarte tatin, about as classic a French pâtisserie as there is, is made using Raymond Berthillon's old recipe. Tarte tatin is basically an upside-down fruit pie and its dark, caramelized top covers tender apples layered over pastry rich with butter. It's the only Berthillon pâtisseriefor which you need a fork. And at 4 euros (about $6) and generous enough for two, it's a bargain.
As its name suggests, the tartelette aux pommes is a small tart, a perfectly sweetened little treat of delicate, thinly sliced apples with a caramelized topping sitting on a satisfyingly crunchy thin bed of pastry. Unlike the tarte tatin, the tartelette aux pommes is made with salted butter that adds just the right kick for 2.5 euros (about $3.50) a serving.
So when you think Berthillon, by all means think ice cream. But think delicious pâtisseries, too. Madame Delpuech's products meet the family reputation for quality. Bon appétit!
PRACTICAL INFORMATION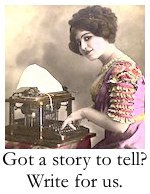 Tél: 01 4354 3161
29–31, rue Saint Louis en l'Ile, Paris 4th
Métro: 1, Saint Paul; 7, Pont-Marie; 9 & 10, Cardinal Lemoine
Bus: 86, 87, 63, 67, and 24
Vélib': Pont Marie, rue de Pontoise, and Sully Morland
Open:  Wed-Sun 9am-8pm (closed Mon & Tues) Closed annually mid-July through August

Photo credits: Madame Delpuech & Msr Berthillon ©Diane Stamm and all other photos courtesy of Berthillon
Diane Stamm is a writer and Francophile who lives in Washington, D.C. Please click on her name for her complete profile and to read her other stories published here.

Subscribe for
FREE

weekly newsletters with subscriber-only content.
BonjourParis has been a leading France travel and French lifestyle site since 1995.
Readers' Favorites: Top 100 Books, imports & more at our Amazon store


Waste no time finding your sweet favorites in Paris…click on an image for details.
Thank you for using our link to Amazon.com…we appreciate your support of our site.