A Dollop of Chantilly: Paris Day Trip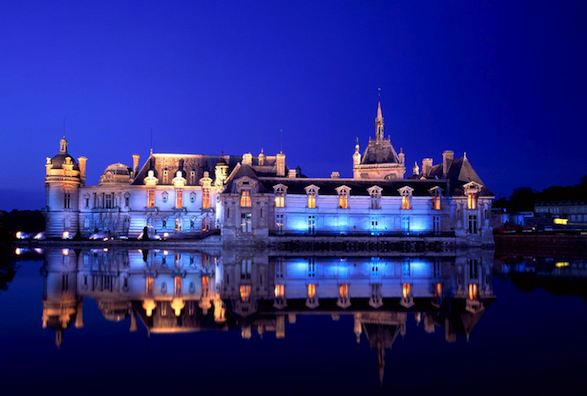 Chantilly night photo by romainmo A Dollop of Chantilly Twenty years from now you will be more disappointed by the things you didn't do than by the ones you did. So throw off the bowlines. Sail away from the safe harbor. Catch the trade winds in your sails. Explore. Dream. Discover. ~~ Mark Twain If it's one of those glorious days in Paris, the kind where you're in the mood to get out and explore, take a hint from Mark Twain, you will not be disappointed by a trip to Le Château de Chantilly. Travel to Chantilly from Paris via RER and bus The Paris Métro offers quick and easy transport via RER-D or to Gare du Nord where you catch a regional train for the half-hour journey to the château. Upon arrival at Chantilly, you may board the town's free bus located adjacent to the train station or take a taxi to the château for about 8 euros. Experience tells me that a taxi might be the best option, as the driver of the bus I boarded forgot to drop me off at the entrance to the château. As we rounded a curve about a mile out of town, I could see the grand dame in the distance. Luckily my walking shoes were sturdy. Chantilly stream on grounds photo by erica81 Should you desire to become a collector of hubcaps, this would be the place to start! The original moat still surrounds the château, but part of an older one has been filled in. Round silver disks in all shapes and sizes are scattered along the green space, and you will soon discover why.  Z O O M!  Cars driving record speeds, flashing by on cobbled roads without a thought and off they go, not the car, but the hubcaps into the grassy moat. It's a romantic place where you can imagine stepping out of a carriage and onto the luxurious grounds of Chantilly where thoughts of lace and cream surface. Grand towers spike toward the clouds and chambers of gilt and gold, satin and lace fill the main structure. Tall trees circle the grounds enveloping Chantilly like a warm blanket. Chantilly royal apartment photo by louisXV Chantilly offers much more than a tour of a beautiful home; it's a destination. Surrounded by vast forests (7,800 hectares is reported), lush gardens, royal stables and equestrian center, royal apartments and, on certain days, horse shows are examples of what one can discover. You can also rent small boats for a drift down the canal, picnic in hand. Chantilly's history began in 1386 when the château was built for the Orgemont family and ownership has been passed down from family to family. Destroyed during the revolutionary war, it was rebuilt by Henri d'Orléans, Duc d'Aumale. Musée Condé is considered the second-largest French art gallery containing paintings by Raphael and Delacroix, only exceeded by the Louvre (and thankfully without the crowds). Since the Duc d'Aumale had no heirs, he gifted the entire estate to the Institut de France. Here's a weird tidbit: a bronzed copy of his Will hangs on a wall near the library for the novice probate to admire. If fireworks interest you, consider a visit during one of the displays where they say the skies turn from night to day. As the château's website explains, "In the year of our Lord 1672, Louis II de Bourbon, Le Grand Condé, welcomed His Royal Highness Le Grand Dauphin de France to his Chantilly estate. The setting was magnificent and the party sumptuous. Suddenly, just as the last rays of light were fading and the Château's crenellated towers were silhouetted on the skyline, the sky lit up like a flash of lightning with a cascade of colours."  And to top it all off, film buffs might make a game of figuring out which rooms were used to film Marie Antoinette or the Bond film, A View to a Kill. Before you depart plan to sit along the wall of the moat, as white swans languish, dunking their heads every now and again, perhaps to keep from being hit by a stray hubcap. And by all means, don't forget to visit the nearby town where I'm certain you can find a dollop of Chantilly cream. PRACTICAL INFORMATION Entry fees vary from the Domain Pass, which includes the Grand Apartments and Musée Condé, along with the gardens and stables, for a price of 20 euros, or if an equestrian show is in progress, the Show Pass is also available for 29.50E.  With all the pricing options available, it would be best to visit the comprehensive
website
. In the top left-hand corner are icons; and you may choose from several languages. Editor's note: a BP friend recommends dining at The Hamlet's Restaurant on the grounds. Here's the
menu.
Sandra Quesenberry
is a longtime Francophile. Please click on her name to read more stories by her published here. PHOTO CREDITS: Flickr photos published per
Creative Commons
3.0 license with photographer credit in captions
SUBSCRIBE
ALREADY SUBSCRIBED?
BECOME A BONJOUR PARIS MEMBER

Gain full access to our collection of over 5,000 articles and bring the City of Light into your life. Just 60 USD per year.

Find out why you should become a member here.

Sign in

Fill in your credentials below.

Chantilly night photo by romainmo
A Dollop of Chantilly
Twenty years from now you will be more disappointed by the things you didn't do than by the ones you did. So throw off the bowlines. Sail away from the safe harbor. Catch the trade winds in your sails. Explore. Dream. Discover.
~~ Mark Twain
If it's one of those glorious days in Paris, the kind where you're in the mood to get out and explore, take a hint from Mark Twain, you will not be disappointed by a trip to Le Château de Chantilly.
Travel to Chantilly from Paris via RER and bus
The Paris Métro offers quick and easy transport via RER-D or to Gare du Nord where you catch a regional train for the half-hour journey to the château. Upon arrival at Chantilly, you may board the town's free bus located adjacent to the train station or take a taxi to the château for about 8 euros. Experience tells me that a taxi might be the best option, as the driver of the bus I boarded forgot to drop me off at the entrance to the château. As we rounded a curve about a mile out of town, I could see the grand dame in the distance. Luckily my walking shoes were sturdy.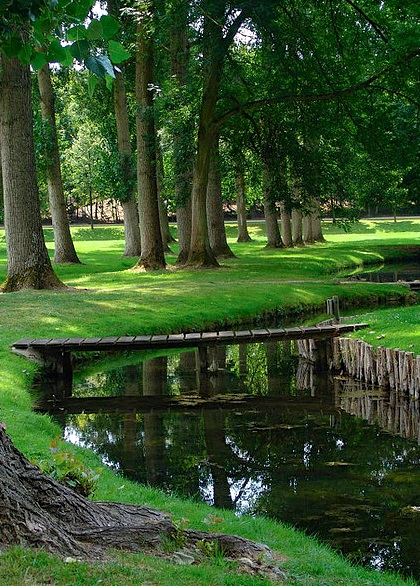 Chantilly stream on grounds photo by erica81
Should you desire to become a collector of hubcaps, this would be the place to start! The original moat still surrounds the château, but part of an older one has been filled in. Round silver disks in all shapes and sizes are scattered along the green space, and you will soon discover why.  Z O O M!  Cars driving record speeds, flashing by on cobbled roads without a thought and off they go, not the car, but the hubcaps into the grassy moat.
It's a romantic place where you can imagine stepping out of a carriage and onto the luxurious grounds of Chantilly where thoughts of lace and cream surface. Grand towers spike toward the clouds and chambers of gilt and gold, satin and lace fill the main structure. Tall trees circle the grounds enveloping Chantilly like a warm blanket.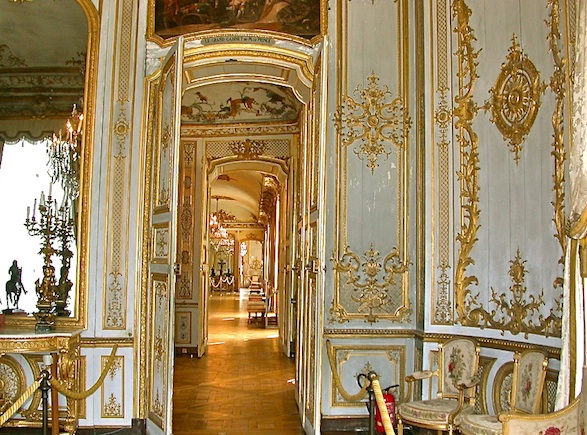 Chantilly royal apartment photo by louisXV
Chantilly offers much more than a tour of a beautiful home; it's a destination. Surrounded by vast forests (7,800 hectares is reported), lush gardens, royal stables and equestrian center, royal apartments and, on certain days, horse shows are examples of what one can discover. You can also rent small boats for a drift down the canal, picnic in hand.
Chantilly's history began in 1386 when the château was built for the Orgemont family and ownership has been passed down from family to family. Destroyed during the revolutionary war, it was rebuilt by Henri d'Orléans, Duc d'Aumale.
Musée Condé is considered the second-largest French art gallery containing paintings by Raphael and Delacroix, only exceeded by the Louvre (and thankfully without the crowds). Since the Duc d'Aumale had no heirs, he gifted the entire estate to the Institut de France. Here's a weird tidbit: a bronzed copy of his Will hangs on a wall near the library for the novice probate to admire.
If fireworks interest you, consider a visit during one of the displays where they say the skies turn from night to day. As the château's website explains, "In the year of our Lord 1672, Louis II de Bourbon, Le Grand Condé, welcomed His Royal Highness Le Grand Dauphin de France to his Chantilly estate. The setting was magnificent and the party sumptuous. Suddenly, just as the last rays of light were fading and the Château's crenellated towers were silhouetted on the skyline, the sky lit up like a flash of lightning with a cascade of colours."  And to top it all off, film buffs might make a game of figuring out which rooms were used to film Marie Antoinette or the Bond film, A View to a Kill.
Before you depart plan to sit along the wall of the moat, as white swans languish, dunking their heads every now and again, perhaps to keep from being hit by a stray hubcap. And by all means, don't forget to visit the nearby town where I'm certain you can find a dollop of Chantilly cream.
PRACTICAL INFORMATION
Entry fees vary from the Domain Pass, which includes the Grand Apartments and Musée Condé, along with the gardens and stables, for a price of 20 euros, or if an equestrian show is in progress, the Show Pass is also available for 29.50E.  With all the pricing options available, it would be best to visit the comprehensive website. In the top left-hand corner are icons; and you may choose from several languages.
Editor's note: a BP friend recommends dining at The Hamlet's Restaurant on the grounds. Here's the menu.
Sandra Quesenberry is a longtime Francophile. Please click on her name to read more stories by her published here.
PHOTO CREDITS: Flickr photos published per Creative Commons 3.0 license with photographer credit in captions
---
---