Benodet: Charming Seaside Resort in Brittany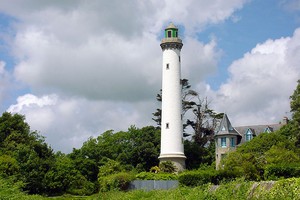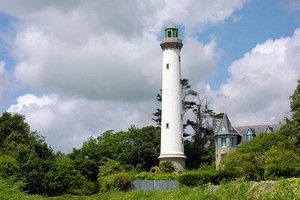 While it's true that a visit to Brittany chances unpredictable coastal weather patterns, and a dearth of open businesses, the area can still surprise and delight during a spring or fall journey to the Finistère department in the western-most part of south Brittany. Bénodet ("Benoded" in Breton or "mouth the Odet River") is a coastal town a day's journey from Paris that plunks itself into the tradition of local dialect, cuisine, and the spirit of independence while at the same time evincing a modern, relaxed Breton lifestyle.
Bénodet is most easily reached with a rail and rental car trip. A four and a half hour TGV train ride direct from Gare Montparnasse in Paris arrives daily in the nearby town of Quimper. Then rent a car from Auto Europe [see discount link below] or the other car rental firms at the Quimper train station and in twenty minutes you've arrived at the winding, panoramic drive along Bénodet's coastline, complete with a pedestrian promenade not unlike the one in Nice but at the same time particular to this region of carved stone, sandy shores and rocky outposts.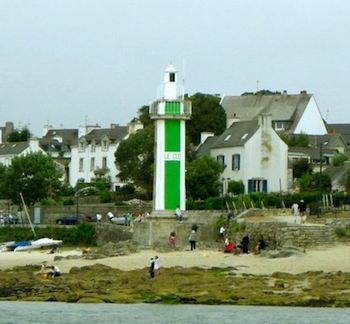 Two impressive light houses mark the points where in former times—and even now during fog—small craft make their way from the sea into the straits of the Odet, a river that curls north to Quimper and where over the centuries many a battle threatened livelihoods and properties. The lighthouse, Phare de la Pyramide (see photo by S. Déniel), is 49 meters high and was built to replace a former wood-frame beacon that had the form of a pyramid that signalled sailors entering the mouth of the Odet. The second lighthouse, the Phare du Coq, takes its name from a submerged rock formation.
In summer, there are plentiful residences for week-long stays that can include meals. Off-season lodging is best had at a number of hotels both in the village proper or along the waterfront. Try to reserve at a hotel along the promenade area called the Résidence Maeva Corniche de la Plage, for you will enjoy the sound of the waves for sure. The town is quiet at night and traffic virtually ceases, proposing instead the cadence of the sea as you snooze.
The Hotel Kastel is a 3-star resort hotel with clean, spacious rooms with balconies, large bathrooms, direct or peripheral ocean views, and an on-site restaurant. Hotel parking is convenient in the rear of the main building and you are centrally located for a stroll, gamble at the casino, or spa at the Thalasso center (bring your bikini as swim suits are surprisingly NOT optional here!) A daily pass to the entire facility costs 20 euros for the day, which includes a warm sea water swimming pool, jet sprays, jacuzzi, saunas, and hammans. Additional treatments range the gamut from cosmetic facials to full body massages and seaweed baths. The traditional French "cure," a week or weekend stay that includes lodging plus daily spa treatments, is also available. Off-season rates for a double room facing the sea and including breakfast cost 160 euros per night [editor's note: use our Booking.com link for the lowest price match guarantee. We searched in Sept. 2011 and a double room with sea view costs 108 euros/night for October 19, 2011 and a larger family suite is available for 132 euros].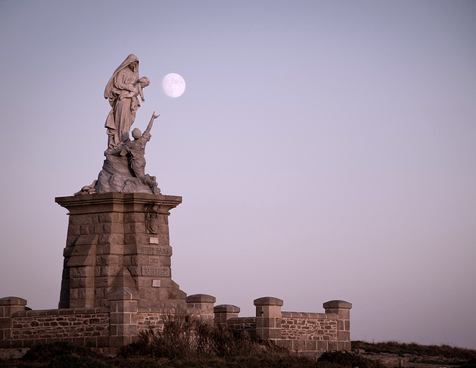 Dining options can be limited in off season, except in the hotels where most have their own restaurants. La Vague restaurant on the waterfront offers reasonably priced, tasty fixed menus for lunch and dinner. If you must sample one place in Bénodet, go to the Crêp'Odet, a sweet cozy crêperie steps from the port where 100% home-made organic and mouth-watering crêpes will leave you redefining the taste. The ham and cheese crêpe with a bolée de cidre (cup of cider) is the best example of one the area's touted dishes. If you have room, try the apple caramel crêpe for dessert and watch the owner prepare it at his kitchenette within view. Local art adorns the walls, cabinets are chock full of regional homemade jams, caramels, butter cakes and cookies, packaged crêpes, sauces, and crockery. After your meal, stroll the port walkway that in summer is the departure point for regular boat trips up the Odet River as well as to the Glénan Islands in the distance.
While the weather may or may not cooperate, know that the climate can be surprisingly mild in off season. Do check out the forecast before you leave, but don't give it more than a passing eye, for you want to experience Bénodet (perhaps in the same style as Apollinaire?) as well as garner the insight from these people by the sea. The Bréton humor and hospitality is quixotic, genteel, sumptuous; that is, indeed, not unlike their weather.
PRACTICAL INFORMATION:
Hotel Kastel in Bénodet
Rail & car from Paris: A 4.5 hour TGV train ride direct from Gare Montparnassein Paris arrives daily in the nearby town of Quimper. Round trip first class tickets purchased on the Internet run approximately 120-160 euros per person [2011 prices]. Auto Europe has a car rental office at the Quimper train station—use our link for a 5% discount offered to BonjourParis readers. Bénodet is then a 20 minute drive away.
PHOTO CREDITS:
Phare de la Pyramide ©S. Déniel

Le Coq lighthouse ©GrahamAndDairn
Pointe de Raz ©.bastien
Kathleen Comstock is a writer and lover of France, who lives in Massachusetts and Paris. She recently published a collection of shorts called Vieilles Filles and Other Stories from France.
Grab your own free subscription to BonjourParis & be first to receive Wednesday & Sunday newsletters linked to 50 original stories monthly with travel tips & the latest from France. Since 1995, BonjourParis has been your most complete online France travel & Francophile lifestyle eZine. RSS feed available.
If it's at Amazon.com, you can get it at our Amazon.com Boutique with new items added weekly. Same competitive prices and speedy delivery & your purchases support costs of keeping BonjourParis your most complete online France travel resource.
Search hint: start at the back pages for the most recent stock.

Be smart! Reserve your hotel at Booking.com…then keep shopping online & if you find a better rate for the same deal, contact Booking.com for your BEST PRICE MATCH GUARANTEE.
Bookmark this link & use it everytime you shop so your preferences are stored & deals are updated when you return: Booking.com.

One-stop shopping for car rental & international air travel deals:
Car rentals at competitive rates, no drop fees & a 5% discount for BonjourParis.com readers who use this link to Auto Europe Car Rental
Don't overlook Auto Europe for international flights, click Auto Europe Flights
Leave a reply
Your email address will not be published. Required fields are marked *