Be Mine Sweet Valentine Buzz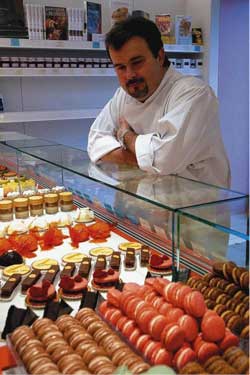 "Emerveillé" is Pierre Hermé's Valentine collection of irrisistible patisserie and chocolates. The limited edition is at his Paris boutiques, on line, or the recently launched counter at The Drug Store, Champs Elysées. Marvel at the magic of signature boxes of chocolates, bonbons and mouthwatering macaroons. BUZZ favours Coeur Origine made with Venezuela Porcelana chocolate, "long in the mouth and intense, a unique flavour, it's very fiddly to make because it's hard and soft at the same time, the result is astonishing", promises PH who should know, after all he likes the Porcelana chocolate so much he's bought the plantation. But that's another story. 
Less calories in Le Meurice's sensuous and smooth heart shaped jewel-box, an in-room gifts for guests celebrating Saint Valentine in this jewel of a hotel. Ask for La Vie En Rose (from 650€) which includes American breakfast, Rosé Champagne, pink petit fours and a bouquet of roses, there's a possible upgrade, beg for the Dali suite, darling. Yannick Alleno's three-star dishes in the restaurant or Le Dali will be Valentine themed and if your friends are jealous, buy them the jewel box to shut them up (see photo).  
"I love Valentine's Day/Night", admits Frederic Hubig Schall of Restaurant Astier and Café Moderne. "But I don't want people to feel they have to be tied down by imposed menus, in both restaurants you'll have a choice". At Cafe Moderne chef Jean-Luc Le Francois's "Instinct Moderne" is a three-course marvel beginning with langoustine rôties, tomates à la lavende, followed by Mignon de veau in pistachio nut crust, risotto and black truffles. Biscuit fondant aux agrumes, sorbet citron-basilic. "But these can be mixed with à la carte dishes, or transformed into a dégustation", explains Hubig-Schall. 
Begin with a glass of Premier Cru champagne from Gimoret (12€-65€). Hubig-Schall suggests an elegant white Vouvray with hazlenut notes. "Lovely Chenin grapes from Domaine Huet, 2007 (31€). "The Red Burgundy "La Myotte" 2006 is very fruity" (43€) he winks.  
At Astier, Hubig-Schall's romantic bistro, originally owned by Monsieur et Mme Astier, acquired by Hubig-Schall in 2006, a slow, sensual dinner begins with Le Homard Adultère or "Les Aventures sentimentale-gastronomique du Homard". It's your first date, the starter is "En Guise d'introduction" Cannellonis d'une liaison Saint-Jacques-Homard, vinaigrette de carapaces. Continue with Duo of Pigeon and Lobster confit with mushrooms, mousseline of winter veg and jus corsé. Dont forget the sprawling cheese platter, each seasonal jewel soft, ripe and runny. Climax with Crunchy sweet orange flavoured bitter chocolate, Astier's famous raspberry jam. Yum! House champagne to start, then the dry white St. Veran Chat Fuissé 2007 (29€) and a red Mercurey Chateau de Chamirey 2005 (50€). To-night's the night baby. 
Gorgeous super-chef Guy Martin wants to put rings on your fingers. Where? At Le Cristal Room Baccarat, the handsome space located in Marie-Laure de Noailles' dining-room, revised and corrected by Philippe Starck. The Cristal's caviar themed evening means a chance to take part in a draw to win a pink cristal mordoré rose and precious metal ring. And at Sensing, GM's hip, haute-bistro where video projections of white clouds float by on the walls, and exquisite dishes are by Remi Van Peteghen, the theme's foie gras, the ring a double line of diamonds by Lorenz Baumer.  
With stunning views of L'Arc de Triomphe, divine décor, Valentine's at Casa Luca, the recently opened Italian, promises to be tres romantica bella. And not expensive 69€ for a choice of starters including the dreamy signature risotto au taleggio with rose petals. A fish or beef main and Paradis fondant au Nutella or Salade de fruits rouges à la crème de mascarpone to finish.  
The lovely people at The Lancaster really get what Valentine's is all about. "It's a love story which, little by little builds up to a peak – a fusion of love", they say. And that's just the dinner, darling. 170€ "Pour Elle et Pour Lui" Michel Troigros and Chef Patissier Francois Perret plan dishes for him and her. Except the dessert – creamy chocolate Manjari, roast mango to share. Want to stay the night? Book the "Dreamer's Room" (435€) includes a bottle of pink champagne, chef's surprise and souvenir gift. Throughout the soirée lounge-pop music by Voice on Keys.  
Want to know about your future love life? Are you confused by romance? Chloé tarot cards, launched on Valentine's Day, have all the answers and are for women only – 14 cards with immediate answers: 12 cards with feminine astro-signs. 7 cards with rainbow colours and an explanatory book with all the answers to playing the game of tarot. Your future love life analysed by Cosmic Chloe. Illustrated by talented artist Sylvie Breysse. 28€
Address Book:
Pierre Hermé
www.pierreherme.com  
Hotel Lancaster
www.hotel-lancaster.fr 
Casa Luca
www.casaluca.fr 
Le Meurice
www.lemeurice.com 
Guy Martin
At La Cristal Room Baccarat
www.baccarat.com
And at:
Sensing 
19 rue Brea, 6th
T: 01 43 27 08 80
& Atelier Guy Martin
www.atelierguymartin.com 
Chloé Tarot Cards
www.sylvie-breysse.odexpo.com 
From: Fnac, Virgin.
And also:
Karil Lopez and Damian Crépu invite you to:
Cristal de Sel,
4-course dinner and Cocktail de la St. Valentine – 50€
www.lecristaldesel.fr
Leave a reply
Your email address will not be published. Required fields are marked *