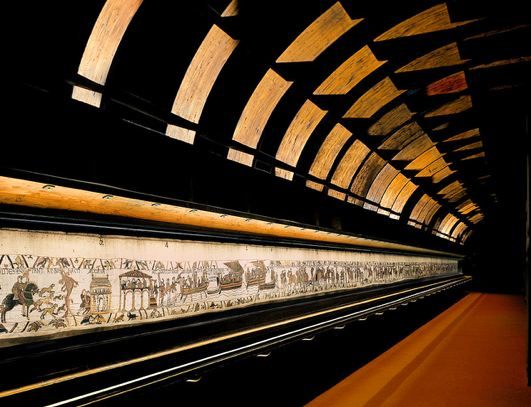 Many tourists visit Normandy for its 20th-century war memorials, but the region was the site of landmark military campaigns centuries before the Allied invasion of World War II. As the Bayeux Tapestry depicts, Normandy is where the Norman conquest of England began. Seeing the tapestry in person reveals the region's history and allows you to view one of the world's most important historical artifacts.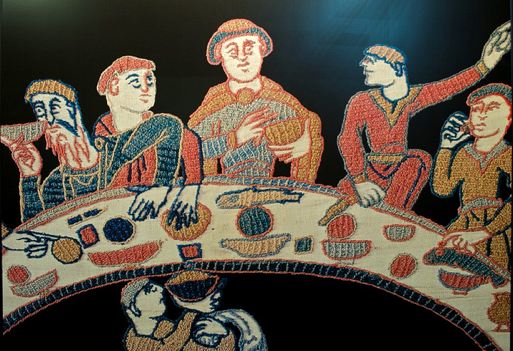 The tapestry has its own museum in Bayeux, the Musée de la Tapisserie de Bayeux. There, you can view the 70 meter (230 feet) long masterpiece and its depictions of the Battle of Hastings and the eventual conquering of the English by William the Conqueror in 1066. Although several sections are missing, with a few exceptions, the tapestry is in pristine condition; its vivid colors make history seem to spring to life.
A technical note: the "tapestry" is really an embroidered length of fabric and not a paper scroll as is sometimes reported. Semantics aside, the piece is a favorite with visitors old and young alike. The museum provides audio guides in 14 languages to enhance the viewing experience.
The museum building bears a mention as well. It is also the 17th century Bayeux Seminary, which includes a 13th century chapel and the town's multimedia library. After visiting the museum, be sure to check out the town's cathedral, which housed the tapestry until around 1800.
PRACTICAL INFO
Musée de la Tapisserie de Bayeux
13 Rue de Nesmond, 14400 Bayeux
Hours 2011: Open daily 9am—6:30pm (Mar 15 through Nov 15), 9:30am—12:30pm & 2pm—6pm (Nov 16 through Mar 14)
Admission: Begins at €7,80. Children under 10 are free. Group & student discounts.
Accessibility: Handicapped accessible entrance at the back of the building, on rue de Nesmond.
Reaching Bayeux by train from Paris is easy; the two-hour ride costs €40, on average. A daytrip is possible, but an overnight stay by car is recommended to permit exploration of the Normandy region.
PHOTO CREDITS: Photo(s) published per Creative Commons 3.0 license: Bayeux Tapestry Museum building ©Steve Parker; Bayeux Tapestry exhibit ©Bessin-Normandie.com; Bayeux Tapestry detail Scene 43 ©Bessin-Normandie.com
Adam Weiner is an Editorial Assistant for BonjourParis with several stories published here, which you can read by clicking on his name.

Subscribe for
FREE

weekly newsletters with subscriber-only content.

BonjourParis has been a leading France travel and French lifestyle site since 1995.

 
Readers' Favorites: Top 100 Books, imports & more at our Amazon store
We daily update our selections, including the newest available with an Amazon.com pre-release discount of 30% or more. Find them by starting here at the back of the Travel section, then work backwards page by page in sections that interest you.
Please support our site by clicking on this banner for all your Amazon.com browsing. Merci!