BUZZ – Bat : Balls : Les Bonnes Petites Tables Du Michelin Guide 2014 & Kusmi Tea's New Beauty Beverage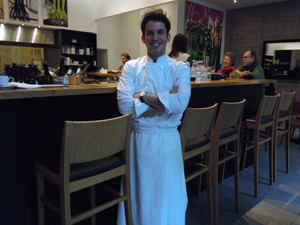 BAT (Bar à Tapas) is a misleading moniker, lost in translation. It's pitched as, "Tartare Bar at lunch / Tapas Restaurant' at dinner". Actually, it's a neo-cantine with stunning state-of-the-art central bar where all the cooking takes place. Yes, there's  tartares and tapas, but there's really mind blowing cuisine going on here, which you need to taste.
Wearing the whites, Israeli chef Yariv Berreby. So young, you'd mistake him for the barmitzvah boy! But, first impressions are deceptive, here's a dedicated, passionate and talented chef. "I fell under the spell of French cuisine when I worked as a dishwasher in Tel Aviv during school vacations", he admits. And then?
After three years Military Service Yariv came to Paris, graduated from Ecole Ferrandi. He then sharpened his knives in the kitchens of top chefs such as Senderens, Alleno and helped launch KGB, William Ledeuil's 2nd bistro (Kitchen Gallery Bis).
"I'm a travelling man, before BAT I was in Asia, USA and Europe, soaking up the scene, meeting chefs, brainstorming ideas, tasting", he says. "And trying to stay in shape while eating too much!" he laughs patting his stomach.
Tel Aviv born Berreby BATS daily with his band of brothers, behind the outsize square bar, with beer on tap.
Climb onto the high stools or sit at tables in the bright airy contemporary space, where interesting contemporary art-work punctuates the walls. Order beer or, from the blackboard, say, Crozes Hermitage "Albéric Bauvert" from Gilles Robin (45€). Glasses from 5-7€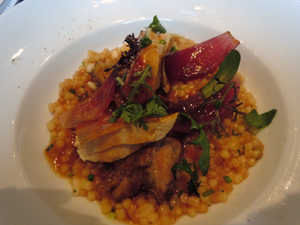 At lunch the other day, precisely seasoned, perfectly cooked grilled guinea fowl,  poised on a bed of coquillettes, shallot confit and chutney Tandoori, the juicy bird's skin golden & crispy. There was also Ravioli stuffed with daurade, served with bouillon legumes/curry.
"I like to surprise, playing with savours and flavours", says Berreby.
Try St. Jacques Grillés, Condiment Agrumes (as a dish at lunch – tapas at night) Grilled veal or lamb with either Condiment Miso – Kumquat or Condiment Olive Noire – Sésame. Finish with YB's perfect spin on Paris Brest: Tarte Normande: Mont Blanc/Chestnuts or seasonal cheese.
At night BAT buzzes, the lights dim, there's a big "After Work" scene going on.
Here's Happy Tapas, Tartare and Terrines made to order, say, poulpe and choux grillé, vinaigrette Teryaki: Beef Tartare with Mostarda and Vieux parmesan. Galician Beef, Smoked potatoes and Salmon tartare/ vodka cream. Tapas include grilled encornet, condiment kumquat. Soupe de topinambour, foie gras roti. Yum !
Service is friendly and comforting led by the charming Jérome Taverny (formerly KGB!)
« Yariv's work is bright, exciting, precise, without complex. It's food you'd eat in the hip happening bistros of Tel Aviv », says Gilles Pudlowski.
Hurry to BAT and celebrate an exceptional talent – a shooting star who'll go far.
You heard it here first.
BAT,
16 Boulevard Montmartre, 9th
M : Grands Boulevards,
Shut Saturday lunch – Sunday
Terrace for sunny days to « pipole watch » on the Dirty Boulevard
Apologies to the late Lou Reed
Menus : 28€-30€
A La Carte between 20-45€
Tapas & Terrines from 7-10€-12€
Daily Happy Tapas include glass of wine 9€
Open 12hrs-23hrs
T : 01 42 46 14 25 – but no reservations !
Website
Balls !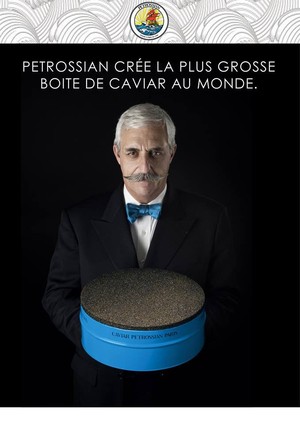 What's the use of a bat without a ball ? Balls, opened recently, the concept of two best friends, Salome Vidal and Jeremiah Kanza, who grew up eating meatballs as often as they could, decided to showcase their favourite comfort food. If you're in NYC the equivalent is probably found here.
5's  the magic number. You always get 5 boulots with vegetarian option for the ladies who do + Tomato and/or Yogurt sauce in which to dip your balls, presented by servers wearing « Eat My Balls » T-shirts.  Enough already !
47 rue Saint-Maur 2nd
M : rue Saint Maur
T : 09 51 38 74 89
Shut Sun-Mon
Lunch formula 13.50€ includes Balls : Sauce : Side : Soft
Balls Sandwich 8€
Website
Bonnes Petites Tables du guide MICHELIN 2014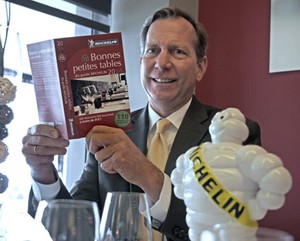 A teaser, before publication of Michelin Guide France on February 24th, 2014, this little red bible showcases the Michelin Inspectors' Favorite Restaurants, featuring more than 650, with 110 new addresses throughout France. "These restaurants guarantee a good meal at affordable prices", says International Director Michael Ellis.
"There's a real word-of-mouth phenomenon at work here since readers are increasingly looking for restaurants offering quality, conviviality, simplicity and affordable prices", adds Mr. Ellis.
The signature pictogram is Bib Gourmand, licking his lips, which means you get a full three-course meal priced no higher than 31€ (35€ in Paris).
Consider Pario, in the 15th arrondissement, launched by Brazilian chef Eduardo Jacinto, ex-Christian Constant. Other new and exciting Paris addys include: Bistro Belhara, 7th: La Laiterie Saint Clothilde 7th : Les Affranchis: 9th : Les Canailles 9th : La Régalade Conservatoire 9th : Il Goto 12th : L'Essential 14th : Le Pario 15th & Le Petit Verdot 17th. Don't leave home without it !
Les Bonnes Petites Tables du Guide Michelin 2014 – 17€90
Available in kiosques – Drugstore Champs Elysees and on this site.
Connaissez-vous Kusmi-Tea BB Detox: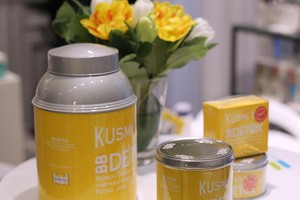 You've sipped the Darjeeling No 37 from the Himalayas, enjoyed le Lapsang Souchong No. 210. Now try the fragrant, packed with antioxidants, BB Detox Tea in the bright yellow box: green tea with rooibos, dandelion, a hint of grapefruit. Because you're worth it. 15€20
Leave a reply
Your email address will not be published. Required fields are marked *