Bastille Day 2011: Firemen's Ball, Parade and Fireworks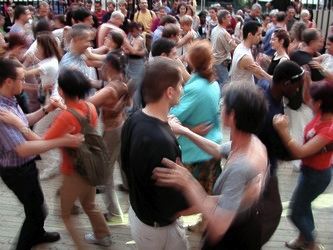 The three largest Bastille Day (La Fête Nationale) events in Paris (the Firemen's Ball, military parade on the Champs-Elysées and fireworks over the Eiffel Tower) combined draw well over a million people. In fact, a few years ago a crowd of over one million stood on the Champs de Mars for a concert by French pop star Johnny Hallyday beneath the Eiffel Tower.
There are calmer alternatives following our notes for "the Big Three" events.
And don't forget to check our July events calendar for more Paris events.
Tips to get through a long, hot day
Temps average 75-80 degrees Fahrenheit, but it feels hotter when standing for hours in a crowd. The heat in the Métro resembles an inferno. Carry water and sun screen. Some Métro lines will operate on extended night schedules; but expect to walk when the Métro cars and buses pass by too full to accommodate another fare. Some bus routes will be delayed and/or rerouted to get around various public events. When on your way to an event in a bus or taxi, if you notice traffic is crawling, get out and walk or you could waste valuable time. Don't count on easily grabbing a taxi day or night. Restaurant reservations are recommended. Better yet: plan ahead and pack a picnic with provisions purchased the day before. Many shops and cafes will be closed for the holiday. Public toilets can be hard to come by at large events; stop when you see one. Alcohol flows freely starting early in the day; in the past, there have been crowd control issues with police involvement. Firecrackers are tossed into and around crowds by jerks. Pickpockets will be on-duty; keep your street smarts engaged and keep your camera and Smartphone in a zip-closed messenger bag worn cross-shoulder when in dense crowds. Sunset charts show 9:50pm as the official time of sunset, but it doesn't get dark until closer to 10:30pm.
Bals des Pompiers start July 13 at some fire stations
The Firemen's fundraising street dances happen at or near fire stations throughout France, not just Paris. Some happen on July 13 only; others are two night affairs on July 13 and 14. Some charge an admission; all ask for donations to the fighters' fund. Each has its own style: the Saint Sulpice party is traditionally tamer than, say, the party in le Marais. Again, expect crowds of people drinking and having a good time. Guests range in age from 8-80, as the saying goes. The firefighters are the main attractions; some do staged dances to the old disco song "YMCA" and others resemble Chippendale dancers. Costumes and crazy get-ups are as acceptable as Birkenstocks. It's all in good fun and nobody's judging anybody else.
The Paris Tourism Office has the full list of fire stations—click here.
The street barricades have been up for over a week and gung-ho people camp out to grab prime spots. Forget about sitting in the bleachers. Before going, check to see which Métro stations are scheduled for closure near the Champs-Elysées and expect others may be spontaneously closed at police direction to manage crowds. Arrive by 7am and try to find a shady spot if possible; arrive by 9am and you'll be standing behind 10-15 people all trying to see the parade. Watch for street vendors selling periscopes, which make funky souvenirs for kids back home. The main event features all types of French military and dignitaries making their deliberate, precise way from the Arc de Triomphe down the Champs-Elysées to the Place de la Concorde. The parade begins at 10am, and one of the parade highlights is the flyover by jets in formation, which usually takes place around 11am. The parade features cadets, privates, officers and vehicles from the army, navy, air force, foreign legion, police, fire, engineers and many more units. Foreign invitees often accompany French marchers, but their presence varies from year to year.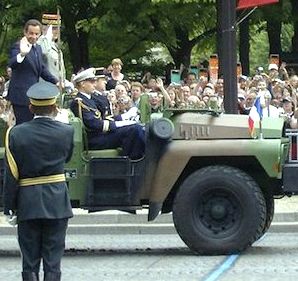 As a special treat this year, parachutists will drop directly onto the parade route for the first time. President Nicolas Sarkozy will lead the many dignitaries in attendance. The parade itself runs about two hours. We've seen people carrying folding chairs, but once the parade starts, expect to stand for 4+ hours unless you arrived early enough to score a spot at the edge of the curb.
The Paris Tourism Office website has the complete parade schedule—click here.
Fireworks above the Eiffel Tower & Champs de Mars concert
It's thrilling to cap off your Parisian Bastille Day celebration watching the world-class fireworks display above the Eiffel Tower. If you plan to stake out a fireworks spot early before a picnic, go for it but expect crowds. And once the fireworks start, everybody stands, so be sure you're packed up and ready to go before it gets dark outside.
This year the concert returns after a year off. The show has a big line-up and the crowds will be large, the music loud.
Remember, as noted above, it won't get dark until after 10:30pm, so plan on a late evening. Also plan for crowds—huge, pressing, rowdy crowds of people who have been drinking alcohol. The area ringing the Eiffel Tower and the top of the Champs-Elysées will be packed. The fireworks are launched from the Trocadero, which is just across the Seine from the Eiffel Tower.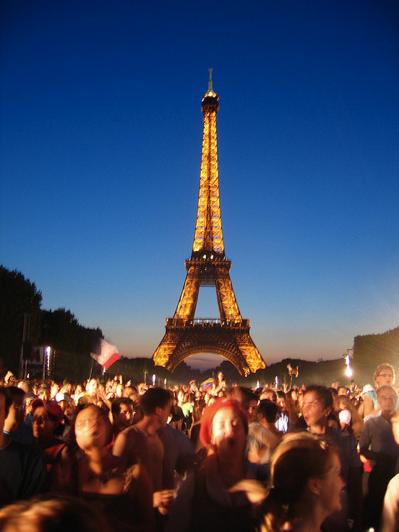 A few years ago we watched from here and the Métro was closed. We ended up walking back to our apartment in the Paris 3rd. That's a long walk after a long day. Just sayin'.
If someone suggests you to watch the fireworks from the top of Belleville or Montmartre, don't do it. Why not? They're very crowded with others who received this same advice, but the fireworks appear to be the size of Rice Krispy cereal pieces and what fun is that?
Other Bastille Day events
Museums open on Bastille Day
These museums are open and admission is free: Branly, Cluny, Guimet, Louvre, Orangerie, Orsay, Pompidou, Rodin.
Carnival
Le Fête des Tuileries is a family affair with over 50 carnival rides and food vendors. If you want to ride the ferris wheel after dark, the queue can be an hour long. Admission is free and carny rides run from 11am-midnight on Bastille Day.
Versailles draws (only) about 10,000 people for its "White Picnic" and there's been lots of open space in the past. Take the RER or rent a car to attend a picnic on the banks of the Grand Canal. Admission is free; gates open at 11am. It's a true fair, with food and craft vendors and dancing to local bands. Remember to pack white attire. You can dress casually; some people dress up.
The palace water fountains are choreographed to piped-in classical music and shutterbugs will find lots of photo opps here. Gates open at 9am and the fountain show runs from 10am-6:30pm. Check the link above (in the event title) for admission and full event details.
Photo credits:
Fireworks © Epic Fireworks
Firemen Ball dancing courtesy of Paris Office of Tourism
Firemen dancing courtesy of ParisMarais.com
Military parade from Paris Office of Tourism
President Sarkozy in parade ©kasia_jot
Eiffel Tower ©activefree
Versailles "White Picnic" from City of Versailles
Not yet subscribed to BonjourParis? Sign up for your free subscription & we'll send you 50 original stories, news, recipes and travel photography every month from your most complete online France travel & francophile lifestyle eZine.  RSS or email.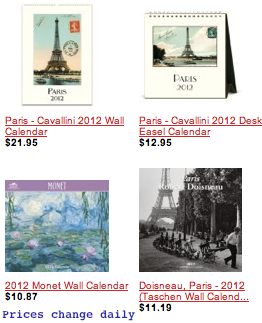 We just added new 2012 Calendars with Paris & France themes to our BonjourParis Amazon.com Boutique . You benefit from competitive pricing and speedy delivery as your purchases support costs of keeping BonjourParis your most complete online France travel resource. Merci in advance for your support.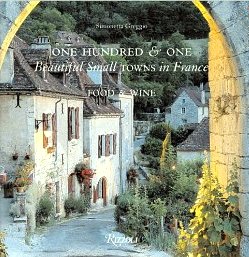 One Hundred and One Beautiful Small Towns in France: Food & Wine
[Sept 2010 release] Beautifully illustrated & informative, One Hundred & One Beautiful Small Towns in France: Food and Wine explores the local delicacies, food and wine in the most beautiful parts of France. Organized by region, a wonderful guide to finding the best French food & wine shops and markets. Calvados apple brandy from Normandy; galettes form Finistère, in Brittany; Burgundy boeuf bourguignon & the vendange (harvest); Alsace flammekueche, a tart of local cheeses, speck, and onions. Appendix w/useful addresses & phone numbers to plan your trip includes hotel listings, restaurants, wineries & shops plus info re: where to find local delicacies & the choicest goods.

One-stop shopping for air, hotel & car rental deals:
To rent a car with a 5% discount for BonjourParis.com readers, click Auto Europe Car Rental
To rent a hotel, click Auto Europe Hotels
To buy international flights, click Auto Europe Flights
Leave a reply
Your email address will not be published. Required fields are marked *