Touring Auvergne: Moulins, Clermont-Ferrand, Charroux, Parc des Volcans and More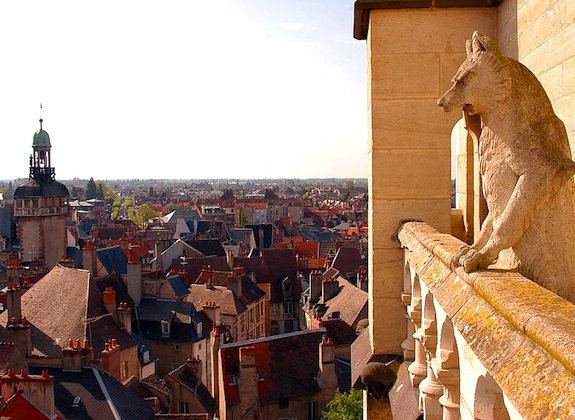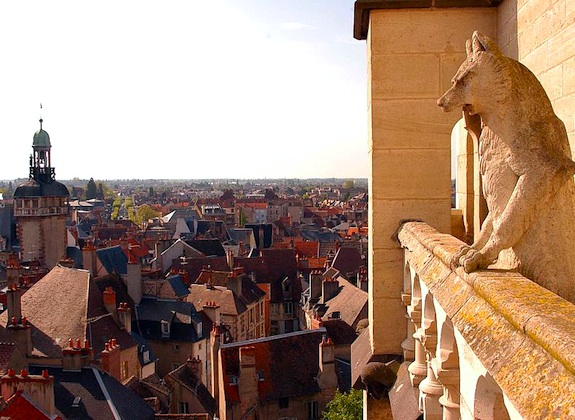 Panoramic view over Moulins as seen from Notre-Dame. Photo: Moulins Tourist Office
Parisians may embrace New York, but don't necessarily like to be compared to New Yorkers. But there are similarities, at least when it comes to travel. Parisians can be totally up to date on exotic destinations for vacations as well as where to de-camp for their weekend retreats (think Hamptons for New Yorkers and Normandy for Parisians). But when I did a random survey among Parisians about the Auvergne, I got that typical, quizzical Parisian look suggesting I might be out of my mind.
Turns out, I wasn't out of my mind once I'd spent a few days south of Clermont-Ferrand, journeying through the southern center of France around Moulins where fashion designer Coco Chanel spent her childhood, but before her, legions of Bourbons were born and raised. Throughout the region, exquisitely renovated "gites" and gorgeous châteaux owned by delightful hosts exude an infectious hospitality, and locally prepared cuisine was on par with Paris and Lyons.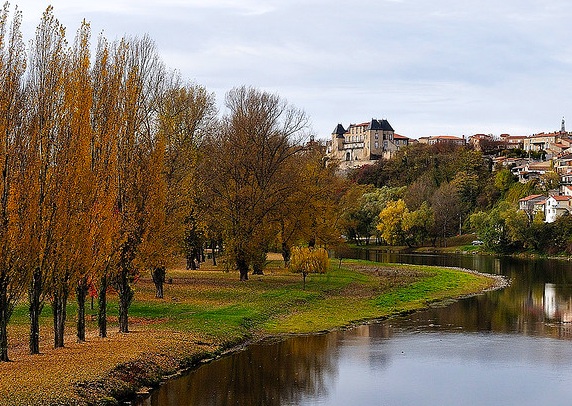 River Allier, Pont du chateau below Puy de dôme, photo by Bercolly
Auvergne, ideal car tour through historic France
Geographically, Auvergne covers the Massif Central and comprises four districts: Allier, Cantal (there's a cheese named after this province), Haute-Loire and Puy-de-Dôme. Yes, a car is necessary to get from one location to another, but you'll enjoy lush meadows and rolling hills hugging the volcanic mountain range while you motor around the departments and discover historic references to the legendary Gallic soldier Vercingetorix who in 52 B.C. led the fight against the Romans, to the regal Duchy of Bourbon, followed by Catherine de Medici and Louis XIII.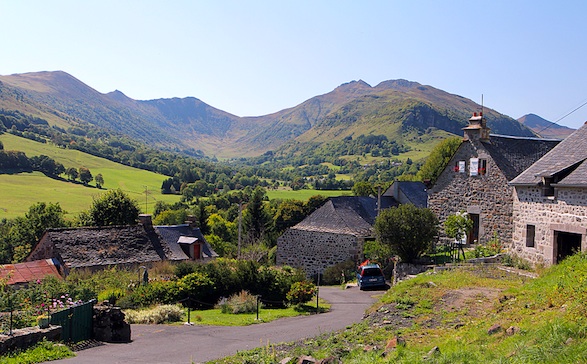 Entry to Parc Régional des Volcans photo by lilithis
Parc Régional des Volcans, largest national park in France
Besides France's largest national park being situated here, Parc Régional des Volcans, plateau and valleys are very much in evidence in this region, along with 60 extinct volcanic cones which have been around for 7,000 years. Agriculture is one of the mainstays of this region, and fertile pastureland is nourished by area's lava and volcanic ash. Arguably, according to the locals, the best bread in France can be found here because this volcanic ash mixed with water (as in Volvic) produces a remarkably crusty and toothsome bread. It only took one bite of bread and one bakery visit to be convinced that the locals are right (move aside, Poilâne).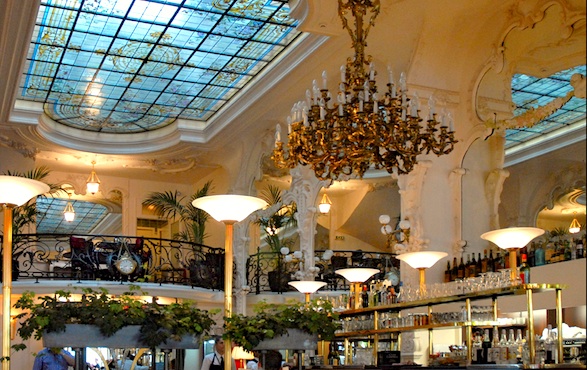 Magnificent Art Nouveau Grand Café in Moulins photo by dalbera
Moulins, seat of the Dukes of Bourbon and Coco Chanel's birthplace
Moulins was where the powerful Dukes of Bourbon established their capital, and records show that the city was thriving as far back as 990. A lot of France's ruling class of noblemen came from Moulins, but one of the most famous females to come out of Moulins was Gabrielle Chanel, a determined seamstress whose humble beginnings included a stint as a singer in 1910 at Moulins' Grand Café where she earned the nickname Coco by singing, "Qui a vu Coco dans le Trocadéro (Who has seen Coco in Trocadéro?)?" The Grand Café in Moulins is one of France's finest examples of Art Nouveau design, built in 1899, with panels and mirrored walls.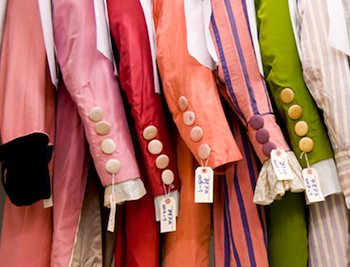 The Centre National du Costume de Scène is situated in Moulins in a renovated ancient cavalry barracks constructed at the end of the 18th century. A sprawling costume "gallery", it keeps the world's most prestigious collection of 9,000 theatrical costumes for France's three national establishments: the Bibliothèque Nationale of France (Arts and Theatre Departments), the Comédie Française and the Opéra National de Paris. In late 2010 they held an exhibition dedicated to opera divas costumes, beginning with the legendary Maria Callas and including our very own Renée Fleming.
Charroux, an official Most Beautiful Village of France
Charroux in Allier, about 27 miles from Moulins, is one of the official "Most Beautiful Villages of France." Stop there to see an authentic medieval village, a "fortified town" because its citadel and church dates from 1245. The Knights Templar made Charroux its temporary home.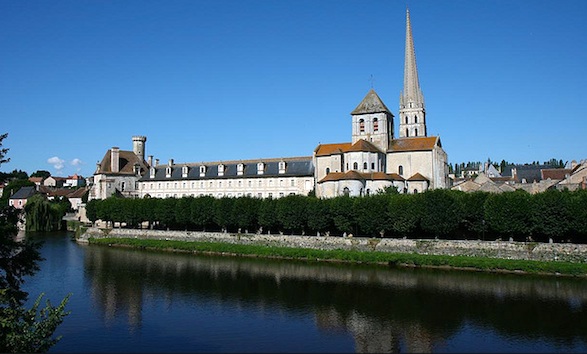 Abbey-Saint-Savin publicity photo
You can visit the Abbey Saint-Savin, a UNESCO World Heritage Site. A walk through the village will lead you to a local mustard atelier, an oil press, and artisans working as a blacksmith, clog-maker and barrel-maker. 
Another wonderful aspect about the Auvergne are the hotels where you'll feel, eat and sleep like a king and queen, but without spending a ransom for the experience. Here are three worth stopping for and seeing.
In Gaudon, Alain and Monique Bozzo welcome you to their painstakingly restored, prestigious Domaine de Gaudon which dates from the 19th century. A nature park, a spa in the works for 2011, it's all on the property. Don't miss out on one of Monique's excellent dinners or breakfasts, served in the antiques-filled dining room. Alain gushes about the local food, so don't be shy about asking him to take you on the morning bakery run to gather the fresh bread for breakfast.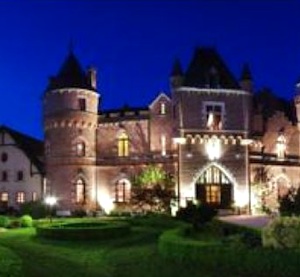 If you're a Knights Templar fanatic, make sure you spend the night at Château de Maulmont located in Randon. This castle was a Templar's stronghold in the 13th century, and was built by Renaud de Vichy, the Master of the Order of the Templars, after he returned from the Crusades in 1255. It was demolished in 1829 to become a "rendez-vous de chasse" hunting lodge with added value, by the sister of King Louis Philippe d'Orléans, Princess Adelaide. What exists now is a regal hunting-style castle with luxuriously appointed sleeping rooms, a richly wood paneled bar and restaurant.
Don't leave the Auvergne without visiting the four-star Château de la Canière, which will take your breath away. Located between Vichy and Clermond-Ferrand, the property was completely renovated in 2009 and with 26 individually designed guest rooms and suites, it stands majestically on its manicured grounds. The soaring atrium and ceiling painting are just the beginning. A gourmet restaurant, Le Lavoisier, is on the premises, as well as a library loaded with vintage books where you can enjoy afternoon tea or cocktails before strolling the grounds to see the chapel or take a helicopter tour of the area.
PHOTO CREDITS: Flickr photos published per Creative Commons 3.0 license with photographer credit in captions. Photos of Moulins, costume museum, Abbey Saint-Savin and châteaux hotel photos are publicity photos
Isabelle Kellogg has written several stories for BonjourParis about fascinating people and places of France. To read them, please click on her name.


Subscribe for
FREE

weekly newsletters with subscriber-only content.
BonjourParis has been a leading France travel and French lifestyle site since 1995.
Readers' Favorites: Top 100 Books, imports & more at our Amazon store


We daily update our selections, including the newest available with an Amazon.com pre-release discount of 30% or more. Find them by starting here at the back of the Travel section, then work backwards page by page in sections that interest you.
Click on this banner to link to Amazon.com & your purchases support our site….merci!
Leave a reply
Your email address will not be published. Required fields are marked *