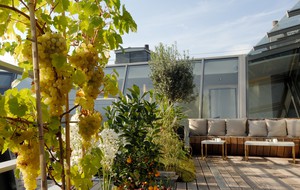 Le 39 V, a hit of la rentrée, is located on the 6th floor of a handsome Haussmann building just off the Champs Elysées, reached by private lift. The state-of-the-art designer dining -room, bar, bucolic terrace with herb garden and vines, and chef's table are in the round.  The very "wallpaper" décor is by Marcelo Joulia of Naço Architecture.
The atmosphere is chic. The clientele includes local captains of industry and chic ladies who do at lunch. Rock stars, celebs and foodies who have followed chef Frédéric Vardon since his days chez Alain Chapel, Ducasse and Morot Gaudry make it necessary to book. Table 9 is cool and if it's warm a chilled flute of Henriot – Brut Souverain (12€) on the perfumed terrace is a breath of fresh air.
Chef Vardon is a huge talent, a great technician. Nothing molecular in his light neo-classic dishes. Starters such as the elegant trio of tomatoes and crab: Tomates coeur de boeuf, ananas, green zebra, chair de tourteau. Salade de légumes et fruits or Bar à cru, citron et garniture, oeuf bio cuit mollet, royal et émulsion de champignons. Mains include: Le homard bleu avec macaroni au vieux Conté et sauce coraillée: Volaille fermière aux écrevisses: Agneau de Lozère et mijoté de légumes. Wines are a Tour de France of excellence and service is attentive under the direction of the welcoming Guillaume Perrin-Miton.
Desserts include Vardon's sublime signature Cheesecake Caillé made with Normandy fromage frais, served with fresh cream, honey and chestnuts, the wicked Gâche vendéenne, comme un pain perdu, glace au confiture de lait, and Soufflé au chocolat, sauce pimentée.
39 Avenue George V, 8th
Metro: George V,
T: 01 56 62 39 05
Lunch 39.50€ & 49.50€
Dinner Tasting Menu 85€ + A la carte
Shut Sat-Sun
Madonna, Sir Paul McCartney, Heston Blumenthal, Hélène Darroze and Sir Tom Jones are big fans of The Greenhouse, Marlon Abela's Michelin-starred London restaurant. Abela also owns Umu and Morton's, London, A Voce NYC, Morello Bistro, Connecticut, as well as the fragrant Payard Bakery NYC, Bistro du Midi, Boston, but they are other stories for other times.
The Greenhouse chef is Lyon-born Antonin Bonnet, formerly Marlon Abela's private chef. Trained by Michel Bras in the Aubrac region, he says the best food he ever tasted was in his mother's kitchen and he calls the time spent chez Bras as "pure magic".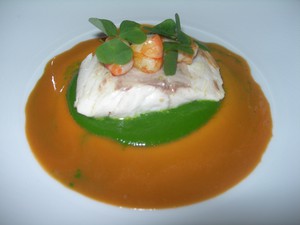 At The Greenhouse Bonnet menus change with the seasons and he runs very successful Saturday morning cookery classes several times a year. Students spend the morning with Bonnet, watch him cook, tap into his philosophy, then eat lunch with matching wines.
Bonnet's food is full of exciting flavours, textures and contrasts. Last week's lunch, with jewel-like freebie offerings and homemade bread, was a starter of warm autumn vegetable tarte-fine, parmesan cream. Or marinated line-caught mackerel, pickled blackcurrents, gooseberries, horseradish cream. The beef Simmenthal tartare was matched with pickled kohlrabi, circled with truffle coulis. Mains were Kent saddle of lamb with spiky artichokes, quinoa, Sicilian lemon cream and anchoïade. Pigeon breast crisply roasted with pomegranate, turnip purée, almond, giblet and pancetta jus. If you're vegetarian, Bonnet dedicates an entire menu to you including a really Wild Mushroom risotto. The extensive cheese trolley is matured by cheese guru Christophe Demeyer. Just don't miss the signature dessert, Snix, a play on Snickers and Twix with chocolate, salted caramel and peanuts.
The epic wine book, over 100 pages, is called "the best dressed list in town", reflecting Marlon Abela's passion for the grape. Sommelier Alexandre Caret says many customers come to the restaurant not only for the superb cuisine but for the 3,000 different world wines. He'll serve by the glass or bottle – try the white Montlouis, Domaine de la Taille aux Loups, Loire Valley, 2005 (£35) or the red Nero d'Avola, Morgante, Sicily £30.
Chef Bonnet's big wish is for the 2nd Michelin star; let's hope he makes it, because he's worth it.
27A Hay's Mews, Mayfair
Underground: Green Park
T: +44 (0) 207 499 3331
Lunch menu – £25 for 2 courses, £29 for 3.
A la Carte (lunch or dinner) £70 for 3 courses.
7 course tasting menu is £85.
For the Western cities of Japan, Michelin Guide Kyoto, Osaka, Kobe 2011 introduces 312 addresses of which 239 are restaurants, 42 hotels and 31 Ryokans. 12 restaurants have 3 stars: 7 in Kyoto, 3 in Osaka and in Kobe, two new 3-stars, Ca Sento and Komago. In Kyoto, Nakamura won its third star and in Osaka, Kashiway and Taian are promoted from two to three stars. It's not just about the 3-stars—there are 100 restaurants serving meals for as as little as 5,000 yen, indicated by a special pictogram of two coins. What's nice are the photos and the text, so if it's all new to you you can get an idea of what's in store. Jean-Luc Naret, the Guide's Director (until the end of the year), said the publishers will do the same for Tokyo 2011 which will add Yokahama and Kamakura, both south of the capital.
MICHELIN Guide Kyoto Osaka Kobe 2011: Hotels & Restaurants, 2nd Edition available on Amazon.com, $13.49.
For France:
Looking for entertainment? Check out Mosaico World, a customer-friendly international ticketing service that enables you to book tickets for upcoming events in the City of Light and around the world.