In the Village Cemetery (at Essoyes)
I am fortunate to be able to spend parts of each year in a lovely little village in Champagne. Essoyes (ESS-wah) was the home of both Pierre Auguste Renoir and his famous filmmaker son, Jean Renoir. It has also been the home of less famous, but no less important, members of the Renoir family: Mme Renoir and her mother; Pierre and Claude Renoir (Jean's brothers); and their children and grandchildren. And while most of these people did not die in Essoyes, they are all buried here. I think I can understand why. To visit the village cemetery in Essoyes is to understand the enduring values of small town life, and the way that life can be celebrated and appreciated in a place where not thinking about death is not possible. Apart from the famous people who are buried here—the entire Renoir family, and members of the Hériot family, who made their fortune with their Parisian department store empire in the late 19th century—there is nothing particularly special about this cemetery. And yet the story of a simple little town and its people is told here, in all its rich complexity. The first thing you notice upon entering the gates is that there is a section of the cemetery to the right of the entrance devoted to honoring those who died at war. "A ses héros, victimes du devoir," says the monument: "To our heroes, victims of duty." Installed in a neat pattern around these graves are detonated warheads gathered in the fields of Champagne after the First and Second World Wars—poignant reminders both of what war really comes down to, and how profoundly it has affected the people of France throughout their history. There are the graves of the Renoirs, a bronze bust of the painter by his pupil Richard Guino atop his grave, the grave of Renoir's wife Aline Charigot behind him, now bereft of the bust that once adorned her grave as well. (Thieves stole both busts; fortunately, the Renoir bust was recovered. Sadly, the one of his beloved wife is still at large somewhere.) There is the extravagant tomb of the Hériot family, taller and grander than any of the other graves, reaching boldly toward the sky, declaring their wealth and earthly importance in death as in life, as if to say, "See us, here we are! How great we are! Are you not impressed?" And there is the very beautiful and highly unusual stone sculpture of a nude woman atop a grave, inscribed with those beautiful words from the Book of Revelations ("And God will wipe away every tear from their eyes; there shall be no more death, nor sorrow, nor crying …"). There are elaborate gravestones and simple ones. The grave of my friend Jacques is somewhere in the middle: neither particularly extravagant, nor exceptionally simple. Always well tended, surrounded with flowering plants. I never fail to visit Jacques's grave when I am in Essoyes. For it is Jacques, vigneron who loved the music of Georges Brassens, his lovely wife Josette, his beautiful little daughters, the beauty of the vine-covered hills, and who came to love us too. He and his brother Daniel hired three young Americans to work in the vendange one September day more than 30 years ago. They pointed toward the vines, handed us paniers and clippers, and we went to work. We worked hard, the family treated us well, and when the vendange was over Jacques invited us to stay around for as long as we liked, and took the time to show us around the beautiful land he loved so well. Through the years we maintained our friendship with Jacques. It was through his extension of friendship and warm accueil that we first came to love this little village all those years ago. And it was indirectly through his continuing generosity that we found our way toward buying our dream home in the same village so many years later. That is why I never fail to visit Jacques's grave whenever I am in Essoyes—to lay a sprig of wildflowers or a few pebbles in the shape of a heart on his tombstone. His grave reminds me of his life, and what a good friend he was. Jacques did not live as long as he should have, and his life did not always go as well for him as I wish it had. But here at the edge of the cemetery, the beautiful fields of Champagne that he so loved just beyond, each time I am there I feel momentarily the depth of comfort to be found in the words "rest in peace." And I whisper them aloud, to my friend. Janet Hulstrand is a writer, editor, and teacher of literature and writing based in Silver Spring, Maryland.  Each summer she teaches "Paris: A Literary Adventure," and each winter "Hawaii: A Literary Adventure" for Queens College, CUNY. She also offers spring and fall writing workshops in the village of
Essoyes
, in Champagne. This is one in a series of articles she is writing for BP about things to see and do in the département de l'Aube. You can also read her essays about travel, literature, and writing on her blog, "
Writing from the Heart, Reading for the Road
." If you're coming to France (or for that matter anywhere) you can 
reserve your hotel here.
To rent a car, Bonjour Paris recommends 
Auto Europe
.
SUBSCRIBE
ALREADY SUBSCRIBED?
BECOME A BONJOUR PARIS MEMBER

Gain full access to our collection of over 5,000 articles and bring the City of Light into your life. Just 60 USD per year.

Find out why you should become a member here.

Sign in

Fill in your credentials below.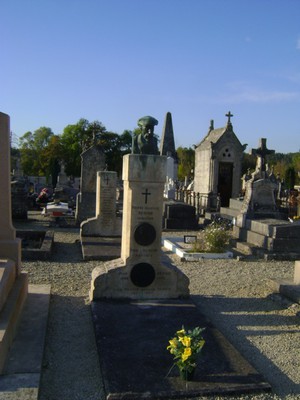 I am fortunate to be able to spend parts of each year in a lovely little village in Champagne.
Essoyes (ESS-wah) was the home of both Pierre Auguste Renoir and his famous filmmaker son, Jean Renoir. It has also been the home of less famous, but no less important, members of the Renoir family: Mme Renoir and her mother; Pierre and Claude Renoir (Jean's brothers); and their children and grandchildren.
And while most of these people did not die in Essoyes, they are all buried here.
I think I can understand why.
To visit the village cemetery in Essoyes is to understand the enduring values of small town life, and the way that life can be celebrated and appreciated in a place where not thinking about death is not possible.
Apart from the famous people who are buried here—the entire Renoir family, and members of the Hériot family, who made their fortune with their Parisian department store empire in the late 19th century—there is nothing particularly special about this cemetery.
And yet the story of a simple little town and its people is told here, in all its rich complexity.
The first thing you notice upon entering the gates is that there is a section of the cemetery to the right of the entrance devoted to honoring those who died at war. "A ses héros, victimes du devoir," says the monument: "To our heroes, victims of duty." Installed in a neat pattern around these graves are detonated warheads gathered in the fields of Champagne after the First and Second World Wars—poignant reminders both of what war really comes down to, and how profoundly it has affected the people of France throughout their history.
There are the graves of the Renoirs, a bronze bust of the painter by his pupil Richard Guino atop his grave, the grave of Renoir's wife Aline Charigot behind him, now bereft of the bust that once adorned her grave as well. (Thieves stole both busts; fortunately, the Renoir bust was recovered. Sadly, the one of his beloved wife is still at large somewhere.)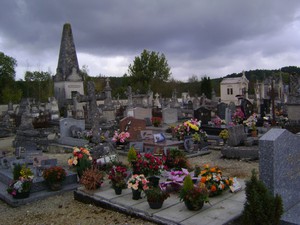 There is the extravagant tomb of the Hériot family, taller and grander than any of the other graves, reaching boldly toward the sky, declaring their wealth and earthly importance in death as in life, as if to say, "See us, here we are! How great we are! Are you not impressed?"
And there is the very beautiful and highly unusual stone sculpture of a nude woman atop a grave, inscribed with those beautiful words from the Book of Revelations ("And God will wipe away every tear from their eyes; there shall be no more death, nor sorrow, nor crying …").
There are elaborate gravestones and simple ones. The grave of my friend Jacques is somewhere in the middle: neither particularly extravagant, nor exceptionally simple. Always well tended, surrounded with flowering plants.
I never fail to visit Jacques's grave when I am in Essoyes.
For it is Jacques, vigneron who loved the music of Georges Brassens, his lovely wife Josette, his beautiful little daughters, the beauty of the vine-covered hills, and who came to love us too.
He and his brother Daniel hired three young Americans to work in the vendange one September day more than 30 years ago. They pointed toward the vines, handed us paniers and clippers, and we went to work. We worked hard, the family treated us well, and when the vendange was over Jacques invited us to stay around for as long as we liked, and took the time to show us around the beautiful land he loved so well.
Through the years we maintained our friendship with Jacques. It was through his extension of friendship and warm accueil that we first came to love this little village all those years ago. And it was indirectly through his continuing generosity that we found our way toward buying our dream home in the same village so many years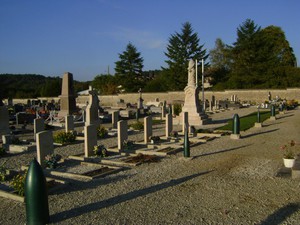 later.
That is why I never fail to visit Jacques's grave whenever I am in Essoyes—to lay a sprig of wildflowers or a few pebbles in the shape of a heart on his tombstone.
His grave reminds me of his life, and what a good friend he was.
Jacques did not live as long as he should have, and his life did not always go as well for him as I wish it had. But here at the edge of the cemetery, the beautiful fields of Champagne that he so loved just beyond, each time I am there I feel momentarily the depth of comfort to be found in the words "rest in peace."
And I whisper them aloud, to my friend.

Janet Hulstrand is a writer, editor, and teacher of literature and writing based in Silver Spring, Maryland.  Each summer she teaches "Paris: A Literary Adventure," and each winter "Hawaii: A Literary Adventure" for Queens College, CUNY. She also offers spring and fall writing workshops in the village of Essoyes, in Champagne. This is one in a series of articles she is writing for BP about things to see and do in the département de l'Aube. You can also read her essays about travel, literature, and writing on her blog, "Writing from the Heart, Reading for the Road."
If you're coming to France (or for that matter anywhere) you can reserve your hotel here. To rent a car, Bonjour Paris recommends Auto Europe.
More in Champagne region, France artists, France travel, Renoir, World War II
---
---