Dear Antiques Diva, I've really enjoyed your recent articles in Bonjour Paris! I'm going to Paris this September for the Maison et Objet show and plan to stay for two weeks. Could you give me some recommendations for finding antique shows and flea markets in Paris in September during that time? Do you have any essential "Antiques Diva" advice before I go abroad this fall? Thanks, Libby Wilkie AN EYE FOR DETAIL
www.libbywilkiedesigns.com
—————————————————————————————————————————————- Dear Libby, You are a lucky girl! September is my favorite time to be in Paris. During August "tout de Paris" departs for its annual vacances but in September the city is pulsing with "la rentrée" as everyone who is anyone returns to the City of Light! A stroll through Paris in September always elicits a smile as I watch children skip down the rues and my feet crunch through the dinner-plate-sized leaves which are just starting to drop from the trees lining the boulevards. And though the breeze is brisk, it seems the sun always shines in September in Paris. If I were forced to only choose one time of year to visit Paris it would be September! The fact you are going to Paris for Maison et Objet, the biannual design show that's the be-all and end-all of home and outdoor décor, doubles your joie-de-vivre potential! Taking place from September 3-7, 2010 this trade fair at the Paris Nord Villepinte Exhibition Center is sadly open only to designers and by advance registration, leaving not-in-the trade décor aficionados swooning in spells of jealousy as they wait for the latest home fashion trends to be reported in their favorite online and print publications. If you are taking 2 weeks in Paris and you time your trip just right, you might be able to attend both Maison et Objet from Sept 3-7 and the 25th Biennale des Antiquaires at the Grand Palais on Ave Winston Churchill from 15-22 September, 2010. This latter show offers high-end antiquities gorgeously displayed in exuberant splendor—a diva essential, and best of all, it's open to the public, not just the trade! Of course every weekend in Paris you can visit the two most famous flea markets: Les Puces de St Ouen at the end of line #4 metro, starting at the rue des Rosiers, or the Porte de Vanves flea market at the eponymously named metro stop. And while these flea markets are wonderful, you might also want to get off the tourist path to find some local brocantes (flea markets) or vide-greniers (attic sales). My single best source for finding out flea market dates—not just in Paris, but in all of France—is the website
www.BrocaBrac.fr
. They don't update their fair information months in advance, so you will have to visit this website a month prior to your trip to Paris to get an up-to-date listing on what flea markets and attic sales are on when and where! For navigating the site you have to enter the department of the area you are visiting—for Paris that is Department 75 in the Ile de France. But if you're in Paris for 2 weeks, why not take some time to travel elsewhere in France? The first weekend in September (4-5 September, 2010) happens to be one of my favorite flea market events in France! The Grande Braderie de Lille is essentially the French equivalent of a town-wide garage sale as the city's residents are allowed this one weekend a year to grab any patch of pavement and set up shop, selling everything from treasures taken from grandma's attic to just plain junk. But remember, French junk is infinitely cooler than almost any other nationalities' cast-offs, making this city-wide flea market an Antiques Diva™ flea market essential. But you'd better book your hotel and train tickets now if you're wanting to go this fall, as the fair is so popular that the hotels are booked solid months prior to the event! Looking for more cool antique shopping and flea market ideas for your travels? Just Ask The Antiques Diva—Email
[email protected]
with Bonjour Paris in the subject line! Toma Clark Haines is The Antiques Diva™, author of the blog
Antiques Diva
www.antiquesdiva.blogspot.com
and Chief Executive Diva of
The Antiques Diva™ European Shopping Tours
www.antiquesdiva.com
and the de shopping force behind the online antique store "Treasures by The Antiques Diva™"
www.treasuresbytheantiquesdiva.blogspot.com
. The Antiques Diva™ is the In-House Antiques Expert for Bonjour Paris. Bonjour Paris Premium Members will receive a 10% discount with the Antiques Diva™ Tours. If you're coming to France (or for that matter anywhere) you can 
reserve your hotel here.
To rent a car, Bonjour Paris recommends 
Auto Europe
.
SUBSCRIBE
ALREADY SUBSCRIBED?
BECOME A BONJOUR PARIS MEMBER

Gain full access to our collection of over 5,000 articles and bring the City of Light into your life. Just 60 USD per year.

Find out why you should become a member here.

Sign in

Fill in your credentials below.

Dear Antiques Diva,
I've really enjoyed your recent articles in Bonjour Paris! I'm going to Paris this September for the Maison et Objet show and plan to stay for two weeks. Could you give me some recommendations for finding antique shows and flea markets in Paris in September during that time? Do you have any essential "Antiques Diva" advice before I go abroad this fall?
Thanks,
Libby Wilkie
AN EYE FOR DETAIL
—————————————————————————————————————————————-
Dear Libby,
You are a lucky girl! September is my favorite time to be in Paris. During August "tout de Paris" departs for its annual vacances but in September the city is pulsing with "la rentrée" as everyone who is anyone returns to the City of Light! A stroll through Paris in September always elicits a smile as I watch children skip down the rues and my feet crunch through the dinner-plate-sized leaves which are just starting to drop from the trees lining the boulevards. And though the breeze is brisk, it seems the sun always shines in September in Paris. If I were forced to only choose one time of year to visit Paris it would be September!
The fact you are going to Paris for Maison et Objet, the biannual design show that's the be-all and end-all of home and outdoor décor, doubles your joie-de-vivre potential! Taking place from September 3-7, 2010 this trade fair at the Paris Nord Villepinte Exhibition Center is sadly open only to designers and by advance registration, leaving not-in-the trade décor aficionados swooning in spells of jealousy as they wait for the latest home fashion trends to be reported in their favorite online and print publications.
If you are taking 2 weeks in Paris and you time your trip just right, you might be able to attend both Maison et Objet from Sept 3-7 and the 25th Biennale des Antiquaires at the Grand Palais on Ave Winston Churchill from 15-22 September, 2010. This latter show offers high-end antiquities gorgeously displayed in exuberant splendor—a diva essential, and best of all, it's open to the public, not just the trade!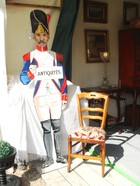 Of course every weekend in Paris you can visit the two most famous flea markets: Les Puces de St Ouen at the end of line #4 metro, starting at the rue des Rosiers, or the Porte de Vanves flea market at the eponymously named metro stop. And while these flea markets are wonderful, you might also want to get off the tourist path to find some local brocantes (flea markets) or vide-greniers (attic sales).
My single best source for finding out flea market dates—not just in Paris, but in all of France—is the website www.BrocaBrac.fr. They don't update their fair information months in advance, so you will have to visit this website a month prior to your trip to Paris to get an up-to-date listing on what flea markets and attic sales are on when and where! For navigating the site you have to enter the department of the area you are visiting—for Paris that is Department 75 in the Ile de France.
But if you're in Paris for 2 weeks, why not take some time to travel elsewhere in France? The first weekend in September (4-5 September, 2010) happens to be one of my favorite flea market events in France! The Grande Braderie de Lille is essentially the French equivalent of a town-wide garage sale as the city's residents are allowed this one weekend a year to grab any patch of pavement and set up shop, selling everything from treasures taken from grandma's attic to just plain junk. But remember, French junk is infinitely cooler than almost any other nationalities' cast-offs, making this city-wide flea market an Antiques Diva™ flea market essential. But you'd better book your hotel and train tickets now if you're wanting to go this fall, as the fair is so popular that the hotels are booked solid months prior to the event!
Looking for more cool antique shopping and flea market ideas for your travels? Just Ask The Antiques Diva—Email [email protected] with Bonjour Paris in the subject line!
Toma Clark Haines is The Antiques Diva™, author of the blog Antiques Diva www.antiquesdiva.blogspot.com and Chief Executive Diva of The Antiques Diva™ European Shopping Tours www.antiquesdiva.com and the de shopping force behind the online antique store "Treasures by The Antiques Diva™" www.treasuresbytheantiquesdiva.blogspot.com. The Antiques Diva™ is the In-House Antiques Expert for Bonjour Paris. Bonjour Paris Premium Members will receive a 10% discount with the Antiques Diva™ Tours.
If you're coming to France (or for that matter anywhere) you can reserve your hotel here. To rent a car, Bonjour Paris recommends Auto Europe.
More in Antiques shopping, Bonjour Paris, Flea markets France, Paris exhibitions, Paris shopping, Paris tourist tips
---
---