Brittany Road Trip: Vannes, Morlaix, Roscoff and Pleyben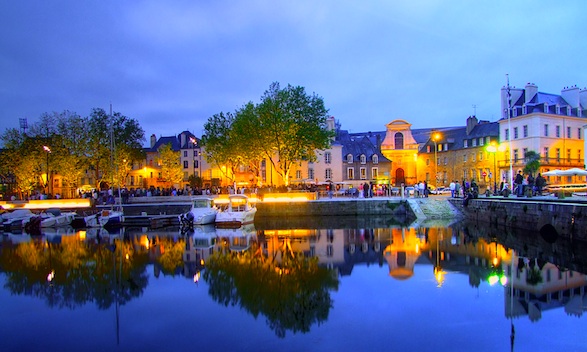 Vannes harbor. Photo by elvisdmendez. A road trip through Brittany coastal towns delivers sweeping views of the rich, rolling landscapes of Brittany's outermost corner; wandering through its charming villages and towns reveals its inhabitants are among the friendliest in all of France. Start in Vannes No trip to Brittany would be complete without first stopping at
Antiquités Les Remparts
at 21, rue Francis Decker in
Vannes
. There Pascale Brion and David Balzeau—young, second-generation antiques dealers of knowledge and taste—uphold the traditions and standards of the vrai antiquaire in a shop featuring genuine antiques rather than the dubious and damaged goods found in most places these days. We always come away with fine objects and then work our way around town to the La Trinitaine outlet opposite les Halles for large, inexpensive bags of seconds of their Breton galettes and madeleines to fuel the rest of the trip. Even rain or a seasonal wind-whipping giboulée could not dampen the early spring beauty of the craggy coast, abundantly productive green fields, stone-built towns and rugged, forested hills in this land of Celts and contradictions. Wooden houses in Morlaix. Photo by paperrapture. Morlaix, a good hotel base One need look no further than
Morlaix
for a charming, comfortable base less than six hours' drive from Paris. The two-century-old
Hôtel de l'Europe
has its quirks in large, sensibly appointed rooms and the advantage of being next to a pleasant, inexpensive and traditional brasserie. Morlaix has much to recommend it from the view of its colossal, two-storeyed viaduct to wonderful examples of colombage, Renaissance wooden houses with overhangs, on its Grand'Rue. The Saturday marché spread over two squares in the old town overflows with temptation. It is temptation's evils, however, which preoccupy much of the art of the enclos parroissiaux where artisans long since forgotten inspire, strike fear and tell a tale chiseled in stone or carved in wood and gaily colored. Touring them is also a pleasant excuse for wandering the Breton countryside while stopping every hour or so for a stroll through an enclos. Each contains a church with entrance porch and soaring belfry behind a walled courtyard; a calvaire, a monumental and uniquely Breton fixture with outdoor crucifix surrounded by three-dimensional carvings; and an ossuary. The churches are mostly Gothic in style. It is such surprises that catch one off guard and delight. A sanctuary dark, gloomy and low upon entering bursts with color on turning toward the altar. Pinks, blues, greens and yellows dress sculptural figures, festoon pulpits and span intricately carved rood beams. The art of these medieval people can be as wonderful as it is accessible in its meaning—"sin" and you might be hell bound or beheaded; "believe" and "behave" and you might be "saved." Saint-Thégonnec in Guilmiliau. Photo by alainmichot93. Roll through Guililiau, St-Thégonnec, Bodilis, Saint Servais and more The calvaires can make for a tour in themselves. One need not be familiar with Christian iconography to appreciate the quality of craftsmanship in those such as the 16th-century example at
Guimiliau
, famed for its size and the more than 200 distinctive figures portraying scenes from the Passion. There the
Auberge St. Thégonnec
(hotel) is conveniently located for cultural sightseeing in the area. We began at colorful
St. Thégonnec
and followed a Michelin Green Guide route to Guimiliau and its monumental calvaire, then to Lampaul-Guimilau which features a colorful rood beam covered in carved figures with a crucifix rising, an evocative entombment and a wonderful canopy on the baptismal font. At
Bodilis
, the purlins or tie beams are richly decorated and there is a wonderful pillar near the altar with a primitive face carved out at chest level. Saint Servais' belfry looks like a purple martin house. If the paint and carving on the ossuary door were any indication of what was to come, we were sorry to find the church fermée. Regrettably, La Roche-Maurice on a hill opposite a wonderful rock with castle ruins was closed for restorations, but it was pleasant to see its site above the small town. Fifteenth-century La Martyre is one of oldest enclos in the region and one of the best with a triumphal arch, an ossuary with macabre reliefs, fine stained glass windows and a small exhibit of antique church silver, some of it very fine. Ours was a rampant ramble as we did these all in one day, whereas those with more serious interest might want to take several days and those with less interest might just visit St. Thégonnec for the decoration or Guimiliau for the calvaire. Roscoff shore. Photo by nicksarebi. Roscoff and Plouescat Another day, on…
SUBSCRIBE
ALREADY SUBSCRIBED?
BECOME A BONJOUR PARIS MEMBER

Gain full access to our collection of over 5,000 articles and bring the City of Light into your life. Just 60 USD per year.

Find out why you should become a member here.

Sign in

Fill in your credentials below.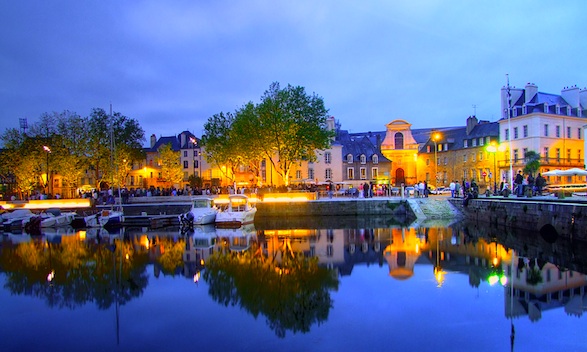 Vannes harbor. Photo by elvisdmendez.
A road trip through Brittany coastal towns delivers sweeping views of the rich, rolling landscapes of Brittany's outermost corner; wandering through its charming villages and towns reveals its inhabitants are among the friendliest in all of France.
Start in Vannes
No trip to Brittany would be complete without first stopping at Antiquités Les Remparts at 21, rue Francis Decker in Vannes. There Pascale Brion and David Balzeau—young, second-generation antiques dealers of knowledge and taste—uphold the traditions and standards of the vrai antiquaire in a shop featuring genuine antiques rather than the dubious and damaged goods found in most places these days. We always come away with fine objects and then work our way around town to the La Trinitaine outlet opposite les Halles for large, inexpensive bags of seconds of their Breton galettes and madeleines to fuel the rest of the trip.
Even rain or a seasonal wind-whipping giboulée could not dampen the early spring beauty of the craggy coast, abundantly productive green fields, stone-built towns and rugged, forested hills in this land of Celts and contradictions.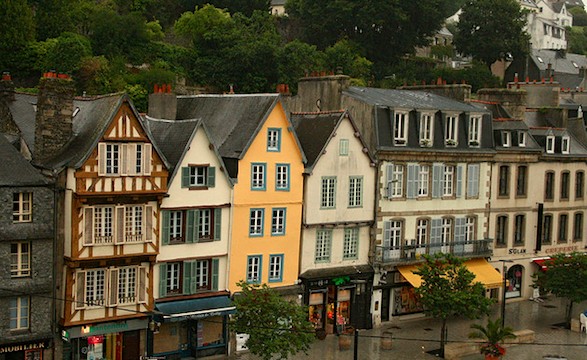 Wooden houses in Morlaix. Photo by paperrapture.
Morlaix, a good hotel base
One need look no further than Morlaix for a charming, comfortable base less than six hours' drive from Paris. The two-century-old Hôtel de l'Europe has its quirks in large, sensibly appointed rooms and the advantage of being next to a pleasant, inexpensive and traditional brasserie.
Morlaix has much to recommend it from the view of its colossal, two-storeyed viaduct to wonderful examples of colombage, Renaissance wooden houses with overhangs, on its Grand'Rue. The Saturday marché spread over two squares in the old town overflows with temptation.
It is temptation's evils, however, which preoccupy much of the art of the enclos parroissiaux where artisans long since forgotten inspire, strike fear and tell a tale chiseled in stone or carved in wood and gaily colored.
Touring them is also a pleasant excuse for wandering the Breton countryside while stopping every hour or so for a stroll through an enclos. Each contains a church with entrance porch and soaring belfry behind a walled courtyard; a calvaire, a monumental and uniquely Breton fixture with outdoor crucifix surrounded by three-dimensional carvings; and an ossuary. The churches are mostly Gothic in style. It is such surprises that catch one off guard and delight.
A sanctuary dark, gloomy and low upon entering bursts with color on turning toward the altar. Pinks, blues, greens and yellows dress sculptural figures, festoon pulpits and span intricately carved rood beams. The art of these medieval people can be as wonderful as it is accessible in its meaning—"sin" and you might be hell bound or beheaded; "believe" and "behave" and you might be "saved."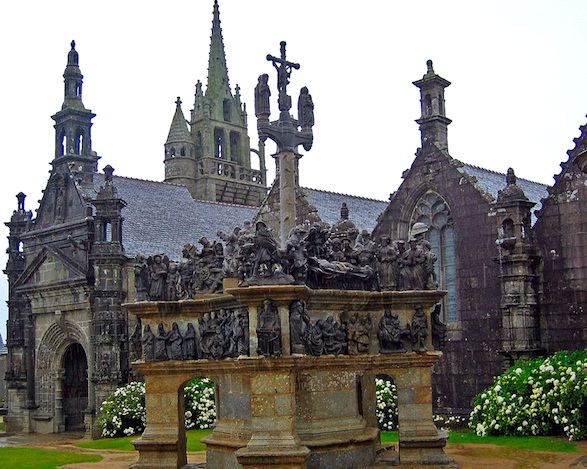 Saint-Thégonnec in Guilmiliau. Photo by alainmichot93.
Roll through Guililiau, St-Thégonnec, Bodilis, Saint Servais and more
The calvaires can make for a tour in themselves. One need not be familiar with Christian iconography to appreciate the quality of craftsmanship in those such as the 16th-century example at Guimiliau, famed for its size and the more than 200 distinctive figures portraying scenes from the Passion. There the Auberge St. Thégonnec (hotel) is conveniently located for cultural sightseeing in the area.
We began at colorful St. Thégonnec and followed a Michelin Green Guide route to Guimiliau and its monumental calvaire, then to Lampaul-Guimilau which features a colorful rood beam covered in carved figures with a crucifix rising, an evocative entombment and a wonderful canopy on the baptismal font.
At Bodilis, the purlins or tie beams are richly decorated and there is a wonderful pillar near the altar with a primitive face carved out at chest level.
Saint Servais' belfry looks like a purple martin house. If the paint and carving on the ossuary door were any indication of what was to come, we were sorry to find the church fermée.
Regrettably, La Roche-Maurice on a hill opposite a wonderful rock with castle ruins was closed for restorations, but it was pleasant to see its site above the small town.
Fifteenth-century La Martyre is one of oldest enclos in the region and one of the best with a triumphal arch, an ossuary with macabre reliefs, fine stained glass windows and a small exhibit of antique church silver, some of it very fine.
Ours was a rampant ramble as we did these all in one day, whereas those with more serious interest might want to take several days and those with less interest might just visit St. Thégonnec for the decoration or Guimiliau for the calvaire.


Roscoff shore. Photo by nicksarebi.
Roscoff and Plouescat
Another day, on a route from charming, if terribly touristic, Roscoff by the sea to Plouescat to see the large, intact and still useful wooden 17th-century covered market dominating its square, we diverted to Folgoet where the basilica is as strange as the tale on which it is based: a poor fool lived in a hollow oak and knew only a few words which he constantly repeated, "Lady Virgin Mary." As the tale goes, he died, was buried and a lily grew out of his mouth, the pistils forming the words Ave Maria in gold letters. Word of the miracle spread during the War of Succession between the Houses of Blois and Montfort. John of Montfort vowed that if he won, he would build a basilica on the site; his heirs kept to his promise. There's a spring underneath the church and a place on its porch where pilgrims come to drink. Inside there is a strange granite rood screen and granite altars, the whole of which is even more foreboding on a dark day.
Dramatic Pleyben shoreline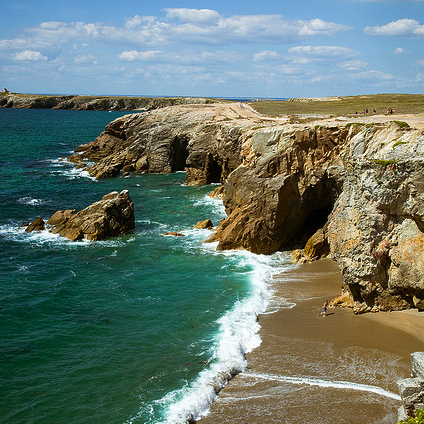 We capped our tour at Pleyben on the return trip from dramatic Pointe de Penhir. The huge pedestal of the interesting calvaire provided a rain-protected point from which to view the two belfries of the church. The carved purlins, stained glass and church silver inside are all worth a look—especially the simply designed and remarkably beautiful chalice by a 17th-century silversmith from Saint-Pol-de-Léon.
The circuit enclos often traces narrow old roads with splendid views between characteristic towns of a few hundred to a few thousand inhabitants, ghostly at midday when only the cows along the way are visibly at lunch. Two of the most charming cows, however, are chiseled on the tympanum at La Martyre where the two heads poking over a manger at the baby and mother nestled in their feed seem to ask, "What's that in our lunch?"
Practical Information:
Links placed within the story above can lead you to tourism office sites that can help you plan your own Brittany road trip.
PHOTO CREDITS: Flickr photos published per Creative Commons 3.0 license with photographer credit in captions

Subscribe for
FREE

weekly newsletters with subscriber-only content.
BonjourParis has been a leading France travel and French lifestyle site since 1995.
Readers' Favorites: Top 100 Books, imports & more at our Amazon store
We daily update our selections, including the newest available with an Amazon.com pre-release discount of 30% or more. Find them by starting here at the back of the Travel section, then work backwards page by page in sections that interest you.
Road trip to Brittany? Please click on image for more info about these favorites.
Click on this banner to link to Amazon.com & your purchases support our site….merci!
More in Antiques shopping, architecture, Bonjour Paris, Brittany, France Brittany, French tourism, Morlaix, Pleyben, Roscoff, sightseeing, Vannes
---
---