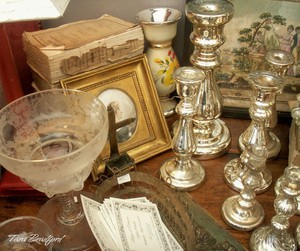 Dear Antiques Diva®,
A number of years ago we had the pleasure of shopping a special, tented antiques market in Paris near the Seine in the Bastille district. I remember the market was held in early-to-mid May and I'm certain a vendor told me it was an annual event. Is this an event with which you are familiar? We would love to attend again—do you have any idea how I can find out about this high-end flea market fair?
Yours,
LM
—————————————————————————————————————–
Dear LM,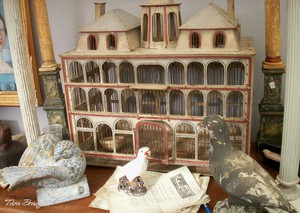 You've honed in on one of my favorite Paris brocantes: Salon des Antiquités at the Place de la Bastille in Paris. It goes on twice a year in May and November—the 2011 dates are May 19-29, but mark your calendar for the fall while you're at it—Nov 4-13, 2011. Each day it operates from 11 AM— 7 PM. Some of the best mid-to-high-end vendors in France appear for this show, which spreads out in white tents alongside the Seine at the Place de la Bastille and on each side of the basin of the Arsenal and along Boulevard Bourdon.
Entrance to the fair is 8 Euro per person, but for the opportunity to shop in such chic-ness I consider it money well spent, if only for the entertainment factor alone. Once inside there is a restaurant on-site and plenty of opportunities to stop and sip wine or champagne.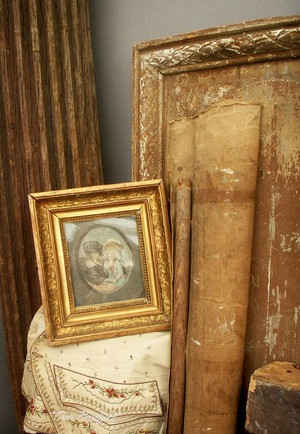 Antique shopping opportunities are plenty—there will be furniture, paintings, prints, pottery, silverware, old glassware, ceramics, tableware, tablecloths and simply objects of charm! With more than 480 vendors coming from tout de France, you're practically guaranteed to find something you adore.
A word of caution for your wallet. You remembered a key point in your query—this is indeed a high-end market. Thus, expect to find authentic antiques and antiques of providence more than bric-a-brac. Prices at the fair overall tend toward the steeper side, but you'll fall so in love with the objects you find that you won't care if you go over budget. Plus, if you're looking for export or resale, it's great to know that there is an expert on-site to appraise all purchases and lend free advice, giving you a free certificate of authenticity for any purchase made. Many fairs charge for this service in France so consider that a fringe benefit of the fair!
The fair is coordinated by perhaps the best antique fair organizer in all of France, the Joel Garcia Organisation. I encourage BonjourParis readers bitten by the flea market bug to sign up for Joel Garcia's newsletter as they'll send periodic emails giving you the inside scoop on all their upcoming antique and bric-a-brac markets. The email is only in French, but you'll understand enough if you can read French-language dates and key words such as antiquités, brocante and arte.  
When I'm shopping with Antiques Diva Tour clients I always check to see if a Joel Garcia market is occurring when my clients are in town because attending those fairs practically guarantees that the vendors will be first class and the assortment of the inventory on hand will be fabulous French to the fourth degree! I give all events coordinated by the Joel Garcia Organisation The Antiques Diva® seal of approval!
Photos courtesy of Tara Bradford Photography
Toma Clark Haines is The Antiques Diva®, author of the blog, The Antiques Diva, Chief Executive Diva of The Antiques Diva® & Co offering European antique shopping tours and a simply sensational online antiques and vintage store. More at her website. The Antiques Diva™ is the In-House Antiques Expert for BonjourParis and Premium Members will receive a 10% discount with the Antiques Diva™ Tours.