Asafumi Tamashita and Knowing Where Your Food is From
When my youngest daughter was about 12, I remember that her best friends' brother spent his summer at a place they called a "kill your own food camp."  Now that's a bit extreme, but the distance between where food comes from and what you taste on your plate can be measured in more than miles, carbon emissions or psychological space; it also involves a connection between the earth and your amygdala. She wasn't privy to seeing a potager, much less selecting her vegetables from it. If the popular (French) press is to be believed, most Parisian chefs buy their products and produce from distributors, who may or may not ever have entered Rungis; many buy from places like the "professionals only" Metro stores (my local one is open from 5 AM to 8 PM); and others frequent street markets which the knowledgeable locals like Sophie Brissaud note are totally unlike American Farmers Markets. Certainly there are exceptions: More and more restaurants and chefs list where products come from, for example their meats (Desnoyers), butter (Bordier), vegetables (Thiebault), etc., Les Fines Gueules being a prime example. Many, like Hidden Kitchen, buy from street markets that are bio and/or producer-supplied; some scour local merchants for locavore or exotic reasons, like Spring's algae butter; and some go to the source. My eagle-eyed friend Phyllis Flick has been reading about the farm run by Asafumi Tamashita for some years and indicated to me last summer that she thought they were now serving meals.  "What a great idea; we'll go," said I.  I should note that she's one who insists on buying bio, from producers, etc., and her readings of authors like Michael Pollan inform her lifestyle. By now, M. Yamashita's story is well-known.  As Dmitri Davydoy wrote in "Statistics and Other Lies" he makes $150,000 a year selling his (usually) baby-sized produce to five (or eight, depending on which author you trust) famous chefs including: William Ledeuil (Ze Kitchen Galerie & KGB), Pierre Gagnaire, Pascal Barbot (l'Astrance), Christian Le Squer (Ledoyen), Eric Briffard (le Cinq) and Guilo (Guilo Guilo) – with three more on the waiting list – le Bristol, le Crillon + le Meurice; he has lived in France since 1989, growing first bonsais and then vegetables from Japanese seeds, which he delivered at the start to 12 Japanese restos and now to the haute gamme places himself weekly or twice a week (depending on who you believe).  The Yamashitas have no help, save their 8-year-old daughter; he's a one-man show outside planting, watering and harvesting, just as his wife, Naomi, is a one-woman show inside running a chambre d'hôte and cooking lunch and dinners Saturday and Sunday for 3-10 persons.  Davydoy quotes the following prices for his veggies: "micro-tomatoes….$40 a pound,….komatsuma….$13 a pound, and his kabu for almost $9." Not long ago l'Express critic, Francois Regis Gaudry, went with William Ledeuil in tow and raved in his blog about the experience in a post entitled (my trans.) "My first raw chicken at Asafumi Yamashita's."  He noted that the "farmer" raises "épinards, carottes rouges, poireaux, tomates-caviar, potimarrons kabodjian, navets kombu et milles autres racines, herbes et fleurs méconnues 1 500 m2" of open fields.  In one of those distinctions that is apparently important, he doesn't grow things "bio" but uses no chemicals or pesticides, instead relying on complementary vegetable plantings.  He also has a dozen or so Bresse chickens fed "natural" vegetables and herbs. In yet another article that is largely an interview, this by Lucille Escourrou two years ago in Le Figaro entitled (my trans) the "Jolly Green Giant," Yamashita noted that in his visits to chefs and restos, he observes what they are doing with his produce, makes suggestions and plans his plantings depending to some extent on their wishes as well (when I asked him why he planted so much sweet corn this year, he replied, "They want it.").  Other vegetables Escourrou notes that he grows not mentioned above are: "Snaps…., hinona….myoga….. aubergines,…. daikons…. navets….omate cerise." She also mentions some different restaurants than given above: specifically the Tour d'Argent + Lancaster. Our visit commenced with a tour of the farm led by M. Yamashita, who blends a modest earnestness with a justifiable pride in his work and products.  First we saw his dozen or so Bresse chickens who looked glorious and sounded imperial. Then we toured the vegetable sheds.  Several times he would lean over and pluck this or that for us to taste:  onion, garlic and cabbage, all delicious as well as visual treats of tomatoes, eggplant, turnips and cabbage.  And outside among the seemingly wild field were plastic rows of squash and goodness knows what else. Finally we sat down to a 10-course meal of all the great things we'd seen and some we hadn't.  While it consisted largely of vegetables, there was good use put to every part of the chicken and even a rice sorbet at the end with green tea.  My full review with photos can be found at John Talbott's Paris posted on July 4th. Our destination to recommend is clearly: Le Kolo aka La table d'hôte de Naomi et Asafumi Yamashita Chemin des Trois Poiriers – 78130 Chapet (Yvelines) T: 01.30.91.98.75 6-10 courses at lunch = 35 €; at dinner 50 € Chambre d'hôte, 150 € a night for two, dinners and breakfasts included.   If you're coming to France (or for that matter anywhere) you can
reserve your hotel here
. To rent a car, Bonjour Paris recommends
Auto Europe
.
SUBSCRIBE
ALREADY SUBSCRIBED?
BECOME A BONJOUR PARIS MEMBER

Gain full access to our collection of over 5,000 articles and bring the City of Light into your life. Just 60 USD per year.

Find out why you should become a member here.

Sign in

Fill in your credentials below.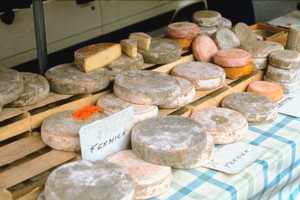 When my youngest daughter was about 12, I remember that her best friends' brother spent his summer at a place they called a "kill your own food camp."  Now that's a bit extreme, but the distance between where food comes from and what you taste on your plate can be measured in more than miles, carbon emissions or psychological space; it also involves a connection between the earth and your amygdala. She wasn't privy to seeing a potager, much less selecting her vegetables from it.
If the popular (French) press is to be believed, most Parisian chefs buy their products and produce from distributors, who may or may not ever have entered Rungis; many buy from places like the "professionals only" Metro stores (my local one is open from 5 AM to 8 PM); and others frequent street markets which the knowledgeable locals like Sophie Brissaud note are totally unlike American Farmers Markets.
Certainly there are exceptions: More and more restaurants and chefs list where products come from, for example their meats (Desnoyers), butter (Bordier), vegetables (Thiebault), etc., Les Fines Gueules being a prime example. Many, like Hidden Kitchen, buy from street markets that are bio and/or producer-supplied; some scour local merchants for locavore or exotic reasons, like Spring's algae butter; and some go to the source.
My eagle-eyed friend Phyllis Flick has been reading about the farm run by Asafumi Tamashita for some years and indicated to me last summer that she thought they were now serving meals.  "What a great idea; we'll go," said I.  I should note that she's one who insists on buying bio, from producers, etc., and her readings of authors like Michael Pollan inform her lifestyle.
By now, M. Yamashita's story is well-known.  As Dmitri Davydoy wrote in "Statistics and Other Lies" he makes $150,000 a year selling his (usually) baby-sized produce to five (or eight, depending on which author you trust) famous chefs including: William Ledeuil (Ze Kitchen Galerie & KGB), Pierre Gagnaire, Pascal Barbot (l'Astrance), Christian Le Squer (Ledoyen), Eric Briffard (le Cinq) and Guilo (Guilo Guilo) – with three more on the waiting list – le Bristol, le Crillon + le Meurice; he has lived in France since 1989, growing first bonsais and then vegetables from Japanese seeds, which he delivered at the start to 12 Japanese restos and now to the haute gamme places himself weekly or twice a week (depending on who you believe).  The Yamashitas have no help, save their 8-year-old daughter; he's a one-man show outside planting, watering and harvesting, just as his wife, Naomi, is a one-woman show inside running a chambre d'hôte and cooking lunch and dinners Saturday and Sunday for 3-10 persons.  Davydoy quotes the following prices for his veggies: "micro-tomatoes….$40 a pound,….komatsuma….$13 a pound, and his kabu for almost $9."
Not long ago l'Express critic, Francois Regis Gaudry, went with William Ledeuil in tow and raved in his blog about the experience in a post entitled (my trans.) "My first raw chicken at Asafumi Yamashita's."  He noted that the "farmer" raises "épinards, carottes rouges, poireaux, tomates-caviar, potimarrons kabodjian, navets kombu et milles autres racines, herbes et fleurs méconnues [as well as] navets kombu, croquants et juteux comme des kakis,…..salades du jardin (plusieurs variétés de mizuna, de l'amaranthe, des fleurs de chou…), …..[in eight growing sheds that measure only] 1 000 m2….[with another] 1 500 m2" of open fields.  In one of those distinctions that is apparently important, he doesn't grow things "bio" but uses no chemicals or pesticides, instead relying on complementary vegetable plantings.  He also has a dozen or so Bresse chickens fed "natural" vegetables and herbs.
In yet another article that is largely an interview, this by Lucille Escourrou two years ago in Le Figaro entitled (my trans) the "Jolly Green Giant," Yamashita noted that in his visits to chefs and restos, he observes what they are doing with his produce, makes suggestions and plans his plantings depending to some extent on their wishes as well (when I asked him why he planted so much sweet corn this year, he replied, "They want it.").  Other vegetables Escourrou notes that he grows not mentioned above are: "Snaps…., hinona….myoga….. aubergines,…. daikons…. navets….[and t]omate cerise." She also mentions some different restaurants than given above: specifically the Tour d'Argent + Lancaster.
Our visit commenced with a tour of the farm led by M. Yamashita, who blends a modest earnestness with a justifiable pride in his work and products.  First we saw his dozen or so Bresse chickens who looked glorious and sounded imperial.
Then we toured the vegetable sheds.  Several times he would lean over and pluck this or that for us to taste:  onion, garlic and cabbage, all delicious as well as visual treats of tomatoes, eggplant, turnips and cabbage.  And outside among the seemingly wild field were plastic rows of squash and goodness knows what else.
Finally we sat down to a 10-course meal of all the great things we'd seen and some we hadn't.  While it consisted largely of vegetables, there was good use put to every part of the chicken and even a rice sorbet at the end with green tea.  My full review with photos can be found at John Talbott's Paris posted on July 4th.
Our destination to recommend is clearly:
Le Kolo aka La table d'hôte de Naomi et Asafumi Yamashita
Chemin des Trois Poiriers – 78130 Chapet (Yvelines)
T: 01.30.91.98.75
6-10 courses at lunch = 35 €; at dinner 50 €
Chambre d'hôte, 150 € a night for two, dinners and breakfasts included.
If you're coming to France (or for that matter anywhere) you can reserve your hotel here. To rent a car, Bonjour Paris recommends Auto Europe.
More in Bonjour Paris, Food critics, Food Wine, French food, Hotels, John Talbott Paris, Paris restaurants
---
---