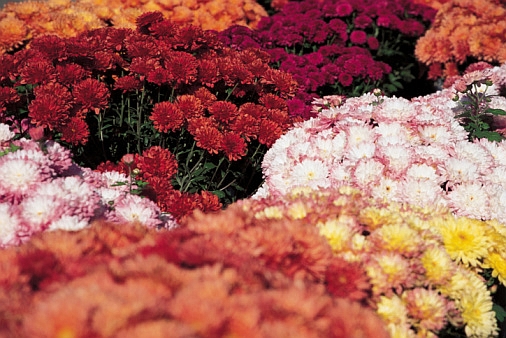 All of a sudden, the stores were filled with mums. Every market, every roadside stand, every huge supermarche parking lot–overflowing with mums. Fat, healthy, brilliant mums, just 35 francs per pot (roughly $5 at the time). It was early November and my little front yard was calling out for color. Having left New York for Provence, France, just four months before, I was over-the-moon ecstatic about having a house. And not just any house but a house in Provence, with shutters and a tile roof and terra cotta floors and wood beams. With neighbors who rap at the gate, bringing bowls of homegrown grapes. And best of all, for the first time in my life, a garden. So I called the family's guru of greenery, my dad in Wisconsin, to talk about mums. Though not a mum fan himself, Dad got behind my plan in a big way. "If that's what the stores are selling," he said, "then it's a good plant for the season. They're cheap. Put a bunch in and see how they do." Just to be sure, I called my friend Carol, another American living in St. Remy. Was this the right time to plant mums? Would they make it through the winter? How deep should I plant them, how long would they bloom, how much water did they need? Off we went to the garden center, and after much deliberation—such beautiful colors, such variety!—we settled on three rosy pinks and three striking whites. Into the ground they went. Monsieur and Madame Blanche smiled as they strolled past and other neighbors paused to chat. I couldn't understand a word of what was said, but was touched by their smiling show of support. I had a house. I had a garden. This ridiculous escapade of mine—quitting my really nice job, subletting my Upper West Side apartment and running off to the South of France—might just actually turn out ok! The next day, I found my new friend Philippe standing in my yard, staring at my new garden. And smiling. Literally, Philippe was just standing and staring and smiling.  I'd already grown accustomed to his teasing about my American-in-France faux pas, but for the life of me, I couldn't figure out what was so damn funny about mums. "Did you notice that the stores had mums for just three days?" he asked, "and that they disappeared as quickly as they'd arrived?" I confirmed that I had found that odd, and that I was thrilled to have slithered through that narrow window of horticultural opportunity just in the nick of time. "Yesterday was Toussaint," Philippe explained. "You call it Memorial Day." Mums, it seems, are the traditional French flower for graves. All those lovely mums had made their way from the supermarket shelves to the cemeteries in and around St. Remy. Save for the six in my garden, of course. "You might as well hang out a sign," giggled Philippe. "Americans Live Here!" That first winter in Provence was particularly mild and my mums, however inappropriate, thrived. I decided that the garden would be a memorial to those I've loved and lost: my grandmothers Mary and Bertha, my grandfather Harry, my oldest brother Bill. All were buried in the family plot, 4,500 miles away, but my little patch of mums somehow made me feel their presence—and smile. When the famous mistral blew down from the mountains and took St. Remy in its grip, my mums held their ground. My shutters slapped my solid stone walls and soon the pretty plants disappeared under a mountain of crunchy leaves. Then it snowed, and I left the country for a time, and that was pretty much the end of the mums. When I returned in spring, I planted lavender, rosemary, solanum, plumbago and other other politically correct plants. Now my garden looks just like everyone else's. I blend. But every year when Toussaint rolls around and the stores fill up with mums, it's hard not to grab a couple pots in the most vivid colors possible. They look so fresh and healthy and bright and all for just €5 or €6 per pot…. Julie Mautner Bio Julie Mautner is an American food, wine and travel writer living most of the year in the South of France. She was a founding editor of Food Arts Magazine in New York and was its executive editor for ten years. Since she resigned in 1998 to freelance, Julie has produced hundreds of articles for top magazines and websites including Travel & Leisure, Bon Appetit, Food & Wine, Gourmet, Epicurious.com, Conde Nast Traveller UK, Elle Décor UK, Financial Times, New York Magazine and House Beautiful. She also handles a wide range of writing, marketing and culinary projects for international cruise, hotel and restaurant clients. Since 2008, Julie has been publishing a popular blog about France called
ProvencePost.com
. Her first book, The Food Network South Beach Wine & Food Festival Cookbook (co-authored with Lee Schrager), will be published by Random House/Clarkson Potter in November 2010.   If you're coming to France (or for that matter anywhere) you can
reserve your hotel here
. To rent a car, Bonjour Paris recommends
Auto Europe
.
SUBSCRIBE
ALREADY SUBSCRIBED?
BECOME A BONJOUR PARIS MEMBER

Gain full access to our collection of over 5,000 articles and bring the City of Light into your life. Just 60 USD per year.

Find out why you should become a member here.

Sign in

Fill in your credentials below.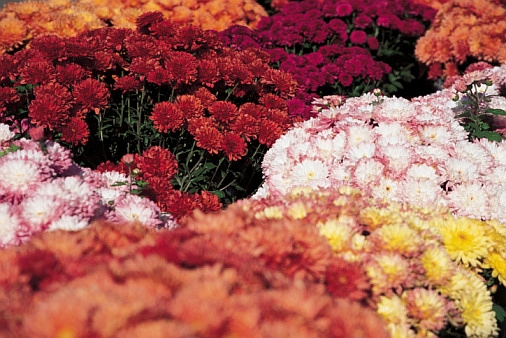 All of a sudden, the stores were filled with mums. Every market, every roadside stand, every huge supermarche parking lot–overflowing with mums. Fat, healthy, brilliant mums, just 35 francs per pot (roughly $5 at the time). It was early November and my little front yard was calling out for color.
Having left New York for Provence, France, just four months before, I was over-the-moon ecstatic about having a house. And not just any house but a house in Provence, with shutters and a tile roof and terra cotta floors and wood beams. With neighbors who rap at the gate, bringing bowls of homegrown grapes. And best of all, for the first time in my life, a garden.
So I called the family's guru of greenery, my dad in Wisconsin, to talk about mums. Though not a mum fan himself, Dad got behind my plan in a big way. "If that's what the stores are selling," he said, "then it's a good plant for the season. They're cheap. Put a bunch in and see how they do."
Just to be sure, I called my friend Carol, another American living in St. Remy. Was this the right time to plant mums? Would they make it through the winter? How deep should I plant them, how long would they bloom, how much water did they need? Off we went to the garden center, and after much deliberation—such beautiful colors, such variety!—we settled on three rosy pinks and three striking whites. Into the ground they went. Monsieur and Madame Blanche smiled as they strolled past and other neighbors paused to chat. I couldn't understand a word of what was said, but was touched by their smiling show of support. I had a house. I had a garden. This ridiculous escapade of mine—quitting my really nice job, subletting my Upper West Side apartment and running off to the South of France—might just actually turn out ok!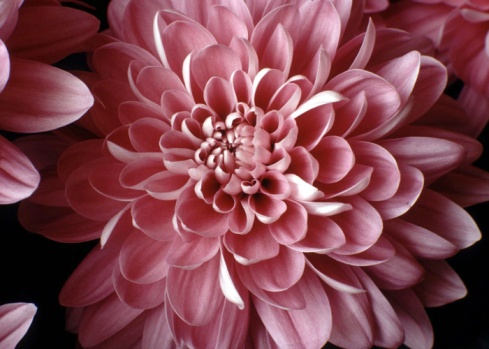 The next day, I found my new friend Philippe standing in my yard, staring at my new garden. And smiling. Literally, Philippe was just standing and staring and smiling.  I'd already grown accustomed to his teasing about my American-in-France faux pas, but for the life of me, I couldn't figure out what was so damn funny about mums.
"Did you notice that the stores had mums for just three days?" he asked, "and that they disappeared as quickly as they'd arrived?" I confirmed that I had found that odd, and that I was thrilled to have slithered through that narrow window of horticultural opportunity just in the nick of time.
"Yesterday was Toussaint," Philippe explained. "You call it Memorial Day."
Mums, it seems, are the traditional French flower for graves. All those lovely mums had made their way from the supermarket shelves to the cemeteries in and around St. Remy. Save for the six in my garden, of course.
"You might as well hang out a sign," giggled Philippe. "Americans Live Here!"
That first winter in Provence was particularly mild and my mums, however inappropriate, thrived. I decided that the garden would be a memorial to those I've loved and lost: my grandmothers Mary and Bertha, my grandfather Harry, my oldest brother Bill. All were buried in the family plot, 4,500 miles away, but my little patch of mums somehow made me feel their presence—and smile.
When the famous mistral blew down from the mountains and took St. Remy in its grip, my mums held their ground. My shutters slapped my solid stone walls and soon the pretty plants disappeared under a mountain of crunchy leaves. Then it snowed, and I left the country for a time, and that was pretty much the end of the mums. When I returned in spring, I planted lavender, rosemary, solanum, plumbago and other other politically correct plants. Now my garden looks just like everyone else's. I blend.
But every year when Toussaint rolls around and the stores fill up with mums, it's hard not to grab a couple pots in the most vivid colors possible. They look so fresh and healthy and bright and all for just €5 or €6 per pot….
Julie Mautner Bio
Julie Mautner is an American food, wine and travel writer living most of the year in the South of France. She was a founding editor of Food Arts Magazine in New York and was its executive editor for ten years. Since she resigned in 1998 to freelance, Julie has produced hundreds of articles for top magazines and websites including Travel & Leisure, Bon Appetit, Food & Wine, Gourmet, Epicurious.com, Conde Nast Traveller UK, Elle Décor UK, Financial Times, New York Magazine and House Beautiful. She also handles a wide range of writing, marketing and culinary projects for international cruise, hotel and restaurant clients. Since 2008, Julie has been publishing a popular blog about France called ProvencePost.com. Her first book, The Food Network South Beach Wine & Food Festival Cookbook (co-authored with Lee Schrager), will be published by Random House/Clarkson Potter in November 2010.
If you're coming to France (or for that matter anywhere) you can reserve your hotel here. To rent a car, Bonjour Paris recommends Auto Europe.
More in American expats, Expat life in France, Provence
---
---