Arles to the Mediterranean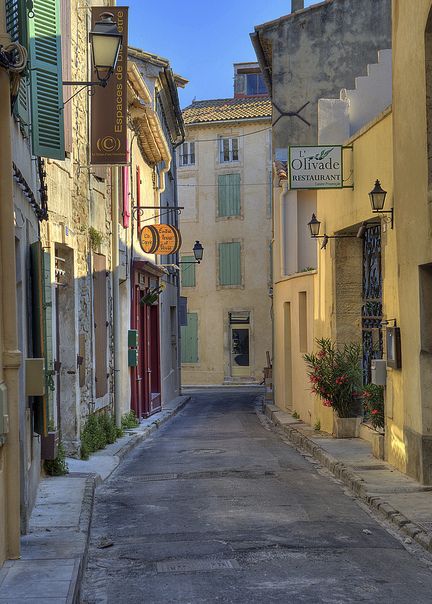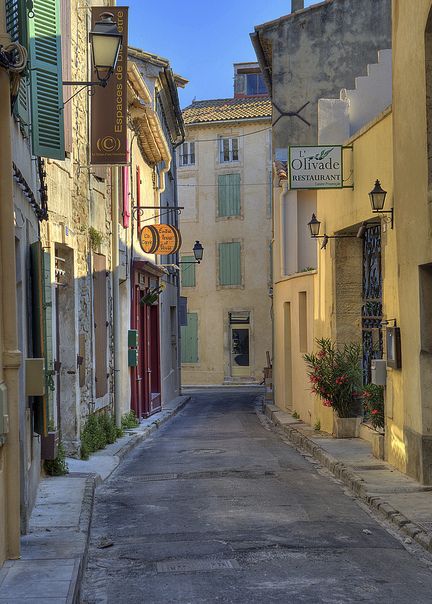 Avignon is easily accessible by TGV from Paris, Lyon or Marseille and is therefore the logical starting point for an exploration of the region. From there, Arles, St-Rémy-de-Provence and Les Baux are a close car ride away. While all three cities could be seen in a day, the local history of each demands a more leisurely pace. We recommend you stay in Avignon upon arrival, then set out fresh the next day.
ST-REMY-DE-PROVENCE
St-Rémy-de-Provence was the inspiration for many of Vincent Van Gogh's works, though not entirely by choice: he spent a year in a local asylum nestled in the shadow of the Alpilles after having a breakdown in which he famously cut off his own ear. Furthermore, St-Rémy-de-Provence is the birthplace of Nostradamus and is famous for a 1921 archaeological discovery Les Antiques, Roman ruins. The extensive excavations of this pre-Roman town remain open to visitors.
LES BAUX
From St-Rémy, it's a short drive through rocky terrain to the citadel at Les Baux. The old castle stands high on a plateau overlooking the bewitching Val d'Enfer (the Valley of Hell). Once the home of powerful feudal lords, it became a refuge for Protestants that was eventually destroyed by Louis XIII. The town's name comes from the discovery of a mineral nearby that enables the manufacturing of aluminum: bauxite.
Today, Les Baux draws tourists seeking souvenirs and the fantastic view that stretches south all the way to the Mediterranean, illustrating the value of the site as a safe haven. The Les Baux Tourist Information Office can provide details of a walking path high above the modern hotels and restaurants.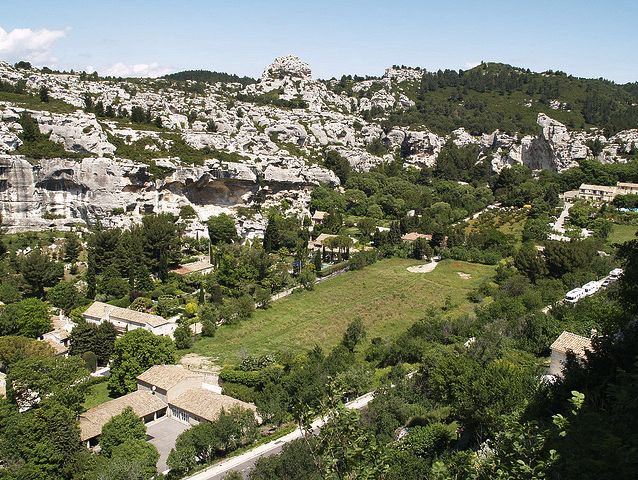 TARASCON
In Tarascon one can visit a medieval fortress situated on the Rhône. This was the old entry into the region known as Languedoc. Tarascon gets its name from Tarasque, a legendary half-fish/half-animal with a lion's head, six bear claws and an appetite for people. According to legend, the monster was tamed by St Martha, whose tomb is in the crypt of the church next to the old Château of Tarascon. Beaucaire has its own ruined castle surrounded by interesting gardens.
ARLES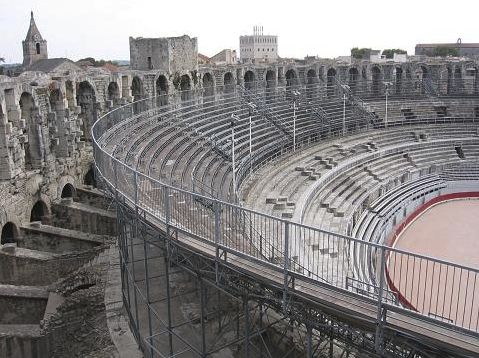 Continue on to Arles, the former capital of Gaul. Arles has many splendidly preserved Roman buildings, but none beat the 20,000 seat amphitheatre, Arènes, with its Doric and Corinthian columns. It is still in use today as a concert and bullfighting venue. Climbing to the top offers a great view of the city and the site where the great Roman theatre once stood. Most of it is gone now, but the site still offers productions from time to time.
Here, too, you'll find the Espace Van Gogh, where the master was treated when it was still a hospital. Even the home where he famously severed his ear can be seen nearby. Be sure to also visit Les Alyscamps, the tree-lined avenue and ancient burial that morphed into a 19th century meeting place. It was the subject of paintings by Van Gogh and Gauguin.
Arles provides a large selection of good restaurants, including the famous yellow café that Van Gogh painted in "Café Terrace at Night."  After eating, see the wonderful Musée Réattu, near the palace and baths. Finally, walk down to the riverside, where boats glide up and down the peaceful Rhône and men play pétanque (a French game similar to bocce ball) under the shady trees just beyond the ancient wall.
LA CAMARGUE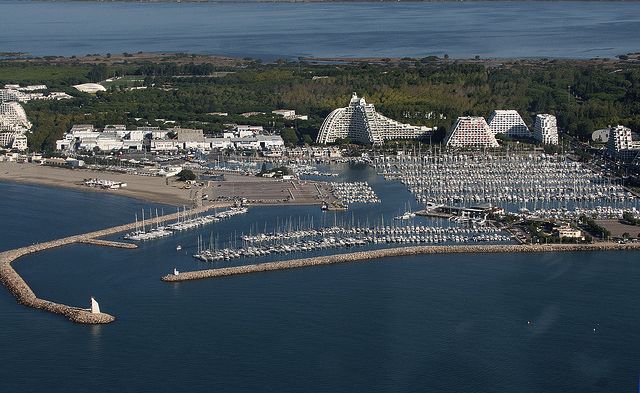 South of the Arles is La Camargue. This is a delta of the Rhône that covers about 350,000 acres. It is a unique region of wetlands, marshes, pastures, flamingoes and sand dunes interspersed with rice paddies and salt flats. Small Camargue horses roam freely.
To the west are new beach resorts, like La Grande-Motte and Le Grau du Roi, as well as the historical town of Aigues-Mortes (Dead Waters) with its dungeon tower (Tour de Constance) and limestone fortress walls. Once a seaport, this manmade town located three miles from the sea was a departure point for multiple Crusades. For the best choices of hotels, drive the short distance into the city of Montpellier.
PRACTICAL INFO
TGV from Paris to Avignon takes 2.5 hours and costs €40 on average.
Photo Credits:Camargue horse © Geoffrey Gilsen; St Remy street © Mike; Val d'Enfer © Janelle O'Brien; Arles arena © Mandy Pearce; and Grande Motte © ClicGrandeMotte
Adam Weiner is an editorial assistant for BonjourParis and you can read more of his stories published here by clicking on his name.


Subscribe for
FREE

weekly newsletters with subscriber-only content.
BonjourParis has been a leading France travel and French lifestyle site since 1995.
Readers' Favorites: Top 100 Books, imports & more at our Amazon store
Update your library with these selections….click on image for details.
Click on this banner to link to Amazon.com & your purchases support our site….merci!
Leave a reply
Your email address will not be published. Required fields are marked *