Alleno @ Palais Brogniart: Corre @ Petit Pergolese & Prince de Galles Yule Log
Terroir Parisien
Yannick Alleno
describes himself as heir to Auguste Escoffier (1846-1935) and to Michel Guérard's "La Nouvelle Cuisine". The achingly cool and handsome  40-something, having handed over the coppers to Alain Ducasse at Le Meurice, plans to  « rehabilitate the sauce, the ADN of French cuisine ».  Move over molecular as Alleno presents healthy salt free sauces using his method of extraction and freeze concentration. "I discovered new flavors with this method," he continued. "For two years I experimented in the kitchens at Courchevel 1947 ( his restaurant Le Cheval Blanc) where we have two Michelin stars and hope to get three ! » Alleno says that when Cheval Blanc re-opens mid-December he'll be launching some ultra-technical culinary surprises. To-night he's talking at his new right-bank neo-bistrot, decorated by architect Jean- Michel Wilmotte, located in the magnificent Palais Brogniart, the former stock exchange building. Terroir Parisien was formerly the Trader's canteen. There's a round central bar, 200 square meter open kitchen, and lots of little intimate corners, this place ticks all the boxes, read, French bistrot with NY attitude. As at La Maison de Mutualité, chef works with locavore products from within the radius of the Ile- de- France and with Samuel Nahon and Alexandre Drouard of Terroirs d'Avenir, now nearby with three boutiques on rue de Nil. E :mail
[email protected]
it's locavore nirvana there! "We continually search for products and producers in every corner of the suburbs ,"  says Alleno. The concept here is different in that I have created a Rillettes Bar ». You heard it here first, fish, vegetarian and meat flavours, rillettes, prepared in house, by MOF Jean-Michel Bannwart, are the new rustic tapas.  Perfect with a little bottle from La Cave Privée de Yannick Alleno. "Le terroir parisien, c'est plus que de l'agriculture, c'est un état d'esprit", says Alleno. Terroir Parisien Palais Brogniart, 28 place de la Bourse 2nd M : Bourse T : 01 83 92 20 30 Lunch about 35€ Dinner about 45€ Shut : Sunday Le Petit Pergolese Meet Albert Corre, Michelin star chef who decided to turn his back on culinary awards, create a different restaurant concept. Bit like a divorce really, Albert's ex-star restaurant, Le Pergolese, is now in the hands of MOF Lyonnais Stéphane Garborio, who  keeps the star :  Albert's Le Petit Pergolese, with romantic mini- sculpture garden, is next door. It happens! Petit Pergolese is theatre/bistro/art gallery. But we're not talking any old art, read original Combas, Warhol, Jeff Koons, Frank Stella, Damien Hirst etc. « Albert is an Aubergiste contemporain in the true sense of the word » says über-critic Gilles Pudlowski. Trained by Robuchon, Senderens, Cagna, he's even worked at the Elysée Palace. Wearing the whites, heading the kitchen, on which the talented and gregarious chef keeps a close eye, is Fréderic Lagrange who followed him from Le Pergo. And, Pergolese Restaurant Director Thierry Majtka has been with Albert for 25 years! The decor's NYC meets Paris. « I love the 16th arrondissement » confirms Albert. « I have a fantastic clientéle, they're like an extended family » He's at the door to greet them, tell them what's new, what they should eat/admire/drink. « My concept is a fun restaurant/gallery. Theme nights include St. Tropez with Château Minuty a volontée, delicious Mediterranean food, live music ». The wine card reflects Corre's friendships and history with vignerons. Try the Givrey 1er cru by Philippe Pascal of
La Domaine du Cellier au Moines
. The former head of Moet Hennessy, CEO of Veuve Cliquot etc. makes excellent wines. He may be on the next table with his wife Catherine. Choose from the blackboard with the help of Thierry Maitka who'll tell you the daily specials. The dishes are classic, revised and corrected by Albert, perfectly translated by chef Lagrange. Starters include : La fraicheur de tourteau et guacamole : Warm lobster salad with signature truffle vinaigrette (buy to take home). Just want a main, no problem : Le filet de bar sits on a creamy mountain of pommes purée, drizzled with olive oil made by Charles Aznavour (he may be at the next table !) Albert's BF (best friend). Or La fricassée de ris de veau, pleurotes. Truffled brie/camembert : Crumble aux fruits de saison, cinnamon ice-cream. Souffle Grand Marnier : it's all delicious, trust me! Feeling a bit blue ? Book a table chez Albert –  better than Prozac. Chapeau l'artiste. See you there! Le Petit Pergolese 38 rue Pergolese, 16th M : Victor Hugo/Porte Maillot Shut : Sat – Sun Average spend 40-60€ + wine Soirees Tropezienne – 14 December & 18 January €100 includes everything! Take-away service available T : 01 45 00 23 66 Valet Parking No site Cool Yule Log At the recently re-opened
Hotel Prince des Galles
, Christmas, Art and Nature combine to produce a work of art inspired by one cubic meter of wood! Created by talented head-patissier Yann Couvreur with Executive chef Stephanie Quellec the limited edition logs are presented on a wooden pallet . Beneath the chocolate bark exterior, creamy milk chocolate, crunchy biscuit and a Cazette of roasted hazelnut powder. "It should look just like real rough sections of freshly chopped wood", says Couvreur. All that's missing is a red robin! Yum! La Bûche du Prince de Galles Chocolat et cazette –  6 – 8 personnes – 90 euros Order
here
Dégustation au bar Les Heures, accompagnée d'un chocolat chaud bien sur. From 16th December-5th January 2014 – 30euros
SUBSCRIBE
ALREADY SUBSCRIBED?
BECOME A BONJOUR PARIS MEMBER

Gain full access to our collection of over 5,000 articles and bring the City of Light into your life. Just 60 USD per year.

Find out why you should become a member here.

Sign in

Fill in your credentials below.
Terroir Parisien
Yannick Alleno describes himself as heir to Auguste Escoffier (1846-1935) and to Michel Guérard's "La Nouvelle Cuisine". The achingly cool and handsome  40-something, having handed over the coppers to Alain Ducasse at Le Meurice, plans to  « rehabilitate the sauce, the ADN of French cuisine ».  Move over molecular as Alleno presents healthy salt free sauces using his method of extraction and freeze concentration.
"I discovered new flavors with this method," he continued. "For two years I experimented in the kitchens at Courchevel 1947 ( his restaurant Le Cheval Blanc) where we have two Michelin stars and hope to get three ! »
Alleno says that when Cheval Blanc re-opens mid-December he'll be launching some ultra-technical culinary surprises.
To-night he's talking at his new right-bank neo-bistrot, decorated by architect Jean- Michel Wilmotte, located in the magnificent Palais Brogniart, the former stock exchange building. Terroir Parisien was formerly the Trader's canteen. There's a round central bar, 200 square meter open kitchen, and lots of little intimate corners, this place ticks all the boxes, read, French bistrot with NY attitude.
As at La Maison de Mutualité, chef works with locavore products from within the radius of the Ile- de- France and with Samuel Nahon and Alexandre Drouard of Terroirs d'Avenir, now nearby with three boutiques on rue de Nil.
E :mail [email protected] it's locavore nirvana there!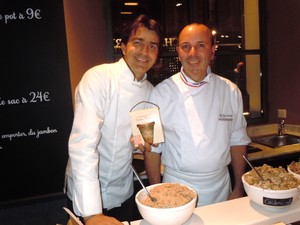 "We continually search for products and producers in every corner of the suburbs ,"  says Alleno. The concept here is different in that I have created a Rillettes Bar ».
You heard it here first, fish, vegetarian and meat flavours, rillettes, prepared in house, by MOF Jean-Michel Bannwart, are the new rustic tapas.  Perfect with a little bottle from La Cave Privée de Yannick Alleno.
"Le terroir parisien, c'est plus que de l'agriculture, c'est un état d'esprit", says Alleno.
Terroir Parisien
Palais Brogniart,
28 place de la Bourse 2nd
M : Bourse
T : 01 83 92 20 30
Lunch about 35€ Dinner about 45€
Shut : Sunday
Le Petit Pergolese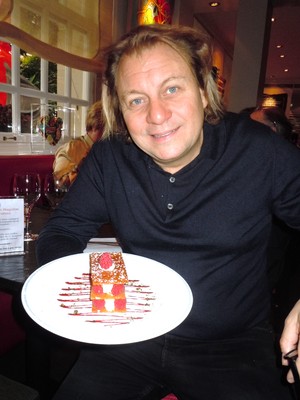 Meet Albert Corre, Michelin star chef who decided to turn his back on culinary awards, create a different restaurant concept. Bit like a divorce really, Albert's ex-star restaurant, Le Pergolese, is now in the hands of MOF Lyonnais Stéphane Garborio, who  keeps the star :  Albert's Le Petit Pergolese, with romantic mini- sculpture garden, is next door. It happens!
Petit Pergolese is theatre/bistro/art gallery. But we're not talking any old art, read original Combas, Warhol, Jeff Koons, Frank Stella, Damien Hirst etc.
« Albert is an Aubergiste contemporain in the true sense of the word » says über-critic Gilles Pudlowski.
Trained by Robuchon, Senderens, Cagna, he's even worked at the Elysée Palace. Wearing the whites, heading the kitchen, on which the talented and gregarious chef keeps a close eye, is Fréderic Lagrange who followed him from Le Pergo.
And, Pergolese Restaurant Director Thierry Majtka has been with Albert for 25 years!
The decor's NYC meets Paris. « I love the 16th arrondissement » confirms Albert. « I have a fantastic clientéle, they're like an extended family » He's at the door to greet them, tell them what's new, what they should eat/admire/drink.
« My concept is a fun restaurant/gallery. Theme nights include St. Tropez with Château Minuty a volontée, delicious Mediterranean food, live music ».
The wine card reflects Corre's friendships and history with vignerons. Try the Givrey 1er cru by Philippe Pascal of La Domaine du Cellier au Moines. The former head of Moet Hennessy, CEO of Veuve Cliquot etc. makes excellent wines. He may be on the next table with his wife Catherine.
Choose from the blackboard with the help of Thierry Maitka who'll tell you the daily specials. The dishes are classic, revised and corrected by Albert, perfectly translated by chef Lagrange.
Starters include : La fraicheur de tourteau et guacamole : Warm lobster salad with signature truffle vinaigrette (buy to take home). Just want a main, no problem : Le filet de bar sits on a creamy mountain of pommes purée, drizzled with olive oil made by Charles Aznavour (he may be at the next table !) Albert's BF (best friend). Or La fricassée de ris de veau, pleurotes. Truffled brie/camembert : Crumble aux fruits de saison, cinnamon ice-cream. Souffle Grand Marnier : it's all delicious, trust me!
Feeling a bit blue ? Book a table chez Albert –  better than Prozac.
Chapeau l'artiste.
See you there!
Le Petit Pergolese
38 rue Pergolese, 16th
M : Victor Hugo/Porte Maillot
Shut : Sat – Sun
Average spend 40-60€ + wine
Soirees Tropezienne – 14 December & 18 January €100 includes everything!
Take-away service available
T : 01 45 00 23 66
Valet Parking
No site
Cool Yule Log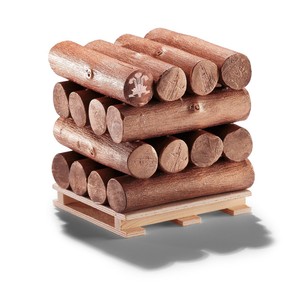 At the recently re-opened Hotel Prince des Galles, Christmas, Art and Nature combine to produce a work of art inspired by one cubic meter of wood!
Created by talented head-patissier Yann Couvreur with Executive chef Stephanie Quellec the limited edition logs are presented on a wooden pallet .
Beneath the chocolate bark exterior, creamy milk chocolate, crunchy biscuit and a Cazette of roasted hazelnut powder. "It should look just like real rough sections of freshly chopped wood", says Couvreur. All that's missing is a red robin! Yum!
La Bûche du Prince de Galles
Chocolat et cazette –  6 – 8 personnes – 90 euros
Order here
Dégustation au bar Les Heures, accompagnée d'un chocolat chaud bien sur.
From 16th December-5th January 2014 – 30euros
More in Le Petit Pergolese, Paris restaurants, Petit Pergolese, Prince Des Galles, restaurant, Restaurant reviews, Terroir Parisien, Yannick Alléno
---
---