All Shipshape & Bristol Fashion Buzz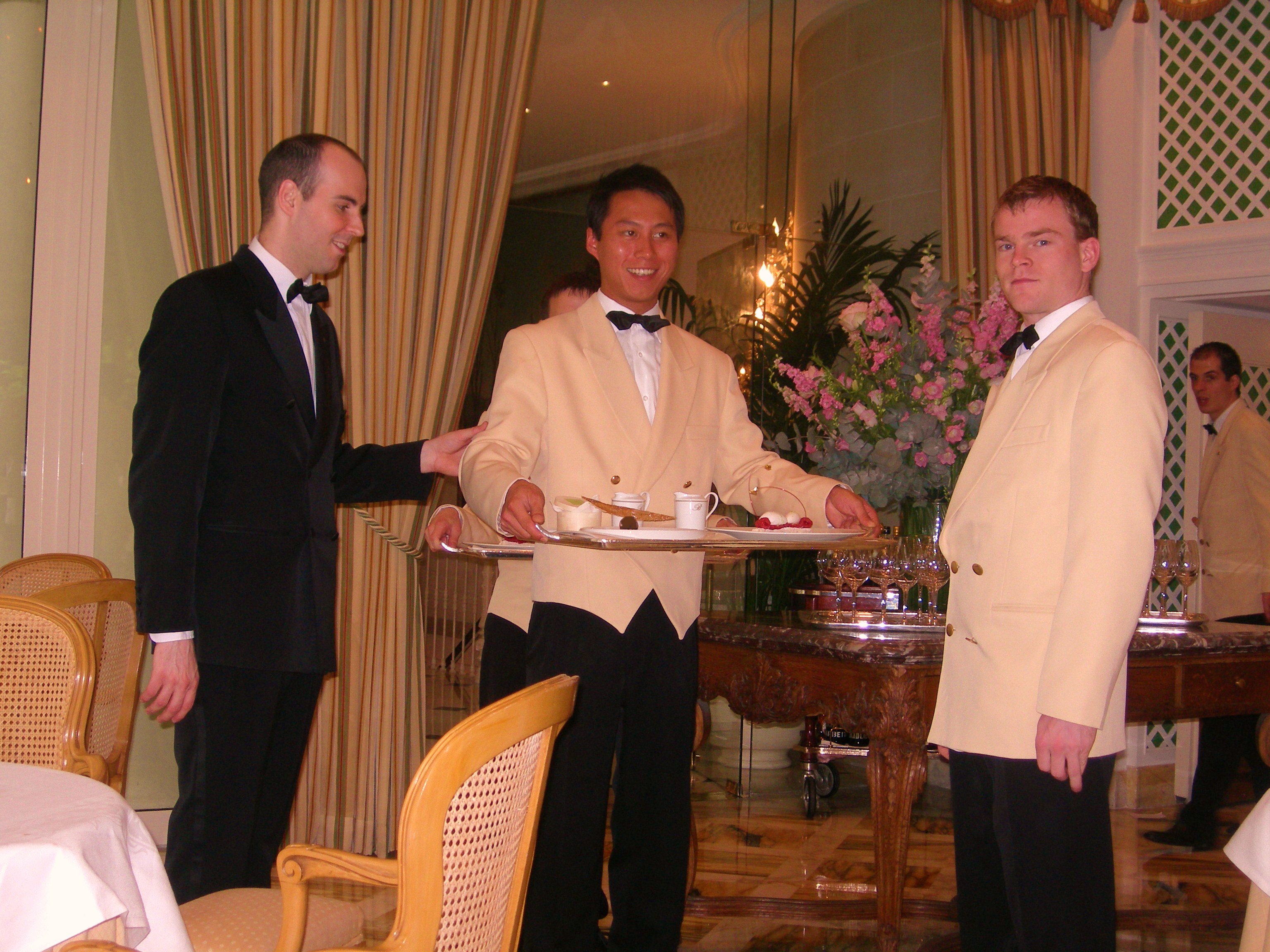 Alert readers will recall that the brilliant history of Le Bristol began in 1758, undergoing several re-inventions until 1925 when the then-owner named it after the Count of Bristol, an inveterate traveller infatuated with luxury and the good life.
There's now a magnificent new wing, Le 114, a chic brasserie with a harpist in the garden Sunday (12h30 – 15h00) when it's not raining. There's also a new Director, Didier Le Calvez, formerly Vice-Chairman of Four Seasons France and Portugal, the Plaza and the Pierre NYC, and The Regent Singapore. A tall, cool, elegant man, at his desk at 7 a.m. daily "because it's quiet and I can answer my e-mails". He's also thinking up new ideas, not to change the elegant spirit of Le Bristol, but to add to the evolution of the phenomenal pile privately owned by the Oetker family.
Apart from the Oetkers, not many people know Le Bristol as well as Eric Frechon, the hotel's Executive 3-star Michelin Chef. "I worked here from 1981-83 and always vowed I'd come back as head chef", he admits. Leaving Le Bristol, he went on to La Grande Cascade, Taillevent, Hotel Byblos, Andaluz, Spain, La Tour d'Argent, Le Crillon where he became MOF (Meilleur Ouvrier de France), and then his first dream came true with the opening of La Verrière, his own maison in the 19th arrondissement, where it was tough to get a table. Then in 1998 he got the message "Le Bristol" calling, left the restaurant (now called La Cave Gourmande with Philadelphia-born chef Mark Singer, Tel: 01 40 40 03 30) and voilà: dream No. 2 became reality.
Today Frechon's a 40-something Legion d'Honneur-toting superchef, still the same Eric who remembers asking his dad for a bike, "and the reply was, 'go and earn the money, boy'. So I shucked oysters, ran errands and got the bike".
Frechon's style of cooking, much admired by the Sarkozys, is precise, elegant and admirably technical. "It's based on France's culinary culture, which is changing constantly, like language", notes Frechon. "It's not a cuisine of season, it's a cuisine of products, of terroir; il faut la préserver, travailler les produits nobles et moins nobles, revisiter la tradition", he insists.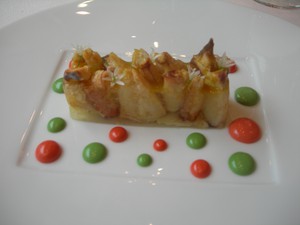 It's a good time to go to Le Bristol now, as they just switched dining rooms to the garden setting of the airy Summer salle, beautiful magnolias, manicured greenery, elegant service. It's rumoured that the President is very fond of Frechon's Macaronis aux truffes", even having it delivered across the road. It's a signature starter which goes well with a glass of Côte de Beaune Santenay "Les Gravières" or you could ask Chef Sommelier Marco Pelletier if he can lay his hands on the 1961 Petrus! The "Livre de Cave" reads well, darling. Another fine starter is Tourteau Mayo (see photo) en gelée d'eau de tomate verte, parfumé a l'estragon, a geometric composition based on crab mayo but this crab has edgy attitude. The main of Lapin Rex et poulpe mixes field and sea, tandoori spices and fresh puréed peas. Ris de Veau are fennel braised with carrot au pain d'epices et citron, jus de cuisson. And talking pain, the breads by Wesley Tulwa are different every day, say, chorizo sausage and confit of tomatoes, 6 oats 4 grains, or blue flower. Duck is roasted (for 2) with spices, combined with astringent pineapple cannelloni, mango and fresh coriander. Cheese is by Marie-Anne Cantin, and desserts by Laurent Jeannin include: Chocolat "guanaja" and Pamplemousse rose with Campari sorbet, hibiscus jelly, meringue and fresh almonds.
Frechon and Didier Le Calvez have a lot in common; both spend lots of time at the office.
"I taste most of my dishes every day; I have to make sure everything's up to scratch", he says. In rare free moments Frechon catches up with his friends, Christian LeSquer, Yves Camdeborde, Thierry Breton, Christian Constant, puffs on a Davidoff cigar, listens to Phil Collins, enjoys his children, and sips a glass of Calvados, "I'm still a Normandy boy at heart", he grins that gorgeous grin.
Le Bristol,
112 Faubourg Saint-Honore, 8th
Metro: Miromesnil
T: 01 53 43 43 00
Summer Table d'Eté from 85€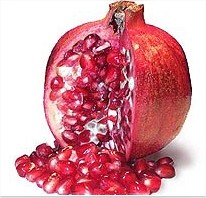 Quoi de Neuf?
If you love pomegranate you'll adore Armen Petrossian and Mâitre Artisan Glacier Philippe Faur's new sorbet sensation for Summer 2010 (following last year's Sorbet au Caviar), made with Yablok®, Petrossian's pomegranate juice, a healthy, tangy elixir with incredible antioxidant properties. Low in sugar and calories, the sorbet's a perfect summer snack with sweet or savoury dishes. Just drinking a glass of juice daily is thought to help support the body's natural defenses against all manner of anti-aging diseases, and it's such a handsome fruit. From 4€50
www.petrossian.fr and www.philippefaur.com
In France, feeling homesick? Le Ranch de Calamity Jane may be the answer for you and your junior wannabe Hiawathas. Located in the scenic Morbihan region, Southern Brittany, have a teepee moment, brush up your lasso and bucking bronco skills.
Craving something sweet? With their exclusive selection of handmade French chocolates, zChocolat will redefine what you consider to be chocolate.
Please post your comments or questions and let them flow. Register HERE to do so if you need a Bonjour Paris user name and password.
Leave a reply
Your email address will not be published. Required fields are marked *