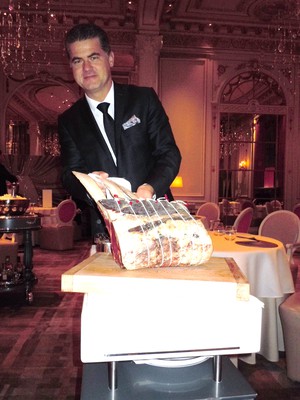 Alert readers already know that Christophe Saintagne recently took over the pianos of Alain Ducasse au Plaza Athénée as Head Chef. Normandy-born Saintagne has spent time with Guillaume Louet at Auberge du Vieux Logis, Conteville, with Philippe Groult at Amphyclés, Paris and did his National Service at the Elysée Palace before joining Monsieur Ducasse, first at 59 Poincaré, then at Plaza Athénée. He's also cooked at Aux Lyonnais, the excellent Paris bistro and, between 2005-2008, was with Jean-François Piège at the Hotel de Crillon. "I returned to Monsieur Ducasse in 2009 and contributed to his book, Nature, simple, sain et bon. The book nurtured the idea for the new Plaza concept; we wanted to do something special to mark the 10th anniversary of the restaurant, which has 3 Michelin stars", explains Saintagne.
It didn't just begin and end in the kitchens. Monsieur Ducasse decided to re-work the dining room and, with architect/designer Patrick Jouin, has added some brilliant new features, to emphasise the spirit of Back to Basics.
The room sparkles with outsize chandeliers, and table decorations are pared to a minimum with crisp white tablecoths and a seasonal pumpkin or squash. Four enormous screens are embroidered in haute couture style with vegetables; the graphic designs pay homage to garlic, mushrooms, artichokes. "It took more than a year to make them", says Denis Courtiade, Restaurant Manager and close colleague of Alain Ducasse since 1991. Courtiade conducts the orchestra of the salle: "The ballet of the waiters is an extension of the work in the kitchen", he says. Laurent Roucayrol, head sommelier, agrees. "We are showcasing women vineyard owners and growers on the wine list, a feminine approach," says Roucayrol, who works closely with Gérard Margeon, Executive Head Sommelier.
The menu is divided into Héritage, three starters to choose from, Langoustines rafraîchies, caviar (from China), Pâté chaud de perdreau and Volaille Albufera, tartufi di Alba. La Carte is a choice of market-fresh products and the most fun is to choose Menu Collection d'Automne, four dishes, including the Héritage starters, the signature "cookpot" gratin of winter fruits, lobster, vegetables, duxelles of mushrooms, the tender Albufra truffled chicken, cheese from Monsieur Antoni and dessert, say, the legendary Baba au rhum comme à Monte-Carlo, perfectly prepared by Nicolas Berger Head Pastry Chef.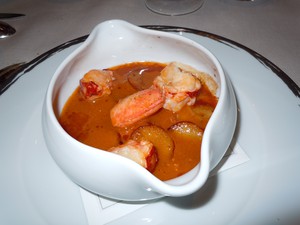 "Cooking doesn't mean showing off your technique, but respecting the flavour of the product," says Saintagne. Langoustine tartare, prepared at the last minute, is just seasoned with lime juice, salt and pepper; this way the sublime taste of the langoustine comes through. "Cuisine that places the product first is good for the planet, good for health and good for taste," adds Ducasse. "I would define my style as what I like, what I know and what I love."
And that's what you'll share: the pride and love of the kitchen. Order of course, but don't be surprised when a cast iron frying pan of baby shrimp arrives at the table, mini-dishes arrive, compliments of the chef, served in exquisite china designed by Shinichiro Ogata. The bread trolley moves from table to table. Courtiade rolls out a trolley of beef, "today's special". "It will be tied, spiked with bacon and truffles, then seared to concentrate its juices, before being pink-roasted to perfection", explains Courtiade.
Alain Ducasse is the world's Executive Chef; his fingerprint may not be on every dish that's cooked, but his influence certainly is. Generation Ducasse consists of hundreds of disciples working passionately in the four corners of the earth. "During my travels I have come across products and techniques which are of great interest to me. I try to bring them together to share with everyone", he says. Go to the Plaza Athénée and experience the magic – because you're worth it.
Alain Ducasse au Plaza Athénée
25 avenue Montaigne, 8th
Metro: Franklin D. Roosevelt,
T: 01 53 67 65 00
Lunch: Thurs-Fri
Dinner Mon-Friday
Menu 360€ + wine
A la carte average spend 220€ + wine.
In France: To book a restaurant, voila.
Classic Walks of Paris offer you some fantastic walking tours all over the city. The Classic Walk offers a complete overview of the city while the Da Vinci Code Walk follows Dan Brown's novel throughout Paris. The French Revolution Walk follows the gripping tales from the overthrow of the monarchy to the guillotine. The World War II Walk covers the darkest hours in Paris history. The Montmartre Walk and Latin Quarter Walk explore their specific areas of Paris.