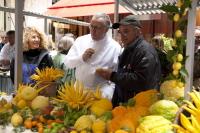 The second Marché d'Alain Ducasse rolled into town last week. Not just any old street market but a Pascale Benhamou red-tented designer setting created in the courtyard of the achingly posh Plaza Athénee, Paris. Ducasse is a product slut and instead of keeping all his producers a big secret he wants to nurture and showcase them; he's as proud of them as he is of his family.
"Together with Dominique Moret, Plaza Athénee's executive chef, the idea of the market is to introduce the public to our partners, passionate artisans. Nothing is for sale: they can taste, get hooked on real flavours, then contact the various suppliers. Not all of them will oblige, but who knows if they take a shine to you", winks Ducasse. The courtyard was packed with punters who hadn't paid a penny to get into the courtyard normally reserved for the rich and famous.
"I'm a third-generation agriculteur and normally we only supply chefs", confirms Nathalie Galis up from Piolenc, in the Vaucluse region, early this morning. Many of the top chefs get their truffles and Provence asparagus from Mme Galis and her husband Jérome, so there's not much left for the likes of us. "The winter has been a catastophe with snow in March. All our crops are three weeks behind", sighs Nathalie.
Le Boucher Bohème of Asnieres, Yves-Marie Le Bourdonnec, Ducasse's favourite butcher, was there; the tantalising aroma of his grilled Côte de Boeuf filled the air. "My favourite blonde is from Aquitaine", he grins. "When cooking prime rib, don't put it in the oven, rather use a casserole on the stove with a little olive oil", he advises. "And always leave for ten minutes before carving".
Philippe Constant with his wife Florence constructed a tower of hand-harvested crystal sea salt: with their hands bien sûr. TV chef David Martin arrived with his wacky red & white bicycle; signed by Paul Bocuse, it doubles as a Heath Robinson-style portable kitchen with burners and frigo. "This second year is especially personal since most of the producers were badly hit by the credit crunch and hard winter. Some nearly went out of business after decades in the industry but were rescued by loyal employees who formed co-operatives; we must support them", insists Ducasse.
Stalls were brimming with the likes of Bénédicte and Michel Baches' citrus fruits, Rolande Mosts' wild strawberries, and jewel-sized seaweed-wrapped "La Bonnotte" potatoes from Noirmoutier. Sandrine Lesgourgues brought foie gras from the Landes where she continues a tradition started in 1907 by her grandmother Adrienne. And Cedric Casanova, of La Tête dans les Olives, Paris, spoke of his Sicilian virgin oils with the passion of a lover.
No nasty odor from the fish stall, just gleaming sustainable fish brought in by SDAB Mareyage, so concerned about the environment they created The 10 Commandments for selecting fish, including: Choose wild fish; cages are overcrowded and full of harmful chemicals. Avoid farmed shrimp; they can be contaminated. And, most important, "you have the right to know where your fish and other seafood comes from—ask before you buy."
The market was a history lesson in French cuisine, a beautiful moveable feast. Make a note for next year so you don't miss it. If you want to spend time chatting with the producers and exchange recipes, cooking techniques or stories, be sure to go early while there's still room to move. See you there.
Jardin du Plaza Athénee,
37 Avenue Montaigne, 8th
Metro: Franklin D Roosevelt/Alma Marceau
T: 01 53 67 66 65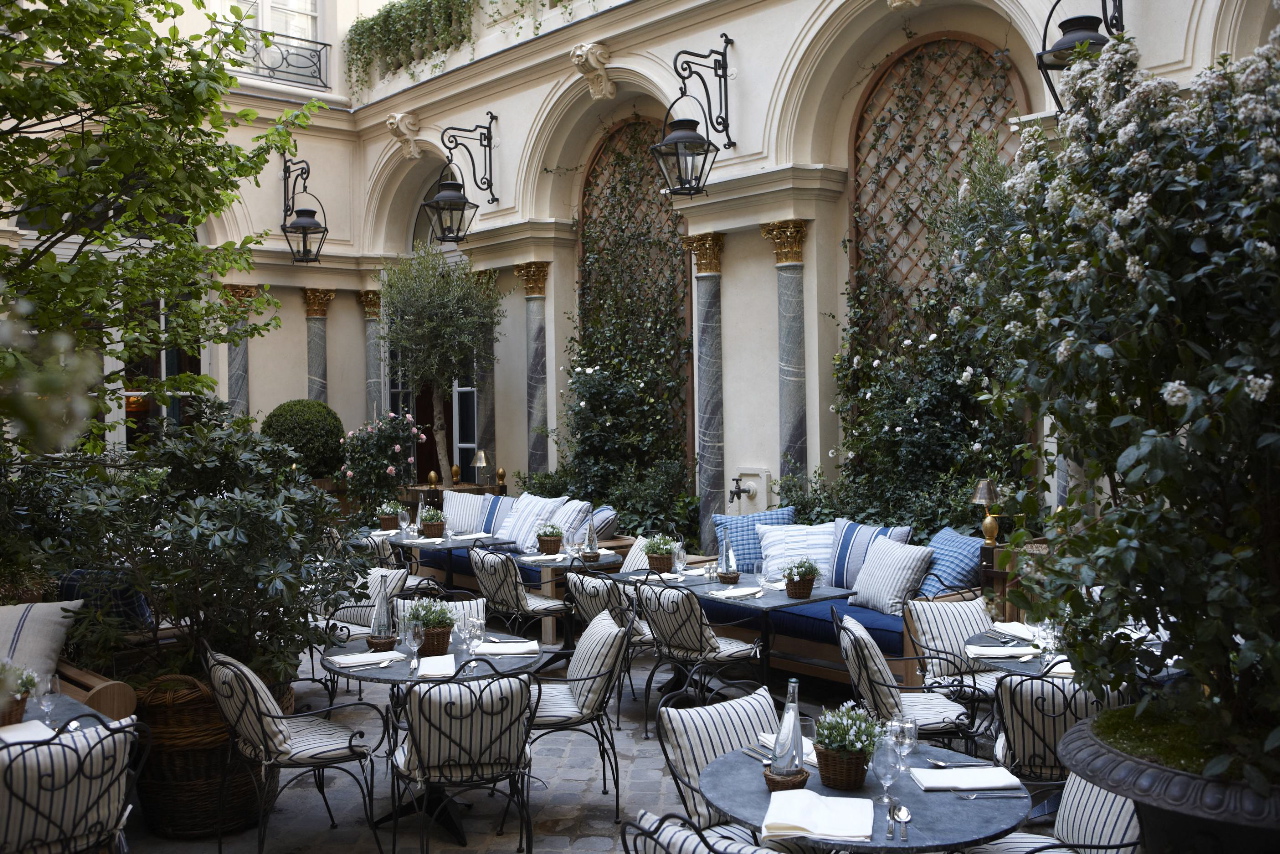 Ralph Lauren launched his new megastore, deep in the heart of conspicuous consumption, on 173 Boulevard Saint Germain last week. Located in a "to-die-for" 17th-century townhouse, and, with sumptuous salle and courtyard terrace, RL's first European restaurant, modestly dubbed Ralph's, will be the address of the summer. On chef Nicholas Castelet's menu: Fried chicken, Maine lobster, Maryland crab, and beef from RRL's Colorado ranch, where the cows are no doubt branded with the big P—Polo logo. Add epic burgers (24€) and wines from Francis Ford Coppola's California vineyards. Stay tuned for more news.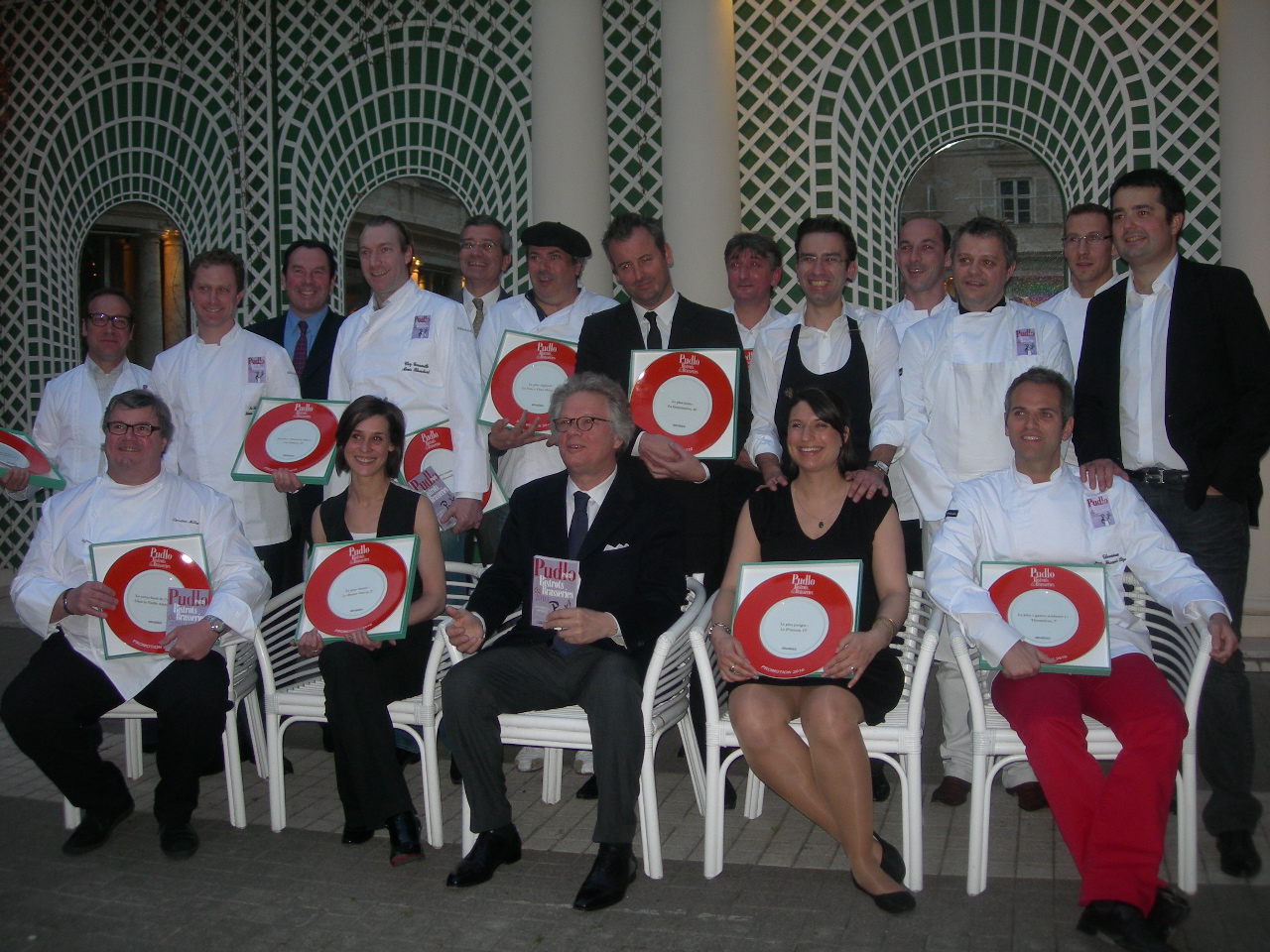 Gilles Pudlowski is an artisan of words, restaurant critic and journalist for the French weekly magazine Le Point; a contributor to Saveurs and Bon Voyage magazines; cultural commentator and critic; a historian of French regional culinary traditions; and author of more cookery-related books than we've had hot dinners—respect eh!  Pudlo's guides are eagerly awaited, and this week he launched Pudlo Paris Bistrots & Brasseries 2010 with a chic champagne and bistro bash at Le Bristol (the neighbours, Carla and Sarko must have been otherwise engaged, maybe eating at Ralph's—no sign of them). Anyway, if they don't buy the book they'll be missing out on 580 useful addresses, pour savourer des plats indémodables (classics that you love, lovie).
Le plus "gastro tendance"
Thoumieux 7th
Le plus "gastro mondain" (sophisticated)
Le 114 Faubourg, 8th
Le Come-Back de l'année
Chez La Vielle Adrienne (Michel del Burgo) 1st
No site: T: 01 42 60 15 78
Le plus Canaille (read rustic)
Chez Grenouille 9th
Le plus vineux (wine related)
Le Bistro Volnay 2nd
No site: T: 01 42 61 06 65
Le plus Parigot (street smart)
Le p'tit Canon 17th
No site: T: 01 47 63 63 87
Le plus jeune.
La Garҫonnière, 16th
No site: T: 01 46 51 27 50
Le plus régional,
La Tute "Chez Manu" 2
Le plus convivial
Le Cave Beauvau 8th
No site: T: 01 42 65 24 90
Le plus discret,
Aux Provinces, 15th
Le plus "brasserie chic"
Les Debats, 16th
No site: T: 01 45 01 22 22
Pudlo Paris Bistrots & Brasseries 2010
Editions Michel Lafon www.michel-lafon.com
9€
Also available on iPhone apps
If you're coming to France (or for that matter anywhere) you can reserve your hotel here. To rent a car, Bonjour Paris recommends Auto Europe.
Please post your comments or questions and let them flow. Register HERE to do so if you need a Bonjour Paris user name and password.