Beginning May 14, the Cannes Film Festival enveloped southern France for twelve days. The festival welcomed a plethora of films, both stinkers and winners. The ones that earned the most praise and recognition were those with unalloyed simplicity.
Grace of Monaco, starring Nicole Kidman, opened the festival to mixed reviews. Although Kidman delivered when it comes to physical transformation, many called her overall performance lackluster. It remains to be seen what kind of commercial reception the film will have, but critics were less than moved.
Meanwhile fellow Oscar-winning actress, Marion Cotillard, dazzled in Two Days, One Night, and the Cannes audience loved family-friendly How to Train Your Dragon 2. Brit films were in full force with the likes of Benedict Cumberbatch (The Yellow Birds), Timothy Spall (Mr. Turner), and socially-conscious films like Pride, which depicted the true story of gay London activists who helped the striking miners in 1984.
The fest had its trademark environment of commercial meets artsy, and French meets foreign – a mixture which is unique to Cannes Film Festival.
Michael Fassbender is everywhere these days (12 Years a Slave, Frank, X-Men: Days of Future Past), and he cropped up again in the heist movie, Trespass Against Us. Lionsgate nabbed the UK distribution rights for this film after it premiered at the fest.
Zoe Saldana as Nina Simone in Nina, received much backlash for her portrayal – moreover, for the casting choice itself. Saldana's skin was darkened for filming, and many are calling the performance a form of black-facing.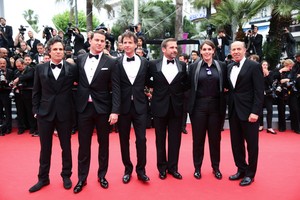 Foxcatcher stars Mark Ruffalo, Channing Tatum and Steve Carrell. Comedy titan Carrell goes against type, playing a paranoid schizophrenic murderer. The director of the film, Bennet Miller, has a strong track record, having previously directed Capote and Moneyball. Foxcatcher earned him the award of Best Director at the fest.
People are already predicting an Oscar nomination for Carrell's dramatic turn in the film.
Another actor went against type at Cannes: Ryan Gosling. The dreamy blonde heartthrob made his debut as writer-director of the film Lost River. The film was described by Variety's Justin Chang in a "Yikes"-inciting way:
"Had Terrence Malick and David Lynch somehow conceived an artistic love-child together, only to see it get kidnapped, strangled and repeatedly kicked in the face by Nicolas Winding Refn, the results might look and sound something like Lost River."
Clouds of Sils Maria, by French director Olivier Assayas, stars France's beloved Juliette Binoche who plays an aging actress who is re-cast in the play that made her a star. But this time, she is in the "older woman" role instead of the "young ingenue role," for which she became so famous. Binoche is fifty years old and has never acted nor looked better.
Like the 90s film starring Kevin Spacey, Swimming with Sharks, Cannes-debuted Maps to the Stars shows the dark underbelly of Hollywood. This black comedy was directed by David Cronenberg. Julianne Moore plays a struggling actress in la-la-land, requiring much suspension of disbelief (that talented, successful Moore would be struggling in her field). Moore's strong portrayal earned her the Best Actress award at the festival.
Ryan Reynold's new thriller, The Captive, was flat out booed at its premiere. Reynold's wife, actress Blake Lively, was seen whisking him out of the theater after the horrendous premiere. The pair forwent all after parties.
Famous French filmmaker, Jean-Luc Godard, is best known for his contributions to New Wave cinema in the 1960s. Now he is back with Goodbye to Language, a 3D film. It is rumored to be the auteur's last film. At eighty-three, Godard remains prolific and only time will tell if this will indeed be his final cinematic exit.
Godard's Goodbye to Language and Xavier Dolan's Mommy, shared the title for Jury Prize (the festival's third most prestigious prize, behind the Grand Prix, and the creme de la creme: the Palm d'Or). Dolan is twenty-five and this is his fifth film.
The Palm d'Or was bestowed on the Turkish film, Winter Sleep. Clocking in at 3 hours and 15 minutes, it's the length of a Tolkien-inspired film, but the movie "stays with you" long after the credits roll, reports NPR's "Fresh Air" Cannes correspondent, John Powers.
Winter Sleep aside, Cannes film critics are notoriously hard to please, yet one film stood out as a unanimous critic-pleaser and that is The Tribe, by Ukranian director Myroslav Slaboshpytskiy. The film tells the story of a deaf and mute teenager who goes to a boarding school.
The entire film is composed without dialogue, much like The Artist, which was also lauded by Cannes critics in 2011. Perhaps the appeal of these silent films – in our over-processed, over-connected, over-stimulated world – is that there is a great simplicity to them.
Tracks and The Tribe are two of many films this year with a call to simplicity: going back to the fundamentals of filmmaking and weeding out the excess fat and fodder. (That said, there's nothing wrong with a fodder-full film like the new X-Men movie.)
Merit can be found in both the high brow and the fluff. The real test of a film is: does it move you to feel something?