Virtual Tour of Paris: 1st arrondissement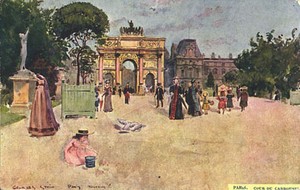 All aboard! Step onto our virtual e-bus and ride along for a tour of Paris arrondissement by arrondissement . . . today we begin at the very center of Paris and by the end of the trip we will cover the entire city!
Ar•ron•disse•ment n (f) (1807) an administrative district of some large French cities. Traditionally written in Roman numerals (5th = Ve), now more commonly 5è or 5ème (cinquième).
1st arrondissement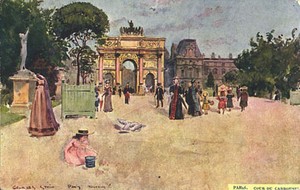 This is the geographic center of Paris—the place kings called home, the location of the most famous museum on earth (the Louvre),  the most famous gardens (the Tuileries) and a shopaholic's dream come true. To the east Le Forum des Halles, formerly the "belly of Paris" (which was the primary food market for centuries), is now a shopping mall surrounded by pedestrian streets filled with bargain shops. The arcaded rue de Rivoli, the spine of the arrondissement, offers antiques and souvenirs. And toward the western end of the neighborhood is the stunning 18th-century architectural masterpiece Place Vendôme. Perfume boutiques and jewelry stores like Cartier and Van Cleef & Arpels encircle a 44-meter high column with Napoleon (dressed as Cesar) on top. At number 15 Mr. Ritz opened his hotel—the epitome of luxury and elegance—in 1898. Coco Chanel lived here for over thirty years and the bar, having been a favorite of Hemingway (and F. Scott Fitzgerald), is now called Bar Hemingway.
Amidst all the buzzing activity there are pockets of calm. The very often overlooked Palais Royale gardens lie just a stone's throw from the Louvre, while two gems—the Musée de l'Orangerie and the Jeu de Paume (antidotes to the gargantuan Louvre and its never-ending crowds)—lie just across the Tuileries.
Most quiet of all, however, is the Place Dauphine, a charming square hidden behind the Palais de Justice at the very tip of Ile de la Cité. Sit with a book here or watch a cutthroat pétanque match.


Christopher Measom combines his love of history, art, and travel to create books like "Paris, Wish You Were Here!" and "The Little Big Book of Ireland." He spends most of his time in New York (an artsy historic place) working on all kinds of books for Night & Day Design.
Leave a reply
Your email address will not be published. Required fields are marked *