Torta di Carote: LA CUCINA di TERRESA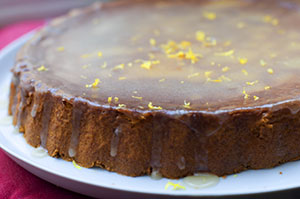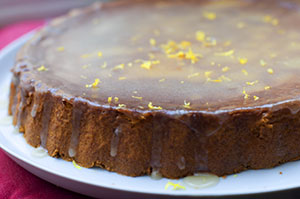 I found this delicious recipe for torta di carote (carrot cake) – Italian style – on the ItalianMade website (a treasure trove of information on Italian cuisine and wine). Full of almond powder and eggs, you could say that it's a bit rich on the rich side yet its light airiness makes it just melt in your mouth. I've served it with both a simple lemon glaze icing and a cinnamon-mascarpone spread. Quite nice with a sparkling Moscato d'Asti. Give it a try on an early summer evening, out on the terrace or in the back garde Hmmm…
And please take a look at my website La Cucina di Terresa. Feel free to subscribe to my Conscious Palate Newsletter.
Torta di Carote
1/2 lb. (250 gr) small carrots
5 eggs, separated
1 cup (190 gr) sugar
1 cup (170 gr) almond powder
Zest of 1 lemon
Pinch of salt
2 tBsp (2 cuillière à soupe) unbleached flour or rice flour
2 tBsp (3 cl) rum
Wash and peel the carrots, then grate them onto a cloth. Spread them out, cover with another cloth and let stand for about an hour to dry out. Whip the egg whites and sugar to a stiff meringue. Gently fold in, one at a time, the carrots, almonds, lemon zest, flour and salt, and egg yolks. Gently stir in the rum. Butter and dust a cake pan with flour and pour in the mixture. Bake at 350 ˚F for about 40 min. Remove from the oven and from the cake pan and let

cool on a rack. Frost it with a mascarpone spread or lemon icing.  
Mascarpone spread
1 cup mascarpone at room temperature.
3-4 tBsp (60-80 gr) light liquid honey
1/8 tsp (1/8 cuillère à café) cinnamon
Mix together and spread over the top of the cake
Lemon icing
150 g confectioner's sugar
2 tBsp (3 cl) fresh lemon juice
A few drops of bitter almond extract (optional)
Mix together for 1 minute then cover the top of the cake using a pastry brush. Put in a hot oven for 1 minute to set the icing.
Bon appétit!
Leave a reply
Your email address will not be published. Required fields are marked *