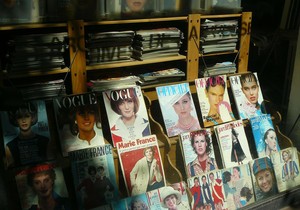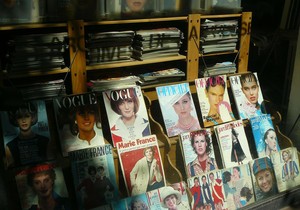 There's no doubt, Paris is a true paradice for fashion lovers and there probably isn't one that wouldn't want to visit this fashion capital at least once in their life. To help all the glitz & glam enthusiasts stear through the narrow fashion streets, we put together a short guide where to go and what to see in Paris if you want to ran into Mr. Lagerfeld.
Chanel boutique, 31 rue Cambon
One of the first stops when I arrive to this magnificant city is always 31 rue Cambon. It's my 'I'm back in Paris' moment. This place holds so much fashion history, it's obligatory to visit. From Coco's fabulous apartment, to her beautiful boutique and legendery shows that she always observed from those steps. Even if you don't have the funds to splurge on some Chanel tweed, peek inside the store and let the fashion sink in.
Galignani Bookstore, 224 rue de Rivoli
Perhaps this small bookstore comes as a surprise on this list, but the moment we let you in our secret you'll understand. It's been noticed that Mr. Karl Lagerfeld is one of their regular customers and loves to come and browse through the fashion section. With dark wood and small intimate reading area, this bookstore sure has charm and will offer a great retreat from the busy rue Rivoli. Galignani also has the best overall selection of fiction, non-fiction, fine arts books, guides and gift titles in English in the city.
Window shopping at rue du Fauburg Saint-Honoré
If you're looking to rest your eyes on some high fashion then rue du Fauburg saint-Honoré is definitely the place to go. It's known as one of the best shopping streets, not only in Paris, but worldwide. The narrow steet is home to all the designer brands, from Balenciaga to Christian Louboutin. It's also a great place to just wander around or grab a crossaint and sit on the steps of Eglise Saint Roch church. If you're looking for a unique shopping experience, then you simply can't miss the Colette department store.
Musée de la Mode et du Textile, 107 Rue de Rivoli
If Louvre is a must for any art and history enthusiast, then Musée de la Mode et du Textile is a must for any fashion lover. This municipal fashion museum holds Elsa Schiaparelli's entire archive and hosts many exciting themed exhibitions. Some of the other designs include the works of Azzedine Alaïa, Pierre Balmain, Christian Dior, Christian Lacroix, Jeanne Lanvin, Paco Rabanne, and Yves Saint Laurent.
Galerie LaFayette, Boulevard Haussmann
This old department store isn't just shoppers paradice, but an estonishing architectual landmark as well. When you walk inside and get blinded by the nametags of Chanel, Dior and others, don't forget to look up to the ceiling. The gorgeous glass and steel dome and Art Nouveau staircases date back to 1912, and work as the perfect backroung for all the luxurious fashion. Don't forget to check the shoe department in the lowest floor and when you're done shopping finish the spree with a spectacular view from the Galerie LaFayette rooftop.
Shopping on Boulevard Saint-Germain
Unlike the charming Fauburg Saint-Honoré, Boulevard Saint-Germain is a bit more uptown and glam. Here you'll find pretty much the same brands but in bigger stores that offer a bit less touristy experience. The street is also home to probably one of the most famous cafes in the world – Cafe de Flore, where you can relax and do some people watching after your shopping spree.
Sex and the City moment at Plaza Athenee, Avenue Montaigne
This place literally takes my breath away whenever I stroll down the street. If you can quote Sex and the City lines, then you simply must visit Plaza Athenee and get that glimpse of the Eiffel Tower, just like Carrie when she first arrived to Paris. If you can't aford the luxury suite then a walk down the avenue will do just the same. Designer boutiques, five star hotels, the latest luxury cars and the view of the tower will make you feel like you're in a movie yourself. For another SATC moment head over to 1 rue du Pont Neuf, a chic reataurant and bar Kongo, once featured in the cult searies.
Vintage shopping in Marais
You've probably heard that Marais is the hip part of the town, and not only that, it's perfect neigbourhood to do some vintage shopping. Stores that offer second hand steals, from as low as 1€, are literally all across Marais. Combine that with trendy restaurants and cute little cafes and we've got a winner! Check out our vintage shopping guide for more information about where to get the best second hand steals.
Le Montana, 28 Rue Saint-Benoît
Recently reopened club Le Montana, owned by Purple magazine's Olivier Zahm, is the center of entertainment for all the fashion insiders. Here you'll find all the hottest Fashion Week parties as well as spot some of the most VIP guests such as Lenny Kravitz, Vanessa Bruno, Kate Moss and half of next season's Chanel collection worn by Parisian models. The club is a bit pricy but well worth your dime, since you only have parties this exclusive on very rare occasions.
Leave a reply
Your email address will not be published. Required fields are marked *