For first-time or solo travelers to Paris, the first hurdle is getting from the airport to your hotel or rented apartment. If you're traveling at night or with lots of luggage, public transport may not be your first choice. There are several options to choose from depending on budget and how many people (if any!) in your party.
We'll start with public transport from both airports, obviously the cheapest and quickest option but maybe not the best if burdened with lots of luggage, fractious children or if you  don't want to deal with the stairs in the metro station at the other end. RATP, Régie Autonome des Transports Parisiens, or the Paris Transportation Authority, manages the RER suburban train networks which link the airports to the Paris city center.
Arriving from either Orly West (Ory ouest) or Orly South (Ory Sud), head for the OrlyVal train direction Paris. The OrlyVal terminus, Antony, is about a six minute ride away. Here you must change trains and take the RER B (blue line) in the direction of Mitry-Claye, Aeroport Charles de Gaulle, which services central Paris stations like Denfert-Rochereau, Luxembourg, St Michel/Notre Dame, Châtelet and Gare du Nord. The journey takes around 40 minutes and costs 12.05 euros per adult and 10.65 per child (4-9 years) Under 4s are free. The service runs from 6am to 11pm.
From Charles de Gaulle Aeroport (CDG), take the RER B (Blue line) direction Paris (Robinson, Antony, St-Rémy-lès-Chevreuse) arriving at Gare du Nord, St Michel/Notre Dame, Luxembourg, Port Royal, Denfert-Rochereau and Cité Universitaire. The journey is around 35 minutes to Gare du Nord.
The ticket you need is a Billet Ile de France, Zone 5 to Zone 1. Cost per adult 10 euros, 7 euros per child (4-9), under 4s free.
The Orly bus runs from 5am to 11pm and stops at the Denfert-Rochereau metro station in Paris, which links to the RER. Price around 8 euros and journey time 30 minutes.
The Roissy bus runs from CDG to Paris Opera every 15-20 minutes. The ticket price is 11 euros and the journey time averages 75 minutes.
Air France also offers an efficient bus service from both Charles de Gaulle and Orly airports. "Les Cars Air France" even connect the two airports, so if you have a connecting flight departing from Orly after an international arrival at CDG, this could be a good choice. (Line 3, 21 euros). There are four different lines. From Orly, Line 1 goes to Paris Etoile/ Champs-Elysees via Gare Montparnasse/Invalids (12,5 euros, one way). Line 2 goes from CDG to Etoile/Champs-Elysees via Porte Maillot ( 17 euros, one way), and Line 4 goes from CDG to Gare Montparnasse via Gare de Lyon (17,50 euros, one way). This service runs every 30 minutes, seven days a week.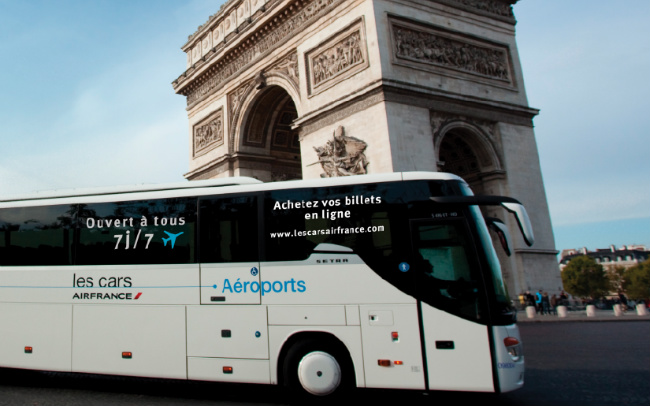 And recently, competitor EasyBus launched bus links billed as the "cheapest and only direct bus service to the Paris city center." The earlier you book online, the more you save. Tickets from 4,95 euros. The journey to Le Palais Royal/Louvre takes an hour.
If you are traveling light, know exactly how to get to where you are staying from the nearest Metro station, public transport could be a fast and cheap option.
However, if all this sounds a little daunting and you are still looking for an economical transfer, then a shared shuttle car/van could well be the option that suits your needs. There are several companies which provide this service.
City Discovery charge 18.75 euros for a one-way trip from either Orly or CDG airport in a shared car or minivan to any address with a 75 post code in Paris. You are advised to phone their free phone number as soon as you have disembarked from your plane and before you have picked up your luggage to avoid delays. The driver will meet you outside the designated departure gate and drop you at your hotel or rented apt. The time of the journey into Paris is dependent on the number of passengers and subsequent drop-offs and traffic. I have done this return journey several times, sometimes being the only passenger and even with others, I have not been unduly delayed. Pickups for the return journey to the airport have always been punctual even at 6am. (NB: Most shuttle firms insist on return pick-up to the airport from your address in Paris about four hours before your flight departs.)
The benefits of using a shuttle service are evident. This is a door-to-door service without either hassle or breaking the bank.
Supershuttle offers a similar service. CDG Airport to Paris post codes costs 27 euros for one passenger, 43 euros for two and 60 euros for three.
From Orly Airport expect to pay 19 euros for first passenger, 29 euros for two and 39 euros for three.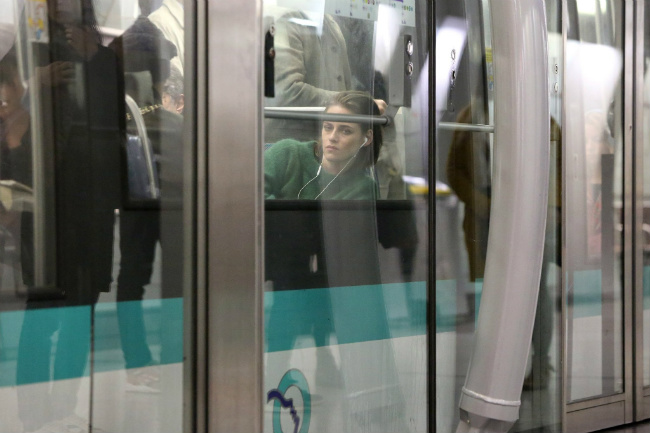 Keen to take a taxi?  As of March 1, 2016, airport flat rates have been introduced for official tax companies in Paris. The price is 50 euros between Paris-Charles de Gaulle airport and destinations on the Right Bank, and 55 euros to the Left Bank.
UBER estimate the same journey (for example to St Germain) would cost around 33 euros. For a shared Uberpool, the price would be about 18-25 euros per passenger. Depending on the time of day, UBER can be cheaper than a taxi, but keep in mind that UBER drivers can't use the bus lanes like normal taxis can (which bypass traffic).
To use a private cab transfer (www.privatecabtransfert.com) up to 4 people could travel from CDG airport into Paris for 100 euros, and up to 8 people in a private minivan for 139 euros. Good if you are travelling with friends or family. Orly would be the same price for 4 pax but only 125 euros for 8.
If a luxury sedan with a chauffeur is more your style, CITY CAB ([email protected]) will provide a Mercedes E class or similar for up to 3 passengers for 80 euros. A maximum of 9 passengers can travel in one of their minivans for 90 euros.
And for an even more exclusive service, contact www.bcdlimousines.com for one of their uniformed chauffeurs to meet your plane, take charge of your luggage and whiz you into central Paris from either CDG or Orly airport for 110 euros.
The only thing not advisable is to walk…
Photo credits: Air France planes lined up at CDG T2 by aceebee/ Flickr