Home
Tags
Posts tagged with "Paris books"
Tag: Paris books

This is necessarily an odd book. To assemble citi-lit Paris, the newest companion to the previous books about Dublin, London, Amsterdam, and Berlin,...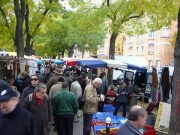 Whether you're a passionate collector or merely a lover of whimsical trinkets, a wander through one of Paris' flea markets will always seduce and...