U Spa Shiseido Fouquet's Barrière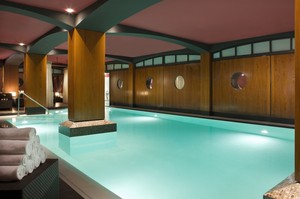 To enter the world of Parisian Palace Hotel Fouquet's new U Spa Barrière Shiseido is to enter into the world of Omotenashi. This Japanese word has only an approximation of translation into English, the nearest being « devotion to clients ». Omotenashi is a word that must first be translated with the heart. Shiseido is, of course, a well-known and well-loved brand in the U.S., but in Paris this is the very first Shiseido Spa. So, of course you would find this curation for quality at a Barrière Hotel. And why not, then, too, at the singular Fouquet's Barrière, the hallmark of Parisian Palace Hotels, the embodiment of the philosophy of bien-être. Omotenashi The philosophy of Shiseido is one that is a holistic approach to the human body, infusing both Eastern concepts, such as respect for a person's inner Qi, and Western modalities, such as  private changing rooms, heated treatment tables and soft, luxurious slippers and robes. The treatments, whether they be a full-body massage or a facial, incorporate both these premises simultaneously. For example, each facial treatment includes a hand massage and neck treatment, as well as the liberal use of « oshibori » Japanese hot towels throughout the treatment, which work to enhance and deepen the penetration of these superb skin refining products. And whether you are treating yourself to Perfect Purifying Facial (€200), a Hydro Perfecting Facial (€200) or an Ultimate Radiance Facial (€200) each and every treatment incorporates breathing and aromatherapy within it, thus beginning your hour and 15 minute ritual by centering and calming your « Qi » through the breath, and steeping your senses in delicate aromatics that are uniquely Shiseido's. To assist you in re-discovering your inner peace and harmony, the softly-lit treatment rooms of the U Spa Barrière Shiseido work their magic, and one is available for couple treatments as well. The pool just adjacent to the spa on this underground level is the largest hotel pool in Paris at 50×20 ft. and takes up a good portion of the 8600 sq. ft. total of the spa. Men and women's separate steam rooms, a sauna, two relaxation lounges, one by the pool and one a bit more private, by the steam rooms, complete the picture. The U Spa Barrière Shiseido truly offers that sense of escape, while still being conveniently located in the center of not just Paris, but the Parisian Triangle d'Or. The Ultimate Facial Ceremony For an exceptional boost to your skin's radiance and a sort of preventative aging treatment, a must on the U Spa Barrière Shiseido's treatment menu is the Future Solution LX Facial Ceremony. Used throughout this treatment is top-of-the-line Shiseido products, Future Solution LX. These products are designed to smooth the signs of aging and are the cosmetic line's most advanced and luxurious products  which work to maximize your beauty. The ritual begins first with a foot bath and massage. This is done while you are seated. The water is treated with aromatherapy oils to enhance the experience and facilitate relaxation. Next you are invited to recline on the heated massage table, under warmed soft blankets. Breathing repetitions come next and your esthetician gently guides you into connecting with your Qi through your breath, thus calming and soothing your entire body-heart-mind. Hot towels, the Japanese custom of « oshibori » are then placed around your head, delicately covering your face, and also around your feet, warming and soothing these extremities as well. This allows for deeper effectiveness of the oils that have been massaged into them, just prior, during the foot bath and massage. During the breathing ritual, aromatic scents are released just above your nose, and as you inhale, your senses are infused with these aromatherapy properties. Soft Japanese flute music plays in the background and the gracious and gentle esthetician inquires every so often if everything is OK or if an adjustment is necessary ? The treatment continues with a scalp massage whereby a very light oil is massaged into your scalp and the roots of your hair. This is optional and the esthetician will ask beforehand if this is something you desire to be included. The oil is light enough that some may prefer to leave it in after the treatment for added effect, rather than wash it out directly afterwards. An hour and 15 minutes later, after the application of the specialized gel-like mask has been applied to lift and sculpt the facial contours, you are released back into the world of mere mortals. But gradually, as use of the steam rooms, pool and sauna are permitted with your treatment if you ask for that extra perk to be included in your rate. With respect to full-disclosure, I have always been a great fan of Shiseido and their products. In Los Angeles, Shiseido maintained a boutique where you could stop in and test their facial products and makeup, years before the concept of Sephora ever hit the market. The delicacy of their products, their riceflour-based powders, and the purity of their skincare line, have always worked well for my sensitive skin and beauty rituals. But what I had not expected from their newest line of treatments, developed in partnership with U Spa Barrière Shiseido, was their holistic body-mind approach and their devotion to overall wellness, even for a treatment as focused as a facial. For example, very few other spas, if any,  including the most celebrated (and expensive) ones,  incorporate hand and neck treatments into their facials. And yet, this feels like such a natural, harmonious inclusion. Men at U Spa Barrière Shiseido A happy man is a well-cared for man.  The treatments imagined here for men go past the Basic and enter into the realm of Generous, especially in that concept of « devotion to clients » that Japanese phrase « Omotenashi »I referred to at the top of the article. The men's spa menu includes, Time Fighting Facial and Back Massage (€170), Damage Defense Facial (€170), and a Business Manicure (€60) which offers nail hydration and care. There is also the 4 Hands…
SUBSCRIBE
ALREADY SUBSCRIBED?
BECOME A BONJOUR PARIS MEMBER

Gain full access to our collection of over 5,000 articles and bring the City of Light into your life. Just 60 USD per year.

Find out why you should become a member here.

Sign in

Fill in your credentials below.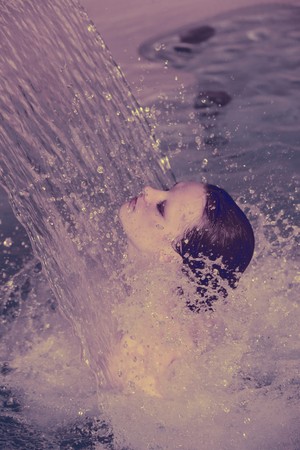 To enter the world of Parisian Palace Hotel Fouquet's new U Spa Barrière Shiseido is to enter into the world of Omotenashi. This Japanese word has only an approximation of translation into English, the nearest being « devotion to clients ». Omotenashi is a word that must first be translated with the heart.
Shiseido is, of course, a well-known and well-loved brand in the U.S., but in Paris this is the very first Shiseido Spa. So, of course you would find this curation for quality at a Barrière Hotel. And why not, then, too, at the singular Fouquet's Barrière, the hallmark of Parisian Palace Hotels, the embodiment of the philosophy of bien-être.
Omotenashi
The philosophy of Shiseido is one that is a holistic approach to the human body, infusing both Eastern concepts, such as respect for a person's inner Qi, and Western modalities, such as  private changing rooms, heated treatment tables and soft, luxurious slippers and robes. The treatments, whether they be a full-body massage or a facial, incorporate both these premises simultaneously.
For example, each facial treatment includes a hand massage and neck treatment, as well as the liberal use of « oshibori » Japanese hot towels throughout the treatment, which work to enhance and deepen the penetration of these superb skin refining products. And whether you are treating yourself to Perfect Purifying Facial (€200), a Hydro Perfecting Facial (€200) or an Ultimate Radiance Facial (€200) each and every treatment incorporates breathing and aromatherapy within it, thus beginning your hour and 15 minute ritual by centering and calming your « Qi » through the breath, and steeping your senses in delicate aromatics that are uniquely Shiseido's.
To assist you in re-discovering your inner peace and harmony, the softly-lit treatment rooms of the U Spa Barrière Shiseido work their magic, and one is available for couple treatments as well. The pool just adjacent to the spa on this underground level is the largest hotel pool in Paris at 50×20 ft. and takes up a good portion of the 8600 sq. ft. total of the spa. Men and women's separate steam rooms, a sauna, two relaxation lounges, one by the pool and one a bit more private, by the steam rooms, complete the picture. The U Spa Barrière Shiseido truly offers that sense of escape, while still being conveniently located in the center of not just Paris, but the Parisian Triangle d'Or.
The Ultimate Facial Ceremony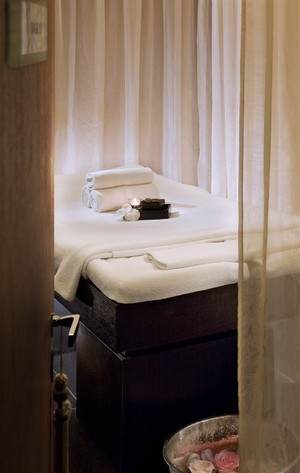 For an exceptional boost to your skin's radiance and a sort of preventative aging treatment, a must on the U Spa Barrière Shiseido's treatment menu is the Future Solution LX Facial Ceremony. Used throughout this treatment is top-of-the-line Shiseido products, Future Solution LX. These products are designed to smooth the signs of aging and are the cosmetic line's most advanced and luxurious products  which work to maximize your beauty.
The ritual begins first with a foot bath and massage. This is done while you are seated. The water is treated with aromatherapy oils to enhance the experience and facilitate relaxation. Next you are invited to recline on the heated massage table, under warmed soft blankets.
Breathing repetitions come next and your esthetician gently guides you into connecting with your Qi through your breath, thus calming and soothing your entire body-heart-mind. Hot towels, the Japanese custom of « oshibori » are then placed around your head, delicately covering your face, and also around your feet, warming and soothing these extremities as well. This allows for deeper effectiveness of the oils that have been massaged into them, just prior, during the foot bath and massage.
During the breathing ritual, aromatic scents are released just above your nose, and as you inhale, your senses are infused with these aromatherapy properties. Soft Japanese flute music plays in the background and the gracious and gentle esthetician inquires every so often if everything is OK or if an adjustment is necessary ?
The treatment continues with a scalp massage whereby a very light oil is massaged into your scalp and the roots of your hair. This is optional and the esthetician will ask beforehand if this is something you desire to be included. The oil is light enough that some may prefer to leave it in after the treatment for added effect, rather than wash it out directly afterwards. An hour and 15 minutes later, after the application of the specialized gel-like mask has been applied to lift and sculpt the facial contours, you are released back into the world of mere mortals. But gradually, as use of the steam rooms, pool and sauna are permitted with your treatment if you ask for that extra perk to be included in your rate.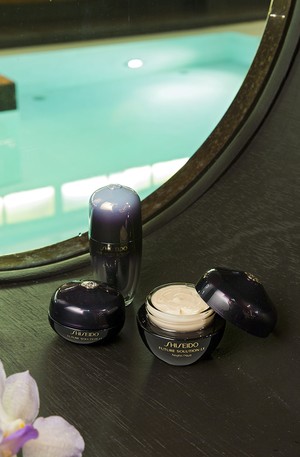 With respect to full-disclosure, I have always been a great fan of Shiseido and their products. In Los Angeles, Shiseido maintained a boutique where you could stop in and test their facial products and makeup, years before the concept of Sephora ever hit the market. The delicacy of their products, their riceflour-based powders, and the purity of their skincare line, have always worked well for my sensitive skin and beauty rituals.
But what I had not expected from their newest line of treatments, developed in partnership with U Spa Barrière Shiseido, was their holistic body-mind approach and their devotion to overall wellness, even for a treatment as focused as a facial. For example, very few other spas, if any,  including the most celebrated (and expensive) ones,  incorporate hand and neck treatments into their facials. And yet, this feels like such a natural, harmonious inclusion.
Men at U Spa Barrière Shiseido
A happy man is a well-cared for man.  The treatments imagined here for men go past the Basic and enter into the realm of Generous, especially in that concept of « devotion to clients » that Japanese phrase « Omotenashi »I referred to at the top of the article.
The men's spa menu includes, Time Fighting Facial and Back Massage (€170), Damage Defense Facial (€170), and a Business Manicure (€60) which offers nail hydration and care. There is also the 4 Hands Massage (€340) where four hands coordinate for ultimate relaxation and de-stress therapy.
Children at U Spa Barrière Shiseido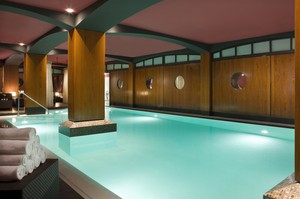 A children's menu has been developed for U Spa clients as well and includes choices from : Princess Manicure, Princess Make-up, Junior Massage, Junior Nail Polish, and Swimming Coaching.
Also on offer, even, is a Body Massage workshop where Shiseido-trained spa experts teach you soothing and wrapping techniques to enjoy a relationship of pure gentleness with your child. This training is designed for parents who have children 3 months to 4 years old. Demonstrations are done using a doll and parents have the choice to practice on their own child or the doll, as they wish.
Day Spa:
For a full or half-day Spa Escape, you can choose from Luxury Escape (2 hours, €220), Luxury Escape For Two, Serenity Day Spa, Deluxe Day Spa (4 hours 45 minutes, €580).
Hours:
Members and External Customers : 9 am – 9pm, Monday – Sunday
Fouquet's Barrière Hotel Guests :  7am – 10 pm Monday – Saturday ; 8am – 9pm Sunday
Hotel Fouquet's Barrière is a certified Leading Green Hotel and the recipient of Condé Nast's WorldSaver's Award for 2013. U Spa is a certified member of Leading Spas.
U (in case you were wondering) stands for the shape of a tuning-fork, « a perfect symbol for this fine-tuned haven of inner peace and harmony ».
+33 1 40 696 070  www.fouquets-barriere.com 46, Ave George V  Paris
More in facial, Shiseido, spa, Spas in France
---
---