A seashell coin purse belonging to a lady of the Victorian era.
A pair of brass opera theatre binoculars, Lorgnettes, worn as fashion rather than to enhance vision.
Or simply a time-worn frame filled with black-and-white family photos of people long gone.
At Le Salon Antiquités Brocante it's not just about the antiques, but the stories they tell.
Whether you're an avid collector, or someone who can't sort the priceless antiques from the 'old junk', there is a wealth of ancient articles to be uncovered at the Paris annual antique flea market, which runs from November 8-18, but there are many other flea-shopping destinations year-round.
Now in its 62nd year, the antique fair boasts a bonanza of furniture, jewellery, paintings, and more, across 400 market stalls at Place de la Bastille.
Attracting dealers, collectors and humble fossickers alike, the marketplace is positively brimming with eager eyes in search of that special one-off piece.
It is quite an elbows-out shopping affair, with popular items, such as colourful glassware, bone china and fabulous French bisque dolls being snapped up fast.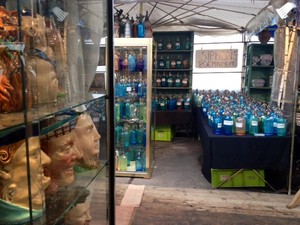 Those whose purse strings may be pulled a little tighter this year, may simply enjoy wandering around and guessing the age, purpose, or value of an item making for truly 'Antiques Roadshow' experience.
Hosted by the Joel Garcia Organisation, entry is 10€ but becoming a member online (at no cost) gives you free access to the showgrounds, as well as future events.
While most of the antiques are French, there is also a broad European collection of furniture and ceramics, as well as a number of wooden tribal pieces from Africa.
A strong smell of polished furniture and old books fills the air, as you are drawn back to a time when carved meerschaum pipes and pocket watches were commonplace.
At the entrance, is 'the good room' – a huge undercover marquee filled with the crème de la crème of gleaming antiques.
Here, a ruby-red chocker necklace will set you back a meager 650€.
Or a small carriage clock – designed for travelling, during in the early 19th century in France- carries a 1200€ price tag.
So tread carefully, as it could be an expensive, irreversible slip.
But for bargain hunters, head outside to the enormous outdoor section, which skirts either side of the Seine.
Here, brightly-lit display cabinets, packed-full with ornamental trinkets, draw buyers like moths to a flame, as some fast-paced wheeling and dealing bubbles away.
Conveniently, there are also a small number of restoration stalls, where experts can appraise a piece or bring it back to its best.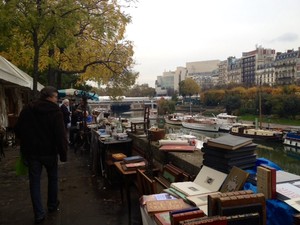 This can be very handy at the bargaining table, to ensure you've got an antique and are not being gouged on the price.
It will take at least an hour to walk through the grounds, but food, and wine tasting pit stops are available to help fuel your antiquing adventure.
Salon Antiquités Brocante
Place de la Bastille, Paris
November 8 – 18
11am – 7pm
€10 (free for members)
Métro Bastille
01 56 53 93 93