Paris loves cinema and Paris loves jazz. An ambitious festival brings both of these together in an array of screenings, concerts, and lectures. Cinejazz, the International Festival of Cinema and Jazz, takes place from November 20 to 30. Cinejazz's mission is to explore the links between jazz music and film, how each form nourishes the other, how they create something unique together that they couldn't alone. Another aim of the festival is to remind the public of the long history of the forms, while rejuvenating them with new blood. there are the usual retrospective looks at the past, but also films and concerts for children, and others showcasing young talent. This year's festival "godfather" is Thierry Jousse, the distinguished former editor of Cahier de Cinéma, and a director in his own right. A propos to the festival, Jousse currently hosts the France Music radio program Cinéma Song, dedicated to film music. The festival is being held in various sites in Paris, ranging from art-houses like Action Christine and centers like the Cinémathèque to the Sorbonne and College des Bernardins. The film program includes rarely-seen archival material, fiction films, documentaries and short films. There are Hollywood and French classics dealing with jazz: Clint Eastwood's Charlie Parker biopic, Bird, Bernard Tavernier's portrait of a troubled musician, Around Midnight, Michael Curtiz' Man With a Horn. Also being shown is The Jazz Singer with Al Jolson, the first sound film, though not really a jazz movie. No less interesting are documentaries such as the The Last of the Blue Devils, American Creole, A Great Day in Harlem and the recent, acclaimed Michel Petrucciani, directed by Michael Radford, a film about the great French jazz pianist who embodied both piano jazz genius and a turbulent life in a frame of 3 feet. A special aspect of France's love of Hollywood and jazz is its obsessive ambivalence towards American culture. A recent addition to this fascination is Cigarettes et Bas Nylons, Fabrice Cazeneuve's 2011 movie about a French woman who marries an American soldier during WWII. In addition to the feature films, there is a competition of short films dealing with jazz. The jury, headed by Jousse, will select the winner from a short list of works made by mostly young filmmakers from across Europe. The selection can be viewed on the festival's
web site
. On the musical side, the festival is hosting concerts as well as soirées featuring both film clips and live music. The jazz artists include the Grencso Realtime Collective (from Hungary), Belisaire (a Cajun music group), and Didier Goret's Big Band, which is closing out the festival. The complete program can be viewed, and tickets ordered, from the festival's
web site
. All images courtesy of Cinejazz
SUBSCRIBE
ALREADY SUBSCRIBED?
BECOME A BONJOUR PARIS MEMBER

Gain full access to our collection of over 5,000 articles and bring the City of Light into your life. Just 60 USD per year.

Find out why you should become a member here.

Sign in

Fill in your credentials below.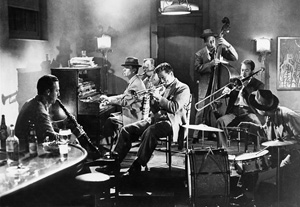 Paris loves cinema and Paris loves jazz. An ambitious festival brings both of these together in an array of screenings, concerts, and lectures. Cinejazz, the International Festival of Cinema and Jazz, takes place from November 20 to 30. Cinejazz's mission is to explore the links between jazz music and film, how each form nourishes the other, how they create something unique together that they couldn't alone. Another aim of the festival is to remind the public of the long history of the forms, while rejuvenating them with new blood. there are the usual retrospective looks at the past, but also films and concerts for children, and others showcasing young talent.
This year's festival "godfather" is Thierry Jousse, the distinguished former editor of Cahier de Cinéma, and a director in his own right. A propos to the festival, Jousse currently hosts the France Music radio program Cinéma Song, dedicated to film music. The festival is being held in various sites in Paris, ranging from art-houses like Action Christine and centers like the Cinémathèque to the Sorbonne and College des Bernardins.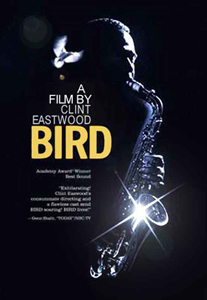 The film program includes rarely-seen archival material, fiction films, documentaries and short films. There are Hollywood and French classics dealing with jazz: Clint Eastwood's Charlie Parker biopic, Bird, Bernard Tavernier's portrait of a troubled musician, Around Midnight, Michael Curtiz' Man With a Horn. Also being shown is The Jazz Singer with Al Jolson, the first sound film, though not really a jazz movie. No less interesting are documentaries such as the The Last of the Blue Devils, American Creole, A Great Day in Harlem and the recent, acclaimed Michel Petrucciani, directed by Michael Radford, a film about the great French jazz pianist who embodied both piano jazz genius and a turbulent life in a frame of 3 feet.
A special aspect of France's love of Hollywood and jazz is its obsessive ambivalence towards American culture. A recent addition to this fascination is Cigarettes et Bas Nylons, Fabrice Cazeneuve's 2011 movie about a French woman who marries an American soldier during WWII.
In addition to the feature films, there is a competition of short films dealing with jazz. The jury, headed by Jousse, will select the winner from a short list of works made by mostly young filmmakers from across Europe. The selection can be viewed on the festival's web site.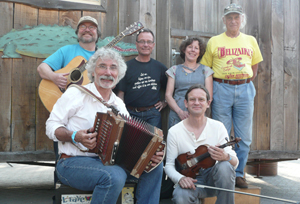 On the musical side, the festival is hosting concerts as well as soirées featuring both film clips and live music. The jazz artists include the Grencso Realtime Collective (from Hungary), Belisaire (a Cajun music group), and Didier Goret's Big Band, which is closing out the festival.
The complete program can be viewed, and tickets ordered, from the festival's web site.
All images courtesy of Cinejazz
More in french cinema, jazz
---
---