Naked in Paris: The Hammam at the Grand Mosquée de Paris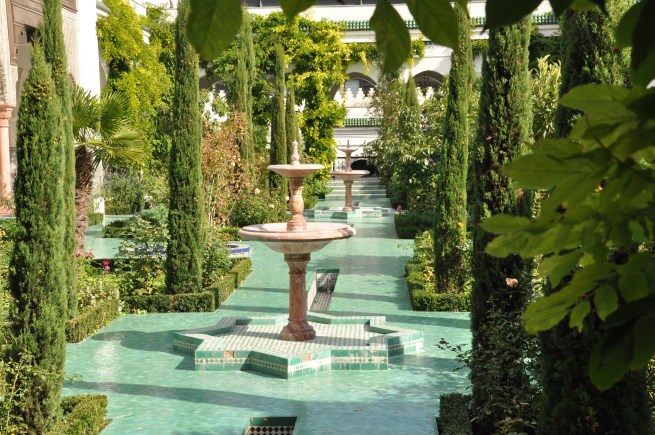 Have you done everything in Paris – or are you just worn-out with sightseeing? Try the Hammam at the Grande Mosquée de Paris. The Mosque rose above us in all its gleaming whiteness. The domes and minarets suggested Istanbul, but it was the Grande Mosquée de Paris in the heart of the
Latin Quarter
. My friend and I walked in through the garden salon de thé (tea-house) at the back of the elegant building. We had come, not to pray, but to go to the Hammam, the best bathhouse in Paris. I had just finished three weeks of hectic work in Paris – and it was my birthday. I'd never been to the
hammam
before, but it sounded like a good way to wash away the stress and prepare to celebrate. At the front desk we ordered a scrub and a massage as well, and were handed three tickets (one for the mint tea afterwards), a thin towel not much bigger than a tea towel, and a pouch of savon noire – a dark liquid soap. Feeling conspicuously dressed, we made our way to the changing-room through a maze of naked female bodies being massaged by nearly naked women. The changing-room turned out to be merely a corridor with a row of lockers. No privacy here and no point in being self-conscious – we undressed our middle-aged bodies, stuffed our clothes and wallets in the locker, put a euro in the locker slot and hoped everything would still be there a few hours later. Towels and tickets in hand, we walked down the hall into the large marble steam room. In the drifting steam, dozens of women, their bodies shining with savon noire, lay, sat, stood or stretched in various states of languid ease. Two golden skinned women lay side-by-side, one on her back, the other on her stomach, as if they were two versions of the same body. On a raised marble platform in the middle, two extraordinarily beautiful young African women lay with their feet up resting on marble poles, looking like they had stepped out of a painting of the exotic Orient. I felt pale, nondescript, graceless. I soon realised there were in fact women of every size, shape, ethnicity and age. I was going to add 'social class' but that is a category very difficult to determine when someone is naked. There were elderly pale-skinned Frenchwomen, sturdy middle aged Algerians, lithe African twentysomethings, a few Scandinavian back-packers. Their bodies were tall and thin, short and rounded, pear-shaped, violin-shaped, narrow-hipped, thick waisted, slender, plump, dimpled, bony, wrinkled, smooth. I relaxed, my pale pudgy shape was only a part of the glorious range of female bodies. We all looked different, had startlingly various bodies, but naked in this setting away from the male gaze, we seemed more similar than I had ever noticed. This was what we were all like under our clothes – no more and no less. My friend and I rubbed each other with the savon noire and lay and chatted and dozed. After a while we moved from our side platform to the heated marble one in the center. Water dripped down from the starry midnight blue ceiling as the steam condensed. When we were too hot we threw dishes of cold water over one another from the taps on the wall. Finally, it was our turn for a gommage – a scrub. A large, strong-looking, North African woman in knickers and bra put on a wiry glove and, without mercy, whisked it up and down my arms, legs, stomach, breasts. My whole body was treated with the same democratic vigor, no matter how soft – or how previously private – the part. I stepped off the table, my body glowing. I was so clean I felt even my soul had been scrubbed free of all stain. Next was the massage in the room we had first walked through. There was a short mix up with the tickets, which I confused further with my steam-melted French, then a younger and slimmer, but still muscular woman, oiled her hands and began the rhythmic kneading and rubbing. She chatted in Arabic to the other masseuses as she worked but her hands were attentive.  I lay there dreamy with the heat and the sensation of being purely a body without thought. I could have remained in that blessed infant state all day – but there was already another body waiting to get on the table. I dressed, feeling as pink and shiny as a baby lifted out of the bath. My friend was ready and waiting. In the cool air of the garden teahouse we found a little table under what might have been a palm tree. A waiter brought us mint tea on an inlaid wooden tray. When we trusted ourselves to walk, we finally drifted out into the freshness of a bright autumn day in Paris. It was my birthday and I felt reborn. Hammam at the Paris Mosque: The address is listed as Place de Puits L'Ermites, but go in the rue Geoffroy St Hilaire entrance. Nearest metro stations are Place Monge or Censier-Daubenton on line 7. It is open to men only on Tuesday and Sunday, women only other days, but the teahouse is open to both sexes every day. Note…
SUBSCRIBE
ALREADY SUBSCRIBED?
BECOME A BONJOUR PARIS MEMBER

Gain full access to our collection of over 5,000 articles and bring the City of Light into your life. Just 60 USD per year.

Find out why you should become a member here.

Sign in

Fill in your credentials below.
Have you done everything in Paris – or are you just worn-out with sightseeing? Try the Hammam at the Grande Mosquée de Paris.
The Mosque rose above us in all its gleaming whiteness. The domes and minarets suggested Istanbul, but it was the Grande Mosquée de Paris in the heart of the Latin Quarter. My friend and I walked in through the garden salon de thé (tea-house) at the back of the elegant building. We had come, not to pray, but to go to the Hammam, the best bathhouse in Paris.
I had just finished three weeks of hectic work in Paris – and it was my birthday. I'd never been to the hammam before, but it sounded like a good way to wash away the stress and prepare to celebrate. At the front desk we ordered a scrub and a massage as well, and were handed three tickets (one for the mint tea afterwards), a thin towel not much bigger than a tea towel, and a pouch of savon noire – a dark liquid soap.
Feeling conspicuously dressed, we made our way to the changing-room through a maze of naked female bodies being massaged by nearly naked women. The changing-room turned out to be merely a corridor with a row of lockers. No privacy here and no point in being self-conscious – we undressed our middle-aged bodies, stuffed our clothes and wallets in the locker, put a euro in the locker slot and hoped everything would still be there a few hours later.
Towels and tickets in hand, we walked down the hall into the large marble steam room. In the drifting steam, dozens of women, their bodies shining with savon noire, lay, sat, stood or stretched in various states of languid ease. Two golden skinned women lay side-by-side, one on her back, the other on her stomach, as if they were two versions of the same body. On a raised marble platform in the middle, two extraordinarily beautiful young African women lay with their feet up resting on marble poles, looking like they had stepped out of a painting of the exotic Orient. I felt pale, nondescript, graceless.
I soon realised there were in fact women of every size, shape, ethnicity and age. I was going to add 'social class' but that is a category very difficult to determine when someone is naked. There were elderly pale-skinned Frenchwomen, sturdy middle aged Algerians, lithe African twentysomethings, a few Scandinavian back-packers. Their bodies were tall and thin, short and rounded, pear-shaped, violin-shaped, narrow-hipped, thick waisted, slender, plump, dimpled, bony, wrinkled, smooth. I relaxed, my pale pudgy shape was only a part of the glorious range of female bodies. We all looked different, had startlingly various bodies, but naked in this setting away from the male gaze, we seemed more similar than I had ever noticed. This was what we were all like under our clothes – no more and no less.
My friend and I rubbed each other with the savon noire and lay and chatted and dozed. After a while we moved from our side platform to the heated marble one in the center. Water dripped down from the starry midnight blue ceiling as the steam condensed. When we were too hot we threw dishes of cold water over one another from the taps on the wall.
Finally, it was our turn for a gommage – a scrub. A large, strong-looking, North African woman in knickers and bra put on a wiry glove and, without mercy, whisked it up and down my arms, legs, stomach, breasts. My whole body was treated with the same democratic vigor, no matter how soft – or how previously private – the part. I stepped off the table, my body glowing. I was so clean I felt even my soul had been scrubbed free of all stain.
Next was the massage in the room we had first walked through. There was a short mix up with the tickets, which I confused further with my steam-melted French, then a younger and slimmer, but still muscular woman, oiled her hands and began the rhythmic kneading and rubbing. She chatted in Arabic to the other masseuses as she worked but her hands were attentive.  I lay there dreamy with the heat and the sensation of being purely a body without thought. I could have remained in that blessed infant state all day – but there was already another body waiting to get on the table.
I dressed, feeling as pink and shiny as a baby lifted out of the bath. My friend was ready and waiting. In the cool air of the garden teahouse we found a little table under what might have been a palm tree. A waiter brought us mint tea on an inlaid wooden tray.
When we trusted ourselves to walk, we finally drifted out into the freshness of a bright autumn day in Paris. It was my birthday and I felt reborn.
Hammam at the Paris Mosque: The address is listed as Place de Puits L'Ermites, but go in the rue Geoffroy St Hilaire entrance. Nearest metro stations are Place Monge or Censier-Daubenton on line 7. It is open to men only on Tuesday and Sunday, women only other days, but the teahouse is open to both sexes every day. Note that Muslim women wear a swimming costume, or at least underpants, so feel free to remain partly clothed. You can just have a steam, or a scrub and massage as well. Keep hold of your tickets – you have to line up for scrub and massage which is a hassle if you are in a hurry, but then you probably shouldn't be at an hammam if you're in a hurry. Allow at least two hours.
For more information on the Grande Mosquée de Paris, visit their website here.
And for further information on Spas in Paris, read our guide on the top 5.
A version of this article first appeared in print in The Australian newspaper.
---
---
Comments