Une Petite Dose de Shopping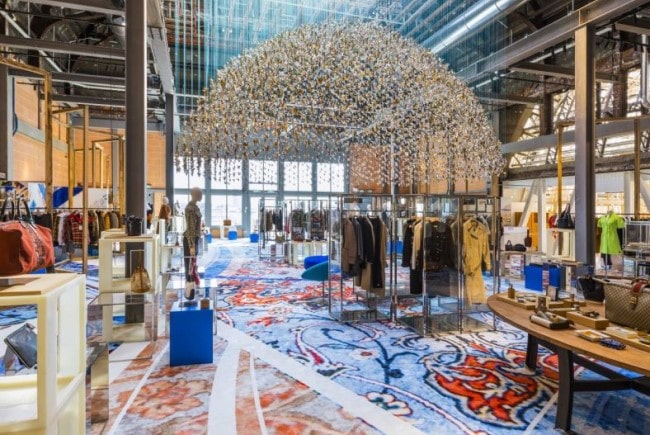 If you're a lucky so-and-so who's been gifted a day in Paris to noodle around the shops, free of trailing spouses and enfants-truly-terrible, you have a treat in store.
Paris was always the place where I'd find a fabulous one-off – a piece of clothing that nobody else had back home – and I still remember with fondness garments that I bought in Paris decades ago and loved for years (oh god, oh god, why did I get rid of that knee-length denim skirt?).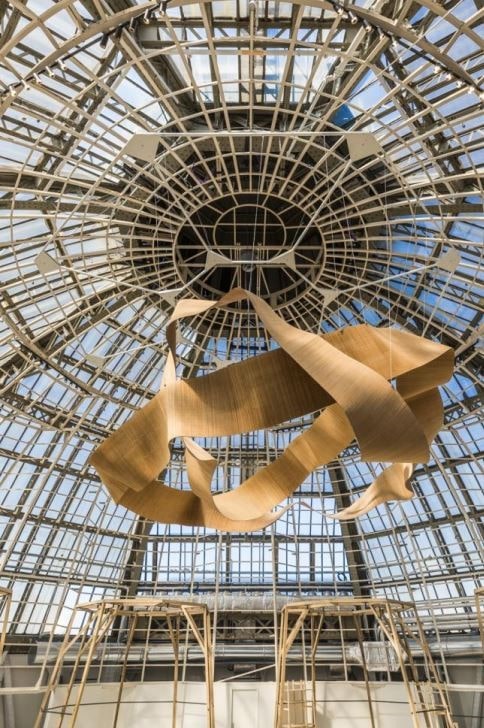 Last weekend, I was on a mission to find that same je ne sais quoi but with three new caveats: I wanted to stick to indies, explore la mode durable, and I decided I wouldn't even set foot in a chainstore…
Until, that is, I heard about 7ième Ciel… and a seventh heaven it is, if you're into sustainable fashion and shopping with a conscience.
The new seventh floor of Printemps Haussmann department store opened at the end of September and is a big space dedicated to vintage, secondhand and upcycled fashion. I sensed more than a whiff of excitement about this new art-cum-shop-cum-terrace-café space, from the shop assistant who ushered me to the lift on the ground floor telling me about its joys in conspiratorial whispers, before bundling me in and jabbing at the number 7, to the other customers who circled the sustainable kingdom with me, all of us wide eyed at how the future of retail could be…
One part of the space is a ring of pop-ups which border a seating area designed for sustainability talks and workshops. The pop-ups will change on a rolling basis; when I was there, it was a well-curated mix of repair, rental, re-use, upcycle and vintage.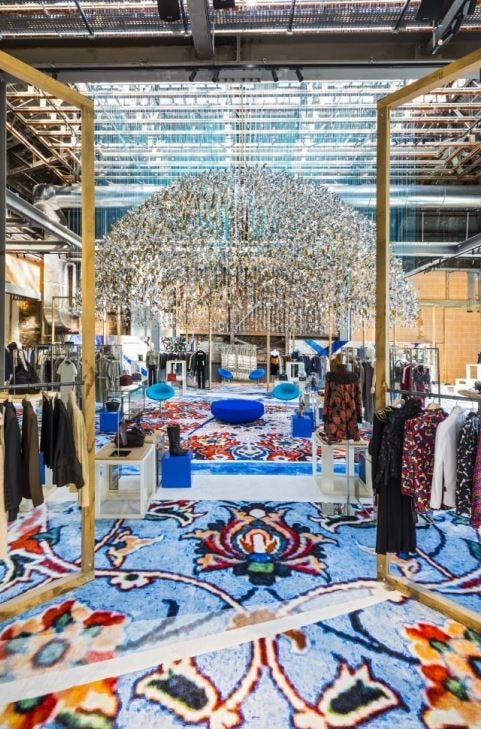 Docteur Sneaker, a Toulousain who renovates and customizes trainers, sits next to Tilli, an artisan tailor and retoucher; "Upcycling is the new bling!" is embroidered on the jacket she hangs in the opening to her shop. There are outlets containing beautiful handmade stationery; wonderful French blues and sludgy greens of French workwear and old military garb; there's Nuovo and Relic, both vintage sellers who cover, between them, fashion from the 70s, 80s and 90s; and there's a cute children's clothes place called Bonâge.
Depending on the size of your wallet, you may prefer the next-door space; it's called Second Printemps and is a high-end bring-and-buy. Take in your pre-loved labels (ahem, I'm talking Labels with a capital L) and they tell you within 72 hours whether they'll sell your designer pieces for you and if they will, for how much. Alternatively, just browse the cast-offs of the Parisian elite under l'Envol, by Charles Kaisin, a sparkling dome of 12,000 origami birds which enhances the heavenly feel up there.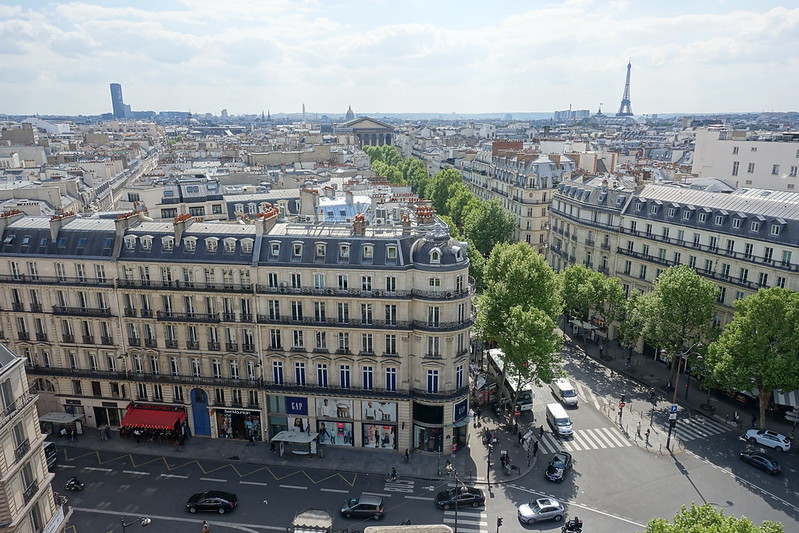 I had a café noisette on the south-facing terrace (Eiffel, right; Tour Montparnasse, straight in front; back end of the Palais Garnier, slightly left) while I considered my next steps.
I'd still not scratched my retail itch so, armed with a bunch of pins in a Google map, I headed off to Canal St Martin. (Yes, I did some planning; after all, there's no point mooching in a city when you only have a day to yourself and you've already spent hours in Just. One. Store.)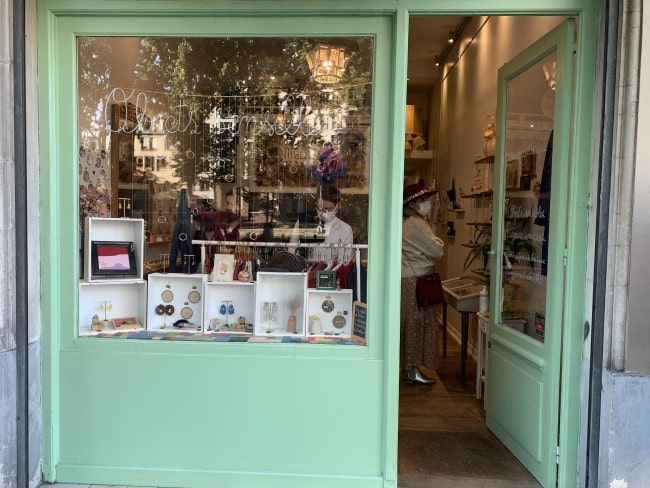 First stop, Machicadou, a small shop that sits on Quai Varly and specializes in "objets sensibles." There are four or five fashion rails and clothes are really affordable. I fell in love with a navy pinstripe wool belted coat that I thought might be The One (and it was under 50 euros) but, cursing my Anglo-Saxon shoulders, had to accept it was too small and return it to the rail.
View this post on Instagram
Further south alongside the canal, I found Make My Lemonade, a fantastic initiative which uses materials that have been discarded by the maisons de couture to make new clothes. I loved the vibe of MML, with its bright colors and retro vibe; think plaid wide-leg trousers and cute T-shirts or velvet sweats. All the clothes are made in Europe from eco materials and the production process is as clean as possible using no chemical nasties.
And then, on a Google-pin roll, I stomped on to Thanx God I'm a VIP. Already in love with the name of this preloved paradise, the three-stores-on-one street reality didn't disappoint. Clothes are color coded and I was only just able to drag myself away from my black-and-grey comfort zone. But I did, and there it was. The One; a very thin leather jacket/blouson in pale brown with white spots and only 45 euros. Success!
The selection in TGIAV is well curated and fairly priced, and the choice is overwhelming. There's a whole store for men's clothes which is refreshing and there are a few pieces of vintage homeware dotted around too.
So, I'd got my prey and I was replete but I couldn't resist a stop-by at Merci, the concept store on Boulevard Beaumarchais. If you're into shopping with a conscience, this place is a must because of the Merci endowment fund, which uses profits to support women and children throughout the world, particularly in Madagascar. It's a Parisian favorite which has been putting clothes and accessories, garden and homeware, a café and used book store under one very cool roof in the Haut Marais for the last 12 years, and was the perfect place to round off my day.
Having just spent a year of buying no new clothes at all (a new year's resolution made in haste before midnight), I already know how much more satisfying it is to find a real secondhand gem than it is to select from rails and rails of indentikit new clothes. I had a wonderful day but I feel like I've hardly scratched the surface in Paris so I'll definitely be back!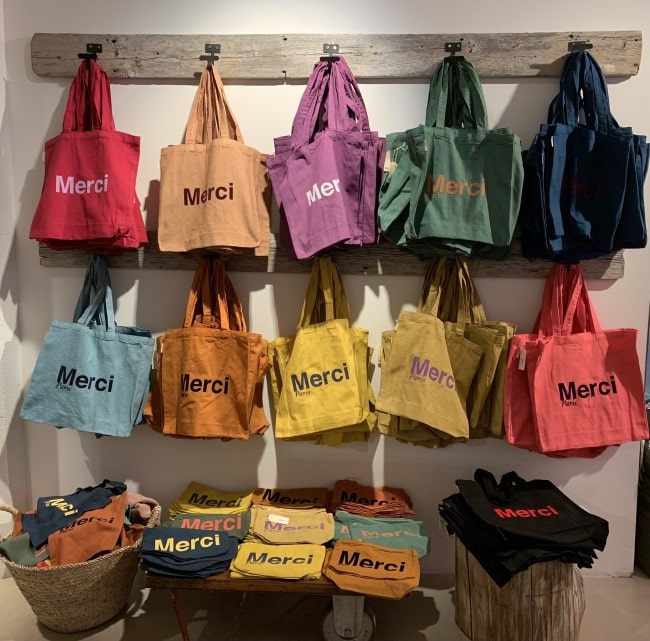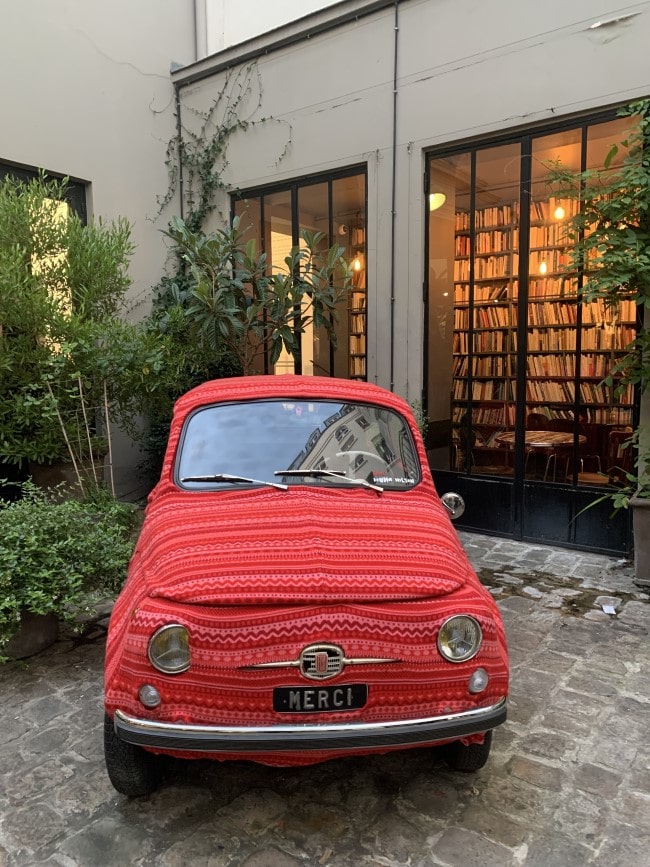 Lead photo credit : 7ème Ciel de Printemps (C) 7ème Ciel de Printemps Press Release
More in fashion, haussmann, secondhand, Shopping, sustainable fashion, tour, trip, vintage clothes, vintage shopping
---
---